Boss Mustapha is a Nigerian lawyer, management consultant, businessman, and politician best known as the Secretary to the Government of the Federation of Nigeria (SGF) and former Chairman of the Presidential Task Force on COVID-19.
Following the dismissal of Babachir Lawal, the former Secretary to the Government of the Federation (SGF), for abuse of office, President Muhammadu Buhari on 30th October 2017 appointed Boss Gida Mustapha as the new SGF. In addition to his position as SGF, Mustapha proved to have made a significant impact in the control of Coronavirus in the country following his appointment as the Chairman of the Presidential Task Force (PTF) on COVID-19.
Profile Summary of Boss Mustapha
Full name: Boss Gidahyelda Mustapha
Year of Birth: 1956
Place of Birth: Adamawa State, Nigeria
Ethnicity: Hausa
State of Origin: Adamawa State
Nationality: Nigerian
Marital Status: Married to Benedicta Wesley
Education: Ahmadu Bello University, Zaria
Occupation: Lawyer, Politician
Office: Secretary to the Government of the Federation of Nigeria
Political Party: All Progressive Congress
Years Active: November 2017 – Present
Boss Gida Mustapha Hails From Hong in Adamawa State
Though his exact birth date has not been verified, Mustapha's year of birth is recorded as 1956. He was born into the family of Mr. Wesley Mustapha and Benedicta Wesley in Garaha village, Hong local government area of Adamawa State in the northeastern part of Nigeria. His father, who died in 2013, was a teacher and headmaster at Central Primary School in Yola. Further details about his family and siblings are not public knowledge.
He Studied Law at Ahmadu Bello University 
Boss attended primary school at Hong before proceeding to Maiduguri, Borno State for his secondary education at North East College of Arts and Sciences where he got his WASC in 1974. For his tertiary education, he gained admission to study at the prestigious Ahmadu Bello University, Zaria from where graduated in 1979 with a Bachelor of Law degree (LL.B). He went on to attend Nigeria Law School before he was called to bar in 1980.
Mustapha did his one-year compulsory National Youth Service Corps (NYSC) – Directorate of Legal Services at the Army Headquarters and was in charge of the review of Court Marshall Proceedings from 1980 to 1981.
Boss Mustapha Practised Law For a Few Years Before Joining Politics
After his NYSC, Boss Mustapha kicked off his legal practice in Sotesa Nigeria Limited, an Italian consultancy firm, as an Executive Director in charge of administration. He left in 1983 to join the law firm of Messrs Onagoruwa & Co in Lagos. In 1984, he established his own practice and served as Principal Counsel in the firm Messrs, Mustapha, & Associates. Mustapha subsequently worked in another law firm Adroit Lex & Co from 2000 – 2006 where he served as the principal consultant.
His Forray Into Politics Began In The 1980s
After practicing law for a few years, Boss Mustapha decided to venture into politics. This journey made him become a member of the Federal Republic of Nigeria Constituent Assembly between 1988 to 1989. This is the body that was responsible for drafting the 1989 constitution of Nigeria. However, this constitution was only used partially in the third republic of Nigeria. In the now-defunct Gongola State, Mustapha was the state chairman of the Peoples Solidarity Party (PSP) in 1989. However, the party was among the several political parties that were disbanded by Babangida as a result of their failed government's "litmus test."
Between 1990 and 1991, during Ibrahim Babangida's regime, Boss served as Adamawa State's chairman of one of the two state-created political parties, The Social Democratic Party. He subsequently ran and failed to secure the position of Adamawa state governor under this party in 1991. He lost to his political rival – Abubakar Saleh Michika of the National Republican Convention.
In 2000, the Obasanjo administration appointed him a member of the Interim Management Committee (IMC) of the defunct Petroleum (Special) Trust Fund (PTF). He served till 2007. In the same year, he functioned as the deputy director-general of the presidential campaign of Atiku Abubakar. Mustapha later took up the position of deputy national chairman of the Action Congress of Nigeria. He would later unsuccessfully run for the office of Governor of Adamawa State in 2014.
His Appointment As The SGF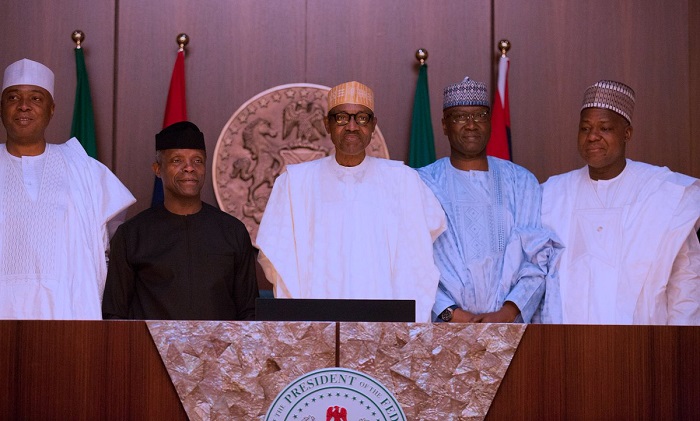 Prior to his appointment, Boss Mustapha was previously working at Nigerian Inland Waterways Authority where he was the managing director. However, his predecessor Babachir David Lawal was suspended six months earlier for misappropriation of public funds and was eventually sacked in September 2017. Following this event, President Muhammadu Buhari appointed him to replace Babachir as the new Secretary to the Government o the Federation on 3oth October 2017.
On 1st November 2017, during a meeting of the Federal Executive Council at the Presidential Villa in Abuja, he took his oath of office. On the assumption of office, the new SGF did well to set the tone, style, and direction of his administration. He stressed the importance of teamwork and the utmost need to focus on the goals that have been set for the coming years.
His Role As The Chairman of The Presidential Task Force on Coronavirus
In March 2020, Boss Mustapha was appointed the chairman of the Presidential Task Force (PTF) on COVID-19 by President Muhammadu Buhari. PTF was established to curtail the spread and mitigate the impact of the COVID-19 pandemic in Nigeria. Over the time of its inception, Mustapha has in no doubt, redefined services in public office with his successful management of the COVID-19 pandemic. On the expiration of the extension on 31st March 2021, President Buhari approved that PTF will transition into Presidential Steering Committee (PSC) on COVID-19 with effect from 1st April 2021.
According to the PTF chairman, strategies evolved by the PTF to manage the pandemic were copied by some other countries, especially on compulsory PCR tests for travelers. For instance, Nigeria now has 158 infectious disease testing laboratories whereas there were only four before the pandemic. In January 2021, Boss raised the bar of accountability when he issued a detailed statement on the allocation and management of funds for the national response to COVID-19 by the PTF.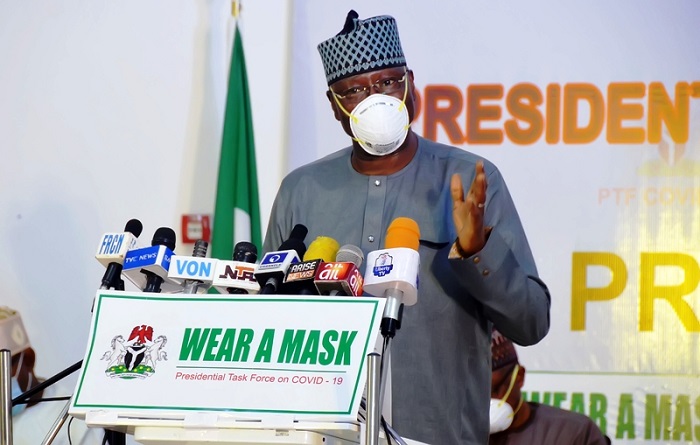 Boss Mustapha Has Membership in Several Professional Bodies
In addition to his political career, Boss Gida Mustapha is a registered member of various professional bodies. Some of these bodies include the African Bar Association (ABA), Commonwealth Lawyers Association, International Bar Association (IBA), and Human Rights Institute (HRI). His resume and accomplishments extend far and wide as he is a highly respected guru in the boardroom. This ingenuity earned him an appointment as a member of the board of several companies in the oil and gas sector, as well as in the manufacturing financial services. He also happens to be the National Vice President of the Full Gospel Business Men's Fellowship International in Nigeria.
As a man of his caliber, his wealth of knowledge is further solidified through his extensive travels to different parts of the world. Mustapha has thus visited no less than 30 countries in his lifetime. On his visits, he takes a keen interest in how waterways assets are managed in those countries in order to gain insight into how things could be done better in his home country.