Paul Walker was an American actor who became famous in 1999 for his role in the hit film Varsity Blues. He later became even more popular for starring as Brian O'Conner in The Fast and the Furious film series. Other movies he has featured include Eight Below, Into the Blue, She's All That, and Takers. Walker also featured on the National Geographic Channel series Expedition Great White. In this article, we will be looking at some of the favourite quotations, famous sayings and photos as a tribute to the Hollywood actor
Walker was born in Glendale, California to Paul William Walker III, a sewer contractor, a boxer and Cheryl (née Crabtree), a fashion model, on September 12, 1973. He was a camera boy from his early age, modelling and acting in television shows like Charles in Charge, Highway to Heaven and Who's the Boss. His film debut, however, was in the horror spoof Monster in the Closet in 1986. He graduated from Sun Valley's Village Christian School in 1991 and then moved to several community colleges in Southern California, majoring in marine biology.
Paul Walker Net Worth
Paul Walker was worth $25 Million – an amount he earned largely from his acting career. He was thought to have earned a $1 million salary from The Fast and the Furious in 2001. He made his first lead role in "Meet the Deedles," a comedy film where he played Phil Deedle. The film, Fast and Furious was among the notable films that set him as a notable film star. It pointed to his reprise of the character in the 2003 "Sequel 2 Fast 2 Furious".This also made his pay cheque to jumped to $7 million.
Walker also earned a huge sum of  $8.5 million from the 2005 American action-thriller film, Into the Blue among many other films. In 2005, Paul Walker's house in Santa Barbara, California is estimated to be worth $1,375,500.
As one with a strong passion for cars, Walker purchased a number of high-class cars. It was, in fact, habitual for the star actor to sell off his old cars so he would buy the new ones. He even had a beautifully designed garage which served as a showroom for some cars which he had dealer's license and owned a business that manufactured high-end performance parts. He was a client of Rodas, a managing director of wealth management for Bank of America, Merrill Lynch who had re-arranged his financial portfolio.
His car collection included Ferraris, Lamborghinis, Corvettes, vintage and Porsches cars. his favourite cars,  however, include Ford Escort Cosworth, BMW '74 2002 Touring, R34 Nissan Skyline and Toyota Supra.
He has a humanitarian aid team which he uses to reach out to people needing help worldwide.
Death
Fast and Furious movie actor Paul Walker was killed in a car accident in Valencia, California, on 30th November 2013, at age 40. He died after the Porsche he was in with his driver, Roger Rodas lost control, hitting a tree and exploding on impact. The Hollywood star was in California to attend a charity event for Reach Out Worldwide which was meant to benefit victims of Typhoon Haiyan in the Philippines. Police investigation attributed the car accident to high speed. He was said to be driving at the speed of between 80 and 93mph.
At the time of his death, Walker was working on Brick Mansions and Fast & Furious 7. The former was meant to be released in 2014 while the later was to be premiered on April 3, 2015. His death was not just a huge blow to the lovers of the Fast and Furious film all over the world, but majorly to the movie industry which had to look for someone to take over his role in the film.
Daughter, Wife or Girlfriend
The American actor is the oldest of five siblings namely named Cody Walker, Caleb Walker, Amie Walker and Ashlie Walker. His brothers Caleb and Cody helped to complete the production of the final film, Furious 7 in their bid to honour their brother's hard work and legacy. Cody is also an actor best known for his appearance in USS Indianapolis: Men of Courage. 
According to the pair, stepping in to replace their brother also helped them grieve and come to terms with the painful loss.
The 6′ 2″ inch tall actor also had a daughter named Meadow Rain Walker. Though he's never married, the star actor was in a relationship with his longtime girlfriend, Rebecca Soteros. They dated in the late 90's and had their daughter in 1998. At the time of his death, Walker was reportedly dating a young lady named Jasmine Pilchard-Gosnell.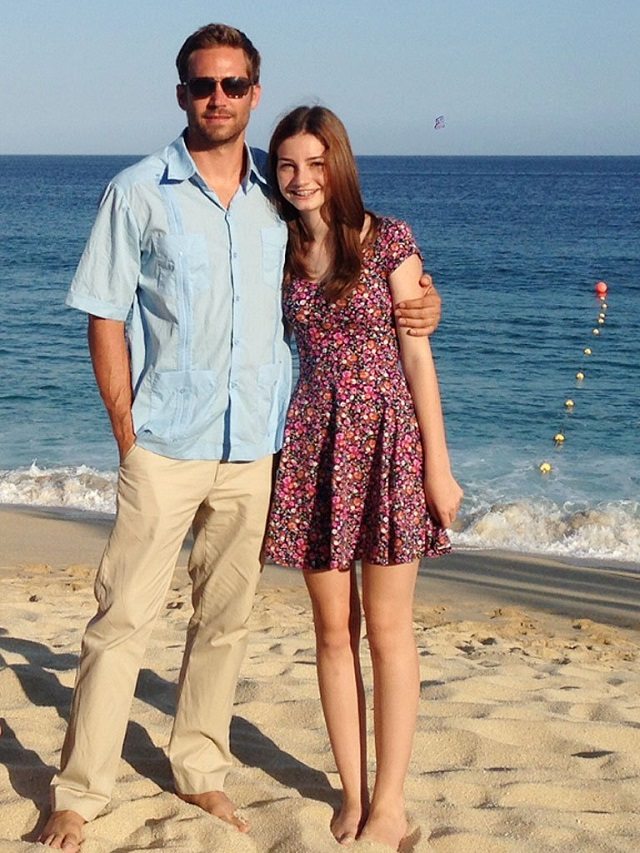 After his death, both Meadow and Walker's father, Paul William Walker III sued Porsche for its part in the tragedy. Meadow was later awarded a $10.1 million (£7.2 million) settlement from the estate of the man who was driving the car in which her father died. The young girl claimed the car had been installed with faulty seatbelts which ultimately trapped her father in the car where he burned to death.
Meadow who recently has been signed as a model with Women's Management, New York, is doing well, enjoying luxuries and the $25 million willed to her by her father.
See Also: John Collinson: Meet The World's Youngest Self-Made Billionaire
Paul Walker Quotes
Years after his death, Walker remains unforgettable, thanks to his passion and undying energy for his acting career. He is also remembered for some of his quotes that continue to inspire thousands of his fans. One of his famous quotes "If one day the speed kills me, don't cry because I was smiling." was read after his death in 2013. Here are some of Walker's memorable quotes used all over the world: