Wema Bank Nigeria is one commercial bank that believes in collective progress and sustainable success. Founded on May 2, 1945, under the name Agbonmagbe Bank Limited, it is one of the longest surviving indigenous banks in the country. The bank began operations in 1945 after it received a commercial banking license from the apex bank. Wema Bank would later metamorphose into a public limited liability company in 1987 and was subsequently listed on the Nigerian Stock Exchange in the year 1990.
Famed for its trade symbol – WEMABANK –  the bank was ceded a Universal Banking License in February 2001, after which it became a national bank with a capital base of more than N43.8 billion in December 2015. The financial institution has since gone ahead to win several local and international awards for its contribution to the banking sector. The bank once won the Best Digital Bank in Nigeria for launching the first fully digital bank called ALAT. Launched in May 2017, ALAT presents to clients the opportunity to open or sign up for an account in five minutes, using a personal computer or mobile phone.
With technology advancing, the bank has gone on to improve its banking services to the benefit and comfortability of its customers through the introduction of bank transfer codes. This article provides you with all the details you need on Wema Bank transfer codes and the use of the bank's Sort and SWIFT codes.
What is Wema Bank Transfer Code?
In order to transfer money from WEMA bank to another bank, follow the steps below;
Dial *945*AccountNumber*amount# e.g, *945*1234567890*10000# to transfer N10,000.
The Wema Bank USSD code of *945# is a banking short code service that gives all Wema Bank customers leverage to perform several banking activities at their convenience. They can do so with their mobile phones without necessarily visiting the banking hall.
The introduction of the Wema Bank transfer code has completely eased the long-tasking process of transferring money from one account to another. Prior to this time, you would need to visit the banking hall to make transactions that include money transfers and payment of bills.
Alternatively, customers opt for the internet banking system that would require them to use data and an internet-enabled phone to make the afore-mentioned transactions. But today, with the emergence of the Wema Bank USSD code, money transfers, and other simple transactions have been made easy and stress-free. The bank's mobile transfer code is basically designed to allow clients to perform transactions via USSD or SMS anytime, any day.
Things To Know About Wema Bank Transfer Codes
The services provided by the Wema Bank transfer code are open to any mobile network subscribers – MTN, Glo, 9mobile, and Airtel.
The USSD code is only open to Wema bank account holders. This means that you must first own an account with the bank before you can access the service.
You must have an active phone number registered in your bank account.
This service is available 24 hours every day. This means that even at really odd hours, you can still use the service.
What Are The Functions Of Wema Bank Transfer Codes?
The Wema Bank transfer codes provide the customer with different ways of making more banking transactions. It helps to make your day less stressful and allows you to do more with the bank while staying at home. Below is a list of all the things you could do with Wema Bank's *945# code:
Account opening
BVN and email updates
Bills payment
Changing PIN
Blocking your stolen ATM cards
Money transfers
Airtime recharge
Check account balances
Benefits of Using Wema Bank Transfer Codes
Using the Wema Bank transfer codes, like every other bank's transfer codes, comes with lots of benefits:
It makes bank transactions easier, faster, and convenient
The code is compatible with all phone types
You do not need mobile data to operate it
Transaction process is less than 20 seconds
The service is available 24 hours a day, 7 days a week.
The service is available to all networks in the country – Airtel, 9mobile, GLO, and MTN subscribers
How To Activate WEMA Bank USSD Code
Activating the Wema Bank transfer codes makes it easy for you to enjoy the afore-mentioned services provided by the USSD code. It helps you to carry out transactions on your phone using a preset password or PIN which will be needed to invalidate your money transfers, and any other transaction, including bill payment, etc.
 To go on with your phone activation, the following guidelines will help you;
Dial *945# on the mobile number that is connected with your WEMA Bank account. This is the same number used for transaction alerts.
Follow the prompt that shows up on the screen and choose the option to proceed to activation.
Add your bank account from which you want to make transactions.
Set a PIN.
Confirm your PIN to complete the activation process.
After the pin has been created, you can begin USSD banking transactions.
Note: If for any reason, your registered mobile number is no longer active, all you need to do is to go to the nearest Wema Bank and submit your new number. Once you do this, you are automatically registered for any kind of transaction.
Things You Can Use The Wema Bank Transfer Codes To Do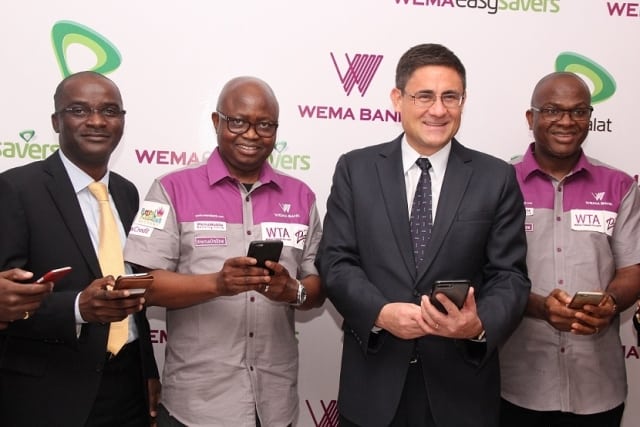 1. Transfer Money
You can transfer money to any bank account in Nigeria from your mobile phone using *945#. This transfer code can be used to transfer money either to another Wema Bank account or to another bank in Nigeria.
To transfer money from your Wema Bank account, dial *945*NUBAN Account Number*Amount# (For example, dial *945*123456xxxx*5000# for a cash transfer of N5000 to any bank account)
Enter the 4-digit transfer pin you created during registration to authenticate the transactions.
You will receive a message notifying you that your transaction is successful. It will be followed by a debit alert from your account.
Note:
Bank charges apply for transactions within Wema Bank (N21) and from Wema Bank to other banks (N52).
The daily transfer limit is N20,000. You can increase this to N500,000 via the WemaMobile app or by clicking here to opt for WemaOnline. You can also visit a Wema bank branch near you.
2. To Open a Wema Bank Account
Account opening using Wema Bank's *945# code is quite simple. It is less stressful and requires no paperwork. Simply dial *945*1# and follow the onscreen prompts to provide your full name, BVN, Date of Birth, account number, etc.
Note:
You need a minimum amount of N2,000 to be able to open an account with Wema Bank
You will receive an interest rate of 1.15%p.a
Limited withdrawals – Max of 4 withdrawals/month to qualify for interest
No third-party withdrawals allowed
3. Buy Airtime or Data
You can buy airtime on any network from your bank account using the Wema Bank transfer code. What's more interesting about this is that it is free of charge. You can also top-up your family, friends, and loved ones from your mobile phone without having to move an inch. Data top-up is also made available for self and third-party using the *945# USSD code.
To top-up airtime for self, dial *945*Amount#. For example, *945*1000#.
Airtime top-up for third-party, dial *945*Phone number*Amount#. For example, *945*08032110321*1000# to top-up for a friend.
For data top-up for self, dial *945*2# and follow the on-screen prompts to complete the transaction.
Data top-up for someone else, dial *945*2*Recipient's phone number# and follow the on-screen prompts to complete the transaction.
Note: Your daily phone recharge limit is N10,000
4. Verifying Wema Bank Account Number
To check your Wema Bank account number with the transfer code, use the following steps
Dial *945*000# using the phone number linked to your account.
Enter your e-banking PIN to authenticate your transaction.
Wait for the network to send you a message containing your 10-digit NUBAN.
5. Cardless Withdrawal
Wema Bank allows its customers to make cash withdrawals using the *945# code. This means that you can make cash withdrawals at the ATM even without your debit card. To withdraw money from your account without using an ATM card,
Simply dial *945*8*Amount# on your mobile device.
You will be asked to input a cashout PIN which should not be the same as your USSD banking PIN.
Type in the amount you desire to withdraw from your account
A cashout code will be sent to your phone which will be entered into the ATM at the point of withdrawal.
Note:
Phone number must be linked to your Wema Bank account.
You can only make cashless withdrawals up to N20,000 at a go.
Other FAQs About the Wema Bank Transfer Code
1. Why Should I Sign Up for Wema USSD?
Ans: It is available outside banking hours (24/7). It is secured. It doesn't require internet. It is easy and convenient to use. It's a faster mean.
2. Can I Send Money to People Not Registered on USSD?
Ans: Yes, you can transfer money from your Wema Bank account to any bank account using your mobile phone that is registered with Wema Bank.
3. How Often Can Customers Transfer Funds?
Ans: As often as they like to a max of N500,000
4. How Do I Switch Account on USSD
Ans: You can switch Wema Bank account numbers by dialing *945*old account number*new account number*2#.
Alternatively, you can follow the steps below to switch your Wema accounts
Dial *945# from your registered mobile number
Select Next Page
Select "Change Account"
Enter Provisioned Account (the account you currently run USSD on)
Enter your Preferred Account
Enter your USSD PIN
5. How Do I Change My USSD PIN?
Dial *945*00# from your registered mobile number
Enter your current USSD PIN
Enter New PIN
Confirm New PIN
6. What Do I Do If I Forgot My USSD PIN?
Ans: Visit the nearest Wema Bank branch and request for a PIN reset or call 070CALLALAT for a PIN Reset.
7. My Transaction was Declined, What Can I Do?
Ans: Please check your account balance to confirm the sufficiency of funds in your account. If your account balance is sufficient and still the transaction was declined, kindly check your email for notifications from the Bank communicating the reason for the decline and the steps required to rectify the issue.
List of All Wema Bank USSD Codes
1. Account Management  
| | |
| --- | --- |
| Account balance | *945*0# |
| Change PIN | *945*00# |
| Change primary account | *945*2*oldacctno*newacctno# |
| Account opening | *945*1# |
| Account Registering on 945 | *945*01# |
| BVN management | *945*4# |
| Account restriction | *945*911# |
2. Airtime, Data, and Transfers Codes
| | |
| --- | --- |
| Airtime (self) | *945*amount# |
| Airtime (others) | *945*phoneNo*amount# |
| Airtime/Data – | *945*9# |
| Transfers (Wema account and other banks) | *945*accountNo*amount# |
3. Wema Bank Quick Loan Code
4. Cable TV Codes
| | |
| --- | --- |
| Cable TV menu | *945*10# |
| DSTV | *945*11# and *945*11*smartcardNO # |
| GOTV | *945*12# and *945*12*smartcardNO# |
| Startimes | *945*13# and *945*13*smartcardNO# |
5. Internet Service Codes
| | |
| --- | --- |
| Internet service menu | *945*15#              |
| Smile | *945*16# |
| Spectranet | *945*18# |
6. Electricity Bill Codes
| | |
| --- | --- |
| Electricity bill | *945*24# |
| Eko | *945*25*meterno*amount# |
| Ikeja | *945*26*meterno*amount# |
| Ibadan | *945*27*meterno*amount# |
| Abuja | *945*28*meterno*amount# |
| Enugu | *945*29*meterno*amount# |
| Jos | *945*30*meterno*amount# |
| Kaduna | *945*31*meterno*amount# |
| Kano | *945*32*meterno*amount# |
| Portharcourt | *945*33*meterno*amount# |
7. Schools and Exams Codes
| | |
| --- | --- |
| WAEC (result checking) | *945*70# |
| JAMB (result checking) | *945*71# |
8. State Collections  
| | |
| --- | --- |
| Lagos state collection | *945*40# |
9. Cardless Transactions  
| | |
| --- | --- |
| Mcash | *945*57# and *945*57*merchantcode*amount# |
| Coralpay | *945*58# and *945*000*REFno# |
What Are Sort Codes and SWIFT Codes?
A sort code is a number used to identify both the bank and the branch where an account is held. The sort code is usually used when transferring funds from one account in one bank branch to another branch of the bank or another bank. A sort code can be located at the bottom of a bank's cheque booklet.
A swift code, on the other hand, is an alternate format of a Bank Identification Code (BIC). It was created by the Society for Worldwide Interbank Financial Telecommunication network and is used to identify a bank location, country, and branch number when initiating an international transfer.
How Wema Bank Sort Codes and Swift Codes Work
While sort codes are made up of 6 numbers divided into 3 pairs, for example, 12-34-56; swift codes are a bit more complicated as they can range from 8 to 11 alphanumeric characters.
Wema Bank, like every other Nigerian bank, uses an eight (8) character swift code that is meant for a bank head office while the eleven (11) character codes are for the other branches of the bank.
Sort codes are used to transfer money between domestic banks and financial institutions only. They work by identifying accounts and providing instructions needed to route money transfers domestically within the clearance organizations.
Swift codes are passed between banks and non-financial corporations in a secure, encrypted way. Funds are not physically transported using the SWIFT network, only the instructions; this communication facilitates the money transfer.
Where Can One Find Wema Bank Sort and SWIFT Code?
Wema bank has more than 100 branches in the country, and each of these bank branches has its own sort code. You can find Wema bank's sort code on bank-issued cards, statements, and on the online banking platform. The code can also be seen in the bank's cheque books.
The SWIFT Code for Wema Bank Nigeria is WEMANGLA. This code, which is valid irrespective of the branch you opened your Wema Bank account, can be found on bank statements and by logging into online banking accounts. Alternatively, you can contact Wema Bank customer care directly to confirm the SWIFT code.
A Complete List of Wema Bank Sort Codes
| | | |
| --- | --- | --- |
| State | Branch Address | Sort Code |
| Abia State | 103, Azikiwe Street, Aba | 035230544 |
| Abuja (FCT) | 264, Central Business Area, Abuja | 035080778 |
| | Oyo House, Ralf Shodeinde Street, Central Business District, Abuja | 035081421 |
| | Nnamdi Azikiwe Airport, Abuja | 035080862 |
| | Le meridien Hotel, Abuja | 035081528 |
| | 36, Herbert Macaulay Way, North Wuse, Abuja | 035080804 |
| Adamawa State | 19, Jimeta Road, Yola | 035091110 |
| Akwa Ibom State | 16 Eket/Oron Road, Eket | 035010971 |
| | Plot 179, Aka Road, Uyo | 035011158 |
| Anambara State | 21, Old Market Road, Onitsha | 035031187 |
| Bauchi State | Opposite Ultra Modern Information Centre (Bauchi State Library Board), Bauchi | 035031138 |
| Bayelsa State | Mbiama Road, Opp. State INEC Office, Pansha, Yenogoa | 035321505 |
| Benue State | 30 (Former No 11), Railway Bye-Pass High Level, Makurdi | 035051147 |
| Borno State | Jos Road, Opposite Borno State Secretariat, Maiduguri | 035061098 |
| Cross River Sate | 39 /113, Murtala Mohammed,  Highway Calabar | 035071198 |
| Delta State | 407, Nnebi Road, Asaba | 035241724 |
| | 33 Effurun/Sapele Road, Warri, | 035240945 |
| Edo State | 39, Mission Road, Benin City | 035041186 |
| | 12, Akpakpava Street, Benin City | 035041458 |
| | University of Benin, Ugbowo Campus | 035041681 |
| Ekiti State | 2, Orere Owu Street, Ado-ekiti | 035340890 |
| | 2, Orere Owu Street, Ado-ekiti | 035341417 |
| | Aiyedun/Omuo Road,Omuo) Aiyedun Ekiti | 035340557 |
| | Ilao Quarters Aramoko Roundabout | 035341239 |
| | 3, Inipa Street, Igbara-odo | 035340159 |
| | Oke–Aodu street, along Ado-Ekiti road, beside Ikere Central Mosque | 035341802 |
| | Oja Oba Road, Ise-Ekiti | 035341747 |
| | Kota-Omuooke road, Omuo-ekiti, Ekiti State | 035341815 |
| | University of Ado Ekiti, Iworo-ekiti Road | 035340612 |
| Enugu State | 10, Ogui Road, Opposite ACB, Enugu | 035251167 |
| IMO | 106 Okigwe, Texaco filling Station, Owerri | 035101178 |
| Kaduna State | New Nigeria Newspaper Building, Imam House, Ahmadu Bello Way | 035111045 |
| | 22, Bida Road, Kaduna | 035111430 |
| | NNPC Depot, Kaduna | 035111511 |
| | 1, Bank Road, Military Cantonment, Jaji | 035111443 |
| Kano State | 13 Bello Road, Kano | 035120382 |
| Kwara State | 171, Ibrahim Taiwo Road, Ilorin | 035140605 |
| | NNPC Depot, Oke-Oyi, Ilorin | 035141011 |
| Lagos State | 15, Lagos/Abeokuta Express Road, Abule- Egba | 035150475 |
| | 185, Old Abeokuta Motor Road, Agege | 035151335 |
| | 2, Rasmon Close, Off Osolo Road, Ajao Estate | 035150747 |
| | 3A,Ojo-Igbede Rd.Alaba Int'l Market, Ojo | 035150815 |
| | 33, Allen Avenue, Ikeja | 035151319 |
| | 32, Warehouse Road Apapa | 035150569 |
| | 2, Commercial Road, Apapa | 035151306 |
| | Block 9 (Zone D), Aspamda Market, Int'l Trade Fair Complex, Ojo | 035150966 |
| | Joseph Dosu Road, Badagry | 035151636 |
| | 23, Broad Street, Mamma Kontagora House, Lagos | 035150792 |
| | 41/45 Broad Street, Lagos | 035151283 |
| | 6, Davies Street, Lagos | 035151296 |
| | Lagos/Abeokuta Express Road, Dopemu | 035150077 |
| | Aluminum Cash Office Village, Dopemu | 035151241 |
| | 52/54, Murtala Mohammed Way, Ebute-Metta | 035150080 |
| | 117, Idimu Road,Orelope B/Stop , Egbeda | 035150954 |
| | 60, Jagunmolu Street Bariga | 035151623 |
| | Wema Towers 54 Marina, Lagos | 035150103 |
| | Wema Towers 54 Marina, Lagos | 035150116 |
| | 60, Ikorodu Road, Ijede, Ikorodu | 035150226 |
| | Ijora Fisheries Terminal, (Behind NEPA Workshop), Apapa | 035150624 |
| | 24, Oba Akran Avenue, Ikeja, | 035150271 |
| | 23/24 Ikorodu-Sagamu Road, Ikorodu | 035151254 |
| | 35 Awolowo Road,  Beside Total/Hunger Burster, Ikoyi | 035151212 |
| | Iponri Shopping Centre, Surulere | 035150598 |
| | 24, Abimbola Street, Abimbola House, Isolo | 035150750 |
| | 33, Ikorodu Road, Jibowu | 035150938 |
| | Lagos Airport Hotel,111, Obafemi Awolowo Way, Ikeja | 035151610 |
| | Lapal House,241, Igbosere Road, Lagos Island | 035150297 |
| | 89, Itire Road, Lawanson, Surulere | 035150721 |
| | Wema Towers 54 Marina, Lagos | 035150925 |
| | 2, Mobolaji Bank Anthony Way Maryland, Ikeja, Lagos. | 035150695 |
| | 236, Agege Motor Road, Mushin | 035150323 |
| | 1st Floor Nahco Building Off  Murtala Mohammed Airport Road, Ikeja | 035151021 |
| | Shed 6, NPA Terminal, Apapa | 035150831 |
| | Plot 30, Oba Akran Avenue, Ikeja | 035151322 |
| | Plot 45, Omole Industrial Layout, Isheri Road, Ogba, Lagos | 035150488 |
| | Odu'a Int'l Model Market Complex, Ojota | 035151050 |
| | 107, Alakoro Street, Oke-Arin, Lagos | 035150763 |
| | 29 Badagry Express Road, Okokomaiko, Lagos. | 035150734 |
| | Lagos/Badagry Expressway, (By Opere Street), Orile- Iganmu | 035150352 |
| | Shops 5,6 & 7, Block 2/3, 1st floor, Agric compound Old,Alaba, Orile, | 035150983 |
| | 455, Agege Motor Road, Bolade, Oshodi | 035150705 |
| | Pelewura Shopping Centre, Adeniji Adele Road, Lagos Island | 035150666 |
| | Wema House,27, Nnamdi Azikiwe Street, Lagos | 035150420 |
| | University of Lagos Campus, Akoka | 035150844 |
| | 8, Idowu Taylor Street, Victoria | 035151270 |
| Nger State | SW 35, Bosso Road, Opposite Afribank, Minna | 035161082 |
| Ogun State | Lagos/Abeokuta Road, Lafenwa. P. O. Box 209, Abeokuta | 035170015 |
| | 28,Obafemi Awolowo Avenue, Abeokuta | 035171344 |
| | Fibigbade Street, Ago-Iwoye | 035170031 |
| | Idi-Iroko Road, Ajilete | 035170057 |
| | Ilaro Road, Aiyetoro | 035170044 |
| | Behinde Fanta House, Ilishan Remo | 035171496 |
| | Ewekoro Cement Factory,  Ewekoro | 035170099 |
| | Idi-Iroko/Lagos Road, Idiroko | 035170125 |
| | Abeokuta Motor Road, Ifo | 035170141 |
| | Adeboye Road, Ijebu-Igbo | 035170196 |
| | Odonopa Quarters, Old Benin Road, Ijebu-Mushin | 035170206 |
| | 201, Folagbade Street, Ijebu-ode | 035171069 |
| | Leslie Street, Ilaro | 035171645 |
| | Olofin Road, Ilisan Remo | 035170219 |
| | 1 Ibrahim Babangida | 035171263 |
| | Olabisi Onabanjo University, Ago Iwoye | 035170345 |
| | Idi Iroko/Lagos Road, Sango Otta | 035170361 |
| | Fashina Square, Owode Yewa, | 035170332 |
| | Panseke, Ibara,Abeokuta | 035170905 |
| | Akarigbo Street, Akarigbo Street, | 035170413 |
| | WAPCO Factory, Sagamu | 035170675 |
| | 54A, Oba Adesida Road, Akure | 035180063 |
| | 34, Oyemekun Road, Akure | 035181392 |
| | Federal University of Technology, Akure | 035180500 |
| | P. O. Box 66, Igbara-oke | 035180160 |
| | Ifofin Road, Iju | 035180238 |
| | Jubilee Road, Ikare | 035181677 |
| | 4, Yaba Street, Ondo | 035180584 |
| | Old Market Road, off Ondo/ Sabo Road, Ore | 035181033 |
| | Idimisasa road, Opposite Olowo's Palace, Owo | 035181790 |
| | 1 Owode Market Road, Ede | 035291774 |
| | Ewekoro Cement Factory,  Ewekoro | 035290513 |
| | Osogbo Road, Ibokun | 035290241 |
| | Oke Awona Street, Ifetedo | 035290131 |
| | Imo Roundabout, Ilesha | 035291389 |
| | 8, Market Street, Iragbiji | 035290254 |
| | 6, Station Road, Iwo | 035290652 |
| | Joseph Ayo Babalola | 035291651 |
| | Ondo Road, Modakeke | 035290306 |
| | Obafemi Awolowo University, Campus, Ile-Ife | 035290872 |
| | Offa-Osogbo road, beside king's Palace, Okuku, | 035291758 |
| | 10B, Awolowo Way, Ikirun Bye-Pass Igbona,Osogbo | 035290717 |
| | 169, Station Road, Osogbo, | 035291363 |
| Oyo State | Agodi Gate Ife Road, Ibadan | 035190024 |
| | Secretariat Roundabout, Ibadan | 035191353 |
| | Behinde Fanta House, Ilishan Remo | 035190574 |
| | Oba Akinbiyi Shopping Centre, Bodija, Ibadan | 035190684 |
| | Sijuwola House, Plot 5, Old Dugbe Layout, Ibadan | 082190820 |
| | New Gbagi Market, New Ife Road, Ibadan | 035190642 |
| | Igbetti | 035190176 |
| | 1, Comprehensive Health Centre Road, Igboho | 035190189 |
| | Opposite Methodist Church, Tapa Street, Igbo-ora | 035191667 |
| | Kishi | 035190396 |
| | Mokola Roundabout, Ibadan | 035190312 |
| | Abeokuta Road,Apata, Ibadan | 035191007 |
| | Ibadan-Ilorin road,Apake, Ogbomosho | 035191761 |
| | New Ife Road, Ibadan | 035190435 |
| | Near South Campus, The Polytechnic, Ibadan. | 035190379 |
| Plateau State |  11 Beach Road, Jos | 035201104 |
| Rvers state | Plot 11, Trans Amadi Industrial, Layout, Port Harcourt | 035210852 |
| | 66, Olu Obasanjo Road, Bics Mall, Port Harcourt | 035211466 |
| | Plot 11, Trans Amadi Industrial, Layout, Port Harcourt. | 035210852 |
| Sokoto State | 18, Maiduguri, Road, Dogo Dagi House, Opposite Afribank, Sokoto | 035221074 |