Viola Davis has been married to Julius Tennon since 2003. Although she has no biological children, she has an adopted daughter named Genesis Tennon. She is also a stepmother to her husband's two children, Sheavonda Diana Tennon and Duriel Dwight Tennon.
Viola Davis is an African-American actress who was the first black woman to win an Oscar. She is popular for her amazing role as the lead character in the 2014 American legal thriller series "How To Get Away With Murder." She is also a renowned civil rights activist and has been happily married to Julius Tennon for almost two decades now.
They are one of the formidable A-list couples in Hollywood who support each other on and off the red carpets. However, with all the glory and fame now attached to her name, one will think it was all rosy for the black woman who grew up amidst a series of racist attacks and lack.
Viola Davis Had a Rough Love Life Before Meeting Julius Tennon
On how her love life was before meeting her husband, in her interview with InStyle, Viola jokingly told the story of how she tried so hard to get into a relationship by trying to pick up men at the bookstore. Some people advised her to go to Barnes & Noble at Columbus Circle in New York because that is the best place and way to get hooked up with dudes. She tried many times, but it never worked for her. She decided to continue with her single and lonely life, and not long after, she met her husband.
Ever since then, her life never remained the same but got better in so many tremendous ways. Let's tap into a part of the life of this American actress, especially concerning the details of her blissful marriage to Julius Tennon. After many years of being single, Viola Davis finally found love in the arms of actor Julius Tennon in June 2003 at the age of 37. It would go without argument that Viola's marriage to Julius has a spiritual backup, one that could quite make a plot of a romance movie.
According to the actress, she found her life partner through prayers. Regardless of her successful career, Viola described herself to be one of the loneliest women in the world, but one day, a friend told her to pray for a husband. She got amazed by the idea and hence, started to try it out.
Revealing to Page Six in 2013, actress Viola Davis said she wanted a big Black man from the South that would look like a footballer, probably been married before, who already had grownup children. Three weeks later, she met Julius, her now-husband. Julius Tennon is a man who checked all of Viola's boxes: He is a Texas native, had been married before, has adult children, and is a former college footballer.
Who Is Viola Davis' Husband, Julius Tennon?
Born on 24th December 1953, 69-year-old Julius Tennon is an actor and a producer. Julius is a native of Austin, Texas, he graduated from the University of Tulsa, where he majored in Theatre Arts, and was the first African American to graduate from the University of Tulsa's theater department. Tennon has a notable acting career and is popular for appearing in Friday Night Lights, Moesha, Criminal Minds, and Davis's How to Get Away With Murder. He has gained over thirty years of experience and has become an accomplished film, TV, and theatre producer.
Viola Davis First Met Her Husband on a Movie Set in 1999
Viola also prayed for her prospective husband to be older than her, love God than himself, and be emotionally available, and that is just how it came for her. Given that Viola and Julius are both actors, it is no surprise to know that they met in Hollywood. The duo met for the very first time on the set of the CBS series City of Angels in 1999. According to Viola, she was immediately attracted to Julius at first sight.
During a joint interview the couple had in 2017 with the OWN series Black Love, Julius Tennon recalled the day he asked her out for the first time, he heard her complaining to a girl by her side, saying, "I don't like L.A. I don't know anybody." Meanwhile, he was dating a girl at that time who was a little bit of a monster. At that point, Julius thought to himself that she (Viola) seemed to be a nice lady.
Since she doesn't know anybody, he is willing and ever ready to help her and meet someone new in his life. Hence, by the end of that day, he gave Viola his card and invited her to a guided trip to the Santa Monica Pier. Davis and Tennon were 47 and 35 years old, respectively, as of the time of their meeting.
They Had a Memorable First Date
Viola didn't give Tennon a call after a whole six weeks despite accepting his business card that day. However, she revealed in the joint interview that she spent those weeks working on herself and trying to fix her personal issues. One of such was the anxiety of walking down the streets of Los Angeles, given her humble beginnings and the kind of poor family background she has. But after much persuasion from her friends, she summoned the courage to call Julius, and they met. Their first date was at church.
The duo had the most honest details of themselves revealed to each other that same night, and after the conversation, Julius dropped her off at her home. Viola confessed that she couldn't resist Julius Tennon's gestures of kindness that night, which left her captivated. Recounting the magical experience she had on Black Love, she said, He just said to me, you are a very beautiful and nice woman, and it was a pleasure spending time with you. And he shook my hand.
Not only that, after dropping her off, Julius drove off and, twenty minutes later, called to reiterate how beautiful she was and how much he enjoyed their time together. Then, upon arriving at his home, he still gave her a call, informing her of his arrival, and also went on to sing her praises before they called it a night. Read Viola's words, "After my first date with Julius, my life got better, anxiety went away, the fear went away. He just made my life better."
Viola Davis Became Julius Tennon's Wife in 2003 at the age of 37
Following their first date, the iconic actress and her man Julius Tennon went for a few subsequent dates and made their romance official. Then, after four years, on the 23rd June 2003, the couple tied the knot in their hometown. Their wedding ceremony was a private one which had in attendance only fifteen guests; only close family members. Viola and her husband Julius have since remained a power couple and ultimate sweethearts.
The couple never fails to celebrate their wedding anniversary every year. They continue to serve couple goals, sending netizens raving with envy with their heartfelt tributes to each other. In 2011, they took the celebration to another level by making it a vow renewal ceremony. The ceremony was quite a grand one and had in attendance many Hollywood icons. In 2017, on their fourteenth wedding anniversary celebration, they took the festivity to its height.
Gushing on themselves via pictures of them from their vow renewal ceremony, Viola captioned with sweet words how sweeter her life has become since she landed herself the "most beautiful man in the world." The same thing goes for their 15th anniversary, wherein she posted photos of them donning black and white outfits alongside loved-up messages celebrating the 15 best years of her life.
Read one of the captions; "I prayed for you and God said, Yes! I have just the right person for you!!!' Happy Anniversary my love… The best is yet to be." Subsequent ones were not any different, just as we mentioned earlier, they never fail to celebrate their wedding anniversary each year and through this way, their love for each other is renewed and made stronger.
Viola Davis Has No Biological Children But Has an Adopted Daughter – Genesis Tennon
All together, Julius Tennon has three children, while Davis became a first-time mom in 2011 following the adoption of their daughter Genesis Tennon. The couple decided to go for adoption to expand their family and thus adopted Genesis as a baby in October 2011. Not long after, Viola granted an interview where she stated that Genesis brought about a new beginning in her life.
Genesis Tennon was born in 2011 to unidentified biological parents, so her exact date of birth is unknown. However, she is adopted in the same year as a baby by her parents, Viola Davis and Julius Tennon. Genesis is also growing and following in her parents' footsteps and has become an actress. She had her debut in the famous 2019 animated movie The Angry Birds Movie, wherein she was the voice actor of the character Vivi. She has also appeared in a few other movies.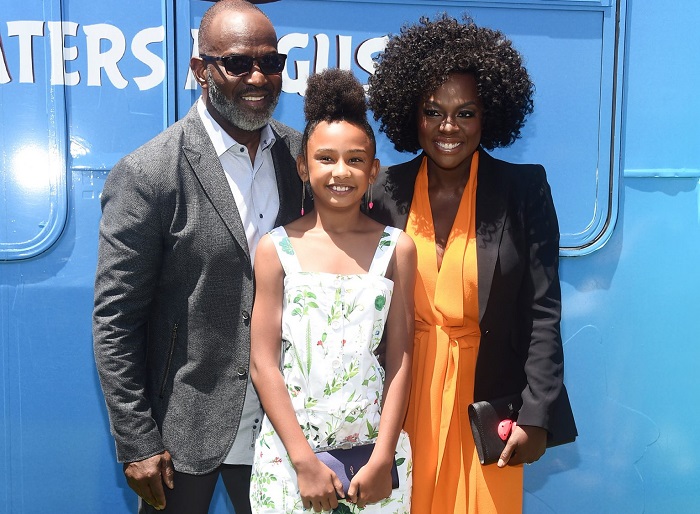 With her parents being popular in the entertainment industry, Genesis is already gaining much popularity as people are interested to know more about her personal life and career path. However, she is still studying and juggling her acting jobs, but as a child, she focuses more on her studies and is not fully into acting yet.
Meanwhile, it seems Davis and her husband carefully protect the personal life of Genesis out of the limelight, so details of the school she attends are currently unavailable. The fact that Viola came from an impoverished background and did not enjoy certain privileges made her promise to give her daughter the best life she could.
She is also a Stepmom to Tennon's Two Children from His Previous Marriage
Before his marriage to Viola Davis, Julius Tennon already had two children with his ex-wife, Sheryl Arnold, a son, and a daughter. Their daughter, Sheavonda Diana Tennon, was born on 6th October 1976, while their son, Duriel Dwight Tennon, was on 28th December 1979. They are currently 47 and 43 years, respectively.
Sheavonda and Dwight are adults and are nowhere to be found in the limelight; as such, there are not many details about them in the public space. Even though they probably have their own families now, Julius Tennon greatly appreciates his wife for being very accommodating and making their home one big happy family.
What is The Secret Behind Viola Davis' Blissful Union with Her Husband?
Regardless of all the bliss that is apparent in Viola Davis' marriage with her husband, the star actress has categorically stated that marriage is a commitment where you agree to be there both in good and bad times. One of this couple's secrets to happy marriage could be their ability to embrace every moment of their life. The couple seems to have great understanding and support for each other even in hard times.
In one of her interviews, she divulged that inculcating little acts of kindness in their everyday living has helped them a great deal to scale through. Despite her flourishing acting career, Viola prioritizes her marriage over the former. According to her, a career is about success, but her marriage and life are about significance.
In her words, "…my marriage enriches my life. It is more important than my career, more important than anything. I have to prioritize it." Unlike most celebrity marriages, it seems Viola had not faced any known rocky Patch in her marriage. Davis had never put up the words that they don't ever have bad times but always admit that they sometimes slam doors out of anger but have always got ways to make things up.
Their marriage is indeed one of the most successful and long-lasting marriages in Hollywood. Viola Davis never hesitates to share stories of her life, career, and marriage at any slightest opportunity because she believes that they are the most powerful emphatic tool she has that will probably touch lives in several positive ways.
Viola Davis is also a humanitarian who has contributed immensely to her hometown's development, providing quality healthcare facilities and good library facilities for all students of the Central Falls High School and lots more. She currently lives with her husband and daughter in Los Angeles, USA.