Late Pastor Dare Adeboye was the third child of Pastor E.A. Adeboye of the Redeemed Christian Church of God (RCCG). He was married to Temiloluwa Adeboye and together they had three adorable daughters; Ireoluwa, Oluwatishe, and Araoluwa.
Before his death, Dare Adeboye was an RCCG pastor, life coach, visionary leader, motivational speaker, and bridge builder. Beyond his gospel ministerial exploits, he was also decently holding it up on the home front before death took him away. Let's look at the family he left behind and how they have been faring since after his demise.
Who is Pastor Dare Adeboye's Wife?
Pastor Dare Adeboye's wife is Temiloluwa Adeboye. Though her state of origin is not known exactly, from her name, it is apparent that she is also of Yoruba descent just like her husband. Apart from the fact that she was a very supportive wife to his late husband, there is no other information about Mrs. Temiloluwa Adeboye's personal life and family background.
Her Marriage with Pastor Dare Adeboye Lasted for 13 Years
Late Dare Adeboye had his university education at Birmingham University, United Kingdom and that was when and where he met his wife Temi. Pastor D, as he was fondly called, fell in love with Temi who was attending the same church and parish with him at that time.
Shortly after, the two lovebirds returned to Nigeria for their wedding ceremony after all the necessary introductions. They tied the knot during the yuletide period on 28th December 2008. According to the deceased pastor, his wife was his girlfriend, sister, associate in the ministry, cheerleader, and a family to him.
Who Are Pastor Dare Adeboye's Children?
Pastor Dare and Temiloluwa Adeboye's marriage was blessed with three lovely daughters – Ireoluwa, Oluwatishe, and Araoluwa. It is obvious that the couple regulates what aspect of their children's lives they relate with the public because not a lot is known about their kids, not even their years of birth.
However, judging by photos, it is safe to say that they would still be attending primary and secondary schools. Pastor D was not only a good shepherd during his lifetime but also a caring and loving husband and a present father to his kids. Through his union with his wife, Dare led an exemplary life that was admired by many.
Dare Adeboye Died at the Age of 42
Pastor Dare Adeboye died on the 4th day of May 2021 in his residence at Eket, Akwa Ibom. The unfortunate incident occurred barely a month before his 43rd birthday. After attending a grand regional conference of the RCCG themed "The Sceptre of Favor", the cleric slept in the Lord.
Going by reports, the last update he made on social media a few days before the conference reads "preparing to receive the scepter of favor", this could be perhaps in relation to the upcoming conference or some other thing that no one else could explain.
Just after he returned from the power-packed conference, Dare retired to his room to have some rest and told his wife that he needs not to be disturbed. After some hours, his wife got worried upon realizing that he had slept for quite a long time and so tried to wake him. She tried calling him on the phone but he wasn't picking up.
Then, she broke into his room and made efforts to wake him but all was to no avail as he was unresponsive. Temi raised alarm and some senior pastors in the church came and prayed for him but he was already dead and nothing changed. It was noted that prior to his death, Dare did not show any sign of being ill nor was he on any medication.
Temi's Unpopular Reaction to Her Husband's Death
Death, they say is no respecter of no man, and is an occurrence that can happen to anyone at any time. Pastor Dare was laid to rest just a week after his death, on 11th May 2021 and at the funeral service, his wife spoke a lot of encouraging words full of strength and courage.
The strong mother of three in her tribute said that her husband was not afraid of death. Read some of the lines from her tribute to her husband:
"Pastor Dare, my husband, was a wonderful man. He was amazing in every way. I do not mourn him at all. I wept because he left me. My husband slept, he did not die and I know, I am sure, because on the resurrection morning, he will rise again and we will see him in glory",
"He lived a good life, he lived to the glory of God. He served God. His life was dedicated to Christ and that is why I am sure he is in heaven. I am sure he made it, …I want to say brethren today If you are here today and not sure of your salvation, you are not sure you are going to sleep in the Lord, you are not sure of where you are going to end up! You are afraid to die because you are not living a holy life."
Amidst tears and emotional service of songs and tributes, Temi's incredible strength ended up shocking many because they had expected to see a wholly shattered and inconsolable wife who would have sat at a place throughout the ceremony, looking hopeless with eyes reddened with ceaseless tears. But that was definitely not Temi.
The widow literally turned the tribute session into evangelism. People turned speechless as they stared in awe and admiration of the beautiful and strong woman offering strength and hope to those that came to mourn with her.
How Late Dare Adeboye's Family Has Been Faring
Dare Adeboye's death was a big blow to the entire Adeboye family. However, his wife Temi has since proven to be a very strong woman who has unshakable faith in God. Despite the huge loss, Temi and her children have continued to survive and most significantly, keep holding up with the calling in spreading the gospel of Jesus Christ to the world.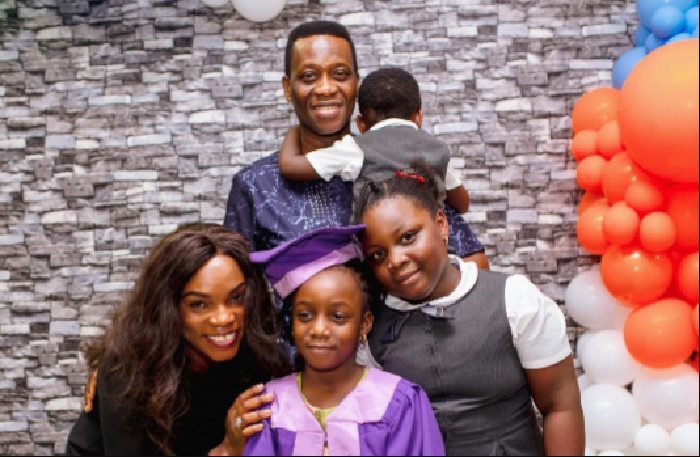 It is not disclosed where the wife and children currently reside. Notably, it is her remarkable faith and trust in God that is helping her pull through the tough situation.
The Death of Dare Adeboye Affected the Adeboye Family at Large
Dare's death affected not only his family but also their church members and the entire Christians all over the world. On his own part, the patriarch of the family Pastor E. A. Adeboye mentioned that the Lord did not reveal his son's death to him and so he believes God has a purpose for everything.
Speaking at the funeral service, the 81-year-old clergyman said that they really have lost a champion but are consoled because he is well assured that Dare is resting in heaven. He clearly stated that the Church of God will forever be marching forward regardless of what the devil is doing.
The man of God urged Christian around the world to keep on praying for his wife, children, grandchildren, and the entire family.
"Cry if you wish but don't cry for pastor Dee because he is resting in glory. Cry because you are the one still fighting the battle. Anyone who has caught a glimpse of heaven will not be crying for Pastor Dee because there is no comparison between heaven and earth. But then fight courageously because, on the resurrection morning, we shall meet again", he emphasized.