Sambo Dasuki is a Nigerian Army Colonel and former National Security Adviser (NSA) to the President of Nigeria. He was appointed NSA on June 22, 2012, following the removal of General Owoye Andrew Azazi.
Born December 2, 1954, in Wusasa, Zaria, Kaduna State, Dasuki is the first son of, Alhaji Ibrahim Dasuki, the 18th Sultan of Sokoto. He entered the Nigerian defense Academy in  1972 and received his commission from the Nigerian Defence Academy in 1974.
Sambo Dasuki's Military Career
During the military regime, Sambo Dasuki was the military assistant to General Mohammed Inuwa Wushishi and participated in the 1983 Nigerian coup d'etat that installed Major General Muhammadu Buhari as Nigeria's president.
Dasuki also joined forces with Abubakar Dangiwa Umar, Lawan Gwadabe, and Abdulmumini Aminu to arrest Muhammadu Buhari who was Nigeria's head of State in the 1985 palace coup led by Major General Ibrahim Babangida.
Sambo Dasuki was made the Aide-de-camp (ADC) to General Ibrahim Babangida following the coup. Later he became a former managing director of Nigerian Security Printing and Minting Company Limited (NSPMC). However, he resigned in protest from the NSPMC following its controversial privatization by former President Olusegun Obasanjo.
He Was Once the National Security Adviser
Dasuki served as the national security advisor in early 2015, directing the military operations against Boko Haram. He advised the Independent National Electoral Commission during the 2015 election "that operations against Boko Haram militants meant the military will not be able to provide adequate security for the country's general election."
The elections, scheduled for 15 February 2015, were then postponed until March 28 due to lack of security.
Alleged Fraudulent Activities
On December 1, 2015, Dasuki was arrested by Nigeria's State Security Service (SSS) for allegedly stealing $2bn and accused of awarding phantom contracts to buy 12 helicopters, four fighter jets, and ammunition meant for Nigeria's military campaign against Boko Haram Islamist militants
Prior to his arrest, Dasuki was placed on a house arrest at his Abuja resident besieged by the SSS for about a month; which was probably to prevent the retired colonel from leaving the country.
Dasuki was later granted request for his passport to be released to enable him to receive medical treatment abroad by Justice Adeniyi Ademola of the Federal High Court Abuja, but this was hampered by the SSS who laid another siege at Dasuki's Abuja home on November 5.
Sambo Dasuki Arrest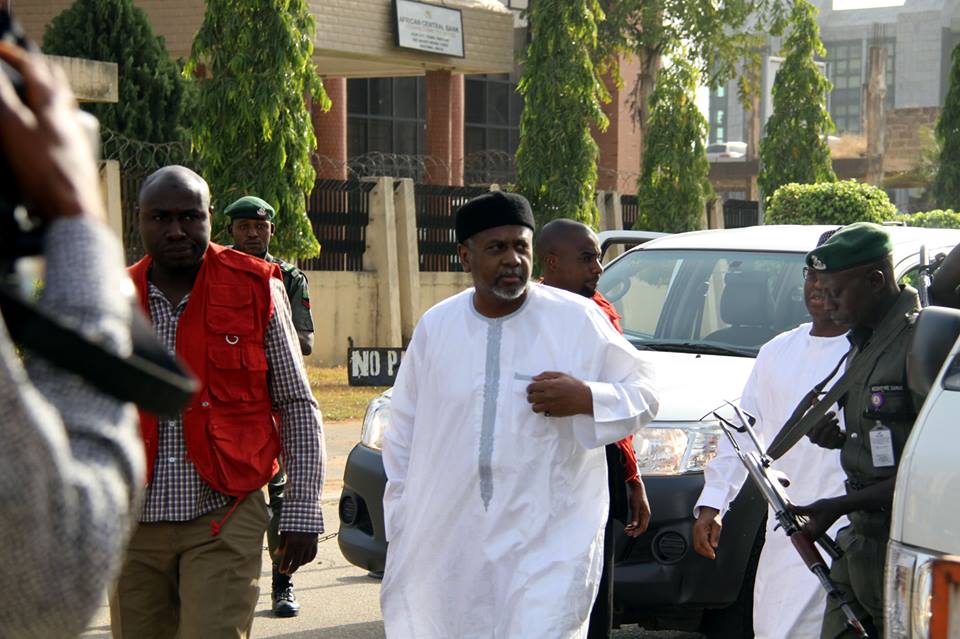 The former NSA, Dasuki was arrested and remanded at the custody of the Economic and Financial Crime Commission (EFCC). After denying his involvement in the misuse of $2.2 billion intended for the purchase of arms to fight the Boko Haram terrorists, Dasuki wrote a statement and implicated a lot of PDP (Peoples Democratic Party) chieftains, ex-governors, ex-ministers and others, who collected millions of naira from the former NSA's office.
The statement aided the EFCC's investigation into the stolen funds which was termed DASUKIGATE.
DasukiGate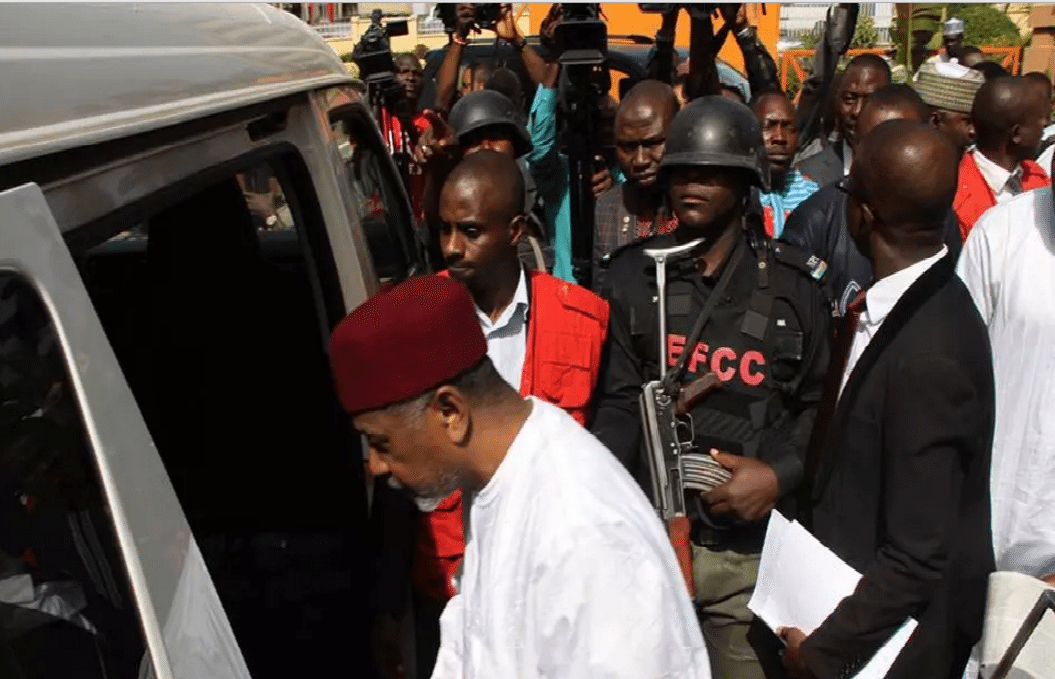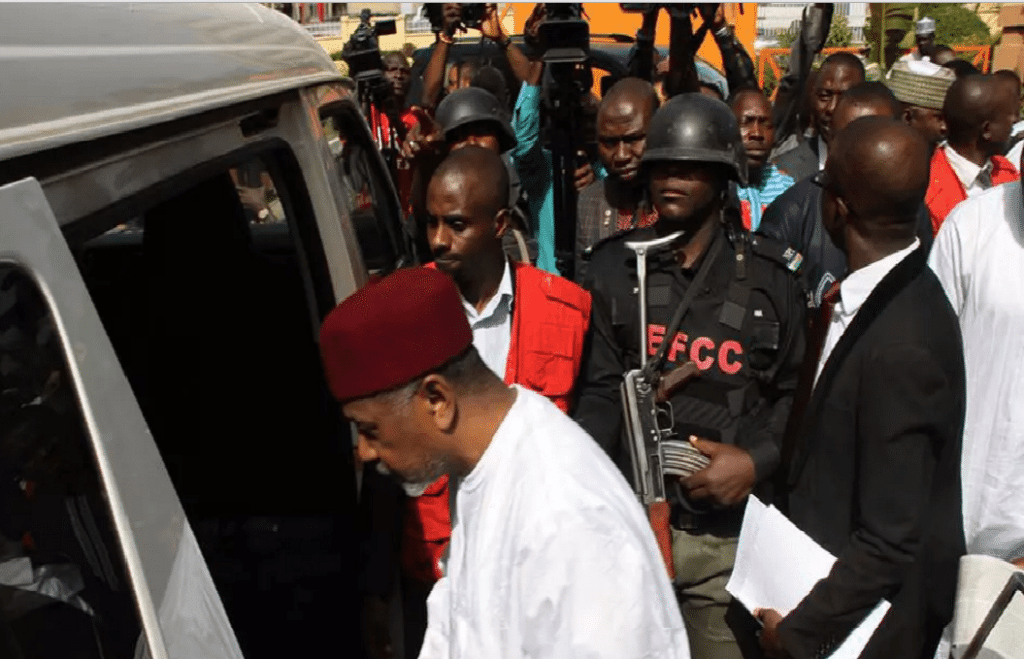 The Dasukigate led the security agency EFCC, toward Dasuki's accomplices in the arms deal fraud. It was alleged that the $2.2 billion was part of the sum of $5 billion returned by the Swiss Government, which was stolen from Nigeria's treasury by the late military dictator, Sani Abacha who stashed the money in offshore accounts.
Those who collected money from him include: Raymond Dokpesi, owner of DAAR communications limited, Bashir Yuguda, a former minister of state for finance, Attahiru Bafarawa, a former Sokoto state governor and Mr. Shuaibu Salisu, a former Director of Finance in the Office of the National Security Adviser (ONSA) and others; Olisa Metuh, the National Publicity Secretary of PDP who admitted his involvement and is currently on trial and has pledged to refund the sum N400 million he collected from Dasuki as a 'peace' offer.
Dasuki Houses
Following his trial in court in January 2016, the EFCC confiscated his houses in Kaduna. The houses include a hotel and a mansion under construction. He also owns a house at No. 13, John Kadiya Street, Asokoro.
Sambo Dasuki who faces 22 count charges of fraud and money laundering pleaded not guilty of the crime during the hearing at the Federal High Court Abuja on December 14, 2015.
Dasuki was initially granted a bail of N250 million based on certain conditions placed by the federal high court but he was re-arrested on his way out of Kuje prison Abuja by the State Security Service, SSS, who insisted he is being investigated for many crimes.
He has been held in prison since December 2015 to date. Although he triumphed over the Nigerian government at the ECOWAS court which challenged Dasuki's arrest and detention by the Federal government.
The court dismissed the objection of government against his suit, therefore supporting his fundamental human right to liberty. But this was yet to be acknowledged by the Nigerian court since, according to FG, "the ECOWAS has no jurisdiction to dabble into the trial of any Nigerian in a Nigerian court."
Dasuki's Wife and Children
The former NSA is married to Mrs. Dasuki who amidst the corruption scandals tailing her husband, created a scene at the headquarters of the Department of State Security Service (DSS) on December 29, 2016. She was begging top officials of the agency and the federal government not to allow her husband die in custody, to release him so he can get a proper medical treatment abroad.
The aggrieved wife along with children and relations of Dasuki staged a protest, pleading for his freedom.
Sambo Dasuki's Net Worth
Sambo Dasuki had been in political offices where the money is wielded. He was the managing director of Nigerian Security Printing and Minting Company Limited (NSPMC). Then as a National Security Adviser (NSA), Dasuki has an unlimited authority over the nation's security budget worth billions. His monthly/annual salary while in office was way over N20 million per month. But there is no absolute declaration of Dasuki's net worth since transparency is hardly a virtue of most of the leadership administration of Nigeria.
In the allegations leveled against the former NSA, a witness told the court that $47 million cash was withdrawn from the Central Bank of Nigeria and carted in 11 suitcases to Sambo Dasuki's house for sharing.