Talking about one of the most successful men of God, and what they had passed through to get where they are at the moment, you would believe it when we say it's really not a bed of roses. Such is the story of Pastor Sam Adeyemi.
Pastor Sam Adeyemi is the Senior Pastor of Daystar Christian Centre, a fast growing, life-changing church committed to "raising role models" based in Lagos. He is also the President of Success Power International, an NGO that among others things specializes in organizing financial, leadership and motivational seminars and is President of Daystar Leadership Academy, a leadership school for business owners and ministers of the Gospel.
The Senior Pastor isn't just a mentor, he is a teacher and also a motivational speaker. He was brought into the limelight through the popular programme – SUCCESS POWER – which airs on radio and television stations within and outside Nigeria.
Daystar Christian Centre didn't just evolve from nowhere, don't you think so? Let's have a look at how he began and how Daystar Christian Centre came to be.
Pastor Sam Adeyemi Biography
Sam was born on February 3, 1967, in Kogi State, Nigeria and his full name is Samuel Adesanya Adeyemi. His father Chief S.B. Adeyemi is a native of Odo-Ere Yagba West LGA, Kogi State, Nigeria.
Samuel grew up with his family, his younger brother Rev. Victor Adeyemi, is the senior pastor of Global Harvest Church, Ibadan. The two brothers are the first in their family to become ministers of God.
Pastor Sam Adeyemi is married to Pastor Nike Adeyemi who is a trained Architect. The couple met at Rhema Chapel in 1995. As at the time, his wife was a worker in the church while he was a pastor and they later got married.
While he was at Rhema Chapel, Rev. George Adegboye made him the director of Pastoral Care before he made him minister in charge and later posted him to Lagos.
He is passionate about teaching Success, Leadership and Financial principles through seminars and the media. He is a much sought-after speaker both nationally and internationally. Sam and his wife are been blessed with three lovely children and they have been living a very peaceful life.
How Did Daystar Christian Centre Come To Be?
According to DCC, Pastor Sam Adeyemi said he got the revelation in 1994.
The Lord spoke to me clearly one morning that he was going to take me to the next level of ministry; to teach biblical success principles. He said I would not be able to do the things he wanted me to do in my former pastorate; because he was asking me to teach success on radio, television, tapes, publications and seminars. In addition, I was to establish a church that would help people discover and realize their potentials.
Daystar Christian Centre was first inaugurated on November 18, 1995, at Eko Chinese Hotel in Ikeja Lagos. Just like the foundation of every great mansion, the man of God experienced series of obstacles including financial constraints, venues and members.
Daystar Christian Centre has been through hard times and being managed by a devoted man of God has continued to grow from strength to strength. The church finally got a warehouse on 71 Oregun Road (now Kudirat Abiola Way). That is where the main church office is located at the moment.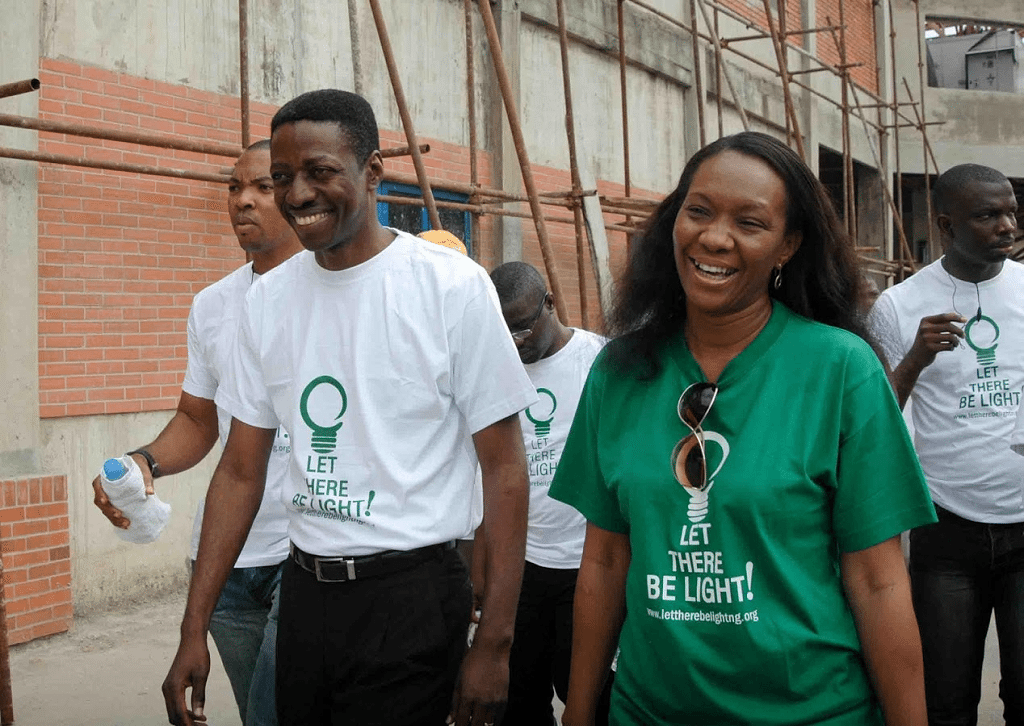 Personal Life
Pastor Sam Adeyemi is a very passionate person. He devotes most of his time to acquiring and imparting knowledge on people. He is a motivational speaker and likes teaching Success, Leadership and Financial principles through seminars and the media. His mentor is Bishop David Oyedepo.
He established Pneuma Publishing Limited, an information resource management company duly registered by the ministry in 1995 under the Corporate Acts Commission of Nigeria. It was pioneered by the Managing Director, Pastor (Mrs.) Nike Adeyemi. The business was established just for the passion for books and information. She started by selling local and foreign books that had aided her growth and development while growing up and today it is a big and established company.
In September 2001, Pastor Sam Adeyemi also established a children centre know as Daystar Daycare now called Daystar Children Centre. The centre was founded as a non-profit organization and in 2002, he also established a Leadership Academy known as Daystar Leadership Academy.
Similarly, his wife Pastor (Mrs.) Nike Adeyemi has been outstanding in her own way. She is passionate about family, enterprise and Education. She has authored five books including "LOVE CODE…. THE TRANSFORMING POWER OF COMPASSION".
See Also: Pastor David Ogbueli: Biography And Quick Facts About The Charismatic Preacher
She presides over a non-profit organization in Lagos, Nigeria known as Real Woman Foundation. She is also the host of 'Real Woman with Nike Adeyemi' an interactive forum which airs on various TV stations.
Pastor Sam Adeyemi Books
The man of God has authored many books including the best selling – Parable Of Dollars and Success Is Who You Are. Others include Ideas Rule the World, Start With What You Have, Second Revolution, Multiply Your Success: LEAD and his latest additions, Nigeria Of My Dreams, Generation Z+ and We Are The Government.
Favourite Quote
"behind every success and achievements lies plenty stories to tell"