Ngozi Ezeonu has enjoyed a respectable acting career. But while she has had a successful career in Nollywood, she hasn't been quite successful in her marriage. She was previously married to Edwin Ezeonu and has four children; Ogechukwu, Chidera, Melveen, and her last daughter whose name is unknown.
Even though Ngozi's children are not all out in the open, we will tell you everything we know about them, and what led to the actress's failed marriage.
Is Ngozi Ezeonu Married?
Ngozi Ezeonu is currently divorced from her husband, Edwin Ezeonu. Their marriage hit the rocks in 2013 and the divorce processes were officially completed in 2015 at an Ikeja high court. There is no information on when and how the two met and got married. Also, details of her love story with Edwin are not public knowledge which might be because she was already married before becoming a recognized name in Nollywood.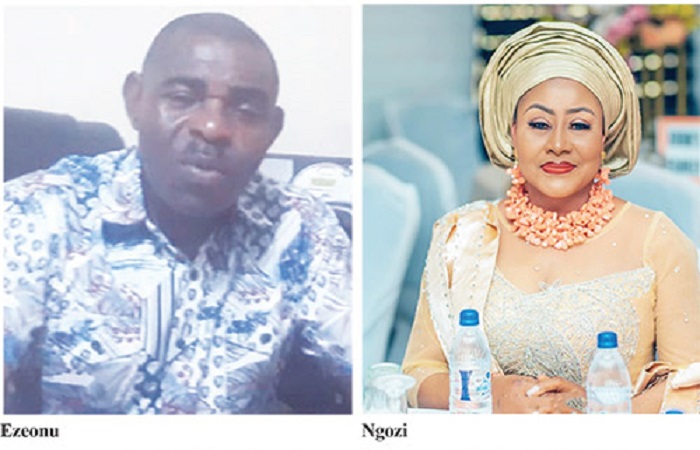 However, from the tidbits we could get from reports, Ngozi Ezeonu and her ex-husband Edwin Ezeonu lived together as husband and wife for fourteen years and had three children together; Ogechukwu, Chidera, and Melvin. Though what he does for a living is not known, Edwin hails from Nnobi in Anambra State while Ngozi is from Ogbunike, also in Anambra State.
Their Marriage Crashed After About a Decade
Edwin Ezeonu in an interview painted a picture of what his marriage with the actress looked like and how it came to an end. According to the actress's ex-husband, he came back from work one fateful evening and met an empty house without any prior notice. He was only able to get some details from their landlord that Ngozi had relocated their children to a different house.
The father of three however admitted that he saw that coming and as well got the impression that his wife was arranging another apartment. On this note, he put a call through to Ngozi and cautioned her to withdraw from her plans to split the family but all his warnings fell on deaf ears. That was the very day she left and never came back till they officially got divorced.
Revealing further the tale of their marriage, Edwin said that he was a supportive and encouraging husband to his wife, especially in building her career but she took all that for granted and never appreciated his effort. He also expressed with much bitterness how the actress never contributed to the family affairs, rather, he alone continued to bear all the children's expenses even after she left their matrimonial home.
Meet Ngozi Ezeonu's Daughters and Sons
Ngozi Ezeonu has four children, three of which are grown. Though the actress is someone that likes to keep her children out of the spotlight, we still have a bit of information about them. Her first child and daughter Ogechukwu got married in 2022. Meet all her children below
1. Ogechukwu Edwina Ezeonu
Full Name: Ogechukwu Edwina Ezeonu
Date of Birth: September 5
Education: Houdegbe North American University
Marital Status: Married
Occupation: Front-End developer and UI & UX designer at Cregital
Named after her father, Ogechukwu Edwina is Ngozi Ezeonu's eldest child. Her birth year is not known but she celebrates her birthday every 5th of September. She graduated from Houdegbe North American University and now works as a Front-End developer and UI & UX designer at a company called Cregital. From the look of things via her Instagram page @ogehezeonu, the young lady is quite passionate about her role and job at the digital and designing company.
Ogechukwu got married in a glamourous traditional wedding ceremony in Asaba Delta State on 15th February 2020. Save for the fact that the father of the bride was missing in action at the event, the wedding was quite a glamourous one with several Nollywood stars and celebrities in action. Oge is currently the only child of actress Ngozi Ezeonu that is married.
Controversies Surrounding Ogeh's Marriage and Her Father's Reaction
In an interview he granted after the marriage, Ngozi Ezeonu's ex-husband bitterly expressed his anger and sadness over his daughter, Ogechukwu's traditional marriage because he was not recognized as the bride's father. Edwin was completely denied his right of giving his only daughter's hand in marriage owing to the fact that his ex-wife Ngozi did not inform him about the marriage.
Edwin with annoyance maintained that as long as he is concerned, his daughter Ogechukwu is not married. According to him, having his daughter's traditional marriage in Delta State while he is from Nnobi in Anambra State is an abomination and thus, a nullity. He emphasized that what happened in Delta State was only a movie shoot.
In the interview, Edwin Ezeonu mentioned that he fathered only three children with the actress; one girl and two boys, and warned the actress to desist from continuing with his surname Ezeonu given that they are divorced. According to Edwin, their divorce was finalized on the 2nd day of January 2015 at the Lagos High Court, precisely in Ikeja Judicial Division with the Suit ID NO ID/429/HD/2013. He stated that the actress is only deceiving fans by still using his surname and pretending that they are still married.
In all these, actress Ngozi Ezeonu never responded nor shared her own side of the story. Thus, we cannot be categorical in stating what led to the end of her marriage with Edwin Ezeonu.
2. Chidera Ezeonu
Full Name: Chidera Ezeonu
Date of Birth: 30th April
Education: Delta State University (DELSU)
Marital Status: Single
Occupation: Unknown
Ngozi Ezeonu's second child and first son is Chidera Ezeonu. His year of birth is unknown but records show that he celebrates his birthday on April 30 of every year. Chidera obtained his Bachelor's degree from Delta State University (DELSU), Nigeria. His Instagram handle is @its_kng_keller.
3. Melveen Ezeonu
Full Name: Melveen Ezeonu
Date of Birth: 17th October
Education: Madonna University, Okija Anambra State
Marital Status: Single
Occupation: Student
Just like his elder brother, there is little or no information about Ngozi Ezeonu's third child and second son, Melveen given that his life is not in the public eye. Born on 17th October (year unknown), Melveen is still a student at Madonna University, Okija Anambra State. Catch Melveen on Instagram via @melveen_ezeonu. Meanwhile, from what is perceivable, none of the actress's children has shown interest in their mother's line of career.
4. The Youngest Daughter
Contrary to the information her ex-husband shared on the media about having only three children with the actress, Ngozi Ezeonu is said to have four children. Hence, if the actress actually has a fourth child; a daughter, then, she definitely has a different father or was adopted.
Albeit, while her other children's names are all open to the public, we do not have an idea of the youngest's child's name or a photo of what she looks like. From what is obvious, Ngozi Ezeonu shares a very close relationship with her children as they are usually seen posing for photos together and also hanging out as a family.