Florence Ifeoluwa Otedola, professionally known as DJ Cuppy, is a Nigerian disk jockey and record producer who is also popular for being the daughter of the Nigerian billionaire businessman Femi Otedola. DJ Cuppy has released many works as a DJ and producer and is making a name for herself in the entertainment industry. Her love life and relationship interest is the one that draws much attention to her. She has an eye for good-looking men and has dated many men more than we can count, especially celebrities.
Does DJ Cuppy Have a Boyfriend?
Going by a recent social media post, DJ Cuppy is currently single and not dating anyone. Florence took to her vlog to reveal that at the age of 28, she is still single, on 2nd January 2020. She further expressed how she made some mistakes in the past, which could be the cause of her single status. Again, the DJ made mention of her single status in January 2022 when she reacted to popular singer Rihanna's pregnancy. In her words, "Rihanna is pregnant, and I am still single."
However, she always consoles herself with the words that though the mistakes she made cost her hugely, she has learned from them as they have made her become a better person. She further threw a piece of advice to people to not be afraid of making some mistakes along the journey of their life, especially in terms of relationships, expressing that she is even more proud about who they've made her become.
At the same time, in a bid to confirm Cuppy's singleness, her brother Fewa Otedola took to his Instagram with photos of her sister DJ Cuppy. The post came along with the caption "Sister is single and searching, who wants?" Even though he seemed to have made the post on a light note, it threw more light on the subject of discussion.
A Look at all the Men DJ Cuppy Has Dated
In an interview with The Zeze Millz Show in 2021, the billionaire's daughter revealed that she had dated almost all kinds of men, including a bus driver. On answering how she finds these men, she said she sees them on a paid app which costs £400 to join the platform. But it is obvious that the DJ is still looking out for her kind of man, which she said to be a man that is genuinely caring and funny.
So, she continues to be open-minded to dating, maintaining that there is nothing wrong with dating different kinds of men. Conversely, DJ Cuppy debunks most of her rumored relationships, and fans continue to wonder if they are true. Here we bring you a comprehensive list of all her dates, flings, and hookups, both rumored and real boyfriends.
1. Asa Asika
Asa Asika is a famous Nigerian artist manager and CEO of Stargaze who gained more popularity following his on and off relationship with the billionaire's daughter for eight years. According to the DJ, Asa Asika has been his long-time friend even before she came to the limelight with her career as DJ. The duo officially started dating in 2011 and stayed together for a while before their first breakup.
During this time, the couple never had problems with publicly displaying their intimate moments and affections to each other. They broke up after a few years and then came back again for the second phase of the relationship in 2018. This time, they consciously kept things on the low, which lasted just for a couple of years.
Cuppy and Asika reportedly tried their best to make the relationship work, but their ship completely sank in 2020. Precisely what led to their final breakup is unknown, but from the look of things, Cuppy and Asika have gone their separate ways for good.
2. Victor Anichebe
When DJ Cuppy and Victor Anichebe dated coincided with the times she was in an on and off-again relationship with Asika. After the first phase of her relationship with Asika, she met Victor. He is a Nigerian footballer who played with the Nigerian national team as a striker and currently plays for Beijing Enterprises. Victor seized the opportunity of the momentary breakup of Asika and Cuppy to be with her.
While their relationship lasted, Florence explained it as good and worthwhile. They amicably parted ways in 2017, and DJ Cuppy revealed that the main reason behind their breakup was the issue of long-distance. Victor was in Beijing, China, where he plays football while she shuffles between London and Nigeria. After the breakup, the two have remained buddies, and she continues to praise him for being such a great guy.
Fans expressed their disappointment in DJ Cuppy, claiming that this is the best relationship she has ever had. Meanwhile, after they broke up, rumors began to peddle all over the internet that Victor Anichebe actually dumped her for a white woman whom he is currently dating, and had even brought her home to meet with his family.
3. Sean Tizzle
One of the many men DJ Cuppy has dated since her relationship is Nigerian musician Sean Tizzle. The news came to public knowledge following a suggestive post the singer shared on his page. According to the singer, he was asking God to bless Ifeoluwa, whom he called his Cupcake. He further likened their relationship to that of Jay Z and Beyonce, saying that it is just him and his future Abiamo, and ended it with #Kisses.
It seemed DJ Cuppy was never on the same page with the musician and frowned at the post, given many speculations it raised. According to reports, she got angry about everything, which later strained their relationship. Considering the turn of events and how the supposed relationship came to an abrupt end, it is not clear whether Sean Tizzle and Cuppy actually had a 'thing,' or the singer was only trying to shoot his shot with the billionaire's daughter.
Be it as it may, the couple has since moved on with their separate lives, and Sean has allegedly not been on the DJ's good records.
4. Anthony Joshua
Anthony Joshua is a boxing champion whose relationship rumor with the DJ started making headlines after they were seen in Spain spending a vacation together. The rumor also increased after he came to Nigeria and visited her father, Femi Otedola's house.
Anthony gifted Cuppy a dollar sign diamond necklace shortly after returning from the Spain vacation, and fans quickly interpreted it to be a gift of love. Speculations about their being a couple went on for quite a while, but neither of the two cared to debunk the rumor nor came up with a confirmation of it.
Thus, it is difficult to say if they dated or not. While some believe the two only had a fling, others take it that Cuppy had a crush on him because there was a time she made a post with their photos in traditional attire.
5. Korede Bello
Sometime in 2015, Korede Bello and DJ Cuppy were rumored to be in a romantic relationship. The rumors were sparked after the female took to her Twitter account to lavish praises on the God Win crooner. Her tweet reads, "Koredo is so adorable! Don't tell him." Fans made different interpretations from the tweet and concluded that they are supposedly an item. However, it all turned out false in the end.
Speaking to the NET in an interview, the DJ expressed that she is only good friends with the singer and happy for the height of success he continues to achieve, but they are not an item. On his part, Koredo Bello later came up to debunk the rumors. While it is known that the Mavin record signee can go on a date with any woman of his choice given his cute and endearing looks, which tends to sweep girls off their feet, this time, it is not so with the disk jockey.
6. Ice Prince
The alleged relationship between rapper Ice Prince and DJ Cuppy sprung from when they worked together. In 2014, the duo worked on a song that allowed them to have moments together in the studio and other places. Fans seemed not to get the gist behind the relationship but speculate that they are lovers. The two came up to set records straight by debunking all rumors, maintaining that the only thing they have in common is their music, and there's nothing else beyond that.
7. Fireboy DML
On Valentine's day in February 2021, DJ Cuppy shared on her social media page photos of Fireboy and herself together in bed wearing bathrobes. The YBNL singer was seen in rather suggestive positions, which sparked rumors about the two being lovers. However, after a short while, Cuppy dropped a new song with Fireboy titled Feel Good. This automatically died down all speculations as fans understood that the photos were only shots from the music video.
8. Broda Shaggi
In 2019, rumors began to peddle that the Comedian Broda Shaggi and the billionaire's daughter are lovers after being spotted together in a few events. The rumor was also fueled due to her dad's suggestive comment about her daughter and the comedian. Cuppy called her father to wish him a happy birthday, and Femi spotted Broda Shaggi with his daughter in her bedroom and referred to him as Cuppy's husband.
He went on with what would rather be a joke to ask her when their wedding is holding. The rumor died down on its own as the two are further seen moving on with their separate lives
9. Olamide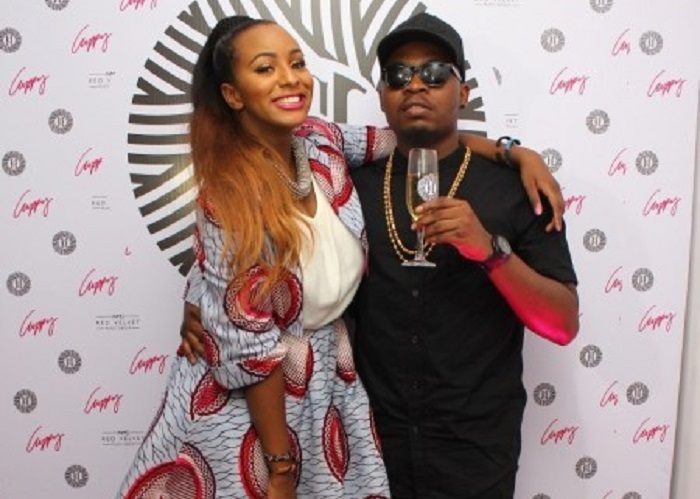 DJ Cuppy and Olamide have also been caught up in a relationship rumor. However, the rumor only lasted for a short while and quickly died down. The two were quick to deny all speculations saying they were never an item.
Did Cuppy Really Date Zlatan Ibile?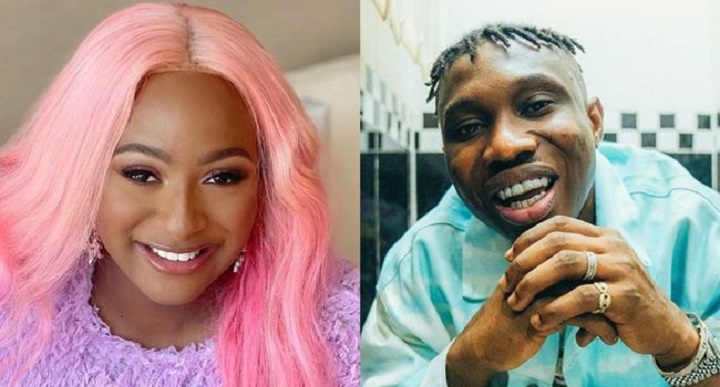 It is quite difficult to say whether Zlatan Ibile dated DJ Cuppy, given that they denied everything as false rumors. According to some reports in 2019, we gathered that the major spark of the rumors of their romantic entanglement came from the work they did together; DJ Cuppy featured Zlatan in the music video for her track Gelato.
On seeing how they were having good times and enjoying themselves on various fun videos, fans could not help but conclude that they had something serious going on. Not only that, in December 2019, after Anthony Joshua won the fight against Andy Ruiz, Zlatan Ibile jokingly told the boxing champion to leave DJ Cuppy alone for him.
Also adding fuel to the fire is a series of photos that surfaced on the internet during this time, showing loved-up photos of them having fun. However, the rumored relationship didn't materialize as they both moved n with their lives.
Truths About Kiddwaya and DJ Cuppy's Dating Rumor
During the Lockdown edition of the popular BBNaija reality TV show, a conversation ensued between Kiddwaya and his love interest Erica, wherein she asked him about the women he has ever been vulnerable to. On answering the question, Cuppy's name made the top three.
The first two names he mentioned were his mum and his manager and then DJ Cuppy. Erica further asked if he saw himself dating the DJ anytime soon. He answered that Cuppy is his best friend and confidant, so he doesn't and would never dream to make any move on her for a relationship.
Meanwhile, Kiddwaya's praise of Cuppy continued to hint at a more level of intimacy and affection as he has the billionaire's daughter on his lips throughout the show. Kiddwaya also said their billionaire fathers, Terry Waya and Femi Otedola, are close friends. In August 2021, after Kiddwaya had broken up with Erica, some loved-up photos of DJ Cuppy and Kidd in London were seen all over the internet.
Their intimacy and closeness in the photos further sparked rumors of a relationship, and people shipped them together already. However, the two have denied all rumors of them being an item. DJ Cuppy said they are only childhood friends and nothing more. On his part, Kidd confirmed the same and added that DJ is someone he respects a lot.
Speculations that DJ Cuppy Has a New Mystery Man in Her Life
Recall that the DJ has been reporting her single status since 2020, yet she recently started making some moves that portray differently from her previous claims. On two different occasions, DJ Cuppy has received suggestive packages which are clearly gifts from a man.
On her IG page, she shared a photo of a classy pink handbag, matching her color preference. She had previously shared a post of their first date at which the man gifted him an expensive Bulgari wristwatch and then on a second date with a pink handbag.
From what is perceivable, Cuppy's alleged new man is the type that loves to express his feelings with gifts. Be it as it may, DJ Cuppy is yet to reveal the identity of this dude, and fans are only becoming impatient to know who this mystery man that seems to mean business with her is.