Naseeb Abdul Juma, popularly known by his stage name Diamond Platnumz, is a Tanzanian-born Bongo Flava recording artist and singer who is best known for his hit song, Number One, which featured Nigerian artist Davido. Also, he is one of the wealthiest musicians in East Africa and the richest in Tanzania, with an estimated net worth of $7 million.
He performed at the Big Brother Africa 7 eviction show in May 2012 and was labeled the most loved and decorated Tanzanian artist at the moment who also has the highest-selling Tanzanian artist of ringtones by mobile phone companies in 2013. As if that was not enough, Diamond was named among the artists earning the highest income in the African Great Lakes region's music industry. Here's what you need to know about the Tanzanian artist and how he accumulated his impressive net worth.
Diamond Platnumz Profile Summary
Full Name: Naseeb Abdul Juma Issack
Date of Birth: October 2, 1989
Age: 34 years old
Place of Birth: Tandale, Dar es Salaam, Tanzania
Nationality: Tanzanian
State of Origin: Kigoma
Education: Chakula Bora Nursery School, and Tandale Magharibi
Occupation: Businessman, Songwriter Singer, and Dancer
Marital Status: Single
Children: 4+
Net Worth: $7 million
Diamond Platnumz is From Kigoma, Tanzania
Diamond Platnumz was born at Amana hospital in Dar es Salaam, Tanzania, on October 2, 1989. He is regarded as one of Africa's leading and most influential artists. The Tanzanian star, Diamond Platnumz, also known as Chibu Dangote, at his grandmother's house in the western part of Tandale, as his mother's only child. With his father not being in the picture, his mum and grandmother were forced to rent out part of the rooms in their house to help fend for their daily needs and pay their bills.
He Did Not Attend a University
Diamond started his educational career by first attending Chakula Bora Nursery School in 1995, after which he went to Tandale Magharibi in 1996, where he graduated in 2002. He was not opportune to further his education then due to lack of funds. Interestingly, Naseeb began showing interest in music while he was still in standard five. He took up singing and imitating local and international artists at every given opportunity.
His mum, Sanura Kassim, also contributed to his rise to fame by buying albums of different artists for him. Sometimes, she also took him out to different talent shows and, most importantly, assisted him in writing the music lyrics in a way he could easily sing them.
Though family members largely criticized her actions based on their perception of music as a waste of time, Naseeb's mother continued showering him with full support. She played a vital role in the pursuit of his dreams as a musician up until after he completed his secondary education and started his music career officially.
How Platnumz Became the Richest Musician in Tanzania With $7 Million Net Worth
As mentioned earlier, Diamond began his music career as a kid and with the help and support of his mother. He later delved into music fully after his secondary school education. The career, which he started as a kid, started bringing money later in his career life. The talented musician did not make his wealth from singing alone; he has some other ventures contributing to the net worth he enjoys today. His present wealth is a culmination of earnings from album sales, music concerts, tours, endorsements, and collaborations. The multi-talented artist established a television and radio outfit in Tanzania, added to his record label. Let's take a look at how he accumulated his present net worth.
A Great Chunk of His Net Worth Came from His Music Career
Diamond began his musical career fully in 2006 at the age of 17. Life as an artist was never rosy for him, as many would have thought. The star had a tough time trying to fit into the industry. He was forced to do casual works like selling fairly used clothes, freelancing, and even become a filling station attendant, among many other jobs, to raise money for a studio session in 2007.
He recorded his first single titled "Toka Mwanzo" with the money he got from his small business. Although the first song did not sell as expected, the artist didn't give up on his career. After much effort, Diamond successfully released the hit single "Kamwambie" with the financial support of Msafiri Peter, aka Papa Misifa, who helped to nurture his talent. It was this song that brought him to the limelight.
When he found his feet in the music industry, Platnumz released his first album, Kamwambie, in 2010, the same year his hit song was released. The album, which has 12 tracks, went down well with the people and earned him many fans. After releasing his first album, the second one, Lala Salama, came two years later, in 2012. He released his third album in 2018. In between these albums, he has dropped a lot of singles.
List of Diamond Platnumz Selected Songs
Kanyaga
Inama ft. Fally Ipupa
The One
Baba Lao
Jibebe ft Mbosso and Lava Lava
Gere ft. Tanasha Donna
Ongeza
Jeje
Waah ft. Koffi Olamide
Sound ft. Teni
Haunisumbui
Diamond ft. Davido
Naanzaje – 2021
Marry You ft. Ne-Yo – 2018
Number One ft. Davido – 2018
Fire ft. Tiwa Savage – 2018
Waka ft. Rick Ross – 2018
Chanda Chema – 2012
Mawazo – 2012
I Hate You ft. Hemedy PHD – 2010
Kamwambie – 2010
Major Competitions Platnumz Had on His Way Up His Musical Career
When he started singing, Diamond Platnumz only wanted to make money, no matter how little, to survive. He incorporated his country's bongo Flava in his standard slow heartbroken songs. Bongo Flava comprises R&B and Caribbean influences, hip-hop beats, African stiles such as dansi, taarab, and Arab. At first, he sang in Swahili just like other bongo Flava competitors like TID, Dully Sykes, Q Chief, and Juma Nature.
To stand out, he added English translations to his songs. He also changed the theme of his songs from heartbreak to love songs and danceable sounds. The need to be popular and receive BET Awards led him to cameo appearances with celebrities like Rick Ross (Waka), Alicia Keys (Wasted Energy), Omarion (African Beauty), and Ne-Yo (Marry You). To overcome international competition, he collaborated with these artists to boost his popularity and global awareness.
Awards and Recognitions
For his contributions to the music industry, Platnumz has received over 22 awards in over 28 nominations. His awards are not limited to his country alone, as he has received both local and international awards. On May 3, 2014, Diamond Platnumz broke a new record at the Tanzania Music Awards by winning seven awards. Between 2010 and 2014, he won close to 15 awards at the Tanzania Music Awards ceremonies.
The previous record was set by 20%, a recording artist who walked away with five awards at the 2011 Tanzania Music Awards. Before 20%'s accomplishments, Diamond held the record for winning three awards at the 2010 Tanzania music awards. In 2015, the singer emerged the victor in the Worldwide Act: Africa/India category at the MTV Europe Music Awards, held in Milan. He was a top winner at the All Africa Music Awards (AFRIMA) held in Nigeria in November 2015.
Below is a list of some of these awards and nominations
Nominations
Most Gifted Video of the Year in the 2014 Channel O Music Video Awards
Best African Performance in the 2016 WatsUp TV Africa Music Video Awards
Best East African Video in the 2016 WatsUp TV Africa Music Video Awards
African Artiste of the Year in 2014 The Headies awards
Best African Act in the 2014 MTV Europe Music Awards/Worldwide De Act Africa/India
Best New Artist in the 2010 MTV Africa Music Awards
Best International Act: Africa in the 2014 BET Awards
Song of the Year in the 201 AFRIMA
Awards
African Video of the Year in the 2016 WatsUp TV Africa Music Video Awards
Most Gifted Newcomer in the 2014 Channel O Music Video Awards
Best African Combo Video in the 2016 WatsUp TV Africa Music Video Awards
Most Gifted East in the 2014 Channel O Music Video Awards
Prize in Entertainment in 2014 The Future Africa Awards
East Africa Best Video in the 2016 HiPipo Music Awards
Best African Male Video in the 2016 WatsUp TV Africa Music Video Awards
East Africa Superhit in the 2016 HiPipo Music Awards
Most Gifted Afro Pop in the 2014 Channel O Music Video Awards
East Africa Superhit in the 2015 HiPipo Music Awards
Worldwide Act (Africa/India) in the 2015 MTV Europe Music Awards/Worldwide De Act Africa/India
Best Live Act in the 2015 MTV Africa Music Awards
Best Male East Africa in the 2014 African Muzik Magazine Awards
Favorite Male Video in the 2014 People's Choice Awards
Best Live Act in the 2019 AFRIMA
Besides His Music Career, Earns From Other Sources
Platnumz is a multi-talented artist who has multiple streams of income. He is not relaxed about being just a singer. Since hunger and lack of money drove him into the music industry, he decided to make more money and investments. His other investments can sustain him and his entire household if he decides to stop singing anytime soon. Here are some of the other ventures he earns from.
He Earns from Endorsement Deals
He signed a $5 million distribution deal with Mziiki, African music streaming app, for his record label WCB.
The singer is also a brand ambassador for multinational companies like

Vodacom
Coca-cola
DSTV
Pepsi from January 23, 2019
Itel

He is also a brand ambassador of the following Tanzanian companies

Belaire
Coral Paints from March 4, 2020
Parimatch Tanzania from September 13, 2019
Nice One-Washing Powder Tz from September 25, 2019
Platnumz Owns and Earns From Chibu Perfume
After much research, experiments, and trials, Diamond came up with a unique scent he believes will sell. He has joined other celebrities like Arnold Schwarzenegger, Leonardo DiCaprio, Antonio Banderas, and Rihanna, who have their perfume brands. He started his perfume brand, Chibu Perfume, in 2017. This brand is now available in shops in Africa and other continents.
He Earns From Concerts
Another source of income for the artist is Concerts. When invited for shows, he charges an amount suitable for his status. If you want to have one of the wealthiest singers in East Africa, who is also the richest in Tanzania, you have to keep enough money on the ground. Also, when he hosts concerts, his ticket price is not for children. Sources have it that he charged between $100 for regular tickets and $1,000 per VIP ticket for an event held in South Sudan. All the income he earns from concerts contributes a good portion of his net worth.
He Earns From His Recording Company
Diamond is the founder and CEO of Wasafi Classic Baby (WCB). Wasafi Classic Baby is a recording studio, publishing, entertainment, music, and full-service management company, located in Tanzania. The company owns and manages Wasafi television, WCB TV, and radio station Wasafi FM in Tanzania. In 2021, WCB Wasafi and Warner Music Group entered into a 360 Partnership. It has signed notable artists like Lava Lava, Queen Darleen, Zuchu, Rayvanny, and Mbosso. Altogether, the WCB company contributed a good percentage to the total net worth of the Bongo Flava artist.
Summary of Diamond Platinumz Income Sources
 Music career
Endorsement Deals
Chibu perfume
Concerts
Recording company
Diamond Platinumz Lavish Lifestyle Shows Just How Wealthy The Singer Is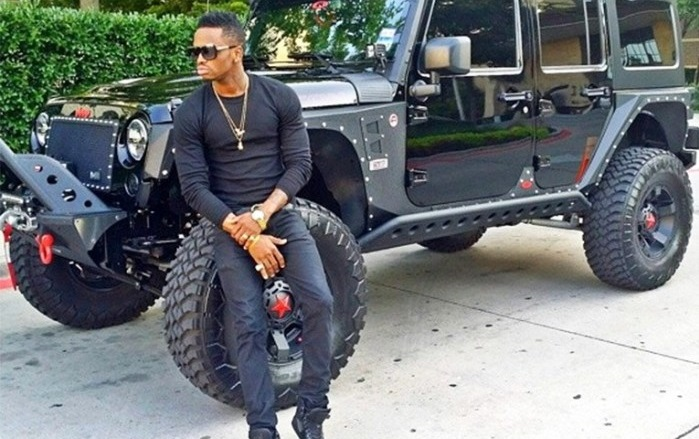 The award-winning singer has an eye for an expensive lifestyle. He owns expensive houses in Tanzania and other parts of Africa like Rwanda, Kenya, and South Africa. One of his houses in Dar es Salaam, Tanzania, is a Gold coated classy home worth over Ksh.70 million. The mansion is tastefully furnished from the interior to exteriors. It has swimming pools and a garage filled with fancy cars. His wardrobe is filled with expensive clothes, shoes, cars, and jewelry.
The singer is known for his love for fancy things and luxurious living. He has a fleet of fancy and expensive cars in his garage. Some of the cars found in his garage are; Rolls Royce Phantom worth $450,000, Toyota Land Cruiser, Orange Ferrari, BMW Xseries, 2014 Hummer H3, and Toyota Land Cruiser Sport Utility Vehicle.
As he loves buying houses for himself, he also buys for his loved ones. The talented artist bought a house in Kenya for his ex, Tanasha Dona. He has also given out cars as gifts to family, friends, and baby mamas. Among those who have benefited from his care gifts are his mother, baby mamas – Mbosso, Zuhura Kopa, and Lava Lava.
Beyond His Career, Diamond Platnumz Is a Father of Four
Not only is Diamond a talented singer, but he is also a talented father and partner. Though not yet officially married, the popular singer was in a strong relationship with his Ugandan socialite girlfriend Zari Hassan, who is also London educated with a Diploma in Cosmetology – she is now a South African-based entrepreneur and owns a tertiary college and cosmetics shop.
The award-winning singer and his then-girlfriend share two children. Their daughter, Latifah, is also known as Tiffer Dangote. Before her birth on August 6, 2015, Diamond and his pretty queen Zari posted half-nude shots as they counted down to the delivery.
He also has a separate Instagram account where he shares beautiful pictures of himself and his family. Zari, the mother of his two children, is also a mother of two boys whom she had from a previous marriage. Diamond and the boss lady (as she calls herself) officially separated in February 2018.
More so, he has two other children with two other women he dated. The first one, Dylan, from Hamisa Mobetto, a Tanzanian; and the second one, Naseed Junior, from Tanasha Donna, a Kenyan. In an interview with Wasafi FM, he revealed that he might have two other children not publicly known. There is also another whom the mother has not allowed him to meet. Pending on the confirmation of the paternity of these other children, Diamond officially has four children.