Dangote is the richest man in Africa, with an estimated net worth of $14.2 billion. Bola Ahmed Tinubu, on the other hand, has an estimated net worth of $8.4 billion.
Aliko Dangote is a Nigerian businessman known as the founder and chairman of the Dangote Group, a multinational conglomerate company. Dangote Group operates in various sectors, including cement manufacturing, sugar refining, flour milling, and oil and gas. Aliko Dangote is considered one of the wealthiest Africans and is known for his philanthropic activities.
Dangote's counterpart Bola Ahmed Tinubu is a Nigerian politician known for being the former Governor of Lagos State and newly-elected President of Nigeria. He is a member of the All Progressives Congress (APC) and was a key figure in the formation of the party in 2013. Tinubu is considered one of the most influential politicians in Nigeria and has had a significant impact on the country's politics.
This article will compare Dangote and Tinubu in terms of their net worth and how they acquired their wealth to find out who is richer.
How Rich Is Dangote Compared To Tinubu 
Dangote is currently richer than Tinubu, with a margin of $5.8 billion. It is important to note that these are estimated net worths. While Forbes consistently ranking Dangote as one of the richest individuals in Africa, Tinubu's wealth estimation is not as clear-cut due to a lack of transparency in his financial affairs.
Dangote's primary source of income is Dangote Cement, which is the largest cement producer in Africa. It operates several cement plants across the continent. Dangote Group has investments in various sectors, including sugar, flour, salt, real estate, telecommunications, and oil refining. These ventures contribute significantly to his wealth.
Bola Ahmed Tinubu has politics as his major source of income. Tinubu is a prominent Nigerian politician and a member of the All Progressives Congress (APC). He served as the Governor of Lagos State from 1999 to 2007 and has been a key figure in Nigerian politics since then. Political positions often provide financial benefits and access to resources.
Tinubu also has investments in real estate and is known to own a substantial amount of property in Lagos and other parts of Nigeria and abroad. His real estate holdings contribute to his income. He is also involved in several business ventures, including shipping and oil companies. Though the specific details of his business holdings are not widely known, they are believed to contribute to his income.
Dangote's Net Worth Is Estimated at $14.2 billion
As of 2023, Aliko Dangote's net worth is estimated to be around $14.2 billion, according to Forbes. He has consistently been one of the richest individuals in Africa and is known as Africa's wealthiest person. He owes this net worth to his conglomerate Dangote Group.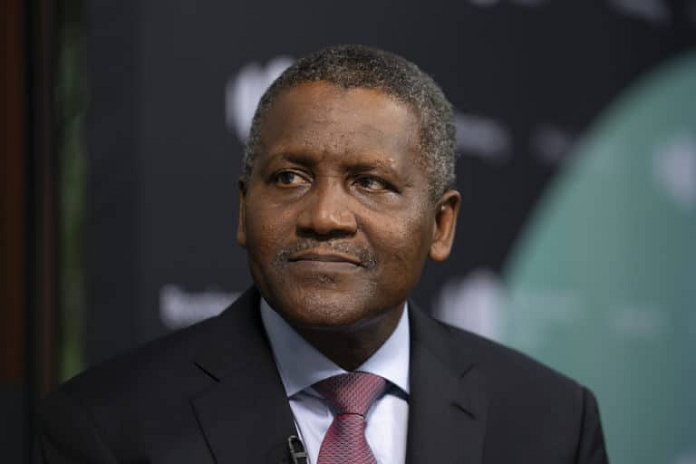 Sources of Dangote's Net Worth
Aliko Dangote, a Nigerian business magnate, has various sources of income that have contributed to his significant net worth. He is the founder and chairman of Dangote Group, one of Africa's leading conglomerates. The group operates in multiple industries, including cement manufacturing, sugar refining, flour milling, salt processing, and more. Below is a list of the businesses this conglomerate has.
Cement: Dangote Cement, a subsidiary of Dangote Group, is one of the largest cement producers in Africa. The company has operations in several countries and has contributed significantly to Dangote's wealth.
Sugar: Dangote Sugar Refinery is another subsidiary of Dangote Group. The company is engaged in the production and marketing of sugar-related products, making it one of the leading players in the Nigerian sugar industry.
Flour: Dangote Flour Mills, also part of Dangote Group, is a leading flour milling company in Nigeria. It produces various types of flour and has a significant market share in the industry.
Oil and Gas: Dangote is involved in the oil and gas sector through Dangote Oil Refinery. The company is constructing a massive oil refinery and petrochemical complex in Nigeria, which is expected to be one of the largest in the world.
Real Estate: Dangote has investments in the real estate sector, including residential and commercial properties.
Telecommunications: Dangote has also invested in the telecommunications industry in Nigeria.
Tinubu's Net Worth is an Estimated $8.4 billion
As for Tinubu's net worth, it is difficult to provide an exact figure as estimates can vary. However, it is widely believed that he is one of the wealthiest politicians in Nigeria, with a net worth reported to be billions of dollars. According to some sources, he is worth over $8.4 billion.
Sources of Tinubu's Net Worth
Bola Ahmed Tinubu, a Nigerian politician and former Governor of Lagos State, is reported to have various sources of income contributing to his net worth. Some of these sources include:
Politics: Tinubu has been actively involved in politics since the 1990s. In the brief Nigerian Third Republic, he was elected to the Senate in 1992, representing the Lagos West district. He served as the Governor of Lagos State from 1999 to 2007 and has held several influential positions within the All Progressives Congress (APC) party. He ran for the 2023 elections under APC as its Presidential Candidate and emerged the winner. Tinubu is the 16th President of NigeriaHis political involvement has undoubtedly provided him with significant financial benefits.
Investments: Tinubu is known to have various business investments. He has been involved in sectors such as real estate, manufacturing, and oil and gas. Some of his notable investments include Alpha Beta Consulting, Abeeb Holdings Limited- an offshore company located in the UK, and many other UK properties and offshore companies. He acquired most of these properties when he entered politics and with his influence as the godfather of Lagos State. Some of the properties are in his business partner's name.
Professional Career as an Accountant: For the American firms Arthur Andersen, Deloitte, and GTE Services Corporation, Tinubu worked as an accountant. He joined Mobil Oil Nigeria after arriving back in Nigeria in 1983, rising to the position of corporate executive. This contributed to his net worth.
Dangote is More Internationally Recognised to Be Richer Than Tinubu
Dangote and Tinubu are wealthy men with impressive net worth. Dangote has been cited by Forbes many times as the leading position of the richest man in Nigeria and Africa, but Tinubu has not been cited once. There is a saying that Nigerian Politicians cannot be quantified.
With this, we still remind you that the net worth used for Tinubu is estimated. He may be richer than Dangote, but Dangote is the one who is widely recognized to be richer. Many sources can estimate what Dangote owns due to the side of his company and influence. Whereas, such cannot be said about Tinubu, as his assets and sources of income are not clear to the public.