Adedeji Adeleke is a 66 years old Nigerian billionaire businessman, CEO of Pacific Holdings Limited, and president of Adeleke University. He has amassed a net worth estimated at $700 million.
Besides his wealth, Adedeji Adeleke has remained in the spotlight for being the father of Davido, Nigeria's most popular artist. Meanwhile, Davido has in a couple of his songs bragged about his father's wealth which made him go on to adopt O.B.O (Omo Baba Olowo) as one of his nicknames, meaning son of a rich man. In this article, we will closely look at how wealthy Adedeji is and the sources through which he made his jaw-dropping wealth.
Adedeji Adeleke's Biography Summary
Full name: Adedeji Tajudeen Adeleke
Gender: Male
Date of birth: 6th March 1957
Adedeji Adeleke's Age: 66 years old
Ethnicity: Yoruba
State of Origin: Osun State
Nationality: Nigeria
Zodiac Sign: Pisces
Sexual Orientation: Straight
Religion: Christian
Marital Status: Widower
Adedeji Adeleke's Wife: Dr Vero Adeleke (died. 6th March 2003)
Children: 5 children, including Davido and Sharon Adeleke
Adedeji Adeleke's Parents: Mr. Raji Ayoola & Mrs. Esther Nnenna Adeleke
Siblings: Isiaka Adeleke
Adedeji Adeleke's Net worth: $700 Million
Famous for: Being Davido's father
Adedeji Adeleke was Born 66 Years Ago in Enugu State
Adedeji Adeleke was born on the 6th of March 1957 to the family of Mr. Raji Ayoola & Mrs. Esther Nnenna Adeleke. Though born in the eastern part of Nigeria, Enugu State to be particular, Adedeji is of Yoruba descent and hails from Osun State. He spent his formative years in Enugu State with his grandmother before moving to Lagos where he completed his primary school.
Davido's father boasts of a very strong educational background. After finishing his secondary education in 1976 at Seventh-Day Adventist Grammar School in Osun State, he gained admission to study Finance at the Western Kentucky University, Kentucky, the USA.
In 1979, he bagged an MBA and furthered his education at Pacific Columbia University, California, obtaining a Ph.D. in International Business. In 2010, he bagged yet another Ph.D. in Business Administration from the University of Phoenix, Arizona, USA.
What is Davido's Dad's Net Worth?
Davido's father, the CEO of Pacific Holdings, has a net worth of $700 million, topping the list of wealthy Nigerians. Having fortified himself with all the education he needs in business, Adedeji returned to Nigeria from the United States and ventured into business.
His various business degrees indeed set a pace for him in the world of business and he utilized the knowledge in establishing Pacific Holdings, a magnificent empire in the country.
Pacific Holdings Limited is the Major Source of Adedeji Adeleke's Net Worth
Adedeji Adeleke is the current chairman/CEO of Pacific Holdings Limited, a conglomerate that consists of six companies. He founded the company in December 1983 through Pacific Drilling Company Limited which specializes in geographical surveys, drilling of boreholes, and water treatments, among other activities.
The company would later be merged and it became a Limited Liability Company on 28th December 1990. Pacific Holdings has gone on to expand its areas of operation, covering agriculture, freight services, and energy and power generation. Below are the six company divisions under Pacific Holdings.
Pacific Farm Limited
Junior Venture Limited
Pacific Freightliners Limited
Pacific Drilling Company Limited
Intertrade Warehousing Limited
Pacific Gas Company Limited
Davido's Dad is the Owner of Adeleke University, Ede in Osun State
In 1996, Adedeji Adeleke founded a non-profit non-governmental organization called Springtime Development Foundation (SDF). Being a man who loves education so well, the business mogul established SDF with the sole aim of improving and bettering the lives of Nigerians through education.
In March 2011, he received a national license from National Universities Commission (NUC) to establish Adeleke University, Ede in Osun State. The university was established based on the Seventh-day Adventist philosophy of education. It offers both undergraduate and postgraduate programs and courses. Adeleke Adedeji is the current Pro-Chancellor of Adeleke University and the school definitely adds decently to his net worth.
Inside Adedeji Adeleke's Lavish Lifestyle
A man whose net worth is $700 million, which is around N269 billion, is indeed living a life that portrays luxury. Just like his son Davido, the university Professor is a lover of good things and it does not make a hassle for him to acquire any of these good things.
However, Dr. Adedeji Adeleke is not known for flaunting his properties and acquisitions all over the media, except for his son Davido who sometimes would declare or post photos of his properties.
Adedeji Adeleke's Owns Mansions in and Outside Nigeria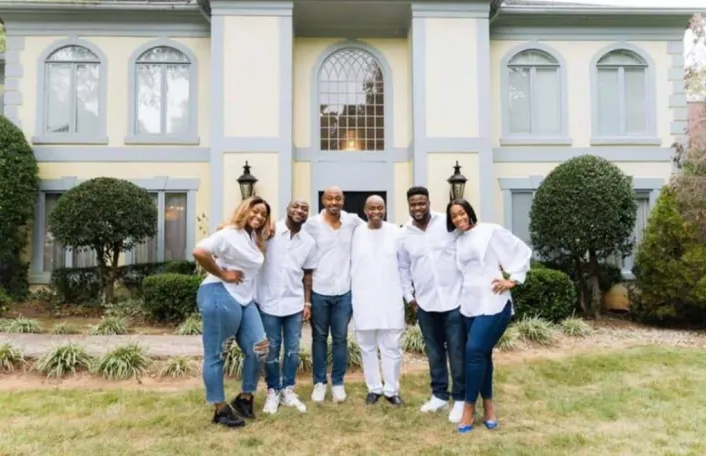 Coming from a place of affluence, Adedeji has well invested in real estate and has properties scattered around his home state of Osun, Ikoyi, Lekki, Banana Island, and Victoria Island in Lagos, as well as other states in the country and abroad.
To mark his 60th birthday in 2017, Dr. Adedeji purchased a magnificent house in Atlanta, Georgia, USA. Meanwhile, in July 2019, one of his mansions in Lekki Lagos reportedly caught fire but thanks to the prompt intervention of firefighters, the building was rescued from getting razed down.
Adedeji Adeleke's Cars
Adedeji Adeleke surely has a good number of expensive rides in his garage, but, the two that are known to the public which he is usually seen in are a Rolls Royce Phantom and a 2017 Bentley Mulsanne.
2017 Bentley Mulsanne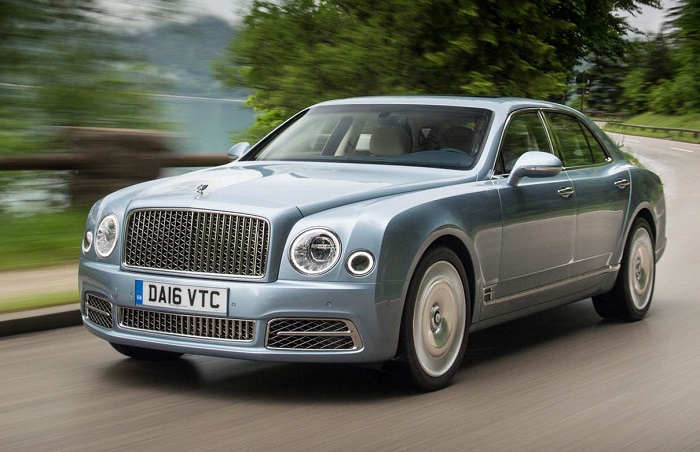 Adeleke's 2017 Bentley Mulsanne came with lavish inbuilt features such as apple car play, in-car 4G LTE data connection, Android Auto, 60GB of media storage, LED headlights, and electric curtains, and so on. The business mogul parted ways with nothing less than $350,000 to have this baby in his garage.
Rolls Royce Phantom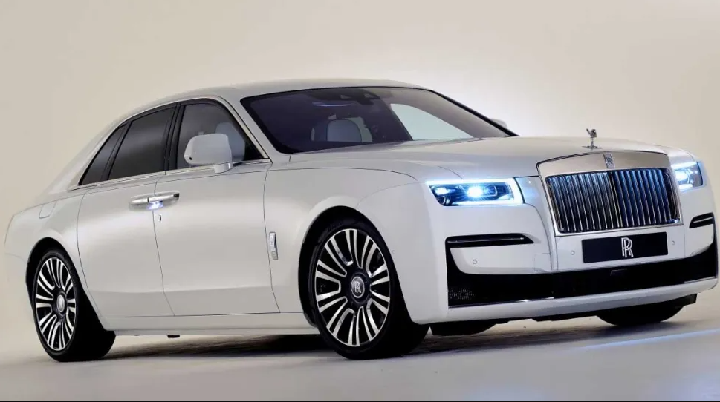 The second one is a Rolls Royce Phantom which he purchased at a whopping cost of $450,000. The car has a horsepower of 563 and runs on a 6.75 Litre twin-turbocharged V-12 engine.
Adedeji Adeleke's Private Jets
Dr. Adeleke's high taste for luxury did not just end in acquiring expensive cars. The billionaire business magnate owns a Bombardier Global Express 6000 which he bought at a landing cost of $62 million (N24 billion). Meanwhile, he has another private jet that is reportedly his first jet, a Bombardier Challenger that cost him $35 million to purchase.
Who is Richer Between Davido and His Dad, Adedeji Adeleke?
Adedeji Adeleke is way richer than his son, Davido. He is often named the richest man in Osun State and one of the richest men in Nigeria. With his chains of businesses in Lagos, his billionaire status will not come as a surprise. The sources of his $700 million net worth also cut across investments in Nigeria in sectors like real estate, banking and finance, entertainment, education, energy sectors of the Nigerian economy, etc.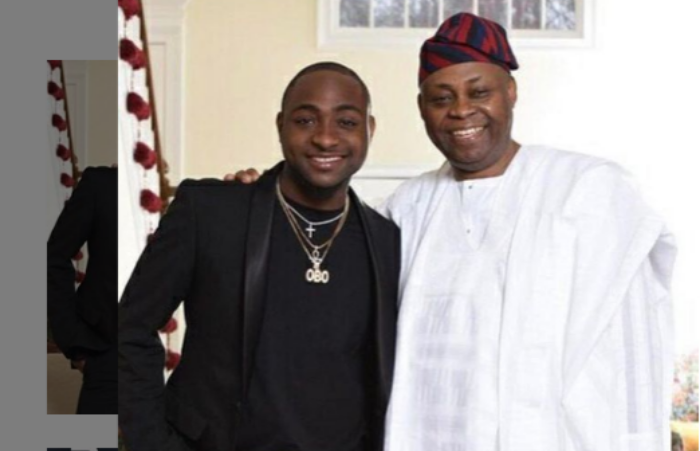 In terms of career, Davido and his father do not operate in the same world. The billionaire son has quite carved a niche for himself in no less measure and his father is definitely proud of his achievements. Just in barely a decade in the music industry, Davido has built for himself massive fame and wealth. He has an estimated net worth of $70 million.
However, even though Davido is arguably the richest musician in Nigeria, which is a big feat, he is no match for his super-rich father whose net worth staggers at $700 million. Albeit, the father and son are both making it big in their different worlds of endeavors.