CAC name reservation is an act of retaining a business or company name with the State to reserve the name for the business owner till the registration period.
The Corporate Affairs Commission (CAC) is a federal government agency responsible for registering business and company names in Nigeria. CAC name reservation is one of the first steps in registering a business name whereby the availability of an intended business name is being searched. This is essential when an individual is not fully ready to set up an organization yet. Thus, reserving a name first.
Importance of CAC Business Name Reservation
With the passing of each day, new companies and businesses are birthed, and new business names are formed. Thus the importance of CAC name reservation
It reserves your chosen business name on the CAC portal, thereby making it authentic.
Name reservation ensures that you reserve your desired business name even though you do not plan to finish the registration right away.
It helps to protect your intended company/ business name from being registered by another person.
In all, a CAC name reservation is generally essential when you are experiencing set back in fully registering your business.
Where to go for Business Name Reservation
Application for business name reservation under Part C of COMPANIES AND ALLIED MATTERS ACT (CAMA) requires that you obtain the consent of the Registrar-General. One can also visit the CAC website to fill out an application form or visit any branches within the country to reserve their business name.
How to Make CAC Name Reservation
There are many steps involved when it comes to registering a business name in Nigeria; one of them is the name reservation process. In its simplest term, a CAC name reservation is a promise made to save up a space for a particular business name before the actual period of registration.
It requires a temporal registration of the business name with the state commission to reserve the name for the business owner. A reserved name must not be the exact name of any other business or a duplicate of an existing business name.
Sometimes, some States would reserve a name that is not an exact match of an existing name, giving no attention to other similar names that might be confusing and contravene existing trademarks. This is the reason you should carefully follow the registration steps to accurately search and verify the availability of your intending company or business name.
Step-by-Step Procedure to Reserve a Business Name with CAC
The name reservation process has been simplified with the emergence of the internet. Rather than going to CAC offices, business owners can achieve the name reservation process online in the comfort of their homes.
They also do not need the services of a chartered accountant, chartered secretary, or even legal practitioner to do that. Having understood the importance of reserving a business name, follow the steps below to achieve the same
Step One: Create an Account with CAC
Before you can register a business name on the CAC portal, you must first create an account by following these steps;
On your browser, visit https://pre.cac.gov.ng/register/new to create an account.
Fill in the required information on the page and ensure to use your full name as they appear on your National I.D card or any other government-approved identity card you want to use
Then, click on the "Register" button, and a verification link will promptly be sent to the email address you filled in on the previous page.
Open the verification email; you will see a link in it through which you log in to your dashboard.
Step Two: Reserve a Name
Having created an account on the CAC website, you can now proceed to reserve a name.
Login to your account
On the dashboard, select the option "Reserve a Name" on the dashboard, and you will be redirected to a new page where you will make the reservation proper.
Fill in the form that the page displays.
Then, click on the online transaction, select Name Reservation under the option "E-services," and the proposed name and its availability code will be generated.
Note: Before filling out the CAC name reservation form, you must have first searched the availability of the intended company or business name to avoid a rejection of the name. The Corporate Affairs Commission will request an availability code to prove that you have successfully reserved a business name.
You can only be granted access after the CAC has approved your code. More so, you need to confirm that your intended business name is correctly written because any error or omission would require another application for correction.
Also, ensure proper findings on your State's requirements for business entity names. This is to avoid future opposition due to not meeting up with some of their specifications and rules.
Cost of Reserving a Business Name With CAC
The normal and approved price for a CAC business name reservation is ₦500 only. This excludes bank charges or transaction fees, which are usually not more than ₦100, depending on the bank you are operating with.
List of Documents to Upload for CAC Business Name Registration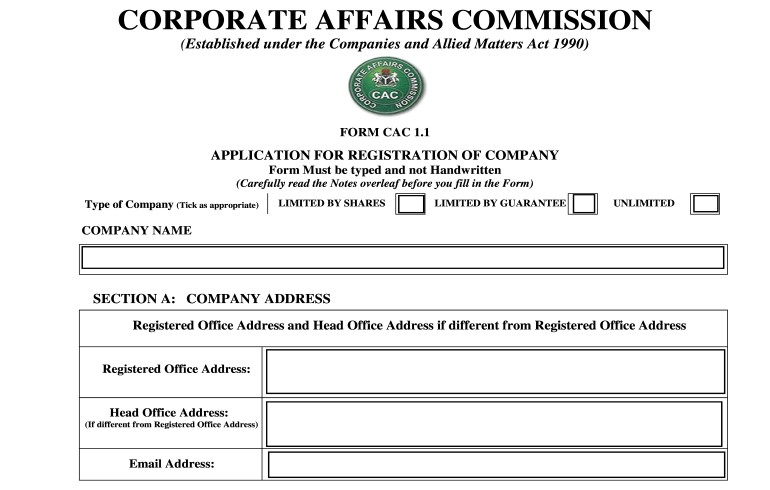 CAC registration form 1.1
Evidence of registered address of your business
Approval note or availability printout
Memorandum and Articles of Association (MAA)
Receipt of your stamp duties payment
Directors and Shareholders identification letter
Consent and particulars of the first directors of your company.
Statement of compliance by a legal officer
Certificate of Incorporation of the Company Secretary
Note that all the documents must be in PDF format.
Validity Period for Name Reservation and What to Do Next
The validity period of a CAC name reservation is 60 days. During the period, the organizers must file the incorporation form immediately after the government approves the name. There are also some cases whereby the name can be reserved for 6 months.
Meanwhile, the application takes 2 to 3 working days, but it can be more than that in a situation of excessive workload. Though these periods are also dependent on one's State. Availability takes 48 hours if the person wants it to be reserved till he puts his affairs in order, 24 hours for correction of availability, and five working days to process consent for restricted names.