Teni (Real Name: Teniola Apata, born 23 December 1992) is a 30-year-old Nigerian singer and songwriter who gained fame following the release of her hit singles "Askamaya", "Case" and "Uyo Meyo".
The Nigerian Afropop music sensation, Teni has remained one of the most sought-after and trending singers, songwriters, and entertainers in the Nigerian music and entertainment landscape. The talented singer is determined to make a difference and change the odds as far as Nigerian music is concerned.
She started gaining public attention after releasing her debut single titled 'Amen' in 2016. Many regard Teni's popular hit singles 'Case' to be more of a household anthem in most Nigerian homes. This earned her the prestigious Headies Award as the Rookie of the Year in 2018, in addition to the Soundcity MVP Awards for The Best New Female Artiste, among other recognitions.
Summary of Teni's Profile
Full name:

Teniola Apata

Stage name:

Teni

Date of Birth:

December 12, 1992 

Place of birth:

Lagos, Nigeria

State of origin:

Ekiti

Nationality

: Nigerian

Parents:

Simeon and Fola Apata

 
Education:

Apata Memorial High School and American InterContinental University

Profession:

Singer, Songwriter, and Entertainer

 
Genre:

Afropop

Record label:

Dr. Dolor Entertainment

Marital status:

Single
Teni was Born and Raised in Lagos, But She is Originally From Ekiti State
Teniola Apata, popularly known as Teni or Teni The Entertainer, was born on December 12, 1992, in Lagos State. She was raised along with her nine siblings, including the popular singer Niniola, who is her elder sister. Even though she was born in Lagos, many of her fans are not aware of the fact that Teni is an indigene of Ekiti state.
From her childhood, Teni had always enjoyed sports; she developed an interest in playing basketball and football and also spent part of her leisure time playing video games. However, her love for music even as a child outweighs her desire for sports, which saw her joining the school band at a tender age. In pursuit of knowledge, Teni attended Apata Memorial High School Lagos, which happens to be part of her late father's legacies.
Though after her secondary education, she left the shores of Nigeria following her acceptance into the American Intercontinental University, USA. There, she earned a degree in Business Administration. Her experience in the western world has obviously shaped her musical carrier and given her the inspiration and courage to be resilient against all odds in the Nigerian music industry. The industry is characterized by compromising the decency of the female figure if one must make any noticeable progress as a female artist. However, this is not in consonance with Teni's style or philosophy as she would rather stay true to herself, paying no mind to what people say or expect of her. 
The Singer Lost Her Father when She was Two
Teni came from a very respectable and well-to-do family. Her parents, retired Brigadier General Simeon Apata (late), and Mrs. Fola Apata are quite popular in Lagos. Her father is a native of Ekiti state whereas, Fola her mother, hails from Ondo state, though they both spent the better part of their lifetime in Lagos.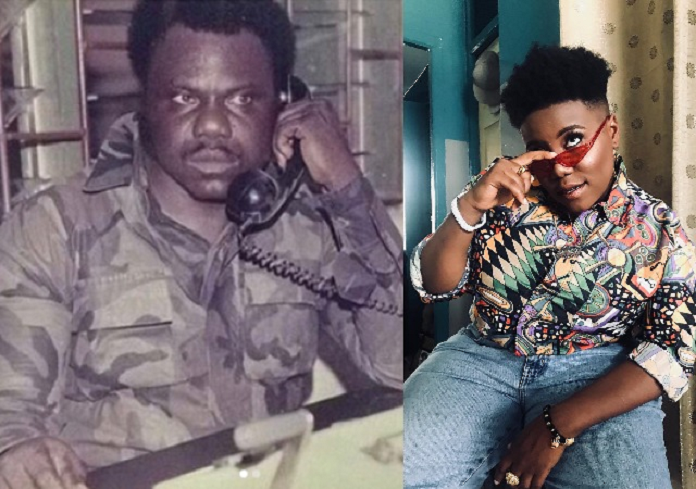 Apart from diligently serving the country as a gallant army officer, her father is also an educationist. He founded the Apata Memorial High School (boarding) way back in 1980 in Lagos, which is a well-known citadel of learning laced with military discipline. Teni often spoke highly of her dad, describing him as "A genius and a man deserving of idolization;" he was been the inspiration behind her song titled 'Dad's Song' in her debut album "Wondaland."
Sadly, at the age of two, Teni lost her father, retired Brigadier General Apata, who was assassinated on January 8, 1995. On the other hand, not much is known about Teni's mother, as she chose to maintain a low profile, but what is known is that Teni shares such a strong bond with her mother, and they always get along quite well. She often posts adorable pictures of her mother on Instagram while she eulogizes her. Teni's mother currently stays in Lagos.
Teni is not the Most Popular Among Her Siblings
The Afropop star was born into a family of 10 children, and she is the 9th child of her parents. Among her siblings is the Nigerian music star Niniola who is also a notable figure in the Nigerian music industry. She started making waves in the industry even before her baby sister came into the limelight. Nonetheless, little is known about her other siblings as Teni hardly speaks to the media regarding them. Although they are only seen when the celebrity sisters post memorable family pictures. What's more, there has been no known feud among the siblings suggesting the existence of strong ties amongst them.
She Graced the Spotlight with the Release of Her Debut Single 'Amen' in 2016
Teni came into the entertainment scene with the release of her debut single 'Amen'. The song was produced by her first record label the Shizzi Magic Fingers in 2016. However, for reasons best known to her, in 2017, Teni decided to leave Shizzi's for Dr. Dolor Entertainment where she released yet another successful single 'Fargin' in September 2017.
Although, it was not until in 2018 that Teni made big headway in the Nigerian music industry after she released her hit-making tracks 'Askamaya,' 'Case,' and 'Uyo Meyo,' which won the hearts of millions of fans both at home and abroad.
Here's a list of other Teni's most popular songs
'Amen' – 2016
'Fargin' – 2017
'Wait' – 2018
'Pareke' – 2018
'Lagos' – 2018
'Askamaya' – 2018
'Fake Jersey' – 2018
'Shake Am' – 2018
'Case' – 2018
'Pray' – 2018
'Uyo Meyo' – 2018
'Party Next Door' – 2019
'Sugar Mummy' – 2019
'Power Rangers' – 2019
Some of Her featured singles include:
'Rambo' (Dr. Dolor featuring Teni) – 2018
'Pray' (Dr. Dolor featuring Teni and Phyno) – 2018
'Aye Kan' (Shizzi featuring Teni and Mayorkun) – 2018
'Murder' (King Perry featuring Teni) – 2018
Most of these tracks remain dear to millions of her fans who are eagerly waiting to get more from the Afropop songstress Teni.
Teni has Earned Several Recognitions and Awards
With regards to awards and recognition, Teni has achieved a lot within a short time even though she yet to reach the peak of her career. Some of her awards include
The Headies Rookie of the Year awards 2018;

Soundcity MVP Awards Festival Best New Artist 2018;

Nigeria Entertainment Awards: Most Promising Act to Watch 2018;

The Headies Best Pop Single (Case) 2019;

The Headies, Best Recording of the Year "Uyo Meyo"  2019;

The Headies Viewer's Choice Award 2019;

The Headies Best Vocal Performance (Female) "Uyo Meyo"

Award 2019;

Soundcity MVP Awards, Best female MVP 2020.
Similarly, Teni has also got several nominations, and notable among them are-
BET Awards Best New International Act, 2019;

The Headies Song of the Year (Case);

The Headies Best R&B Single 2019;

MTV Europe Music Awards Best African Act 2019. 
Additionally, NotJustOk.com, a popular Nigerian online music site, ranked her eighth on its list of the 10 Hottest Artists In Nigeria. She was featured in Premium Times' list of the Six Nigerian breakout stars, viral sensations of 2018. Again, on February 20, 2019, Teni made the list of YouTube Music's Trending Artist on the Rise.
Teni's Lucrative Endorsements Deals with Top Brands
It is only natural for brands and companies to hover around celebrities with such a long list of accolades as Teni, and no doubt, she has had her fair share of Endorsements. Some of them include an endorsement deal with TomTom produced by Cadbury Nigeria. She signed the deal on the 26th of March 2019; another is a brand ambassador for Wema Bank Nigeria, for its alat_ng scheme on July 12, 2019; amongst others.
Controversies About the Singer
Notably, Teni's journey to fame was not completely hitch-free, as she often got tongues wagging due to her non-compliance with the body-exposing protocol of the Nigerian music industry. She tries to chart a positive paradigm shift in the industry by not exposing her feminine endowments but would rather dress very decently unlike other female musicians who made it their selling point to expose their bodies to the admiration of male fans.
Again, Teni is also not too keen on having a lavished lifestyle but sought to be modest in her dealings. She has faced stiff criticisms from stakeholders in the entertainment industry due to her style, yet she stood her ground and forged ahead even in the midst of such a storm.