Peter Obi's net worth is estimated at $10 million. His wealth comes mainly from his several business endeavors and his career as a politician. Obi served two terms as the governor of Anambra State from 2006 to 2014. Prior to his career in politics, he was a successful businessman, holding several managerial positions in various companies and firms. The former governor has grown both in the business world and in the political landscape, gathered fame as well as a fortune for himself and his wealth affords him nothing short of a good life.
How Peter Obi's Net Worth of $10 Million Came About
There is no doubt that Peter Obi's net worth came from the investments and businesses he engages in. According to Obi, he started as a trader before and during the time he was still in the university. Being born into a family of traders, he found himself engaged in some petty trading to sustain himself in his younger years.
After he graduated from the University of Nigeria Nsukka in 1984, Peter joined the corporate world. He held different leadership positions in some private establishments and banks in the country. Some of these companies include Next International Nigeria Ltd, Guardian Express Bank Plc, Chairman of Fidelity Bank Plc, Chairman and Director of Guardian Express Mortgage Bank Ltd, Future View Securities Ltd, Data Corp Ltd, Card Centre Ltd, Paymaster Nigeria Ltd, and Chams Nigeria Ltd.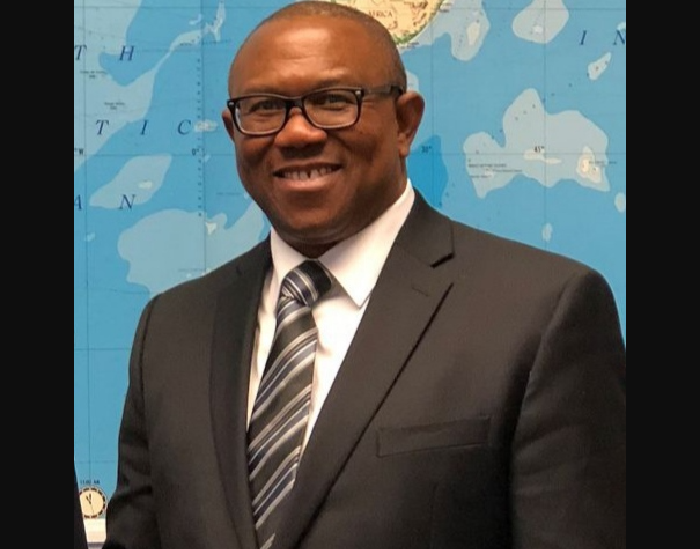 The businessman turned politician is famed for his prudence in resource management and finance. He is seen as the most disciplined Nigerian politician without proof of a corruption record. Peter Obi is considered the most successful and talked-about politician in Nigeria because of his modesty and views of Nigerian politics. It is worthy to note that his political journey is thrust strongly on his belief in justice and rule of law.
Peter Obi Ventured into Politics in 2003
For Peter Obi, politics is a serious business that must work together with the development of a country. With an intention to make his home state Anambra one of the best in Nigeria, he entered into politics in 2003. He contested the Anambra State gubernatorial election under the All Progressive Grand Alliance (APGA) party. His opponent, Chris Ngige of the People's Democratic Party (PDP) was however declared the winner of the election by the INEC.
Peter Obi recoursed to the court and on 15th March 2006, after almost three years of litigation, Chris Ngige's victory was overturned by the Court of Appeal. Obi was sworn in on 17th March 2006 but after seven months in office, on 2nd November 2006, he was impeached by the house of assembly, and his deputy Dame Virginia Etiaba took over office, making her the first-ever female governor in the history of Nigeria.
Peter Obi proceeded to the court to challenge his impeachment and indeed came out successful. On 9th February 2007, he was reinstated as the governor by the Court of Appeal, and Dame Etiaba handed over power back to him after the court ruling. Yet again, Peter left office on 29th May 2007 following the general election which Andy Uba of the PDP won. Obi did not relent but went back to the court again.
This time, he was contending that the four-year tenure he won in the 2003 election only began to run in March 2006 when he took office. After a heated legal battle, the Supreme Court of Nigeria sustained Peter's contention and brought him back to the office. This saw an abrupt end to Andy Uba's tenure whose election the Supreme Court nullified on the grounds that Peter's four-year tenure shouldn't have been interrupted till March 2010.
Peter returned to office on 14th June 2007 and completed his first tenure in 2010. He won the second tenure in office in the 2010 Anambra State gubernatorial election after he defeated Professor Charles Soludo. He served additional four years and on 17th March 2014, handed over to Willie Obiano. To date, Peter Obi is recognized as a hero in Anambra State as his tenure as governor saw tremendous growth in all sectors of the economy
Peter Obi has since been active after his service as the governor of Anambra State. After the 2015 general election, Goodluck Jonathan appointed Peter Obi as the chairman of the Nigerian Security and Exchange Commission (SEC).
On 12th October 2018, Peter Obi was named as the running mate of Atiku Abubarkar, the PDP's presidential candidate in the 2019 presidential election. Their party came second while the incumbent president, Muhammadu Buhari won the election.
On 24th March 2022, Peter declared his intention to run for the presidency in Nigeria under the People's Democratic Party. He later pulled out and announced that he would be running under Labour Party instead. According to reports, he feared that he would be losing at the party's presidential primaries considering the existence of a party clique plotting against him.
Allowances and Earnings that Contribute to Peter Obi's Net Worth
There is no doubt that Nigerian politicians are among the highest earners in the world today and Peter Obi is not left out. Though the exact figure he earned as a governor is not revealed, a state governor earns an average annual salary of N11,540,896 and an annual leave allowance of N222,370.50. Then, at the end of his tenure, he is entitled to receive an N6,671,115 gratuity.
In addition, according to the Public Office Holder (Payment of Pension) Law, ex-Nigerian governors who consecutively completed two terms are entitled to a house each in their choice locations in Abuja and Lagos.
Again, an ex-governor is entitled to 100 percent of the basic salary of a sitting governor, six new cars every three years, furniture allowance, which is 300 percent of their annual basic salary, and free medical care for himself and members of his family. All of these contributed to Peter Obi's mouthwatering net worth.
List of Peter Obi's Companies, Businesses, and Investments
A lot has been written and said about what businesses Peter owns or does. Going by an interview he granted with AriseTV, the Anambra State former governor revealed that he owns and controls a number of international franchises in Nigeria such as South African International Breweries, Ovaltine, Heinz products, etc. Also, he owns major shares in three Nigerian commercial banks, including Fidelity bank.
Moreso, Peter Obi has shares running into billions of naira with Blue Chip companies which has a presence both in Nigeria and abroad. Meanwhile, the former Anambra State governor described himself as a big trader who has lived abroad for many years and made wealth through several businesses, especially importation and finance. He has the biggest mall in Abuja, Next Shopping Center.
Is Peter Obi the Owner of Fidelity Bank?
Contrary to speculations and public opinion, Peter Obi is not the owner of Fidelity Bank. The two-time former governor of Anambra State revealed that he has a major stake in the bank. Meanwhile, Fidelity Bank is owned by Ghanaian individuals and other institutional investors.
Peter Obi had a successful banking career before joining politics. He rose through the positions and notably became the youngest Chairman of Fidelity Bank Plc.
The Former Governor Lives a Frugal Lifestyle
Asides from being the 2023 Nigerian presidential candidate, Peter Obi is trending because of the general opinion that he is frugal. Obi is a man of prudent and modest values who has set a high standard of political leadership, and that has earned him the description as not being only stingy but has a legendary level of frugality.
He is the one politician that matches wealth with work and does not have a single room for a wild celebratory orgy in the midst of hungry people. Some of the instances that portray his frugal lifestyle include; at the completion of his tenure as Anambra State governor, Mr. Obi left the State's treasury with more cash than he found it.
As a governor, he shared the same space with every other person in the economy class of airplanes. He lugged his own luggage, carried his bag by himself at the airport, and queued like every other passenger to board the airplane.
Moreso, Mr. Obi shunned the profligateness of private jet. Many reported to have run into him at airports and he even refused to be helped. Obi would rather bear his hand luggage just the same way he used to while in the private sector. As a bank chairman, he sustained his old car before his appointment and was living happily in his Festactown home.
However, authorities at the bank reported that it took a series of persuasion and ceaseless pleading to drag him out of Festac, which they say, was for the image of the bank. These and many more are unique facts about Peter Obi that no other Nigerian politician has the same record, hence, the criticism of him being stingy is not far-fetched.
But among Nigerians who are progressive-minded, Obi is in high demand because they can no longer contain the primitive acquisition of wealth by the ruling elite, the wastages, and highly poor management of the public economy.
Peter Obi's Net Worth Affords Him Luxurious Houses
Needless to explain that Peter Obi's net worth of $10 million affords him a good life. Even though he is not someone that flaunts his acquisition and wealth all over the media, Peter Obi has two houses; one in the UK and the other in his hometown in Onitsha, Anambra State.
The ex-governor revealed that he acquired his luxurious London mansion in September 1996 at the cost of 1 million Pounds. Contrary to the reports on social media that he acquired a house in Enugu State that is worth about N650 million, Peter Obi debunked the rumor, maintaining that he only has one house in Nigeria.
Peter Obi and Pandora Papers Accusations
Even though Peter Obi has always portrayed himself as a transparent leader and an advocate of good governance, he has been embroiled in a number of corruption allegations. The biggest historical cross-border collaboration, Pandora Papers, is an investigation that covers a vast amount of previously hidden offshore companies, exposes secret assets, convert deals, and hidden fortunes of the super-rich, former, and serving public officials across the world.
In October 2021, the result of the papers leaked, and records showed that Mr. Peter Obi has been keeping some of his financial activities secret. He was charged with participating in secret business and breaking Nigeria's law in at least three ways. For one, the former governor continued to sustain his position as a director of his UK company, NEXT International (UK) Limited 14 months after he became the governor of Anambra State. This they say is in contradiction to Section Six of the Code of Conduct Bureau and Tribunal Act.
Secondly, Mr. Obi breached Section 11, Part of the Fifth Schedule of the 1999 Constitution by setting up offshore companies in tax havens such as the British Virgin Islands. It was further reported that he made shell companies with the Barbados-based Beauchamp Investments Limited. The charge was that he did not declare all his wealth in breach of the Constitution that mandates public officers to declare all their assets before and after office.
Thirdly, as a governor, Peter Obi was operating a foreign account, breaching the constitution and the public service code of conduct rules. The Nigerian constitution and the Code of Conduct Bureau and Tribunal Act state that a public officer is not allowed to operate a bank account outside the shores of Nigeria. But, Mr. Obi as a governor, allegedly continued to maintain his foreign accounts.
Yesterday, I completed the formality of receiving the Certificate of Return as the Presidential Candidate of the Labour Party. Grateful for the confidence reposed in me. -PO pic.twitter.com/gNFUEUPniB

— Peter Obi (@PeterObi) June 10, 2022
His Defenses Against the Charges
In defense of the first charge, Peter Obi claimed that he immediately resigned from his company upon taking over the office by handing his resignation letter to his wife. He rather suggested that his company might have failed to immediately effect the changes or they did not document his exit.
In his response to the accusation on assets declaration, Mr. Peter Obi explained that those assets and offshore companies are jointly owned by his family members and that there is no obligation that requires him to declare companies or assets that are jointly owned. According to him, he was not aware of the provision of law that says to declare all assets whether partly or jointly owned.
Meanwhile, the leaked records explicitly showed that he is the sole owner and ultimate beneficiary of the offshore companies and does not own them with anyone. So, in that case, Mr. Peter breached Nigeria's Code of Conduct law and if the authorities decide to appropriately take action, he would be arraigned before the Code of Conduct Tribunal.
On defending the third charge, the former governor told Premium Times that while he was on the seat, he got advice to create an offshore structure from Lloyds TSB. That was how he got the opportunity to operate a foreign account as a governor.
In all, Mr, Peter Obi was asked if he is not concerned that Nigerians would feel disappointed in him for these revelations of his lawless dealings, the former governor maintained that he served well as a governor of Anambra State and so Nigerians already have their views and opinion of him.