Bishop David Oyedepo heads the single largest church in the world, which seats 50,000 and also exerts control over churches in 45 African nations as well as several in Dubai, the United Kingdom, and the United States. He is from Omu-Aran, Kwara State, Nigeria but was born in Osogbo.
Not only is he the head, he is the founder of the church which goes by the name the Living Faith Tabernacle, otherwise known as Winners' Chapel.
Net Worth of David Oyedepo
Many prominent men of God in Nigeria and beyond have accumulated their share of riches through public speaking, books, network TV shows – and of course offerings and tithes, proving that church business is big business. David Oyedepo is in the league of such pastors who have their bank accounts smiling heavily for doing God's work.
The pastor has been ranked as the richest pastors in the world with a net worth of $150 million.
According to Forbes 2018 rankings of the world's richest pastors, Bishop Oyedepo tops the list which also featured other Nigerian charismatic pastors like Chris Oyakhilome of the Believers' Love World (net worth – $50 million), E. A. Adeboye of the Redeemed Christian Church of God (net worth – $39 million) and T.B Joshua of the Synagogue Church of All Nations (net worth – $10 million).
Beginning Of His Journey Of Faith
Oyedepo gave his life to Christ during his secondary school days in 1969 through the influence of his teacher, Betty Lasher, who took a special interest in him. But he was taught the importance of tithing by his grandmother who often took him to Christian morning devotion. Hence, his consistent emphasis on tithing.
After graduating as an Architect from the Kwara State Polytechnic, Ilorin, David Oyedepo worked briefly with the Federal Ministry of Housing in Ilorin before resigning to concentrate on missionary work.
The pastor, educationist, and author of many Christian books founded his church in 1981 which now has its headquarters located at Canaan Land in Ota, Ogun State. Winners' Chapel has grown to become one of Africa's largest Christian congregations.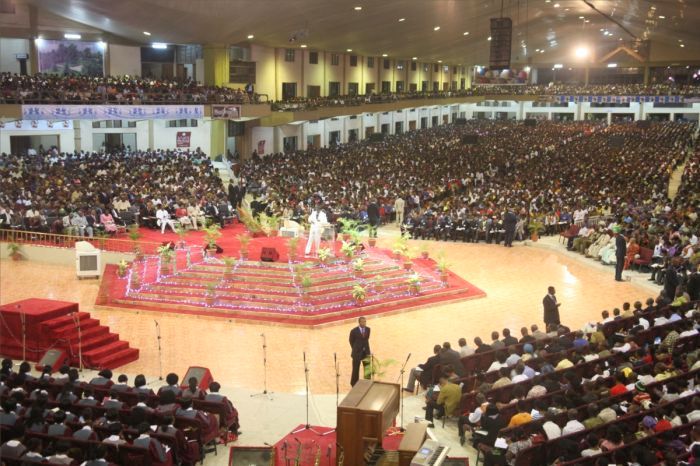 In May 1981, the preacher said he received a mandate from God through an 18-hour vision to liberate the world from all oppression of the devil through the preaching of the word of faith.
Mentored by Pastor Enoch Adeboye, the General Overseer of the Redeemed Christian Church of God, David Oyedepo, and his wife Faith were ordained in 1983 by Adeboye to become pastors and the new church was officially commissioned.
At inception, the church was first called the Liberation Faith Hour Ministries but five years later was changed to the Living Faith World Outreach Center and later Living Faith Church.
Winners' Chapel started in Kaduna but later moved to Lagos in 1989, to start a new branch of the church, following instructions Oyedepo received from God to reach out to the people of Lagos.
Bishop David Oyedepo's mission as an educationist has led to the establishment of educational institutions at all levels within and outside Nigeria.
The most popular is Covenant University with over 7,000 students which is acclaimed to be one of the best private universities in Nigeria. The church also owns a second tertiary institution – Landmark University in Omu Aran, Kwara State, which has the mandate of spearheading an agrarian revolution in Nigeria while a third institution, Crown University in Calabar, Cross River State is still under construction.
Plans are reportedly underway by the church to establish more universities across Africa including Abuja, Ghana, Democratic Republic of Congo and Kenya.
David Oyedepo also has several other primary and secondary schools across the country established to equip the youth for global impact. The secondary schools are known as Faith Academies except those within the universities known as Covenant University and Landmark University Secondary Schools while the nursery and primary schools are known as Kingdom Heritage Model Schools (KHMS). The church has a goal to establish at least a secondary school each in every country in Africa.
The schools along with the church building, secretariat, chapel, residential houses for church employees, and other for-profit enterprises operated by the church such as bakery, a bottled water processing plant, petrol station, various restaurants, shopping stores,  and four houses are all situated on the 17,000-acres ( formerly 5,000) estate named Canaanland. The estate located in Ota, Ogun State also houses four banks operated by the church which include a microfinance bank and three branches of external commercial banks.
Read Also: Top 10 Richest Black Billionaires Worldwide 
The mission has also a 740-acre facility and camp like Canaanland – Goshen City located in Abuja along kilometre 26, Abuja-Keffi Road.
The church owns four private jets valued at N25 billion, and several buildings around the world, including London and the United States.
With diverse projects established and revenue accruing from it, books estimated to have raked in about N1 billion, 400 buses worth N600 million, and several other ventures not forgetting the regular offering and tithes, Bishop Oyedepo's church expansion formula is definitely profitable.