Bishop David Oyedepo is a Nigerian pastor, author, church founder, architect, and businessman with a net worth of about $150 million.
The new dispensation of Christianity has generated a caucus for the richest pastors worth millions of dollars. This class of pastors operates multinational organizations, drive expensive cars, own personal private jets, and build multi-million cathedrals of worship globally.
Given that religion, especially Christianity, has become deeply rooted in Africa, the likes of Bishop David Oyedepo now exert control over many churches and businesses across Africa and even abroad. With David Oyedepo's net worth of about $150 million, the preacher is regarded as the richest pastor globally.
He is the founder of Living Faith Church Worldwide, popularly known as Winners Chapel International, with a leading congregational member in Africa. Being the presiding Bishop of the Faith Tabernacle Ota, Ogun State, Nigeria, Oyedepo heads the single largest church in the world, with over 50,000 seats.
He also exerts control over churches in 45 African nations and several in Dubai, the United Kingdom, and the United States. The Nigerian preacher is from Omu-Aran, Kwara State, Nigeria but was born in Osogbo and raised by his Christian grandmother, who led him into the ministry. Today, he is one of the most successful men of God in the world has ever had.
How Bishop David Oyedepo Amassed His $150 Million Net Worth
Many prominent men of God in Nigeria and beyond have accumulated their share of riches through public speaking, books, network TV shows – and of course offerings and tithes, proving that church business is big business. David Oyedepo is in the league of such pastors who have their bank accounts smiling heavily for doing God's work. Here is a breakdown of how David Oyedepo's net worth come about:
The David Oyedepo Ministry
Doubling as the richest pastor in Africa and Nigeria, David Oyedepo is a preacher, Christian author, and businessman. The 53-year-old pastor is listed as one of the most influential, witty, and powerful pastors in Nigeria and the world at large, not just because he tops the list of Forbes 2021 richest Pastors in the world, but also because he commands one of the biggest churches in the world. He is also seen as one of the pioneers of the Christian Charismatic movement in Africa and has been referred to as one of the most influential preachers in Nigeria.
David Oyedepo founded Living Faith Church Worldwide (also known as Winners Chapel) in 1981, after an eighteen-hour supernatural encounter where God gave him a mission to liberate people of the world through the preaching of the Word of faith. Mentored by Pastor Enoch Adeboye, the General Overseer of the Redeemed Christian Church of God, David Oyedepo, and his wife Faith were ordained in 1983 by Adeboye to become pastors. The same year, a new church was officially commissioned with four members.
At inception, the church was first called the Liberation Faith Hour Ministries, but five years later was changed to the Living Faith World Outreach Center and later Living Faith Church. Winners' Chapel started in Kaduna, but Oyedepo later moved to Lagos in 1989 to start a new branch of the church, following instructions he received from God to reach out to the people of Lagos.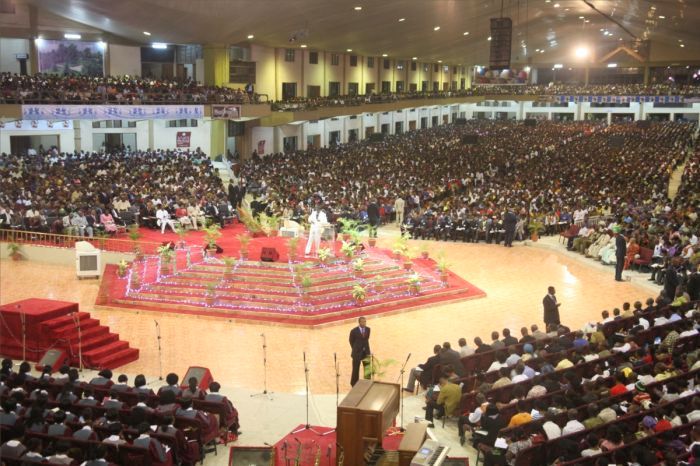 On August 29, 1998, which is about 15 years after the official establishment of Living Faith International Church, the foundation of the international headquarters of the church called the Faith Tabernacle or Canaan Land, was laid in an over 17,000-acre (69 km2), in Ota, a suburb of Lagos. It took David Oyedepo 12 months to complete the building, and on September 19, 1999, it was dedicated.
Faith Tabernacle, which now stands as the second-largest church building globally, has a seating capacity of 50,400 people and an outside overflow capacity of over 250,000, with four services every Sunday. The church generates income from tithes, offerings gifts, special offerings, and donations collated at the faith tabernacle and all of the church branches around the world. The church has well-articulated teaching on tithing and giving.
In fact, the church emphasizes tithing and giving as kingdom investment that yields a double-fold return in the minimum. It is not clear how much the church generates annually, but some sources estimate the church's weekly income at $5 million, and the man of God had in 2018 revealed that the church as a whole pays tithes in billions. However, it is not known how much goes to the minister's personal account.
Real Estate Investments
Aside from being a very powerful and influential pastor, David Oyedepo is also a businessman. Of course, his ministry generates a larger portion of his wealth, but the man of God has invested in real estate as well. One of his largest investments is the Canaan City. In Dec 2015, Oyedepo also announced the commencement of the construction of a 100,000 capacity Faith Arena, which, when completed, would be the largest auditorium in the world. The Theatre will be centralized within a 15,000 housing estate to be known as 'Canaan City.' To put his words to action, the astute businessman acquired 24 villages in Ogun State for the construction of Canaan City.
Seating in 8,000 hectares of land in Ado-Odo/Ota local government area of Ogun State, the Canaan city is said to be Africa's biggest housing estate and the second biggest after the Co-Op City Estate, a 15,342 housing estate located in Bronx, New York. The estate was built between 1968 and 1973 in the USA, housing over 56,000 people. The multi-billion naira housing project was in 2019 opened for habitation, and it is said to be one of the most affordable housing schemes in the country as it gives the church staff 30 years to pay up while members are given convenient time frames to pay for houses of their choice and capability.
The estate would have its police station, fire service station, shopping malls, parks and gardens, sports centres, swimming pools, and Independent Power Plant (IPP), among other facilities. Aside from the Canaan City, David Oyedepo's Winners Chapple also owns Goshen City – a multibillion naira facility comfortably lying atop over 560 acres of land, along Abuja-Keffi Road. The project, which began in 2008, has now been completed. It has a 15,000 capacity sanctuary with other facilities like a mini housing complex, Covenant Printing Press, Heritage School, and Faith Academy (the primary and secondary schools of Winners Chapel).
Educational Institutions
As someone equally passionate about education, David Oyedepo has huge investments in educational facilities. His mission as an educationist has led to establishing educational institutions at all levels within and outside Nigeria. His institutions include:
Covenant University
With over 6,000 students admitted, Covenant University is acclaimed to be one of the best private universities in Nigeria. The private Pentecostal Christian University has been operating with official status since 2002 in Ota, Nigeria. Registered as a non-profit entity, the institution's vision is to raise a new generation of leaders and reinstate the black race's dignity.
It has four colleges (The College of Business and Social Sciences; College of Leadership and Development Studies; College of Engineering, and the College of Science and Technology) dedicated towards vocational studies, and following its rapid rise in reputation, the private University is listed among the most expensive universities in Nigeria with a fee average of N1.2 million.  While the institution is registered under the church, it has Dr. David Olaniyi Oyedepo as its chancellor.
Landmark University
Landmark University is the second tertiary institution owned by David Oyedeo's church. Located in Omu Aran, Kwara State, the institution was set up with the mandate of spearheading an agrarian revolution in Nigeria. With over 2000 students, landmark University's average school fee is N600,000 and it has its founder Dr. David Olaniyi Oyedepo as its chancellor.
While a third institution, Crown University, in Calabar, Cross River State, is still under construction, plans are reportedly underway by the church to establish more universities across Africa, including Abuja, Ghana, Democratic Republic of Congo, and Kenya.
His Primary and Secondary Schools
He has over 150 Primary and Secondary schools in various parts of the country.  The secondary schools are known as Faith Academies except those within the universities known as Covenant University and Landmark University Secondary Schools, while the nursery and primary schools are known as Kingdom Heritage Model Schools (KHMS). The church has a goal to establish at least a secondary school each in every country in Africa. In Nigeria, Faith Academy can be found in Jos, Port Harcourt, Ikorodu, Asaba, Suleja, and the average school fees paid per student is allegedly N270,000.
He Has Authored Many Books
Oyedepo is the owner and chairman of Dominion Publishing House, which publishes all his books. He has earned a significant income from over 70 Christian, inspirational, and motivational books he has authored. The publishing arm of the ministry reportedly boasts of more than 4 million prints in circulation, with most of the books selling between $10 to $15 on Amazon. A list of his best-selling books would include the following:
Walking In The Miraculous
Manifestations Of The Spirit
Breaking The Curses Of Life
You Shall Not Be Barren!
All You Need to Have Your Needs Met
The Miracle Meal
Anointing for Breakthrough
Satan Get Lost!
Pillars of Destiny
Not By Power Nor By Might
The Turnaround Power Of The Word
Born to Win
Ruling Your World
The Unlimited Power Of Faith
Possessing Your Possession
Making Maximum Impact
Commanding The Supernatural
Winning Invisible Battles
Winning Prayer
Understanding Financial Prosperity
Understanding the Power of Praise
Walking In Dominion
Walking in Wisdom
Winning Faith
Put Your Angels To Work
The Hidden Covenant Of Blessing
Winning The War Against Poverty
Making Marriage Work
Keys To Answered Prayer
Understanding Your Covenant Right
Exploring the Riches of Redemption
Breaking Financial Hardship
The Release Of Power
Exploring The Secrets Of Success
Winning Prayer
Understanding The Anointing
The Shower Of Blessing
Summary of David Oyedepo's Income Sources
His Ministry
Real Estate Investments
Educational Institutions
Books
A Look at How the Bishop Spends His Money
It is challenging to separate David Oyedepo's wealth from his church as he manages every aspect of the church's affairs and the various businesses owned by the church. The recent years have seen the bishop directing his sons to take charge of some of the church business and branches abroad. However, the minister revealed that his possessions were not gotten from the church's pocket but from his.
Private Jets
Despite acquiring such a huge amount of money from his ministry and various other business endeavors, David Oyedepo spends his money to buy some luxurious properties and cars that suit his taste. The church owns four private jets valued at N25 billion, and the preacher reveals that he owns a helicopter that he uses for his business trips.
His Gulfstream V stream is estimated at $30m. His airplane assortment incorporates a Bombardier Challenger Aircraft and two Gulfstream planes. Bishop Oyedepo and Winners Chapel have four private jets, together worth about ₦25 billion. These are:
Gulfstream I
Gulfstream IV
Bombardier Challenger 604 (N664D)
Gulfstream V Jet
He Owns Multi-Million dollar Mansions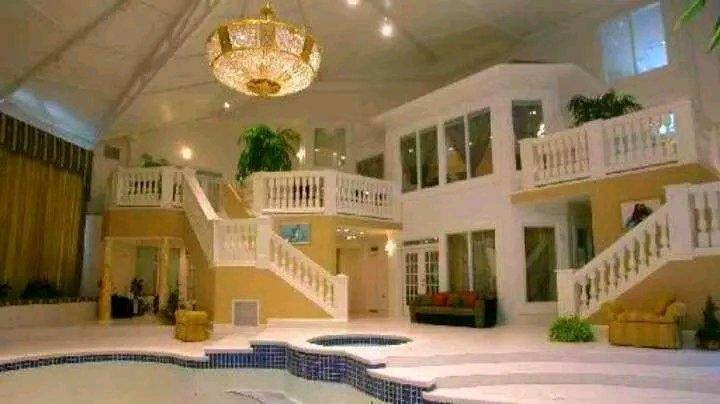 David Oyedepo lives in a well-furnished house in Canaanland. The multi-million mansion has some notable luxury items with facilities such as swimming pools and a library. A similar edifice was erected in His Omu Aran, inside Landmark University. All his palatial homes are guarded by up to three security personnel.
He Has a Fleet of Exotic Cars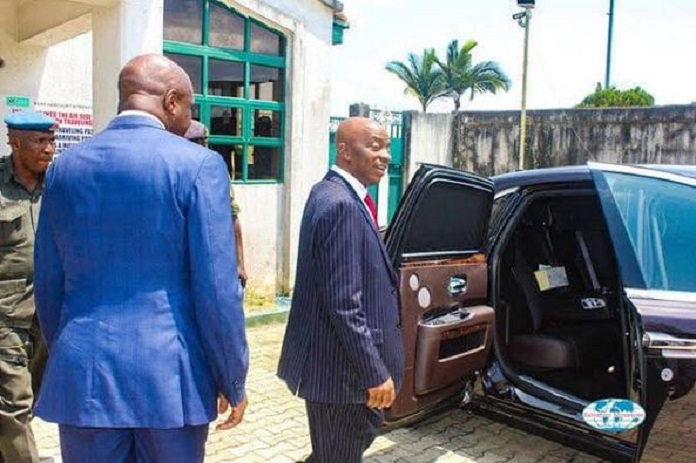 With diverse projects established and revenue accruing from it, David Oyedepo is said to own a large collection of luxury cars. While most of the cars are bought under the church's name, a larger collection of the cars are donations from prominent businessmen and women in the church.
In 2013, around seven hundred exotic cars were donated to the church. There were not cheap, the brands of cars included Jeep, Toyota, BMW, and Mercedes. The following year, the preacher requested his followers to pledge him 200 new Prado Jeeps for ministry purposes. One Prado Jeep price was around eleven million Naira. His convoy includes fleets of various car brands, including Rolls Royce Phantom, BMW, Toyota Land Cruiser Prado, and Mercedes-Benz C-Class.
He Gives Back to Society Through The Oyedepo Foundation
Aside from his popularity as a great gospel preacher, Bishop David Oyedepo, is also known for his philanthropy. Believing in the principle of giving, the man of God has gone a long way to impact the lives of impoverished people and communities through gifts, donations, and scholarship programs. Oyedepo has made several donations to improve the social well-being of many societies in Nigeria and some parts of Africa.
Through the Oyedepo Foundation, the minister and his church as a whole have helped thousands of people out of poverty. The Oyedepo foundation, which focuses on education, social welfare, kingdom promotion, youth leadership, and health, offers scholarships to indigenes and residents of African countries, especially those offered admission into Covenant and Landmark University. As of 2014, it is recorded that David and his wife have donated over N1 billion from their personal accounts to fund the foundation.