Covenant University, CU is a private higher institution that was established by the Living Faith Church Worldwide and the World Mission Agency.
The University obtained a license to operate as a private University in Nigeria on 12th February 2002 from the federal government. To date, they continue to grow as one of the leading universities across the nation.
Covenant University has trained thousands of students on various academic programmes operated through a collegiate system.
Covenant University Colleges & Accredited Courses
Each College with CU cradles a number of departments  as listed below:
1. College of Business And Social Sciences
The college comprises of two schools – School of Business (SBUS) and School of Social Sciences (SSSC)
Departments & Courses/Programme
Department of Accounting:
Department of Banking and Finance:
Department of Business Management
Business Administration,
Industrial Relations and Human Resource Management,
Marketing and Entrepreneurship.
Department of Economics
Economics,
Demography and
Social Statistics.
Department of Mass Communication
Department of Sociology
2. College of Engineering
Departments and Courses/Programme
Department of Civil Engineering
Department of Electrical and Information Engineering
Computer Engineering,
Electrical and Electronics Engineering, and
Information & Communication Engineering,
Department of Mechanical Engineering
Department of Petroleum Engineering
Department of Chemical Engineering
3. College of Leadership Development Studies 
The college is made up of the School of Human Resource Development (SHRD) and School of Leadership Development (SLDV).
Departments and Courses
Department of Political Science and International Relations
International Relations,
Policy and Strategic Studies
Political Science.
Department of Languages and General Studies
English
French
Psychology
Department of Leadership Studies
Certificate and Diploma programmes in Leadership
4.  College of Science and Technology
Department of Architecture
Department of Building Technology
Department of Estate Management
Department of Biological Sciences
Applied Biology
Biotechnology
Microbiology
Department of Biochemistry
Biochemistry
Molecular Biology
Department of Chemistry
Industrial Chemistry (options in Analytical/Environmental Chemistry and Materials/Polymer Chemistry)
Department of Computer and Information Sciences
Computer Science and
Management Information System.
Department of Mathematics
Industrial Mathematics (option in Computer Science)
Industrial Mathematics (option in Statistics)
Department of Physics
Industrial Physics (option in Applied Geophysics, Electronics and IT Applications, and Renewable Energy)
Admission and Student Portal Information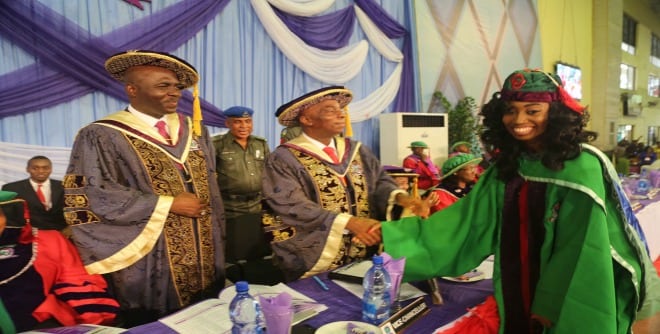 Covenant University offers Undergraduates Admission, Postgraduates Admission, and Foreign Students Admission. The general entry requirements for candidates seeking admission into the school include:
Credit passes in five subjects in not more than two sittings of either SSCE/GCE O'Level/NECO/NABTEB or its equivalent.
Writing and obtaining the required cut-off mark for UTME examination of the Joint Admissions and Matriculation Board (JAMB.
You can get information on the when admission is open on this link.
However, the following steps will guide you toward a successful application.
1 Pay the non-refundable application form fee, which could vary (the 2018/2019 fee is N5,000) with transactions charges; and Post-UME Screening fee.
2. Write and submit online, a statement of purpose, not more than 500 words, indicating your intellectual interests, academic and professional objectives, visions, and goals for life.
3. Upload your credentials online (in PDF not more than 100kb) including
Birth Certificate
Scanned 2018 JAMB result with your clearly visible passport photograph
WAEC or NECO Result (if available)
Letter of Sponsorship by Parents
4. The next step to get a Principal and Pastoral reference (recommendation letters) from either a spiritual leader, school principal or a teacher from your school. These recommendation letters are to be via email using the Covenant University email address: [email protected]
5. Book for the Post-UME Screening online (google CU SANWO) and note the exam venue which is Covenant University, Canaan Land, Km. 10 Idiroko Road, Ota, Ogun State. CU SANWO is supposedly the link to online payments of the school fees.
The Student Portal is available for returning students to Login, and for new students to Register. It is your access to completing the Student Affairs and Medical form and Uploading your passport photograph.
See Also: National Open University of Nigeria: Fees, Courses, Admission, and Students Portal Info
Covenant University Fees 
The Covenant University fees are not clearly stated but the school assures prospective students of affordability. According to them, CU financially accessible to accepted students and they are willing to work with students and their parents to make the amount 'graceful on their shoulders.'
Students are also liable for refunds if money paid was not necessary or implemented. Hence, certain CU fees operate like a purse where you are only billed based on your spending within an academic session.