Multiple Awards winner, singer, and songwriter, Adele is currently the most celebrated world musician, thanks to her big win at the 59th Grammy Awards. On Sunday 12th February 2017, she wowed herself, her fans and the world by going home with five outstanding awards at the just concluded Grammy Awards, which held at the Staples Centre, Los Angeles.
She is one of the few English artists who has proven that a female singer can still be sexy, acceptable and popular without showing off her skin.
Early Life, Age
Adele was on born 5 May 1988 as Adele Laurie Blue Adkins to Penny Adkins (English) and Marks Evans (Welsh), in Tottenham, London. She was raised solely by her mother. Growing up, she listened to Spice Girls a lot and also got inspiration from the works of Etta James and Dusty Springfield. Adele stopped reading books at the age of six and concentrated on singing. 'Matilda' by Roald Dahl was the last book she remembers reading.
She graduated from BRIT School for Performing Arts & Technology in Croydon in May 2006. In her time there, she had Leona Lewis and Jessie J as her classmates. She remains thankful to her school for nurturing her talent and being the star she is today.
Adele first gained recognition in MySpace, after her friend posted her school project online, which attracted lots of views. This project got Richard Russel, boss of XL Recordings making an offer to sign her up. She became a major headliner by 2008 and became the first recipient Brit Awards. She gained worldwide fame when she released her second album in 2011. According to her, the album was inspired by her breakup with her former partner.
Relationship: Husband, Son, Boyfriend,
Adele and her partner Simon Konecki have been dating since summer of 2011, and have a son, Angelo who was born on 19 October 2012. Rumours suggest they already tied the knots in a secret wedding as they were both spotted wearing wedding bands.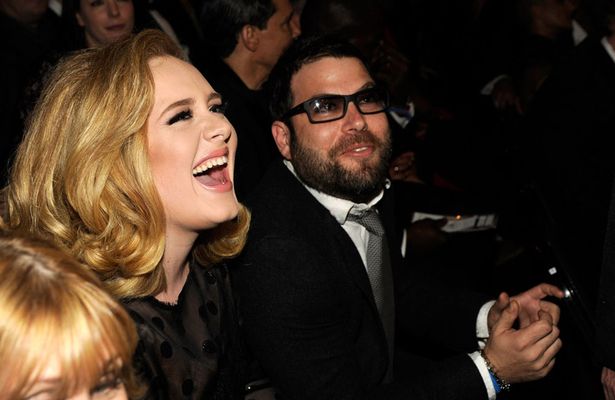 The singer confirmed it when she called Konecki her husband during her acceptance speech at the 59th Annual Grammy Awards for Album of the Year. She also made it known again when in March 2017 she told an audience in Brisbane, Australia that she was married. She lives with her husband Konecki in their East Grinstead, West Sussex home they purchased in March 2017.
Achievements
Currently, Adele holds a total of 15 Grammy Awards and 3 Guinness World Records. She was Billboard's 'Artist of the Year' in 2011 and 2012 as her album, '21', topped the US album charts for twenty-three consecutive weeks.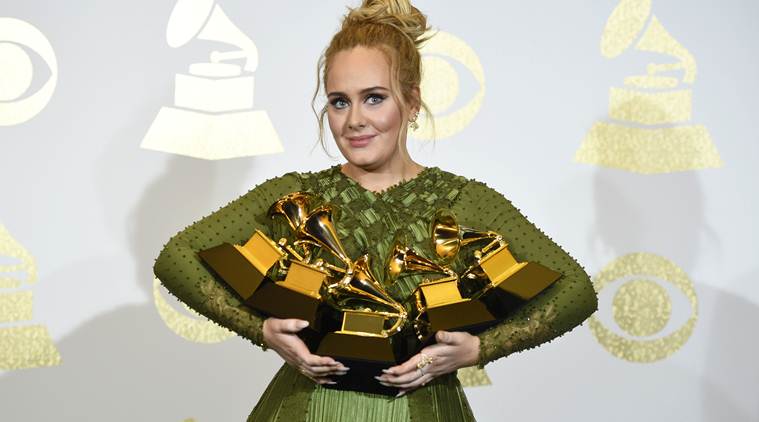 In 2012, the plus size singer came in sixth on Forbes' list of highest-paid celebrities under the age of 30. Along with Beyonce, Adele holds the record for the most categories won in a single night at the Grammys. She took home a total of six awards at the 2016 Grammys and five at the 2017's.
Read Also: Meet Nigerian Artists Who You Never Knew Were Int'l Icons
The single 'Hello' charted iTunes Single in 85 countries and the album '25' was on No.1 on iTunes Album Chart in 77 countries on pre-order sales alone. 'Hello' broke the record for most Shazams in 24 hours and the video broke the record for the most views on Vevo in 24 hours.
So far, Adele has three albums, 19, 21 and 25. Her albums are usually named after her age as at the time of writing and production. She wrote the material for '19' when she was 19 years old, and it was released in 2008 when she was 20.
The success of 21 earned the singer numerous mentions in the Guinness Book of World Records and she is the first woman in the history of the Billboard Hot 100 to have three simultaneous top 10 singles as a lead artist.
Net Worth
Adele has a net worth of $69 million as of 2017 according to information on her Forbes profile. Her earning according to several sources is reported to come mainly from her music alone as she is not known to have brand endorsements for any product or services.
Weight Loss
She once stated that she will never lose weight because she makes music for the ears and not to be on the cover of Playboy. Most of her fans and admirers can't sweep it under the carpet that the award-winning singer has lost a lot of weight. Although she is yet to reveal just how much weight she lost, it is widely believed she shed up to 2st.
The Daily Mail reported that she followed The Sirtfood Diet which encourages the eating of plant-based foods like Kale, buckwheat, turmeric and green tea to achieve her desired figure. Not only is she slimmer now, it looks as if her age went back by few years.
Quick Facts and Interesting Things About Adele
She was born on  5 May 1988
Surprisingly, the world-famous singer suffers from stage fright and panic attacks, which makes her throw up backstage on worse scenarios.
She has five tattoos; two on her left wrist, one on each hand and one behind her left ear.
Adele was a chronic smoker until 2015 when she quit. She had gone through a throat surgery four years earlier which helped in her decision to quit the habit.
Adele believes that music should be made for the ears, and not for the eyes. Therefore her plus size doesn't affect her and she never hopes to get skinny.
With over 51 million followers on Instagram and Twitter put together, you will agree that Adele is a musical force to identify with.
She is a supporter of MusiCares, a charity set up by the Grammys which helps musicians in need.