GUO Transport Company Ltd. is a part of G. U. Okeke & Sons Ltd. which was established in 1980. It is one of the major intercity and interstate transportation service providers in Nigeria and it operates a fleet of contemporary, environmentally friendly vehicles that serves more than 200 locations throughout Nigeria and West Africa.
GUO provides millions of passengers with safe, fun, and economical travel each year. The company has established itself as a leader in the transportation sector. It's widely known for its regularly scheduled passenger service, but it also offers a variety of additional services to its clients, including inexpensive same-day and early-next-day haulage and package delivery to many locations in Nigeria. This article will explore the price list and how to book GUO Transport online.
GUO Motors Booking Platforms
Some platforms for booking GUO motors include:
GUO Motors official website: Customers can book their buses directly through the official website.
Online travel agencies: Platforms like Jumia Travel, Wakanow, and Travelstart offer bus booking services and may include GUO Motors as one of the available options.
Mobile apps: Apps like GUO Motors app, Wakanow app, and Jumia Travel app allow customers to book GUO Motors' buses on their smartphones.
Travel agents: Customers can also book GUO Motors' buses through travel agencies that have partnerships or arrangements with the company.
Social media: Customers may be able to book GUO Motors' buses through their social media accounts, such as Facebook or Twitter, by sending a direct message or contacting the company's customer service.
Phone booking: Customers can also call the GUO Motors customer service hotline to book their bus tickets over the phone.
GUO Motors Booking Process
The GUO Motors booking can be done online or at any GUO Motors branch in Nigeria. If you choose to visit a branch of GUO Motors for your booking, then below is the process you need to follow.
Find the nearest GUO Motors booking office or terminal. You can check their website or contact their customer service for the locations.
Visit the booking office or terminal during their working hours. Typically, GUO Motors operates from early morning to late evening, but it is recommended to check their specific timings beforehand.
Once at the office, approach the counter and inform the staff about your intention to make an offline booking. They will provide you with a booking form or ticket request form.
Fill out the form with the required details such as your name, contact information, departure and destination points, preferred travel date and time, and any other relevant information.
Submit the completed form along with the payment for the ticket. GUO Motors usually accepts cash, but it is advisable to confirm with the staff about their acceptable modes of payment.
Upon receiving the payment, the staff will issue you a physical ticket or a printed confirmation receipt for your booking. This ticket will contain the details of your journey, including the date, time, and seat number.
Keep the ticket or confirmation receipt safe as you will need it to board your bus on the specified date and time.
It is important to note that GUO Motors may have specific terms and conditions for offline bookings, so it's recommended to familiarize yourself with their policies and any additional requirements beforehand.
GUO Online Booking
Determine your travel details: Decide on the destination, travel date, and time you wish to book.
Visit their website: Go to the official website of GUO Motors, which is guotransport.com. You can also find their booking portal on various ticketing websites.
Choose your pickup location and destination: Enter the pickup location and destination in the provided fields. GUO Motors operates across several cities in Nigeria, so make sure to select the correct ones.
Select travel date and time: Specify the date and departure time according to your preference. Keep in mind that availability may vary, especially during peak travel periods.
Choose the type of bus: GUO Motors offers different types of buses, such as executive and standard buses. Select the type that suits your comfort and budget.
Enter passenger details: Provide the required information for each passenger, including name, phone number, and other necessary details.
Make payment: Pay for your booking using the available payment options, which may include debit/credit card, bank transfer, or mobile payment.
Confirmation: After successful payment, you will receive a confirmation email or SMS containing your booking details and ticket information. Ensure to save this information for future reference.
Ticket collection: Depending on the service, you may need to collect your physical ticket at a GUO Motors terminal before your travel date. Alternatively, some routes allow e-ticketing, where you can present your confirmation email or SMS at the time of boarding.
It is recommended to read the terms and conditions, cancellation policy, and any additional instructions provided during the booking process to ensure a smooth travel experience with GUO Motors.
GUO Night Bus Booking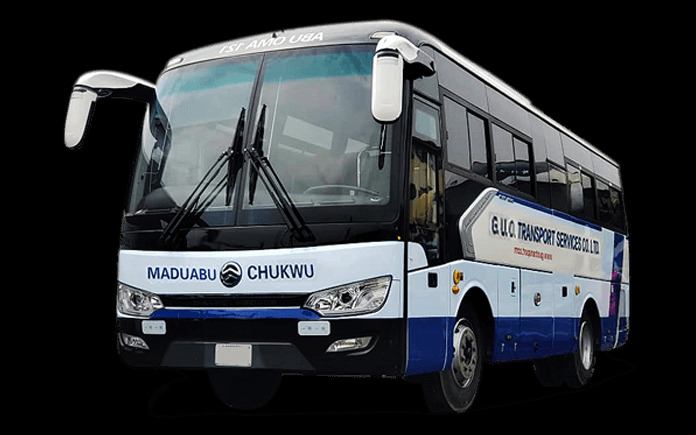 The process for booking a GUO night bus can vary depending on the platform you choose to use. However, here is a general step-by-step guide for the booking process:
Visit the GUO Transport website or download the GUO Transport mobile app, if available.
Create an account or log in to your existing account.
Enter your travel details, including the departure city, destination city, date of travel, and preferred time.
Select the "Night Bus" option or filter the search results to show only night buses.
Browse through the available night bus options and select your desired bus.
Choose your preferred seat(s) from the seating chart, if applicable.
Review the booking details, including the departure time, travel duration, and fare.
Provide your personal information, such as name, contact details, and any additional passenger details if booking for multiple passengers.
Proceed to the payment page and choose your preferred payment method, such as credit/debit card, online banking, or mobile wallet.
Enter the necessary payment details and complete the payment process.
Once the payment is successful, you will receive a confirmation email or SMS with your booking details and e-ticket.
If you booked through the mobile app, your e-ticket should be available within the app.
Print out your e-ticket or present it on your mobile device at the departure point to board the night bus.
GUO Transport Price List
| | |
| --- | --- |
| ROUTES | PRICES |
| UTAKO TO PORT HARCOURT | Adult: ₦11,875, Child: ₦9,375 |
| UTAKO TO LAGOS – AJAH | Adult: ₦11,875, Child: ₦9,375 |
| UTAKO TO ABA | Adult: ₦11,875, Child: ₦9,375 |
| UMUAHIA TO LAGOS – AJAH | Adult: ₦9,975, Child: ₦7,875 |
| PORT HARCOURT TO LAGOS – AJAH | Adult: ₦10,450, Child: ₦8,250 |
| PORT HARCOURT TO ABUJA | Adult: ₦12,350, Child: ₦9,750 |
| JIBOWU TO UMUNZE | Adult: ₦9,500, Child: ₦7,500 |
| JIBOWU TO UMUAHIA | Adult: ₦10,925, Child: ₦8,625 |
| JIBOWU TO PORT HARCOURT | Adult: ₦10,925, Child: ₦8,625 |
| JIBOWU TO OWERRI | Adult: ₦12,825, Child: ₦10,125 |
| JIBOWU TO OGOJA | Adult: ₦11,400, Child: ₦9,000 |
| JIBOWU TO ENUGU | Adult: ₦12,825, Child: ₦10,125 |
| JIBOWU TO EKWULOBIA | Adult: ₦12,350, Child: ₦9,750 |
| JIBOWU TO ABUJA | Adult: ₦11,400, Child: ₦9,000 |
| JIBOWU TO ABA | Adult: ₦10,925, Child: 8,625 |
| ENUGU TO LAGOS – AJAH | Adult: ₦10,070, Child: ₦7,950 |
| ENUGU TO ABUJA | Adult: ₦9,120, Child: ₦7,200 |
| EJIGBO TO UMUNZE | Adult: ₦8,075, Child: ₦6,375 |
| EJIGBO TO UMUAHIA | Adult: ₦9,025, Child: ₦7,125 |
| EJIGBO TO OGOJA | Adult: ₦10,450, Child: ₦8,250 |
| EJIGBO TO ABAKALIKI | Adult: ₦8,550, Child: ₦6,750 |
| EJIGBO TO ABA | Adult: ₦9,500, Child: ₦7,500 |
| AWKA TO ABUJA | Adult: ₦9,025, Child: ₦7,125 |
| ASABA TO LAGOS-IYANA-IPAJA | Adult: ₦8,075, Child: ₦6,375 |
| ASABA TO LAGOS – COKER | Adult: ₦8,075, Child: ₦6,375 |
| ASABA TO LAGOS – AJAH | Adult: ₦8,075, Child: ₦6,375 |
| AJAH TO UMUAHIA-MBAISE | Adult: ₦10,925, Child: ₦8,625 |
| AJAH TO OWERRI | Adult: ₦10,450, Child: ₦8,250 |
| AJAH TO ENUGU | Adult: ₦10,450, Child: ₦8,250 |
| AJAH TO ABUJA | Adult: ₦12,825, Child: ₦10,125 |
| AJAH TO ABAKALIKI | Adult: ₦10,450, Child: ₦8,250 |
| AJAH TO ABA | Adult: ₦10,925, Child: ₦8,625 |
| ABAKALIKI TO LAGOS – AJAH | Adult: ₦10,450, Child: ₦8,250 |
GUO Transport Offices:
GUO Transport has offices and branches across strategic states in Nigeria. Below is a list of GUO Transport offices, their locations, and the services they offer.
GUO Transport Lagos
GUO Transport has various terminals in Lagos State, which is one of its major operational hubs within the country. The Lagos offices handle various transportation services, including intercity and interstate travel, logistics services, and cargo delivery. They provide comfortable buses for passengers and have a reputation for offering reliable and efficient transportation solutions. Below is a list of the Lagos offices.
3 Agunbiade Oke-koto Street, Agege, Lagos.
KM 22 Epe – Expressway, Abraham Adesanya Est. Junction, Ajah, Lagos
Alaba International Mkt, 29, Ojo Ebegbede Road, Opp. Chemist Bus-Stop, Alaba, Lagos
36 Alhaji Orire Street, Wema Bank Bus Stop, Coker, Lagos
67A Ikotun-Egbe Road, Opp Power Line B/Stop, Ejigbo.
1 Ipaye Street, Iba, Lagos
10 Ijegun road, Ikotun
KM 168 Abeokuta Expressway/No 1 Tijani Street beside Access Bank, Iyana Ipaja Bus Stop, Iyana Ipaja, Lagos State.
2 Jibowu Street along Ikorodu Expressway, Jibowu, Lagos.
1st Gate B/Stop Badagry Express Way, MAZA-MAZA-WC
164 Okota Road, Lagos
Otto, Lagos
The GUO Transport Lagos office is known for its commitment to customer satisfaction, punctuality, and safety. They have a team of professional drivers and staff members who ensure smooth operations and excellent service delivery. The office is also responsible for ticketing and customer service support. Passengers can book their tickets or make inquiries at the Lagos office, either in person or through their website or customer service hotline.
GUO Transport Abuja
The GUO Transport Abuja office is located at Plot 193 Gwagwalada Road, Opp. Gwagwalada Police Station, Gwagwalada, Abuja. This location is easily accessible and well-connected to various parts of the city. Other offices and terminals are listed below.
House 110 Opposite Goshen International Academy, 4th Avenue along Chambia Plaza Road, Gwarinpa
Lora Mall Plaza, Plot No 132 Gado Nasko Road Phase 2 Kubwa, Abuja
Suite 9, Bomma Plaza, Sharp Corner by Criss Park Junction, Abuja-Keffi Exp. Way.
GOUBA Plaza, 15 A. E. Ekukinam Street, Utako District, Abuja.
Lagos Park, Zuba, Abuja
The office provides various services, including ticketing, parcel delivery, and customer support. GUO Transport offers comfortable buses with air conditioning, Wi-Fi, and entertainment options for passengers. They operate routes to different cities across Nigeria, facilitating travel for individuals and groups.
GUO Transport Port Harcourt
GUO Transport has a branch office in Port Harcourt, Rivers State. The office is located at Port Harcourt – along Aba Road (at the intersection with Lord Emmanuel Drive, b/w Thermocool & Happy Bite), Opposite Air Force Base, Port Harcourt.
GUO Transport Port Harcourt provides various transportation services, including inter-state transportation, intra-city shuttle services, and courier services.
GUO Transport Enugu
Guo Transport Enugu office is a branch of Guo Transport Company Limited that provides intercity bus services across various locations in Nigeria. The Enugu office is located at No. 3 Market Road by Holy Ghost Cathedral (Opp. Ogbete Main Mkt.) Enugu.
It serves as a ticketing office and a pickup/drop-off point for passengers traveling to and from Enugu and other destinations serviced by Guo Transport. The office is open during regular working hours and offers customer support services to assist passengers with bookings, inquiries, and other travel-related matters.
GUO Transport Customer Care Line
The general GUO Transport customer care line is (+234) 700-0121-000. Here is a list of other customer care lines for each terminal.
Aba Terminal 08075090629
Zuba Terminal 09053820340
Zaria Terminal 09053820345
Yola Terminal 08075090653
Warri Terminal 08075090627
Utako Terminal 08075090643
Umunze Terminal 08076092468
Umuaka Terminal 09053820351
Umuahia Terminal 08113790584
Sokoto Terminal 08052772082
Port Harcourt Terminal 08150647900
Owerri Terminal 09053820353
Orlu Terminal 09053820348
Onitsha Terminal 08075090618
Okota Terminal 08075093154
Ogoja Terminal 9053820341
Obollo Afor Terminal 09053820344
Nnewi Terminal 08075090684
Maza Maza Terminal 08075090683
Mararaba Terminal 09053820346
Maiduguri Terminal 08075090644
Kubwa Terminal 08075093156
Kano Terminal 08075090646
Kaduna Terminal 08075090647
Jos Terminal 08075090654
Jibowu Terminal 08075090682
Jalingo Terminal 08113790580
Iyana-Ipaja Terminal 08150647906
Ikotun Terminal 0805090639
Ihiala Terminal 08075096032
Iddo Terminal 08075090637
Ibadan Terminal 08075090641
Iba Terminal 08075090649
Gombe Terminal 08075090652
Enugu Terminal 08075090636
Ekwulobia Terminal 08175090687
Ejigbo Terminal 08117000390
Coker Terminal 08117000391
Cele Terminal 08075090634
Bauchi Terminal 08076092462
Awkuzu Terminal 07035227941
Awka Terminal 08075090642
Asaba Terminal 08113849230
Alaba Terminal 08075090685
Akokwa Terminal 09053820358
Ajah Terminal 08075090656
Agege Terminal 08075090686
Abakaliki Terminal 08075090650
Accra +233599145050
Madina +233244134534
Tema +233230905352
How Much Is GUO Transport from Lagos to Abuja
GUO Transport has different prices from Lagos to Abuja, depending on the terminal. The company charges ₦11,400 from Lagos (Jibowu) to Abuja for adults and ₦9,000 for a child, while from Lagos (Ajah) to Abuja, costs ₦12,825 for adults and ₦10,125 for a child.
GUO Logistics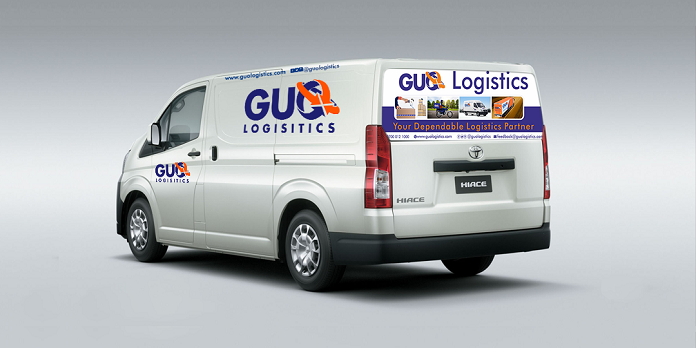 Previously called Guber Express Courier Services, GUO Logistics is a logistics firm with a long history. It is a subsidiary of the parent company, GUO Transport Co. With over 10 years of industry expertise, it has been able to transform the way its clients access logistics in Nigeria and beyond.
GUO Logistics is at the forefront of offering creative value to clients by seamlessly integrating technology into their processes. It also offers a broad reach, with fulfillment centers strategically positioned in major cities around Nigeria, allowing its customers to deliver their items to the correct place in record time. GUO Logistics is headquartered in Onitsha, Anambra State, with a corporate office in Lagos.