The Nigerian passport is among the most circulated passports in the world because Nigerians are widely traveled. The increased migration is mostly triggered by the high unemployment rate, poor healthcare services, poor standard of education, high level of insecurity, amongst others. Aside from the search for the proverbial greener pasture, Nigerians also travel for sheer adventure. With the competitive nature of migration to most first-world countries, many people find it difficult to migrate. However, all hope is not lost as there are other equally good countries people can explore with the Nigerian Passport. This article gives you details of all Visa-Free Countries you can travel to with the Nigerian Passport.
How Strong is the Nigerian Passport Compared to Other African Countries?
Nigeria, the sixth most populous country globally, has one of the largest populations of youth. However, in recent years, the country's public image seems to have deteriorated with its international passport suffering rejection from neighboring countries.
Nigeria might be one of Africa's largest economies, but it is sadly home to one of the continent's weakest passports. Over the past years, the Nigerian passport has suffered the worst decline in rankings on various annual passport rankings. While the Guide Passport Ranking Index places the country's passport power rank at 82 above other African countries like Sudan, Ethiopia, and South Sudan, the Henley Passport Index ranked it 103 out of 199 countries globally and 47th in Africa.
The London-based global citizenship advisory firm ranks the nation below African countries like Mauritius (31st), South Africa (57th), Botswana (66th), Namibia (72nd), Lesotho (73rd), Eswatini (75th), Malawi (76th), Kenya and Tanzania (77th), Zambia and Tunisia (78th), The Gambia (80th), Uganda and Cape Verde Islands (81st). The ranking saw Nigeria losing its 94th position in 2020, which offered Nigerian passport holders the advantage to visit more countries without first obtaining a visa. The new ranking means that Nigerian passport holders can visit some countries visa-free by obtaining a visa on arrival or via Electronic travel authorizations (eTAs).
Nigerian Passport Visa-Free Countries
Visa-free travel solves some of the hassle and stress involved with traveling. Getting a passport and jumping through the hoops that most countries put in front of people before obtaining visas can take a lot of the joy out of planning a trip. Adventure can be tainted by all the bureaucracy involved in jumping the hurdles. Before filing all the forms that need to be filed, that sun-kissed beach you dream about may not seem as enticing anymore. Visa-free travel also reduces the cost of travel as one can avoid the steep visa fees that are tacked on by most embassies.
The list below presents you with all the countries Nigerian Passport holders can visit without worrying about Visa requirements:
Barbados.
Benin.
Burkina Faso.
Cameroon.
Cape Verde.
Chad.
The Cook Islands.
Cote d'Ivoire (Ivory Coast)
Dominica
Fiji
The Gambia
Ghana
Guinea
Guinea-Bissau
Haiti
Liberia
Mali
Micronesia
Montserrat
Niger
Niue
Senegal
Sierra Leone
St. Kitts and Nevis
Togo
Vanuatu
Visa on Arrival for Nigerian Passport Holders
This list contains countries Nigerians can travel to without prior visa arrangements but only with an international passport. However, they would be issued visas on arrival to their destined country. This removes the hassles and delays involved in securing visas before travel, as the visas are almost always granted once you have a genuine reason. The countries are:
Bolivia
Cambodia
Comoros
Ethiopia
Iran
Kenya
Lebanon
Madagascar
Maldives
Mauritania
Mauritius
Mozambique
Namibia
Palau
Rwanda
Samoa
Seychelles
Somalia
Timor-Leste
Tuvalu
Uganda
Note: It is imperative that you check with the country's immigration very close to your travel time as visa policies change frequently.
Countries that Require an eVisa 
With the fast spread of digital technology, many countries have introduced electronic visas and travel authorizations. Of course, while the traditional consular visas can still be obtained at the embassy, different countries also offer eVisas. Also known as an online visa, an electronic visa is a modern digital kind of visa obtainable by applying through the internet. Many countries in the world have followed the global trend to introduce eVisa for travelers of select nationalities.
This helps to make international travels much easier and improve security with the digitalization of data. Similar to an eVisa is the Electronic travel authorizations (eTAs) with similar features. It is an entry requirement for visa-exempt foreign nationals traveling to a country, usually by air. The following countries and territories require an eVisa from Nigerian passport holders before arrival:
Albania
Antigua and Barbuda
Australia
Bahrain
Colombia
Djibouti
Gabon
Kyrgyzstan
Lesotho
Malawi
Moldova
Norfolk Island
Pakistan
Qatar
Sao Tome and Principe
Singapore
South Sudan
St. Helena
Suriname
Turkey
United Arab Emirates
Uzbekistan
Zambia
Zimbabwe
Countries that Require Pre-Arranged Visa for Nigerian Passport Holders
There are over 150 countries that require that you obtain a visa from their embassies before arrival. However, some visa requirements may be dismissed for Nigerian citizens with resident permits or holding other visas.
Afghanistan
Algeria
American Samoa
Andorra
Angola
Anguilla
Argentina
Armenia
Aruba
Austria
Azerbaijan
Bahamas
Bangladesh
Belarus
Belgium
Belize
Bermuda
Bhutan
Bonaire, St. Eustatius & Saba
Bosnia and Herzegovina
Botswana
Brazil
British Virgin Islands
Brunei
Bulgaria
Burundi
Canada
Cayman Islands
Central African Republic
Chile
China
Congo Democratic Republic
Congo Republic
Costa Rica
Croatia
Cuba
Curacao
Cyprus
Czech Republic
Denmark
Dominican Republic
Ecuador
Egypt
El Salvador
Equatorial Guinea
Eritrea
Estonia
Eswatini
Falkland Islands
Faroe Islands
Finland
France
French Guiana
French Polynesia
French West Indies
Georgia
Germany
Gibraltar
Greece
Greenland
Grenada
Guam
Guatemala
Guyana
Honduras
Hong Kong
Hungary
Iceland
India
Indonesia
Iraq
Ireland
Israel
Italy
Jamaica
Japan
Jordan
Kazakhstan
Kiribati
Kosovo
Kuwait
Laos
Latvia
Libya
Liechtenstein
Lithuania
Luxembourg
Macao
Malaysia
Malta
Marshall Islands
Mayotte
Mexico
Monaco
Mongolia
Montenegro
Morocco
Myanmar
Nauru
Nepal
Netherlands
New Caledonia
New Zealand
Nicaragua
North Korea
North Macedonia
Northern Mariana Islands
Norway
Oman
Palestinian Territories
Panama
Papua New Guinea
Paraguay
Peru
Philippines
Poland
Portugal
Puerto Rico
Reunion
Romania
Russian Federation
San Marino
Saudi Arabia
Serbia
Slovakia
Slovenia
Solomon Islands
South Africa
South Korea
Spain
Sri Lanka
St. Lucia
St. Maarten
St. Pierre and Miquelon
St. Vincent & the Grenadines
Sudan
Sweden
Switzerland
Syria
Taiwan
Tajikistan
Tanzania
Thailand
Tonga
Trinidad and Tobago
Tunisia
Turkmenistan
Turks and Caicos Islands
Ukraine
United Kingdom
United States of America
Uruguay
US Virgin Islands
Vatican City
Venezuela
Vietnam
Wallis and Futuna
Yemen
All You Need to Know About the Enhanced Nigerian e-Passport
The new e-Passport was introduced by the Nigeria Immigration Service (NIS) on May 17th, 2007, in its bid to fight against trans-border criminality. The 64-page e-passport contains the biometric details of its holders, thus, making multiple acquisitions and identity theft difficult. It helps frequent travelers, and it's gender friendly, forestalls identity theft, is cheaper for the aged and low-income earners, conforms with international best practices.
Features and Benefits of the Enhanced E-Passport Reforms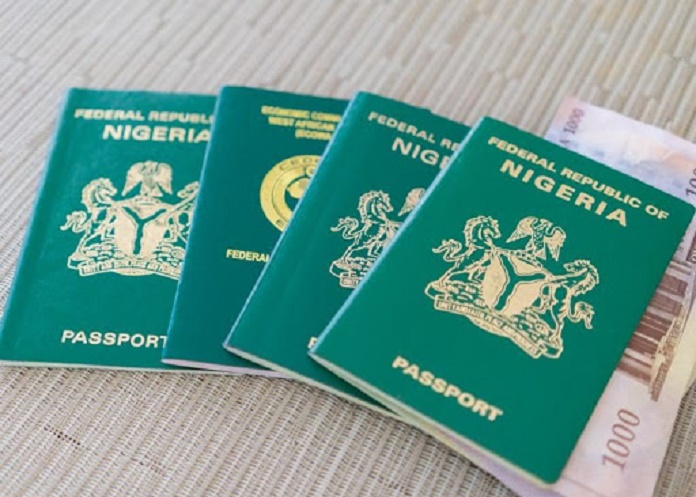 The following are the features of the Enhanced E-Passport
It makes use of Polycarbonate technology that improves the quality of the passport.
It has a ten-year validity booklet that saves a frequent visit to passport offices for renewal.
Passport payment is strictly online.
The Electronic Document Management System will help to ensure:

Tracking of application,
Effective communication with applicants on the status of the application, and collection,
Eliminate human interference,
Enhances document storage system, and
Enhances quick decision-making.
Categories of the Enhanced E-Passport
The new Passport is available in these categories
32 page 5-year validity (Adults and Minors)
64 page 5-year validity (Adults and Minors)
64 page 10-year validity (Adults (18+) only)
There is an option for adults to pick from any of the above-listed categories. Younger children below the age of 18 have the option of choosing between the first and second categories only. Persons below 18 years are denied the +10-year validity passport due to expected changes in their physical appearance.