The Benue state Postal code or zip code is 970001; however, this code cannot be used for paper works as each of the 23 Local Government Areas in the state has its unique postal code. 
Benue State is a state in the North Central region of Nigeria. It is one of the seven states created in 1976 and it has its capital as Markurdi. Nicknamed the "Food Basket of the Nation", Benue state is bounded on the south by Cross River, Ebonyi, and Enugu state, on the west by Kogi state, on the north by Nassawara state, and on the northeast by Taraba state.
Some of the biggest cities in the state include Makurdi, the State Capital, Gboko and Otukpo. Each of the cities and towns in the state has a unique identification number also known as postal code or Zip code. Below is a complete list of Benue state postal code.
Categories of Benue State Postal Code 
Postal codes in Benue state are categorised based on the local government areas in the state. This means that each of the local government areas in Benue state has its unique code comprising a series of letters, digits, or a combination of the two, assigned by the Nigerian Postal Service (NIPOST) for the purpose of sorting mail.
How Many Local Governments Are in Benue State?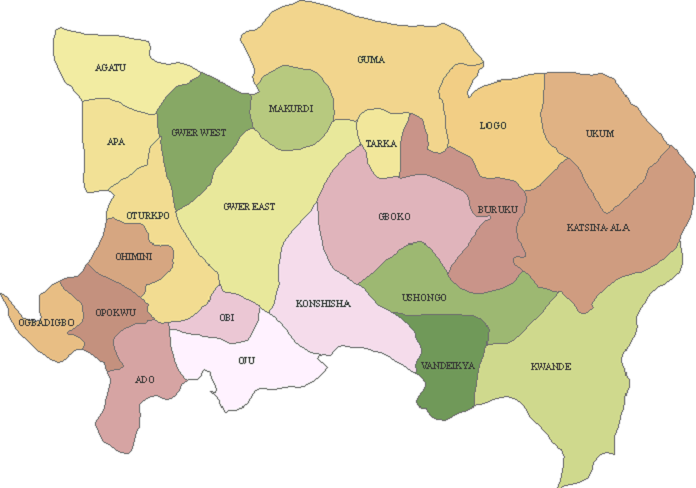 Benue State has a total of 23 local governments, they are:
Ado,
Agatu,
Apa,
Buruku,
Gboko,
Guma,
Gwer East,
Gwer West,
Katsina-Ala,
Konshisha,
Kwande,
Logo,
Makurdi,
Obi,
Ogbadibo,
Oju,
Okpokwu,
Ohimini,
Oturkpo,
Tarka,
Ukum,
Ushongo,
Vandeikya
Benue State Postal Code and Zip Codes
The postal codes below are categorised into Benue state local government regions, districts, and villages. The Benue state NIPOST headquarters' postal code is
970001. When filling out paperwork, however, it is recommended that you use the postal code assigned to your LGA. Find below the postal code for each local government in Benue state.
Agatu LGA
The postal code for Agatu Local Government is 972108. The following towns and villages within the LGA make use it:
Okpagabi,  Usha, Okpokoto, Utugolugu, Olegoga, Olekochologba, Olobidu, Ologabulu Ologobenyi, Ogufa, Olomachi, Ogwule-Kaduna, Omokwodi-Edeje, Ogwule-Ugbaulu, Onitsha Ogwule-Ugbokpo, Onugbo, Ogwumegbo, Oweto, Ojomachi, Ugba, Okeji, Ugboju-Ube,Okokolo, Ukadu, Okpachenyi, Usagbudu, Abalichi, Ayele, Ikpole, Abogbe, Ebete Obagaji, Adagbo, Edeje, Obanowa, Adana, Egba, Odejo, Adum, Egwuma, Ogam, Agbachi Ekwo, Ogbangede, Agbaduma, Elo, Ogbaulu, Aila, Engla, Aiyele-Igaisu, Enjima, Akele Enogaje, Akolo, Enugba, Akpeko, Ichogolugwu-Ogwule, Akwu, Idahuna, Ankpa, Igagisu Ashama, Ikele-Gochi, Atakpa, Ikpele Ope.
Ado LGA
Ado Local Government Area of Benue State has 4 towns. Each of these towns has a varying postal code and they are as follows:
Agila – 973109 – Ikpeba, Osudu, Ikpilogwu, Ote-Ogbeche, Ivetse, Otokilo, Oda, Udegu Ogbegbera, Udegu Urisi, Ai-Unazi, Ogbilolo, Udegu-Ai-Osa-Kpoma, Aikpiliogwu, Ogbokwu, Udegu-Akpo, Aizu, Ogebee, Udokwu-Agarada, Akpa Centre, Oglede, Akpoge 9Oje Otaje, Anjotsu, Okpakor, Anmeta, Okpatobo, Efoha, Okwo, Efufu, Onogwu, Ibende Opwa, Igbizi, Osalemu, Agbekpu, Agila, Agwu, Ai-Amidu, Ai-Ogbola
Atonkon – 973110 – Ogedegi, Unweje-Rijo, Ogi, Utonkon, Ojenyo, Wunikpo, Ojije Wurechi, Okari, Okonoji, Okpudu, Okwasi, Olukpo, Osiloko, Rijo, Royongo, Udebo-Ukwonyo, Ugede, Ukwonyo, Odurukwu, Unwege-Igba, Abey, Adaboa, Adochi, Atuolo Ayaga, Efelo, Enjoji, Igba, Ijokoro, Ikpatene, Ikpomolokpo, Jalili, Ndekma, Ndogaba Obe
IIgumale – 973107- Abakpa, Osukpo, Ai – Ameh, Oturukpo, Ai – Onazi, Ai-Adaaka, Ai-Agbo, Elikizi, Etenyi, Igah, Igedde, Ijigbam, Ikponkpon, Ogbee, Ogongo, Olekwu, Osabo Osipi
Ulay – 973108 – Ogongo, Ojeba, Okpe, Omogwu, Ugbala, Ulayi, Ijigboli, Ikpole, Ipole Izigban, Ofunaga, Abisunya, Achibila, Adegime, Agom, Ai- Oga, Ai-Okpam,  Ebera, Efopfu, Ehaje, Ichesi, Idobi
Apa LGA
The postal code for Apa Local Government is 972107. The following towns and villages within the LGA make use it:
Otakpa, Oye, Ukpogo, Zauku, Olojo-Utukugwu, Oloko-Angbo, Olufene, Omelemu, Omogidi Opah, Opanda, Jos, Ogebe, Ola Kamonye, Kaduna, Ogodo, Oladu, Oba, Ogoduma, Oleitodoakpa, Obinda, Ohoke, Olekele, Obuleha, Olete, Ochenmo, Ojantele, Olobaidu Ochichi-ologiri, Ojecho, Olodoga, Igoro, Ochinchi-olaji, Ojeke, Ologba, Ijaha, Ochumekwu Ojide, Oloja, Ijege, Odejo, and Ojuloko.
Others are Ikampu, Ododo-Ajaje, Okpakachi, kobi ugbobi, Odugbeho, Okpeme, Ikor, Odugbo, Okpoda, Imana, Ofoko, Okpokwu, Inyapu, Ogbenegwu Okwoho, Jericho, Ogbonoko, Okwuji, Achaba, Ebukodo, Adija, Edikwu-Icho, Ahija, Ekela, Ajube-Icho, Ibadum, Ajugbe-Echaje, Idada, Akpaniho, Iga-okpaya, Akpanta, Iga-ologbeche, Akpete, Akpoloko, Alifeti, Amoke, Angwa 972107, Ankapli, Auke, Auke-Geri Bapa.
Buruku LGA
Locations within Buruku Local Government Area of Benue State use different postal codes. See them below.
Buruku towns – 981105
Abwa – 981108
Adi Village – 981103
Agwabi – 981108
Abakwa –  981108
Tyowanye – 981107
Gboko LGA
Towns and villages within the Gboko Local Government Area use different postal/zip codes.
Gboko Town – 981101- Gboko Central Market, Gboko East, Gboko North West, Gboko South Igyorov, Mbaa Varakaa, Mbaanku, Mbadam, Mbadim, Mbakper, Mbakwen, Mbatan, Mbaster Mbatyu, Ukpepke, Apeinumbu, Yandev, Bya Bya, Genyi, Gyase,
Yandev – 981102 – Apeinumbu, Yandev, Bya Bya, Genyi, Gyase, Ibyabya, Kyado, Mbadeda,  Mbaluka, Mbaniongo, Mbatie, Orpin Village, Tarukpe, Tse-Akene, Tse-Jor House, Tyavgar House, Tyekwu,
Guma LGA
Guma Local Government Area of Benue State has 5 towns all having varying postal codes.
Mbaawa – 970102 – Atawa, Gyushage, Jugudu
Mbabai – 970103 – Okoanenge, Ortserga, Tse-Tule, Uikpam
Mbagwen -970105 – Nalegh,  alvough, Yogbo,
Mbasaan – 970104 – Antso, Cheakiyne, Gogo, Ichergbe Ijoh, Iye, Kaseyo, Peregh Torkula, Toura, Tse-Akenyi, Ubo, Ukaa, Umenger, Yeshewe
Uyiev – 9710106 – Achakpa, Anakuma, Angudu, Daudu, Madaki, Magum, Nyiev, Sherev Udei Branch, Yelewatta
Gwer East/West LGA
Gwer East and Gwer West Local Government Areas have 5 towns all having varying postal/zip codes.
Ingohov – 971101 – Ullaim- Ulam, Chia, Eron, Gbuka, Gigi, Mbaav Oju, Mbe, Ndom, Noal, Nougonoye, Okukukwu, Tse-Ogbe, Ukpute, Abafakyai, Ainu, Aliade, Boko
Mbakpa – 971104 – Abiah, Gbanya, Ududu, Adudu, Gebe, Yagba, Agagbe, Go, Yueho Agasha, Ibor, Zeku, Agberagba, Ichicadu, Agusu, Ikyande, Anyamile, Inougu, Api, Mabaiev, Audu, Mabchia, Avine, Mandaki , Azon, Nugi, Borkem, Senjev, Byer, Tongov, Chile Tse-Tor, Enyer, Tyoatee, Ewo, Tyulen,
Njiriv – 971102  – Maga, Ukari, Acheche, Mba, Ukpar, Agono, Mbajeri, Unende, Ajukum Odusho, Zauka, Ameche, Orga, Aondoana, Ortserga, Ate, Ringa, Azom, Shawa, Dagi, Taraku, Dura, Taraku Udugho, Gaadi, Tseboaga, Gari, Tseiko, Gbajimba, Ugee, Howe, Ugee-Ugee, Ikygbajir, Ugesa, Kaahena, Uhou, Abwa Raav
Raav – 971103 – Koti Akpoghur, Naka, Nyitom, Oga, Shaga, Tom Anyin, Tom Atar, Tse-Unzughul, Tsean, Uche, Udam, Usa, Jimba, Achamegh, Achav, Achu, Adizenga, Adum Agbakwa, Agboveyav, Akume, Aondona, Apenda, Awambe, Ayemegh, Deda, Gbande, Ginde
Yonov – 971105 – Abiem, Kpam, Tse-Ushira, Abinsi, Kudar, Tse-Vava, Adetsav, Kura Tsejir, Aduku, Mase, Yonov, Agbakwa, Mbaayande, Agbede, Mbaiyur, Agena, Mbakaha Agute, Mbamev, Akawe, Mbasombo, Awasir, Moi-Igbo, Ayar, Nev, Ayati, Ode, Ayo, Bajimba, Shanna, Dogo, Tesewadugh, Ikpayongo, Tse-Kyula, Iyanden, Tse-Punusha
Katsina-Ala LGA
The Benue state postal code for Katsina-Ala is 980001. All units and locations under this Local Government Area use the same postal code 980001.
Mbavaa LGA
Mbavaa Local Government Area has two major districts with varying postal codes. Here are the districts, villages, and locations that share the codes with them:
Mbavaa – 971109 – Awuhe, Ityogbeda, Abagi,  Ayeer, Jov, Achoho, Azem, Kuaa, Aduu Bonta, Ligon, Agen, Chia, Manta, Agera, Deke, Mbaakpur, Agerega, Dio, Mbaikyu, Agheede Gbajema, Mbeagh, Agidi, Gbende, Nalegh, Akesa, Gboho, Nenge, Akputu, Ichigh-ki-Mbakaha, Ortungu, Amule, Igbor, Selagi, Ankaaye, Iger, Atingel, Ijov Ikundan, Atorkaan Iku Mbur, Awajir, Ikyon, Aba,
Shan-Gevtie – 971110 – Tyo-Tsar, Tyoate, Tyough, U-Avaande, Ugbaikyo, Unow Ya-Akur, Yande, Yogbo, Shiriki, Shom, Talvough, Tile, Tor Mkar, Tse-Agberagba 9Tsue
Kwande LGA
Kwande Local Government Area is divided into four districts with each district having its own postal code.
Ikurav-Ya – 982103 – Achia, Adagi, Igon, Ikurav-ya, Ikyogen, Injiov, Mbaga, Newkkikie.
Nanev – 982101 – Adikpo, Ahile/Akende, Ahundu, Angir Uyough, Dio, Gever, Gube, Haanya, Ikyoor, Ityough, Iyon-Mbahav, Kende, Kookoko, Kuhe, Mbakuran Usar, Nambe Tse-Apera, Tse-Gum-Mbayevikyaior, Tse-Zurgba, Yonge.
Shangev-Ya – 982104 – Ada, Ageraga, Ajio, Anatio, Atsortjaki, Gbajur, Ikume, Iohanga, Iyon, Koti-Mbaduku, Mbangough, Tise-Kwange, Uno, Upev-Adagi, Yaji.
Turan – 982102 – Abo, Amahundu, Anwase, Ayaga, Barakur, Boagundu, Geso, Ichor, Inundur, Jato-Aka, Kanem, Manayam, Manor, Nyihemba, Nyihemba, Susu, Uniwach, Waya, Zel.
Logo LGA
Logo Local Government Area  has 10 towns, with all having varying postal/zip codes.
Gaambe-Ya- 980102 – Tse-De, Tse-Hungwa, Tse-Hyambe, Tse-Kyal,  Tse-Mayange,
Tse-Nyigh, Tse-Pahal, Tse-Taava, Tse-Tsongo, Tse-Ugbar,Tse-Usha, Tse-Vav, Vingir, Tse-Avy Aye Tse-Bavel, Abaji, Gudu, Abako, Harga, Abega, Hindanigo Akyaa, Ada-Ayaijor, Hunda Ado,Agu-Centre, Imande-Mbakange, Ajungwa, Kasar, Akella, Kenvanger,  Answen Agula Kuhe Goo, Anyom, Mbakyer, Apeghan Ugo, Nagu, Atumbe, Ngokem, Branch-Adamu, Peva Branch-Kungu, Sai, Chenchenji, Tor-Donga, Gawa, Gbise.
Gaambe-Tiev -980107 – Abeda, Tse-Ighur, Agbum, Tse-Jime, Anyibe, Tse-Melapa, Arege, Tse-Ngbian, Ayilamo, Tse-Wande, Dooshima, Tyoban, Ibukur, Uze, Igbogh, Yomatar, Ihungwa-Ihough, Iyorzua, Jootar, Lorja, Mchia, Mough, Shina, Tse-Chembe.
Kpav – 980103 – Nomgo Abetze, Sati-Agirigi, Solozo, Tacha, Tse-Asongo, Tse-Bente Tse-Igbe, Tse-Ukeji, Tsenongo, Ucha, Wendeya Tza, Ikpool, Ikyeagba, Imande Shikaan, Imbufu Kumpa, Aba, Abuda, Ada Adeun, Adi Village, Akai, Akegi, Ankum, Anongo Gbabul, Gbena, Gulgul, Hiitom.
Kyuran-Tev – 980101 – Location Postcode, Agahyande, Agber, Amber, Atumbir, Ayua, Azege Bum, Joo-Mbatyough, Katsina-Ala, Kela, Mtser, Ngibo, Tse-Agakaa, Tse-Gber, Tse-Ibo, Tse-Waakaa.
Mbaterem – 980109 – Agbaaye, Akaa, Apir Gwa, Ato Gbenda, Dyom, Kado, Kusugh Aber Melabu, Pevkyaa, Tse-Dajo, Tse-Numbul, Udul Wankaa.
Ngenev – 980106 – Tse-Bosua, Tse-Chehia, Tse-Kur, Tse-Orbunde, Tse-Orkpen, Tsemba Oyom, Uvva, Tine Nune, Uyoo, Tse-Achir, Vande, Tse-Adogo, Zaki-Biam, Tse-Amaatimin Tse-Amachigh, Tse-Ami, Tse-Anam, Tse-Ansambe, Tse-Baim, Agena, Alabar, Ayati, Kasar, Mabaamamdev, Mbamena.
Tongov – 980104 – Adam, Tse-Ador, Ajia, Tse-Alam, Ajough, Tse-Bwaja, Aminde, Tse-Makar  Anyagba, Tse-Tswar, Gbor, Ubaya, Geda, Une, Gonduzua , Utange,Goyuse, Yakyuu, Ikumbur, Imande Mbashonov, Itokyaa, Ityogbenda Udende, Kera, Moze, Nigbo.
Torov – 980110 – Uke, Gbagir, Guse Vaase , Kur, Tse-Alabor, Tse-Gyuba.
Ucha – 980108 – Afia, Tse-Kulevbe, Amuta, Tse-Kyenge, Gbeji, Tse-Mela, Gyenku, Tse-Oryango, Korwua Agbatar, Tse-Truga, Tse-Abenga, Tse-Tyondo, Tse-Abuul, Tse-Ukende , Tse-Aliutse, Vaase, Tse-Anchagbel, Tse-Anonogo-or, Tse-Atsanga, Tse-Ayali,Tse-Azawe , Tse-Choko, Tse-Goji, Tse-Gube.
Ugondo – 980105 – Uyoo, Wende, Zanzan, Abeda-Mbadyu, Tse-Akaa, Aganyi 980105
Tse-Akporaingbe, Akaa-Sekera, Tse-Aluor, Amatso, Tse-Buaka, Ambiir, Tse-Tzenger, Tyogbenda, Gbom, Ugba, Gondo-Zue, Ukor , Iorshagher, Usen, Jiji, Kyob, Mtseya, Saaku, Sonko, Time-Kyura, Tse-Agbumgu.
Makurdi LGA
Markurdi Local Government Area (LGA) of Benue State can be classified into rural and town areas, with all having varying postal codes. Find below the Benue state postal code for Markurdi LGA.
Makurdi Rural (Village) – 970101 – Tyodugh, Tyonambe, Ubebe, Uve, Wamkor, Yaiko , Zongo, Adaka, Beetseh, Tsuwa, Adeke, Bogo, Agam, Chekwar, Agbadu, Eya, Agbeshir , Ibume, Agenada, Ikan, Isuahba, Aki, Iwa, Akigwe, Kachi, Akpehe, Kansihio, Akume, Nyam Sando, Alla , Nyirgir-Makurdi , Anter, Ongbo, Apir, Tatyough, Arawa, Toighor,
Tsuambu.
Makurdi Town
 G.R.A  – 970211
Army Barracks – 970212
Federal Housing Area – 970213
High Level Ass. Village – 970221
Wurukum – 970222
Unijos Campus 970231
Hudco Quarters – 970251
Wadata  – 970261
Kokoroo – 972211
General Hospital – 972221
Sabon Gari –  972251
Eupi  – 972261
Eupi-New Layout – 972261
Federal Low – 972281
Obi & Oju LGA
Obi and Oju Local Government Areas of Benue State have 3 towns combined with all having varying postal codes.
Igede – 362105 – Aba Egbira, Ajebamidele, Ayeye, Iloba Igedera, Odo Uro, Ojingi, Owori-Obotu, Oju, Oyiwo, Okakongo , Uchenyum, Okete, Ucho, Okileme, Ugburu, Okonche ,Ukpa ,Okpinya, Ukpila, Okpoma, Ukpute, Omope, Umoda, Onyike, Utabiji, Opoan, Wori-Obotu ,Ohio, Orihi, Ohirigwe , Oshirigwe, Ohoho, Otakini, Ohuma, Otakpi, Oikpodom, Otunche Adum, Epwa-Ibilla, Obohu, Adum – Okete, Ibegi, Oboru, Ainu- Ette, Ichacho,Obotu, Ameka , Ichakobe , Obubu, Anchim, Idajo, Obuza, Andibilla, Ihulam, Ochimode, Anyadegwu , Ikachi, Ochodu, Anyone, Ikomi, Odubo, Anyuwogbu, Itega, Oga-Olowa, Atekpe, Itipala  Ogengeng, Ebonda, Iyeche, Ogogo, Edumoga, Oba-Ogebe, Ega, Obachita, Eja, Obi, Ekoti Obigwe,  Ekpong, Obijegwu.
Ito – 971108 – Ugbodom, Ukpuleru, Ukpute, Utugboji, Yeshewe, Ito, Ojegbe, Ubeke, Itogo, Ojenya, Ubele, Ekingo, Iyaho, Ojor, Udebor, Igbegi, Oba, Ojuwo, Udegi, Igwe, Obigago, Okpirikwu, Ijanke, Ochinebe, Okpirikwu-Adum, Ijegwu, Odeleko, Okpokwu , Ijokwe, Odiapa, Okukukwu, Ikandiye, Ogede, Okuntegbe, Ikiriye, Ogilewu-Itogo, Okwubi, Ikponyine, Ogoro, Okwumaye, Ikwokwu, Ogwope, Otokwe, Inyuma, Ohehe, OwoIpinu-Adiko, Ohuma, Owo-Adum, Irabi, Ohuye, Oye-Obi, Itakpa, Ojantile, Oyinyi, Abelega, Echoro, Abofutu, Eewu, Adega, Adiko, Adodo, Adum West, Adum-East, Akiraba , Akunda Ameka, Anchiomodoma, Any-Oko, Anyagwu, Anyichika, Ayoye, Ebong-Itogo.
Uwokwu – 971107 – Ukpute, Uda, Udogwu, Uje, Adodo, Igbella, Odaleko, Adum, Igbilla , Ogaka, Alloma, Igwe-Ette, Ogege, Anwu, Igwoke , Ogori , Arigede, Ikatakwe, Ojokwe , Ebenta, Ikoku , Okekpo, Egbilla-Idella, Ikori, Okochi, Egbilla-Izzi, Inyuma, Okwurum , , Ekpete ,Irachi, Orihi, Enugu-Oye, Itafor, Otukpo-Oye, Enurn, Itakeni, Owori-IpinuEsewa , Iyator, Oye, Ibalakum, Iyokolo, Ubeke, Idele, Obaogede,Ifator, Obene, Igbegi 971107
Obiladun.
Ohimin LGA
Ohim Local Government Area of Benue State has 5 districts with all having varying postal/zip codes.
Adoka – 972106 – Abache, Ofiloko, Onipi, Adoka, Ogbago, Opah Adoka, Aibeli , Ogodum, Opah Aiokpetaa , Aichene, Ogowu, Otada, Aikolekwu, Ojakpama, Udabi , Aiobiduwa, Ojanowa, Uga, Ajochoko, Ojinebe, Ukplago, Alyeya, Oklenyi-Uga , Umalichi, Anineju Ukwaba, Okpaflo, Umogidi, Aukpa, Okpannehe, Upu , Aune , Okpeje, Eeko, Olakpoga, Ekantili, Olekpama, Ipole, Oleogwoja, Iwili, Oloke, Obena, Olokodeje.
Akpa – 972101 – Obanyo, Odonto, Ofiloko, Ogwuche, Akwete, Ogyoma,
Allan, Ojigo, Atitio, Okpenen, Aturukpo, Omajaga ,Egbla , Omebe, Egbla Ndikwi, Onyuwei , Egbla Nje, Otobi Camp, Ejo, Igbeji, Igbudeke, Isoo, Nachi, Adankari, Adim, Ahanyo, Akwepa.
Oglewu – 972103 – Ukploko, Agbeke, Ikila, Ai-Oga, Ochobo, Aigaji Ochobo-Centre, Alagblanu, Ojali, Amoda, Ojano, Angue, Okete, Anwule, Okete-Okpikwu, Atapa, Olugbane , Atlo , Omutelle, Awulema, Onyepa, Eboya, Otohia, Ebu, Elulu , Enichi, Idabi, Ijaha.
Onyan-Geda – 972104 – Abakpa, Ogofu, Adankali, Ondo, Agwa, Otoje, Ajegbe, Ugene, Anmaji, Ugene-Icho, Anonomi, Ughoju Ega, Ehatope , Ukpobi-Echaje , Enyioji, Ukpobi-Ichoi,  Epideru, Idekpa, Ikpolle, Ipiga, Iyanya, Odega, Ogande, Ogodu.
Ugboju – 972105 – Unwaba-Oju, Ola-Himu, Olegwaneku, Ombi-Ehaje, Ombi-Icho, Omulonye, Ona, Onaje, Owoto, Umalichi, Ai-Okpetu Ifete-Olubie, Ofiloko, Akpachi, Igahuwo , Ogobia, Alaglanu, Igblagidi, Ogoli, Angbier, Ojegidigbe, Anwule, Ipepe, Okoto, Ao. , Aokwu , Ipolo-Ehaje, Okwudu, Ebolo, Ipolo-Ologbe, Efeyi-Ankpa, Ipom-Icho, Efeyi-Igbanonaje, Jericho, Efeyi-Ipole, Obo, Emicho, Obotu-Ehaje, Eyokpa, Obotu-Icho, Ibaji , Odaubi , Ifete-Enumaje, Oduda , Ifete-Ipana, Ofete-Olobele.
Okpokwu LGA
Okpokwu Local Government Area of Benue State has 6 districts that use varying postal/zip codes: Here is the postal code for each of these districts:
Edumoga – 973106 – A-Adabulu, Adum, Agamud, Agbangwe, Agila-Oladikwu, Aiede, Ajide, Akaga, Akpitodo-Akpaya, Akpodo, Akpuneje, Alaglanu, Amafu, Aokete, Aokpaneg, Aokpasu, Aokpe, Atekpo, Ebo-Ya, Ebodahubi, Edkeajio, Efede-Aoi, Efffa, Effion, Efoyo, Ejema, Ekenobi, Engle, Gapo, Igama, Ijeha Ipoya, Iwewe, Laionyes, Obotu-Ehaje, Obotu-Icho, Obulu, Odaba, Oduda, Ogblega, Ogblo, Ogbodo, Ogodum Ogomotu, Ojigo, Okana, Okga-Ogodo, Okopolikpo-I, Okpafie, Okpale, Okpale-Ota, Okpilioho, Okpolikpo-Ehaje, Oladegbo, Olago, Olaidu, Olaioleje, Olengbecho, Ollo, Omolokpo, Omusu, Opioli, Otada-Otutu, Otobi, Ugbokolo, Ugbokpo.
Ichama – 973102 – Acho, Adiga, Adiga Oyira, Ejaa, Ichana, Ipele-Ohebe, Ipole-Aiagbo, Ipole-Aiebega, Ipole-Aikpe, Ipole-Aiona, Iwewe-Ichama, Ode-Sasa, Odokpo, Ojocha, Ojoga, Oleayidu, Oma
Okpoga -973101- Agado, Agene, Ai-Anechi, Ai-Ochokpo, Aidogodo, Akpakpa, AmujuEde-Okpaga, Idiri, Idobe, Idoko-Aga, Ikonijo, Ogbaga, Ogwuche Akpa, Okadoga, Oklenyi, Okpoga, Okpudu, Olayi-Agbino.
Orokam – 973104 – Adum-Oko, Ai-Ona, Efoma, Ejema, Enyajuru, Ibiladu, Ikemu, Imeyi, Ipole-Adupi, Ipole-Ako, Ipole-Iyiru, Ipole-Oko, Itesi, Leke, Obenda, Ocheje, Ogwurute, Okparigbo, Olaigbena, Ole-Igwu, Oleche, Orokam, Oture, Ugbagba-Ako, Ugbogidi, Ukalegu-Igwu, Ukporo.
Otukpa – 973105 – Abache, Abo, Adepe, Adum, Agbafu, Ago, Aikwu, Akpagidigbo, Alagiranu, Ari-Engweewu, Court-Otukpa, Ebari, Ebudu, Efeche, Efekwo, Effion, Efocho, Efugo, Eha-Otukpa, Eke-Ekwute, Epe-Agbo, Epeilo, Epeilo-Ikpoyi, Idede, Idiri, Idodoloko, Ijadoja, Ikregi, Ipichicha, Ipiga, Ipole Abo, Ipu-Ugbogbo, Ipuchicha, Obuh, Oda, Odoba, Odwebe, Ofojo, Ogaje, Ogene, Ogonkwu, Okoncheta, Olabekpa, Olachagbaha, Oladu, Olagwuche, Olamago, Oloche, Onchegbi, Orido, Oto, Otukpa, Owoso, Ubiegi, Udegi, Ugbamaka, Ugbogwu, Ugbokpo, Ukwo, Umarichi, Zaria.
Owukpa – 973103 – Adu, Agira, Aifam-Centre, Aiji, Alagarunu, Anchimodo, Ankpa, nnachowga, Atamaka, Ebanna, Ati, Ebela, Ede, Eha-Uleke, Ehicho, Ehuu, Ejaa, Ejule, Eke, Eke-Ai odu, Eke-Akpa, Elugu, Iwewe-Aiodu, Oderigbo, Ogbata, Ogbonoko, Ogichigodi, Ogwurutee, Okpoto, Okpudu, Olempe-Ogicho, Oma, Onyirada, Owukpa, Owuruwuru, Ubafu, Ubenjira, Ubono.
Tarka LGA
TakarLocal Government Area (LGA) of Benue State has 11 districts with all having varying postal/zip codes.
Mbayion – 981104 – Ishar, Kankyer, Kumugh, Mkilim, Shenge, Songo, Tse-Abo ,Tse-Ademate, Arua,  Atuur, Tyodugh, Bunde, Buter, Feda- (Atzetan), Gaando, Ihule, Ilungwa-Not, Abia, Adaa, Agam, Agbile, Agom, Akaa, Ande (Atondo), Andoor.
Shorov – 981109 – Akpara, Garagboughul, Ityowonye, Kaimon, Tse-Kur, Tse-Usaka.
Utur – 981108 – Abakwa, Damkor, Iorigye, Uter.
 Ipav – 981103 – Ador, Tse-Kagher, Ahwa, Tse-Mkovur, Akaajime, Amaladu Anikyov, Anyego, Bay, Gatie, Ikyuen, Itungwa, Maseje, Mbaamandev, Missa, Mkar, Naga, Tse-Gatie.
Kusuv – 981107 – Tyowanye, Wanvambe, Orahii , Sati, Shipine, Tavershima, Tom-Ataan, Tomanyiin , Tse-Abagi, Tse-Adingi, Tse-Akaa, Tse-Gbile, Tseyuna, Ako, Anshav, Awange, M-Ulav , Nkovul.
Mgbagen – 981110 – Abor, Nyamatsor, Abwa, Shie, Adyongo, Tofi, Agine, Upe, Ajohol , Zua Akume, Anchiha, Anongur, Ashibi, Ato, Bako , Garuba, Gbelave, Gbudu, Idyua, Leghem.
Mgbakor – 981113- Wannune, Zango-Wannune, Akoodo, Akpa-Agudo, kpa-Ambajir, Amo , Asukunya, Chia , Iche Amazwa , Jingir, Kamken, Mbakor, Nyambee, Tarhembe, Tasbo , Uchi , Uku, Ukyo.
Mbalagh – 981106 – Abuku, Ortse, Agbengi, Sev-Av, Agwabi, Tabe, Agyo-Ugbu, Tsende Ajige, Uga, Amaa, Ihunda, Ugangese, Aminde, Apinega, Ashinya, Awusa-Pila, Chijije , Dogo , Gbanyam, Igyu, Kwaghnihia , Mbager.
Mbatiav – 981111 – Vamkyongo, Abetse-Mbateer, Ikumbul, Adoom, Kyavel, Akawe, Lough, Akpagher, Pika , Anihundu, Tarbo, Ankpenger, Tarkoo, Ayom, Tiv, Byer, Tze-Ademate, Dio , Uga , Dur, Eoyum, Ergum, Gwaza, Igbabjor, Igbajor, Ikpenger.
Mbatie – 981112 – Agayo, Kusuv, Asokwo, Luga, Aumazwa, Mbake, Ayunghitse , Mbatie, Biliji, Mperigu, Bukufu, Nyibom, Buruku, Tomahar, Dzer, Tomataan , Gbaja , Tsetyo, Haanya, Tyogbenda, , Hemen , Usen, Ibyu-Yo, Wpihyev, Ikpa, Jirkyegh ,Kukwa (Mba-Adumbe), Kur.
Mbatierev – 981112  – Agayo, Asokwo, Aumazwa, Hemen, Ibyu-Yo, Ikpa, Jirkyegh, Kukwa, Kusuv, Luga, Mbake, Mperigu, Wpihyev.
Ukum LGA
The following locations in Ukum local government Area of Benue state share the Benue state postal code 980001:
Aterayange, Mbatian, Borikyo, Uvan, Ituuluv, Lumbur, Mbazum, Tsaav, Mbayenge, Azendeshi, Kendav, Ugbaan.
Ushongo LGA
Ushongo Local Government Area (LGA) of Benue State, has 5 districts with all having varying postal/zip codes.
Ikov – 981118 – Sati, Tse-Abada, Tse-Gbinde, Tse-Sokpo, Ude, Uker, Dughen, Gbaka, Hiiton Orbiam, Manor, Mbai-Igbaikyor.
Mbagba – 981115 – Abia, Tse-Gbande, Achuura, Tsumba, Agbuudu, Yese, Akile Village, Antiev Mbele, Atekombo, Aunde, Bage, Boikyaa, Buter, Chubu, Fiuji, Goge, Ichigh, Iorliam, Igbee, Orihundu.
Mbaikyaa – 981117 – Gbatse, Hegha, Igbor, Ikpakpam, Korinjo, Nor, Tarungwa, Ushongo.
Ushongo Town – 981114 – Tsedum , Gege , Tuamade, Ikyobo,Tzongahar,  Kartyo, Uazande , Kwabula ,Uga,  Laadi,Ugondo, Lessel, Uso, Madugwu, Waapera, Moti , Wajir, Msa, Wuha , Mtsenan, Yaji , Posu, Yam, Tema,Terna,Tse-Nyagba, Tse-Pan-Anum ,Abayol, Ge-Mbayem , Abuul, Adeeger, Adiga, Adikipo Mbaagwa, Agoyo.
Utange – 981116 – Ajekwue, Akerior, Gbinde, Ikpo-Azande.
Vandeikya LGA
Vandeikya Local Government Area of Benue State has 8 districts with all having varying postal/zip codes.
Mbagbera – 982107 – Mfor, Naa, Tse-Isua, Achwa, Adobi, Ahile Jime, Branch Atser, Gorkem , Gube, Jape.
Mbaka-Ange -982105 – Aginde, Ankar, Tse-Sho, Uganden, Vandeikya.
Mbara – 982112- Abaki , Tor-Tiv, Alagh-Ngulum, Tse-Amough, Alakali, Tse-Gedege. Anongo , Tse-Ji, Bako, Uka, Gbagbongom, Igbee, Ihugh, Ivenge, Kiishi, Labe, Mandun, Mbaakon, Mede, Moji, Ndete, Adamgbe, Agera, Agidi-Mbakena, Guda, Mbayongo, Shangbum, Tse-Atuul, Tse-Wande, Tyemimongo.
Mingev -982106 – Agirgba, Bako, Korinya, Nor-Gemaityo.
Tsambe – 982111 – Tsambe, Tse-Anshungu, Tse-Nduul, Yaaya, Adeiyongo, Ager, Atayo, Dav, Ifan, Kaamem, Lijam Mue, Nyaro.
Ute – 341119 – Arijonpeye, Aso-Finch, Ero, Owajalaye, Sanusi, Agu, Tse-Kpum, Ako Abwa , Tse-Mker, Akofate, Anza Tokuyo, Bako, Koti-Yough, Kpamor, Kyoosu Ugo, Mbaakon, Pev Sambe, Sati, Taatihi, Timbir, Tse-Dabo, Tse-Kase Nor.
Mbaduku – 982108 – Abwa, Agbile, Betse, Change, Dagba, Gbe, Gbegba, Hembe, Ikpoikpo , Shan, Tile, Tsar.