Marcia Harvey is the ex-wife of Steve Harvey, an American television host, producer, actor, and comedian. She was born on 22nd January 1955 and is now 68 years old. Marcia was Steve's first wife and they were married for 14 years.
Marcia Harvey is an American author, poet, and businesswoman. She came to the limelight as a result of her previous marriage to the famous TV personality, Steve Harvey. Although they had split many years ago and individually moved on with their lives, Marcia is still regarded as a part of Steve Harvey's life, as people want to know everything about him both his past and present life, hence, his ex-wife's biography.
Summary of Marcia Harvey's Bio
Full name: Marcia Harvey
Nickname: Marcy
Gender: Female
Date of birth: 22nd January 1955
Marcia Harvey's Age: 68 years old
Nationality: American
Zodiac Sign: Aquarius
Sexual Orientation: Straight
Religion: Christianity
Marital Status: Married
Marcia Harvey's Ex-husband: Steve Harvey
Marcia Harvey's Current Husband: Larry Greene
Marcia Harvey's Children: 3; Brandi Harvey, Karli Harvey Raymond, and Broderick Harvey Jr
Marcia Harvey's Height in Inches: 5 feet 5 inches
Marcia Harvey's Height in Centimetres: 165 cm
Marcia Harvey's Weight: 62 kg
Body Measurement in Inches: 34-27-35
Body Measurements in Centimeters: 86-68-89
Marcia Harvey's Net worth: $1 million
Famous for: Being the ex-wife of Steve Harvey
Marcia Harvey's Instagram: iammarciaharvey
Marcia Harvey is a Native of Ohio, United States
Steve Harvey's first wife, Marcia Harvey, was born on the 22nd day of January 1955 in her hometown Cleveland, Ohio, United States of America. She is now 68 years old. She is an American national of African-American ethnicity. Marcia was born to Black American parents who were both working class. Going by her birth date, her birth sign is Aquarius.
Besides these facts, there is no further information about Marcia's early life and family background, including whether she has any siblings or not. Similarly, there is no reliable information regarding her educational background although she is said to be a college graduate. However, the name of the school she attended has never been mentioned.
Meanwhile, some recent reports say that she has a degree in Business Administration while a few others report that she has a B.Sc in Chemistry. None of these reports are verified. It is safe to say that Marcia Harvey, although her famous ex-husband put her in the limelight, has preferred to maintain a very low profile.
How Long Was Marcia Harvey Steve Harvey's Wife?
Marcia Harvey and Steve Harvey were married for 14 years before they called it quits. The duo met many years ago in the 1980s at a mutual friend's wedding party. At that time, Marcia was a departmental store worker while Steve was still a struggling insurance salesman. Before the end of the party, they were drawn to each other and later fell in love not long after.
No one can exactly tell when and how they began dating but it is evident that they were able to establish a romantic connection which led to their marriage the following year, 1981. Because none of them was popular at that time, much isn't known about their relationship. It was during the early years of their marriage that Steve decided to pursue a career in the entertainment industry as a stand-up comedian.
He fully resigned from his job as an insurance salesman and completely faced comedy. It is presumed that things were going on just fine for them until Steve began to gain public recognition. This put a lot of strain on their marriage and they started falling out of love with each other as Marcia wasn't happy with the move.
Steve began to have an extremely busy schedule and no longer had time for his wife and children. After a lot of squabbles, they both decided to separate in 1990 and officially got divorced in 1994. After the divorce, Steve was ordered by the court to pay the sum of $5,100 each month as spousal and child support to his ex-wife, Marcia. But, he failed to pay a dime, which led Marcia to sue him.
The court found him guilty and ordered him to pay her in arrears which he believably did. Today, although they had long gone their separate ways, Marcia Harvey and Steve Harvey are on good terms.
Before They Divorced, Marcia and Steve Had Three Children Together
Marcia Harvey's fourteen years marriage to Steve Harvey produced three children; twin daughters and a son. They welcomed their twin daughters named Karli and Brandi on 20th August 1982 and they are now 41 years old. Their only son, Broderick Harvey, was born nine years later, on 29th April 1991, and is currently 32 years old.
While Karli and Brandi identify themselves as entrepreneurs, Broderick is a fashion designer and the owner of the fashion label, Need Money Not Friends. After their divorce, Marcia singlehandedly raised their three children with very little help from Steve. Although she does not have an active presence on social media, both Karli, Brandi, and Broderick, who are now all grown, do not fail to celebrate her, praising her strength and outstanding nurturing skills.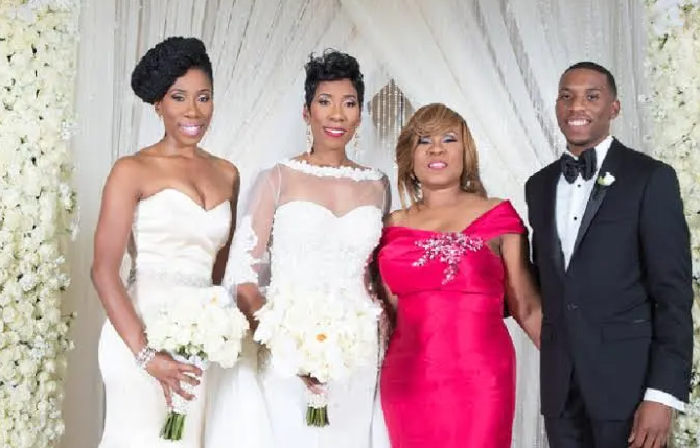 They also credit their life successes to their mother and regularly shower her with love in her old age. Marcia has also become a grandmother after Karli married her husband, Ben Raymond, in 2015 and they welcomed their son in June 2016.
Although he didn't initially have a relationship with his three children, Steve Harvey has now been able to patch things up with them. According to the comedian, Karli, Brandi, and Broderick have come to understand the reason he had to leave their mother.
Meanwhile, Marcia moved on with her life and remarried a man named Larry Greene. There is no public information about her second marriage as she is a highly private person. It is only reported that they currently live in Cleveland Ohio.
What Does Steve Harvey's Ex-wife Do For a Living?
Just after she left high school, Marcia began working at an Ohio-based department store called Saks Fifth Avenue. Reportedly, she has work experience in fields like Clinical Research, Forensic Science, and Quality Assurance, but she is currently a book author and businesswoman.
Marcia started her writing career shortly after her split from Steve and has so far thrived in it. She released three best-selling books between 2011 and 2014 and they are all literary works. She published her first work, Marcia: Eyes To The Soul in April 2011. The book was inspired by her failed marriage to Steve, although it did not gain much attention from the public. Her two other books are titled Marcia: Poem From The Heart and Marcia: Thoughts From My Mind.
Moreso, Marcia Harvey owns a fashion line that she runs by herself. Her net worth is estimated at $1 million, most of which comes from her career as an author and her fashion line. Her ex-husband's popularity has apparently rubbed off on her. Although she has no direct claim to fame, Marcia Harvey has in some way remained relevant in the limelight although in a low key.