Taylor Fritz's girlfriend is Morgan Riddle. Though he previously had a wife, he is not married now. Unlike what is common to some celebrity partners, Morgan is not primarily famous for being in a relationship with Taylor.
The No.1 American tennis player Taylor seems to have recently been in the news for a whole different reason. Fans of the celebrity athlete have been unable to take their eyes off the player's girlfriend who may as well be called his lucky charm for the season. While some fans are hooked on how hot and pretty she is, there are a good number of others who can't get over her eccentric fashionable appearances at the player's games. We have compiled all the information you need on Taylor Fritz's girlfriend and how much of an impact she has been on him since they started dating.
Taylor Fritz's Girlfriend is Morgan Riddle
Taylor is currently dating a celebrity American model and social media personality, Morgan Riddle. The two lovers started dating sometime in 2020, just after Fritz completely separated from his first wife, Raquel Pedraza.
As a model and influencer, Morgan would ordinarily focus most of her attention on fashion and lifestyle talks. Quite on the contrary, since her relationship with Fritz started, she has been a strong advocate of sports, and is particularly determined to make tennis which she claims isn't paid enough attention a cool sport again.
Taylor Fritz's Relationship with Morgan Riddle Began on a Dating Site
Taylor Fritz and his hot supermodel girlfriend Morgan Riddle have been dating and in love for over two years now. From an anniversary post that Taylor shared on his Instagram account, we gathered that the lovebirds officially started dating on June 3, 2020, after they met on Raya, a referral-only dating app. While speaking to the New York Post, Morgan disclosed that she would have swiped right past Taylor's profile but for a funny coincidence. Wondering what that might be?
Morgan, who was not much of a sports fan, said that she had not recognized Fritz and would have swiped right past his account if not for a fairytale-like coincidence; they both had the same song title on their accounts, but from different artists. While Taylor's song was "Sunflower" by Post Malone and Swae Lee, hers was "Sunflower" by Harry Styles.
After their first meeting, the couple hit things off real quick, however, the 2020 pandemic lockdown did not leave them with many options for eating out. Their first date was a simple sushi takeout at Fritz's apartment, and the ones after that were more or less indoors.
What Morgan Has To Say About Being Taylor Fritz's Girl
While fans might think that dating a celebrity tennis player is a full package that comes with numerous fun trips and vacations, Morgan has revealed that that is not entirely the case.
The celebrity girlfriend revealed that unlike some popular sports like football which mostly had domestic games, tennis tournaments are international and games are mostly held in different countries and this means that she and her boyfriend are mostly always traveling for work.
And while on these tours, she is often left to explore the cities by herself as Taylor is often away at practice. Notwithstanding how demanding her role as Taylor's girlfriend might get, Morgan professed that she has always tried to be there for him and will continue to do so as long as she can.
Morgan Riddle is Being Supportive to Taylor Fritz's Career
Morgan has confessed that she was not much of a sports enthusiast before meeting Taylor. However, since they started dating she has come to love sports, particularly tennis which she claims is one of the most underrated sports in America.
@moorrgs

on a personal mission to make tennis cool again
Contrary to popular opinion, the Minnesota-born model believes that tennis is one of the best sports to ever exist. In a video, she shared on her TikTok account, the hot shot girlfriend who has come to be loved just as much as her boyfriend declared that she is now on a personal mission to make tennis a cool sport again. To make this possible, Morgan has taken it upon herself to create as much awareness of tennis as she possibly can. With her awe-inspiring followings, the social media star has also been drawing a lot of attention to tennis with the stylish outfits she wears to her boyfriend's games.
With this, the full-time content creator said that she has been able to attract a new audience who weren't privy to how cool tennis is to the sports. She has been making headlines and was even declared the favorite camera person after a fan noticed that she appeared on camera over eighty times more than some of the best players during one of her boyfriend's games.
Although Taylor has been drawing a lot of attention with his wins so far, a greater part of the attention seems to go to his girlfriend who has become a fan's favorite. Fans of the No. 1 tennis player now fervently wish that their favorite makes it to the next round so they can see the next stylish outfits Morgan who has become somewhat of a tennis style icon, would spot on the next game.
And while the whole attention has been good for her boyfriend's status, Morgan also tries to leverage it by improving social media followings, and subsequently, her career as a social media influencer.
Has Taylor Fritz Ever Been Married?
Before he started dating Morgan, Fritz dated and even got married to fellow tennis player, Raquel Pedraza. From the information we gathered, the marriage was a result of young love as Fritz got married to Raquel when he was just 18 years old.
Some months after their engagement, the love birds tied the knot in a traditional-styled wedding on July 7, 2016. The wedding which was held in Rancho Santa Fe was a private event with only family and close friends in attendance. At the time of their wedding, Taylor was only 18 years old, the same as his equally young bride.
Sadly, like most stories of young love, Fritz's first marriage could not stand the test of time, and the couple decided to end the marriage through a divorce in 2020. However, before they called it quits, their union was blessed with their only son, whom they named Jordan Taylor.
Who is Taylor Fritz's Baby Mama?
Raquel Pedraza is Taylor Fritz's ex-wife and baby mama. Before his relationship with Morgan Riddle, Taylor had dated Raquel and the duo even went as far as getting married after Taylor popped the big question in front of the Eiffel tower in 2016. They later got married in July 2016 as mentioned above.
A year after their wedding, the couple welcome Jordan Frits, their first and only child together into the pack. According to Taylor, the birth of their child did not alter his life as much as was expected. While his wife Raquel focused on their child and home, he had ample time to build his career to greater heights. Everything seemed to be going well until it wasn't.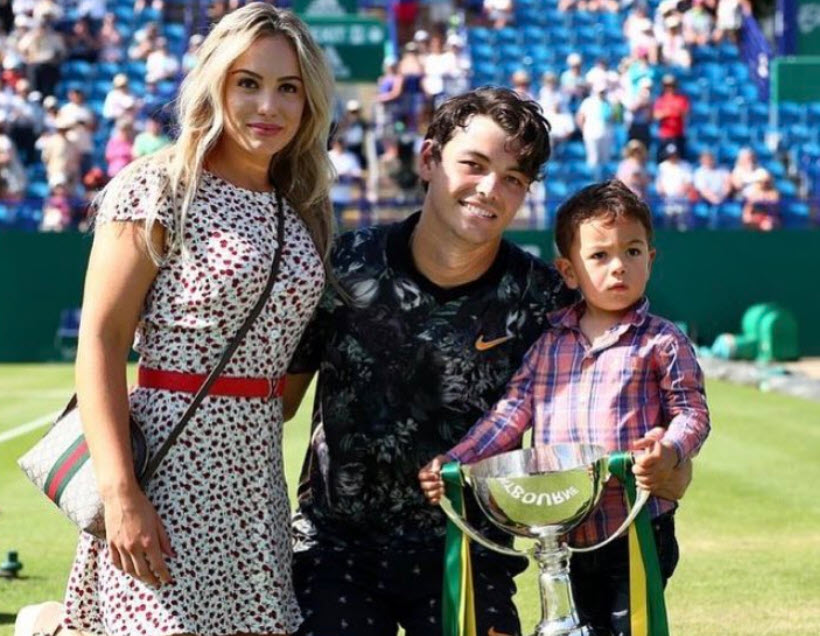 Taylor Fritz Split With Raquel Pedraza After 5 Years of Being Together
After three years of being married and another two of being parents, the once-in-love couple finally fell out of it. In 2019, they decided to go their separate ways after a peaceful divorce. Based on their custody agreement, Raquel got full custody of their child while Taylor had visiting rights.
Even with that, he still found it hard to spend quality time with their young son due to the nature of his career which had him moving around the globe almost all the time. However, during the 2020 pandemic lockdown, Taylor said that he was going to put his career on a hold for some time so that he would be able to spend quality time with his son. Since she parted ways with her ex-husband, Raquel seems to have put her career aside and now focuses her time majorly on raising their son. Taylor Fritz's girlfriend Morgan Riddle is also not doing bad for herself and her bae either.