Eli Norman is best known for being a celebrity spouse and the husband of Janai Norman, an American journalist and correspondent.
Janai currently works for ABC World News Now and America This Morning. Away from her successful journalism career, Janai Norman is also thriving on the home front. She and her husband Eli have been married for 4 years and are still going very strong. Read on to know about their love story and more about her husband Eli Norman.
Summary of Eli Norman's Bio
Full name: Eli Norman
Gender: Male
Date of Birth: October 22
Zodiac Sign: Libra
Ethnicity: Mixed
Nationality: American
Sexual Orientation: Straight
Religion: Christianity
Marital Status: Married
Eli Norman's Wife: Janai Norman
Eli Norman's Children: 2 (a son; Blake and a daughter)
Famous for: Being Janai's husband
Who is Janai Norman's Husband, Eli Norman?
Eli Norman was born on October 22 in the United States of America and holds American nationality. However, his exact year of birth is not known thus, we cannot state how old he is at the moment. Meanwhile, his wife Janai was born in Dublin South Africa on 5th May 1990 and is currently 32 years old.
Also, Eli is a private person and has not revealed any information about his parents, siblings, or the kind of childhood he had. Janai's husband is a physically good-looking man and this is arguably one of the reasons his wife never fails to flaunt his photos on her social media pages.
What Does Eli Norman do for a Living?
According to a few sources, Eli Norman is a military police veteran. However, nothing more is known about his accomplishment in the profession. Before he met and married Janai, no one knew anything about Eli, so, he is literally living off his wife's fame and celebrity status. For this reason, many facts about him are very scarce in the media.
Eli Norman and Janai Got Married in 2018
Details of where and when Eli and Janai first met are not public knowledge but the love birds reportedly dated for almost three years before Eli popped the question to his lady love. They got engaged on a beach in Barcelona in April 2017 and ultimately exchanged marital vows in Bougainville, Barbados in the Caribbean in May 2018, a year after the proposal.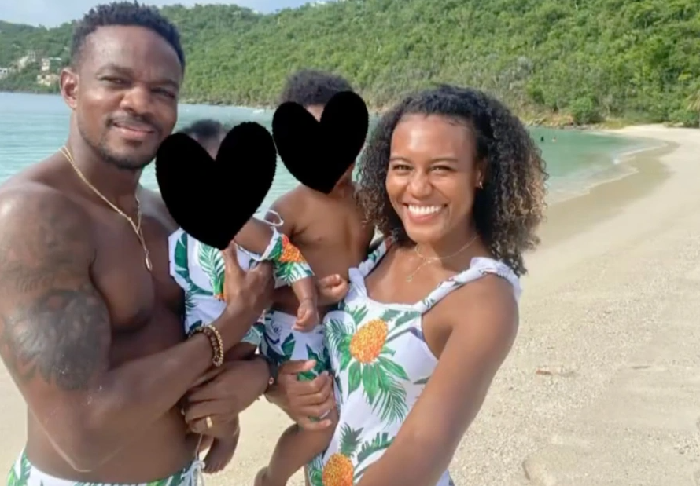 Their wedding was a private ceremony that had only their family and a few close friends in attendance. The couple has remained together ever since then and it seems their love is growing stronger in the wake of each day. Janai does not fail to share on social media, pictures of her husband and kids at every given celebration.
Their Marriage is Blessed with Two Children
In the course of their 4-year-old marriage, Eli Norman and his wife Janai have welcomed two children; a son and a daughter. They had their first child a son named Blakes on 5th December 2017 while their daughter arrived in April 2020. Blakes and his sister are currently 5 and 2 years old respectively.
Based on the photos Janai posts on social media, it is clear that the couple is still head over heels in love with each other and many of her fans have found their love story interesting. The happy family of four currently lives in New York.
Why Eli Norman's Wife Jania Norman is Famous
Janai Norman is a TV show host, journalist, news anchor, and correspondent. She was named one of the lead anchors of the Good Morning America Show, a TV show that has been running for the past decade. Janai has had experience working with several other brilliant television outlets including the ABC network.
To say the least, Janai Norman is described as a versatile, talented, and vibrant journalist who always puts her heart into her work, whether she is on breaking news, anchoring at the desk, reporting in the field, or conducting a one-on-one interview with a newsmaker of the day. She makes it a topmost priority to cover the most important and confidential issues of our time.