Marc Schauer is an American Real estate broker who is better known around the USA and beyond as the husband of Laura Linney, a popular American actress, singer, and director, respected for her work in Hollywood for over three decades.
Schauer has had a successful career as a real estate broker and has also worked as a drug and alcohol counselor. However, he is still only known as "Laura Linney's husband" today because his success in the real estate industry pales in comparison to his wife's accomplishments as an entertainer.
Linney has starred in several blockbuster movies and series and has bagged several awards, including four Primetime Emmy Awards and two Golden Globe Awards. She has also been nominated for three Academy Awards and five Tony Awards, making her one of the most successful American actresses today.
Summary of Marc Schauer's Biography 
Full name: Marc Schauer
Gender: Male
Date of birth: 5th April 1960
Marc Schauer's Age: 62 years old
Nationality: American
Zodiac Sign: Aries
Sexual Orientation: Straight
Religion: Christianity
Marital Status: Married
Marc Schauer's Wife: Laura Linney
Marc Schauer's Children: Bennett Armistead Schauer
Famous for: Being Laura Linney's husband
Marc Schauer was Born In Colorado
Marc Schauer was born on the 5th day of April 1960 and is now 62 years old. According to our findings, the real estate broker was born in Telluride, the county seat and most populous town of San Miguel County in the State of Colorado, USA.
Some reports say he spent some time in Telluride as a little boy, but his family later moved from Colorado to New York where he is believed to have spent the rest of his childhood.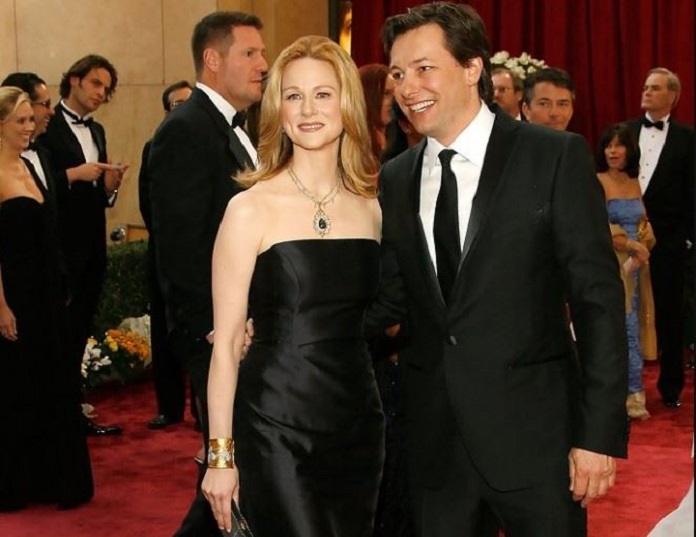 Very little is known about the early days of Schauer and what his influences were as a child. This is mainly because the man has always been a private person and has not spoken much about this part of his life. In fact, most of the things currently known about the real estate pro are related to his romance with Laura Linney.
Because of the dearth of information about his early days, not much is known about who his parents are or what they did for a living to cater to him. It is also not clear if he is an only child or if he had siblings with him he spent his early days growing up. Details are also scarce about where he had his education. However, it has been reported that he had his high school education in New York City.
After finishing high school, Marc Schauer did not act like most young men would do and go straight to college; instead, he decided to skip going to college and start working to make money. Thereafter, he decided to go into real estate and soon rose through the ranks to become a well-sought-after agent. It was while doing his work as a real estate pro that he met and fell in love with his wife, Laura Linney.
Who Is Schauer's Wife Laura Linney?
Full name: Laura Leggett Linney
Gender: Female
Date of birth: February 5, 1964
Laura Linney's Age: 58 years old
Nationality: American
Zodiac Sign: Aquarius
Sexual Orientation: Straight
Religion: Christianity
Marital Status: Married
Laura Linney's Husband: Marc Schauer
Laura Linney's Children: Bennett Armistead Schauer
Laura Linney's Parents: Ann Leggett Perse and Romulus Linney
Laura Linney's Height in Inches: 5 feet 7 inches
Laura Linney's Height in Centimetres: 170 cm
Laura Linney's Weight: 58 kg
Body measurements in inches: 35-26-34
Body measurements in Centimetres: 89-66-86
Laura Linney's Net worth: $10 million
Famous for: Being an award-winning actress, singer, and director
Laura Linney's Instagram: Laura Linney
Marc Schauer's wife Laura Linney is a well-respected American actress, singer, and director who is regarded as one of Hollywood's most enduring superstars. Having kickstarted her acting career in the early 1990s, she has now spent over three decades in the industry and is still going very strong at the moment.
Linney began her acting career on stage, making her Broadway debut in 1990 when she was about 26 years old. She went on to appear extensively on stage, acting in several high-profile stage productions stunning audiences with her superb acting skills.
Some of her Broadway appearances include Six Degrees of Separation (1990–1992), The Seagull (1992–1993), Holiday (1995–1996), The Crucible (2002), Time Stands Still (2010–2011), and several others. Her stage performances have been hailed for so many years and she has won several applause for them including a number of Tony Award nominations.
Apart from stage acting, Laura Linney has also done some mind-blowing work on TV. She started by starring in some minor roles in the early 1990s before she started landing major roles after landing her first substantial big-screen role as the ex-girlfriend of Richard Gere's character in the 1996 movie, Primal Fear and getting her Hollywood breakthrough after playing Jim Carrey's on-screen wife in Peter Weir's science-fiction comedy-drama film The Truman Show, in 1998.
Laura Linney has now starred in over 70 movies and TV series including high-profile movies over the years including the well-praised productions like You Can Count On Me in 2000, Kinsey in 2004, The Savages in 2007, and many others. In the process, she won several awards, including two Golden Globe Awards and four Primetime Emmy Awards, and has been nominated for three Academy Awards and five Tony Awards.
How Did Marc Schauer Meet Laura?
Marc Schauer and Laura Linney first met in a really unconventional and unexpected manner. According to our findings, the couple first met in 2004 at that year's Telluride Film Festival. For the record, the Telluride Film Festival is actually a film festival that is held annually in Telluride, Colorado during Labor Day weekend and the 2004 event brought Schauer and Linney together.
Because Telluride is his hometown where he was born, Marc Schauer volunteered to work as a V.I.P. host and liaison between important guests and the town during the film festival. Incidentally, he was assigned to be Laura Linney's festival host during the event and show her around for the entire weekend. Linney herself made this revelation in an interview with The New York Times in July 2010.
When Laura Linney arrived at Telluride for the festival, Marc Schauer was there at the airport to welcome her as his job required him to do in order to make her stay in the town very smooth during the event. It was during this period that they started feeling something for each other. Linny explained that when Schauer approached her to welcome her to Telluride, she felt some connection to him immediately and wondered if she was falling in love with her handler.
Before this time, Linney had been single for a long time and so it came to her as a surprise that she could have an almost instant rush of emotions for a stranger she just met. It was almost love at first sight for her. However, because she came to the event with her mother by her side, she tried to keep her emotions in check. On his own end, Marc Schauer was also attracted to Linney and was determined to make sure he conveyed his feelings to her during her stay in the town.
Schauer was at Linney's beck and call during the entire event and by the time the festivities were over, he was sure that he was in love with Linney. In order to help her unwind, he later took her on a walk at night through the town to look at the stars. They both climbed a mountain to stare at the stars and Linney was blown away by the experience. Having been single for a long time, she was very impressed by her much Schauer took care of her.
The next day, before she left Telluride to return to her base, Schauer handed Linney a note but she did not open it immediately and waited till she was on the plane back home. When she opened the note eventually, it read "I'll stargaze with you any time". Linney found these words very romantic and replied to Schauer by e-mail. They soon started emailing each other and slowly began to know each other better.
Schauer Proposed To Linney Three Years After Their First Meeting
Soon after they started e-mailing each other, Marc Schauer and Laura Linney realized they were mutually head over heels in love. So, they decided to start seeing each other physically more often and get to develop the feelings they had for themselves. They officially started dating after linking up once again in Chicago where she was promoting her 2004 drama movie, Kinsey.
Schauer and Linney fell head over heels in love and literally became inseparable. They realized they had so many things in common and were very supportive of each other. However, they kept a lot of details about their love life from the public. Eventually, after dating for about three years, Marc Schauer decided it was time to make things more interesting so he proposed to Linney in August 2007 and she happily accepted.
As expected, the news of their engagement made several headlines around the USA mainly because of how very popular Linney was and how much were monitoring their love story.
Hollywood Legend Liam Neeson Walked Marc Schauer's Wife Down the Aisle
After they got engaged in 2007, Marc Schauer and Laura Linney continued enjoying a thrilling love adventure for nearly two years before they tied the knot. The couple eventually had their wedding on the 2nd of May, 2009 in front of their family members and close friends.
As expected, some prominent figures attended the wedding. In fact, the legendary Irish/British actor, Liam Neeson, with whom Laura Linney had collaborated on different movies, was at the wedding and was the one who actually walked Linney down the aisle to her husband.
How Long Has Marc Schauer Been Married to Laura Linney?
Marc Schauer and Laura Linney have been married now for 13 years and their union has been going very strong. Since they tied the knot as man and wife, they have not made headlines for any kind of controversy and it appears that they are having the best marital experience.
Laura Linney, who has always admitted that she fell very hard for her husband when she met him, often credits a lot of the success of the relationship to Marc Schauer. She explained that because of the nature of her work, she always has to be on the road and on-location shooting movies or promoting them.
Ordinary this would have affected their marriage negatively however, she revealed that Marc Schauer is a very supportive and really secure man who has no problems with her being away for work. This has kept things smooth between them.
How Many Children Does Marc Schauer Have?
Marc Schauer has one child with Laura Linney. The couple welcomed their son on January 8, 2014. The boy, whose name is Bennett Armistead Schauer, is now 8 years old. Not much is known about how the boy is being raised as the couple has kept a lot of information about him private. However, it is certain that he is receiving the best upbringing considering the parents he was born to.
Interestingly, when Laura Linney was pregnant with Bennett Armistead Schauer, she kept the pregnancy a secret for the entire duration. No one knew she was heavy with a child except for her very friends and family members who were asked to keep the information very private.
As expected when the baby arrived, it made headlines around the USA and beyond mainly because it was Laura Linney's first time being a mother and she had her first child at the age of 49. Everyone was surprised and the news traveled fast. The baby is also Marc Schauer's first child as there is no information to show he had children before marrying Linney.
A Comprehensive Look At Marc Schauer's Career
Even though everyone now knows and refers to Marc Schauer as "Laura Linney's husband", it is important to know that marrying the popular actress is not the only good thing he has done for himself. As a matter of fact, Schauer is a hardworking man who has built a thriving career in the real estate business.
According to our findings, when Schauer graduated from high school, he did not proceed to college but instead chose to work and make money. Eventually, he decided to go into real estate. Not much is known about how he progressed through the ranks to reach where he is, but some reports say he is now a licensed real estate broker with a thriving business in New York.
Also, Schauer is not just a real estate broker; he is also a drug and alcohol counselor. It is not clear how he is into the counseling field but it is reported that he has done quite well in that regard as well. Over the years, Schauer has always been a progressive man who likes to help people and volunteer whenever he can. In fact, recall that it was while volunteering as a host and liaison that he met his wife.
Marc Schauer's Net Worth
Marc Schauer's net worth has been estimated to be between $700,000 to $1 million by different reports. Schauer's exact net worth is not very certain mainly because of how private he has been over the years.
On the other hand, his wife. Laura Linney's net worth has been estimated to be about $10 million by different sources. Apparently, she rakes in more money than he does.