Abigail S. Koppel is the wife of Leslie "Les" Wexner, the American billionaire businessman and founder/chairman emeritus of Bath & Body Works, Inc. They met sometime in 1992 and got married on January 23, 1993. They live in their home in New Albany. 
Abigail started life as an attorney before deciding to go into the business world. She is currently the Chief Executive Officer of Whitebarn Associates which she co-founded. She is into equestrian businesses and is also neck-deep into charitable courses. Abigail has been married to Les for twenty long years and still counting.
Summary of Abigail S. Koppel's Biography
Full Name: Abigail S. Koppel
Gender: Female
Date of Birth: 1962
Abigail S. Koppel's Age: 61
Ethnicity: Jewish
Nationality: American
Sexual Orientation: Straight
Religion: Judaism
Marital Status: Married
Abigail S. Koppel's Husband (Wife): Leslie "Les" Wexner
Abigail S. Koppel's Children: Harry, Hannah, David, and Sarah Wexner
Abigail S. Koppel's Parents: Yehuda Koppel and Zipora Goldman
Siblings: Dan and Gil Koppel
Abigail S. Koppel's Height in Inches: 5 feet 6 inches
Abigail S. Koppel's Height in Centimeters: 167 cm
Abigail S. Koppel's Weight: 72 kg
Abigail S. Koppel's Net Worth: $3 million
Famous For: Being the wife of Leslie "Les" Wexner
How Old is Abigail S. Koppel?
Abigail S. Koppel is 61 years old, as she was born in 1962. She has never deemed it necessary to reveal her birth details in the public space. It was her listed age of 31 while exchanging wedding vows with Les in 1993 that led online sources to arrive at 1962 as her year of birth.
Also, she has never talked about her exact place of birth, but she is listed as a citizen of America. However. Her ethnic background is said to be Jewish. Abigail is the daughter of Zipora Goldman (mother) and Yehuda Koppel (father) who are both immigrants from Israel and practice Judaism. They also brought up their children to follow in the faith.
Yehuda lived in New York with his family during the 1950s and he is the man who launched El Al Israel Airlines' first office in the region. However, precise information on his marriage to Zipora is not readily available.
Far from being the only child born to Zipora and Yehuda, Abigail S. Koppel spent her formative years with two brothers, Dan Koppel and Gil Koppel. Their birth details are not known and nothing has been said about their career paths.
Abigail Studied Law at the University Level
Growing up in New York, Abigail achieved her earliest academic qualifications in that region. Reportedly, she studied at Dwight School, New York City, but this has not been verified. However, when the time came for her to go for further studies, she chose to pitch her tent with Columbia University where she bagged her first degree under the academic institution's Barnard College, graduating magna cum laude.
Desiring to go further, Abigail joined New York University School of Law to study law. The records of her performance at law school are not public knowledge, but she was said to be a high flyer.
Abigail has been Les Wexner's Wife for Over Two Decades 
Abigail S. Koppel and her husband, Les Wexner first crossed paths sometime in 1992, though the exact day and month have never been disclosed. Les Wexner is an American billionaire best known for his position as the Chief Executive Officer of the company, Bath & Body Works, Inc., the firm owns Victoria's Secret range of products. An unnamed Israeli diplomat who happens to be their mutual friend was the one who introduced them to each other.
Coming from the same country, Israel, it was quite easy for the two to bond as they wasted no time in commencing a romantic dalliance. Abigail and Les barely dated for a year before deciding to put a ring on their relationship.
They went on to exchange wedding vows on January 23, 1993, and the event was said to be a private affair hosted at Les' New Albany, Ohio home. It was graced by family and a few friends. At the time of their wedding, Abigail was 31 while Les already clocked 55, but it was the first time for both parties.
The couple's union has turned out to be an enduring one as it has clocked two decades and still going strong.
They are Parents to Four Children
Abigail S. Koppel's marriage with Les Wexner is blessed with four children – two girls, Hannah Wexner and Sarah Wexner, and two boys, Harry Wexner and David Wexner
Harry Wexner is the American attorney's first child and he was born in 1994 which pegs his current age at 29. Harry attended Columbus Academy where he became the school's valedictorian upon his graduation in 2013. The quest for further academic qualifications took Harry to Harvard University to earn his Bachelor's degree.
He is currently earning a living in the educational sector as an English Language Arts teacher teaching grade 8 students. He has also worked at some of his father's companies and is involved in charitable courses with the rest of their family
Hannah Wexner is the name of Abigail S. Koppel's second child. A scrutiny of Hannah's birth details reveals that she is just a year younger than her big brother, Harry. She is currently 28, as she was born in 1995. Hannah has lived a private life all her life, thus it is difficult to lay hands on her academic records.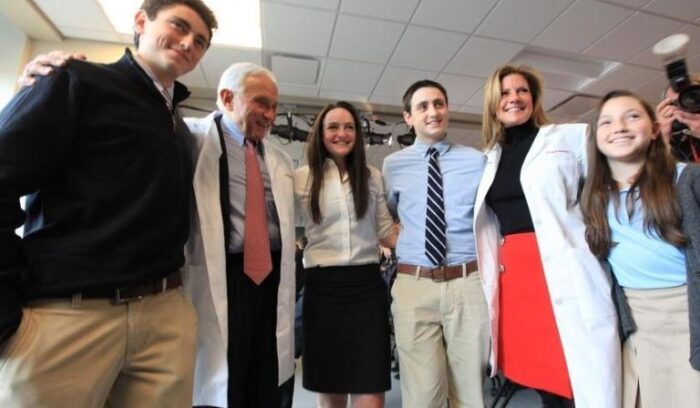 However, many have speculated that the young lady may have attended Columbus Academy and Harvard University just like her siblings. Also, the career path Hannah followed is not known but she takes the credit for inspiring WSC (The Wexner Service Corps) one of her father's endeavors which came into existence in 2013.
Abigail S. Koppel and Leslie "Les" Wexner's third child is a boy who goes by the name David Wexner. Out of all the American billionaire's children, David is the least known. However, it has been established that he was born sometime in 1998 and is currently 25. David has never revealed what he does for a living but his parents once talked about the youngster's involvement in charitable courses alongside every other member of the Wexner family.
The baby of the Wexner brood is Sarah Wexner. Sarah's date of birth has remained unknown to date, thus, we cannot calculate her current age. She passed through both Columbus Academy and Harvard University like Abigail's other children. She was also a student of Alder Graduate School of Education, but the details of what she studied there are not known.
Sarah is listed as a businesswoman and philanthropist. Apart from functioning as the manager of the Wexner family estate in England, Sarah has founded a couple of thriving business endeavors and has also joined hands with her family members in philanthropic activities. She has been a research fellow for years.
What Does Les Wexner's Wife Do for a Living?
Armed with a law degree from the New York University School of Law, Abigail S. Koppel went on to practice her profession for the ensuing four years. She was first employed by the firm called, Davis Polk & Wardwell and after putting in a few months, Abigail moved over to Wachtell, Lipton, Rosen & Katz.
Her time as an attorney lasted from 1987 to 1992 from New York City to London and she specializes in corporate law, acquisitions, and mergers. She left the legal field in 1992 and went on to establish another career path as a businesswoman.
From Practicing Law, Abigail Joined the Business World
Abigail S. Koppel was already dating the man who would later become her husband when she decided to join the wheeling-dealing world of business. Many have opined that it must have been her spouse's influence that led her to quit law practice and become a businesswoman which may not be far from the truth.
In 1992, she joined efforts with other business partners to co-found the private investment firm known as Whitebarn Associates. Abigail currently wields the big stick as the company's Chief Executive Officer.
Abigail S. Koppel Sits on the Board of Different Organizations
Getting married to a man of Les Wexner's caliber did not just give Abigail S. Koppel popularity, it also gave her access to a lot of privileges which include sitting on the board of multiple prestigious organizations and being involved in charitable courses all over the United States.
For decades, Abigail has been a dedicated community volunteer working hard to ensure that the poor and less privileged enjoy an improved living standard. Her main focus is on issues concerning children across the United States. In 1998, Abigail founded The Abuse Or Exploitation Prevention Columbus Coalition Against Violence.
Some of the family-friendly organizations that enjoy her services as a board member include Ohio State University Wexner Medical Center, Harvard University's Center for Public Leadership, Nationwide Children's Hospital Foundation, Pelotonia, and The Columbus Downtown Development Corporation.
Others include the Wexner Foundation, the United States Equestrian Team Foundation, the Wexner Center Foundation, the Center for Child and Family Advocacy, KidsOhio.org, KIPP Journey Academy, and more.
That is not all, Abigail S. Koppel founded the KIPP Columbus (public schools) and sits on its board as the vice chairman. In addition, to being the chairperson of The Center for Family Safety and Healing, the US attorney is also its founder.
Abigail S. Koppel Buys and Trains Horses
An equestrian enthusiast and avid horse rider, Abigail S. Koppel has created another career path from buying and training of horses. She went into a successful collaboration with Beezie Madden who is a famed Olympic-level equestrian and together, the duo has won several Olympic medals (gold, silver, and bronze) in show jumping sports. The two don't just participate in the Olympic Games in show jumping for USA teams, they also feature in the World Equestrian Games, providing their able team with world-class thoroughbred horses for the context.
Alongside her family members, Abigail launched the New Albany Classic – a one-day equestrian show hosted at the Wexners' home with $125,000 in prize money. The event isn't just an equestrian context, it also doubles as a fundraiser targeted at The Center for Family Safety and Healing.
Though Abigail's children are expert horse riders, none of them have ever competed at a professional level.
Abigail S. Koppel's Controversy
Abigail S. Koppel might cut the image of a diehard philanthropist but she has been roped into a serious controversy that nearly damaged her image in the American society and it all had to do with Jeffrey Epstein.
Reportedly, Epstein was an American financial advisor and a good friend of Abigail's spouse, Les Wexner. He has been associated with Koppel's YLK charity fund as its sole donor after he donated a whopping $47 million to the organization. However, in 2007, Epstein was arrested, arraigned, and convicted in 2008 for committing sexual crimes with underage girls.
The sex offender would reportedly coarse girls who were 14 and below into performing sexual acts with him while he compensates them with cash.
After he was sentenced to 18 months in prison, the sex offender served only 13 months and the same thing happened again on the 8th of July 2019 when he faced charges of sex trafficking of a minor, plus conspiracy to commit sex trafficking. Further investigations revealed that the man's Manhattan, Palm Beach, Florida, and New York homes served as his den for sexually abusing and exploiting minor girls. At his New York abode, the police discovered multiple nude photographs of underage girls. A few months after his second jail term in August 2019, Epstein committed suicide in his prison cell.
Now, the question begging for answers is how a classy lady of Abigail S. Koppel's caliber who prides herself as the defender of children (especially those who have felt the brunt of domestic and sexual violence), the poor, and the less privileged would stoop so low as to accept a donation from a known sex offender and accused pedophile.
While Abigail maintained her silence over the whole issue, it was her husband Les who addressed the situation in a statement he released in 2019 claiming his regrets for ever crossing paths with a man like Epstein. However, the fact that Abigail collected his donations has continued to raise a lot of eyebrows.
Where is Abigail S. Koppel Now?
Despite the controversy she faced after collecting donations from sex offender, Epstein, Abigail has continued to run her charitable organizations, helping the poor, children, women, and the less privileged. She still remains the Chief Executive Officer of her company, Whitebarn Associates, and is still involved in the equestrian business.
The mother of four still resides in their New Albany home where she brought up her children who have left home and forging their own paths in life. More important is the fact that she has remained the wife of Les Wexner for over two decades.