Carolyn 'Carly' Elizabeth Davis (born May 18, 2009, Age; 13) is the child born to teen parents Catelynn Lowel and Tyler Baltierra, but she was adopted by Brandon and Teresa Davis.
Carly is the sixth baby born on the popular TV show 16 and Pregnant as her parents had their journey documented on the show. Catelynn Lowel and Tyler Baltierra were 17 at the time they welcomed their first child, thus they were faced with the hard decision to give her up for adoption.
The decision seems to be the right call as Carly is in good hands with the Davis family who adopted her at birth. She also has siblings from both her biological and adoptive families.
Summary of Carolyn Elizabeth Davis's Bio
Full name: Carolyn Elizabeth Davis
Nickname: Carly
Gender: Female
Date of birth: May 18, 2009
Carolyn Elizabeth Davis's Age: 13 Years Old
Ethnicity: Caucasian
Nationality: American
Zodiac Sign: Pisces
Marital Status: Single
Carolyn Elizabeth Davis's Parents: Catelynn Baltierra, Tyler Baltierra, Teresa Davis, Brandon Davis
Siblings: Graham, Nova, Vaeda Luma, and Rya Rose
Famous for: being the first biological daughter of reality TV stars Catelynn and Tyler Baltierra
How Old is Carolyn Elizabeth Davis?
Currently 13 years old, Carolyn "Carly" Elizabeth Davis was born on May 18, 2009. She was born in Port Huron, Michigan in the United States. Carly's birth was recorded on the MTV show 16 and Pregnant as she was born to teenage parents who didn't have what it takes to take care of her at the time.
Her parents – Catelynn and Tyler were both 17 when she was born and had to give her up for adoption. According to records, her biological parents refused to look at her before she was taken away to meet her adoptive parents who happened to be Brandon and Teresa Davis, a married couple who now resides in North Carolina with their two adopted children.
Carly's first name – Carolyn – was picked by both her adoptive and biological parents. She is enjoying a stable life in her home with the Davis family and her biological parents have also kept in touch after many years apart. Based on Catelynn and Tyler's decision, the reality TV cameras are not allowed to film Carolyn as they want her to have a normal life away from public scrutiny.
Who are Carolyn Elizabeth Davis' Birth Parents?
Catelynn Lowel and Tyler Baltierra are the biological parents of Carolyn Elizabeth Davis and they have been together since middle school. The young couple gained popularity as stars of the reality TV show 16 and Pregnant when they welcomed their first child in 2009. They have remained together since then and even got married.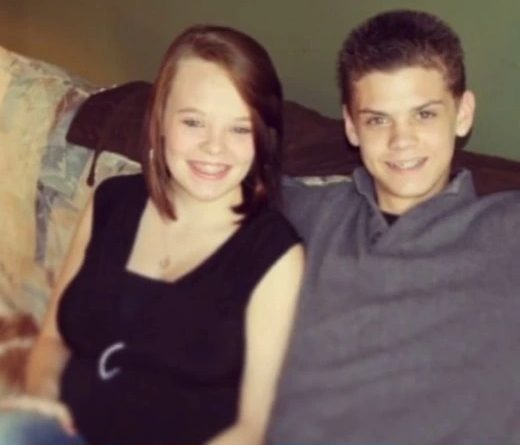 Catelynn became the sixth teenager to give birth on the show and the arrival of her baby wrapped up season one of the show. She also made the cast of 16 and Pregnant spin-off series Teen Mom and appeared on all four seasons of the show until it ended in 2012. She made a comeback in 2015 when the show was renamed Teen Mom OG for the fifth season. Together with Tyler, who is now her husband, Catelynn has appeared on season 3 of Couples Therapy, another television show for couples.
After having her child at such a very young age, Catelynn didn't abandon school. She graduated from high school in June 2011 and moved on to Baker College to further her education, majoring in Social Work.
Tyler Baltierra is also a 2011 high school graduate who furthered his education at Baker College. His major is Psychology with a minor in creative writing. The couple has been together most of their lives and worked together as well. They co-wrote a book titled "Conquering Chaos" published in March 2015. The book tells their story from the horse's mouth.
Following several ups and downs in their relationship, including getting engaged and calling off their wedding, Catelynn and Tyler finally got married on August 22, 2015. They are now raising three daughters together while keeping in touch with their first child and her adoptive parents.
Why Did Carolyn Elizabeth Davis Birth Parents Give her Up for Adoption?
Carolyn Elizabeth Davis' birth parents started dating when they were just 13 years of age and about three years into the relationship, they discovered they were having a baby. Considering their age at the time, adoption was the best option as their living condition didn't help matters.
However, a notable fact is that both parents of Catelynn and Tyler were against the idea of giving up the child for adoption but their advice fell on deaf ears. Tyler and Catleynn made up their minds to give their child a better opportunity at life through adoption and then the whole process was recorded on a reality television show.
They welcomed Carolyn Elizabeth Davis on May 18, 2009, and without attempting to bond with the newborn, they handed her over to her adoptive parents. Tyler and Catelynn have an open adoption agreement with Carly's adoptive parents. This allows them to keep in touch with her and get regular pictures of the child as she goes through life.
They also get to meet with her once every year. Covid-19 restrictions kept them apart for two years but they have since reunited. Carly has also met her sisters from her birth parents and their relationship has been admirable.
Carolyn Elizabeth Davis Has One Adoptive Brother and Three Biological Sisters
Carolyn Elizabeth Davis' biological sisters
Carolyn was three years old when her adoptive parents decided to welcome another member into the family. Thus, they adopted a son named Graham Davis. Nothing is known about Graham as his adoptive parents are not visible in the celebrity circle and prefer to keep a low profile.
On the other side of her blended family, Carolyn has three biological siblings – Nova, Vaeda Luma, and Rya Rose. As earlier stated, her birth parents later got married and started raising a family of their own after giving her up for adoption. They now have three daughters and the last one, Rya Rose, was born in September 2021.
"We are proud to announce our fourth and final little princess Rya Rose Baltierra! Mom, baby, and dad are doing well, and Rya is adored by all that meet her," Catelynn told Celebuzz. "… We are blessed beyond belief."
Catelynn had suffered a miscarriage earlier and was grateful for her fourth child being born healthy. According to the reality TV star, they wanted a boy since it was their last child but they remain grateful for the ones they have. T
he couple looks forward to raising their children to be the best. Though they gave her up for adoption, Carolyn is still counted as the first child of her birth parents. Thus, it is on record that Rya Rose is the fourth child of Tyler and Catelynn Baltierra.