Zendaya's siblings are five in number. Zendaya is the only child her parents had, but she has five half-siblings from her father's previous relationships, including Austin Stoermer Coleman, Julien Stoermer Coleman, Katianna Stoermer Coleman, Annabella Stoermer Coleman, and Kaylee Stoermer Coleman.
Since she became a star following her role as Michelle in the 2017 action, adventure, and sci-fi movie Spider-Man: Homecoming, Zendaya seems to have created a niche for herself and is now one of the most sought-after names in Hollywood. As popular as she is, Zendaya likes to keep a shallow profile when not on set. Be that as it may, it is a known fact that she is one of her parents' six children. Here is what we know about them.
How Many Are Zendaya's Siblings?
Zendaya's siblings are five in number; however, they are all her half-siblings. While some reports say they are much older than her, others insist that she is not the youngest of them all. Be that as it may, one fact is that she is the only child her mother has, and she is the most famous of all her half-siblings and the pride of her parents and family.
Due to her discreet nature away from the cameras, it has become challenging to get details of her relatives, especially details of her siblings. So the exact identities of her siblings are not very clear. It is a known fact that her mother, Claire Stoermer, was not her father's first wife, and it seems he still had other relationships after they separated.
Claire and Kazembe were together for twelve years before they got married. However, the marital relationship didn't stay as long as the pre-marital one, as they were only together for eight years before they divorced. Not sure why they ended their 20 years old relationship; even though they are not together anymore, they still maintained an amicable relationship that has groomed Zendaya and her half-siblings.
Meet the Zendaya Sisters
Zendaya speaks highly of her relationship with her three sisters. She has always taken pride in her large family, with her half-sisters making up the majority of them. Although she tries to keep their business quiet, when she has spoken about them on a few occasions, one can sense the respect and pride in her voice as she tells how much they inspire her. Here is all we know about Katianna, Kaylee, and Annabella, her three sisters.
Katianna Stoermer Coleman
Occupation: Model and Actress
Katianna, Zendaya's half-sister, is also known as Kizzi by family members but hasn't been particularly open about her personal life. Because of this, nothing is known about her, including her precise birthdate.
It is reported that she is also following in her sister's footsteps by deciding to go after a career in modeling and dancing. She has performed in numerous advertisements for companies, including Nike, Toys "R" Us, and Kmart as a model and dancer.
When she made her acting debut in the Disney sitcom Shake It Up as Rocky Blue, she attracted significant media attention (2010 -2013). Since then, she has acted in various additional films and television shows, including Spider-Man: Homecoming (2014) and The Gambler (2017)
Kaylee Stoermer Coleman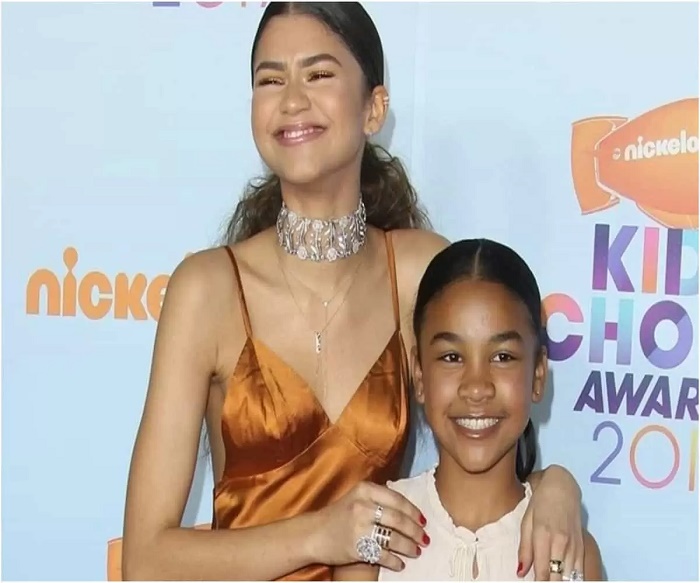 Kaylee Stoermer Coleman is Zendaya's youngest sibling. She has been spotted a few times on the red carpet alongside the actress, however, that is how far the information about her goes. It is unclear who Kaylee's mother is as there are no details regarding her. However, some reports suggest that she is one of Kazembe's daughters from his first relationship.
Not forgetting that Zendaya's father was not known to have remarried after the divorce, all the details regarding Kaylee's mother have remained speculated. Kaylee is one of Zendaya's favorite sisters and is often seen with her.
Is Zendaya's Little Sister On OnlyFans?
No, Zendaya's Little is not on OlnyFans and does not have an account on the platform. Kaylee Stoermer Coleman has very little social media activity aside from the few occasions when she has appeared in public with Zendaya.
However, at one point, there were significant rumors that the star of The Greatest Showman had joined the site because her name was frequently found in search results. However, it has been revealed by some media reports that have done a thorough investigation that the rumors are unfounded.
Annabella Stoermer Coleman
Despite conflicting rumors regarding Annabella Stoermer Coleman's exact date of birth, it is still unclear whether or not she is Zendaya's older or younger sibling. Nevertheless, Claire Stoermer Coleman is her stepmother, and little is known about her birth mother.
Also, no details regarding any extended family members, as she lives a very private life away from public interest. Although she doesn't share Zendaya's excitement for the spotlight, she occasionally supports the actress.
We don't know much about Annabella yet, but one thing is sure: Zendaya adores her and isn't afraid to share this with the public. Annabella does not have much social media presence but shows up from time to time on Zendaya's Instagram page.
Does Zendaya Have a Younger Brother?
No, Zendaya does not have a younger brother the public knows of; however, she has two known older brothers from her father's previous relationship before he met her mother, Claire Stoermer Coleman. Her two older brothers are Julien Stoermer Coleman and Austin Stoermer Coleman.
Julien Stoermer Coleman
Julien Coleman is the oldest of Zendaya's two older brothers. He prefers to keep his life away from media and public scrutiny. This decision to keep his life private has given rise to many wild speculations about his date of birth and current occupation.
However, it seems undeniable that Julien was most likely born in Oakland, California, in the United States of America. His date of birth has also not been revealed. His biological mother is unknown; however, Claire Stoermer Coleman is his stepmother.
Julien is popularly known as "EZ", probably a childhood nickname that stuck. Despite keeping a very low profile, he has a Facebook account with the name EZ Coleman. Many people familiar with him know that EZ is married to Sonja, and they have three children together, the oldest of whom is Ezenia ("Zink").
He attended Emery High School
Since his parents are from Oakland, he could have spent his early days in Oakland, California, his father's hometown. We believe he had his elementary and high school education in one of the finest schools in Oakland.
However, his Facebook account has a posted picture of Emery High School. Although there is no caption on it, Emery High is a school in Emeryville, California. It could be where he was schooled and could even play for his high school's football or basketball team.
Julien Supports The Raiders
What EZ does for a living or the career he is into is now unknown. His Facebook account has given no hint regarding this matter. However, it seems that he is a fan of American Football. Many of his posts show him parading The Raiders, an American professional football team based in the Las Vegas metropolitan area.
Julien's Daughter, Ezenia, and Zendaya have been Best Friends since Childhood 
Much is unknown about EZ's relationship with his actress stepsister Zendaya, as he prefers to live on the sidelines of her famous life. However, EZ has a daughter called Ezenia who is almost the same age as Zendaya.
Zink, as she is fondly called is a little more than a year older than Zendaya, and the two have seemingly been best of friends since their childhood days. Zendaya was at her graduation, and Zink has also been spotted with Zendaya at some of her functions.
Austin Coleman
Austin Stoermer Coleman is one of Zendaya's older half-brothers. Several outlets have claimed that he is an actor, which makes it quite surprising that he doesn't have a public profile. Austin shares the same father as the actress but was also reportedly raised by her mother, Claire.
Just like with EZ, little is known about Austin except that many mistake him to be the same person as Darnell Appling. Darnell Appling, who Zendaya frequently refers to as her brother but is not, is her longtime assistant, as many of her fans are likely already aware. But because of this, when he and Zendaya are out together, numerous reports frequently mistakenly refer to him as Austin.
Austin Coleman Was Born In Oakland
Austin was born in Oakland, California, like his five siblings. It is unknown when exactly he was born, as no details regarding his date of birth have been disclosed. Just like with EZ, little is known about Austin except that many mistake him for being the same person as Darnell Appling.
He spent his early days in Oakland, although it is uncertain where he is currently. Not much is known about his educational background; it is possible that he also attended Emery High School in Oakland since his parents are from there.
Like his older brother, there is no information on where he had his college education, if at all he had any. We would guess that he also has a college degree from higher institution.
He Is Rumored To Be An Actor
What Austin does for a living is also unknown at this moment. Multiple sources have it that he is a movie actor and has been featured in movies like Weekend King (2007), Disney XD's Skyrunners Testimonials (2009), and Pro Town: Greenville (2010).
Uncertain if that is entirely the case with him, nothing is known about his chosen career path or what he is into. Like the rest of his siblings, everything about them remains a mystery, and reports could be speculations. Austin Coleman is famous due to his association with Zendaya as her half-brother.