Yvonne Jegede (born 25 August 1983) is a Nigerian actress, producer, model, and on-air television personality who first gained public attention in 2005 after making a cameo appearance in one of Nigeria's foremost popular and influential music icons, Tuface Idibia's music video African Queen alongside Annie Macaulay.
Beautiful and talented actress Yvonne Jegede is one of the heavyweights in the Nigerian film and entertainment industry who has lately attracted the media's attention following the recent crash of her two-year-old marriage.
Since her appearance in the video of African Queen, her fame continued to soar as she has starred in numerous Nollywood movies in addition to the several films she has produced, such as the Nollywood blockbuster movie 3 is company.
Biography and Personal Profile of Yvonne Jegede
Name:  Yvonne Jegede
Date of birth: August 25, 1983
Age: 40 years old
Place of birth: Edo state
Nationality: Nigerian
Occupation: Actress, Model, and Movie producer
Marital status: Divorced
Spouse: Olakunle Fawole
Education: University of Cyprus
Yvonne Jegede Hails From Edo State, Nigeria
The Nollywood Queen Yvonne Jegede was born on August 25, 1983, in the Agenebode community of Edo State. Nevertheless, she spent the better part of her childhood growing up in Lagos, where she completed primary and secondary school education.
On the other hand, just like most celebrities, Yvonne has often maintained closed-lips regarding her personal life and family, as information on her parents or siblings is not found in the media space. In pursuit of her University education, Yvonne had to leave the shores of Africa to pursue a degree in Cyprus, where she studied and obtained a degree in International Studies in 2012.
She Started Acting Professionally in 2012
It was since 2004, even before she got into the university that Yvonne Jegede set the ball rolling for her career as an actress, and that was when she featured in a movie titled Missing Angel,  though even at that, she never gained much attention until after she made a cameo appearance in the popular song African Queen of the legendary Nigerian music superstar, Tuface Idibia; this feat turned out to be her breakthrough in the industry.
After completing her studies at the Cyprus University in 2012, Yvonne then made a powerful comeback into the Nollywood scene to fully concentrate on her acting career. Her coming back saw her staring in some box office movies; notable among them are Single and Married, 10 Days in Sun City, Okafor's Law, and a host of others.
Progressively, the Nollywood actress later advanced to become a movie producer. In 2015, she had her movie production debut as she produced her first movie, 3 is a Company, even though she still starred as the lead character in the movie. However, in her over 16 years of career in Nollywood, Yvonne Jegede has left an enduring legacy in the movie industry, as she has starred in over 150 Nollywood movies and produced a couple of movies.
The Actress Was Previously Married to Kunle Fawole
It is now on record that the Nollywood actor and producer Kunle Fawole, popularly known as Abounce, has been the first husband and now ex-husband of the fellow Nollywood star Yvonne Jegede, albeit their conjugal experience was quite short-lived as they got separated in 2019 after one of marriage, having walked down the aisle in February 2018.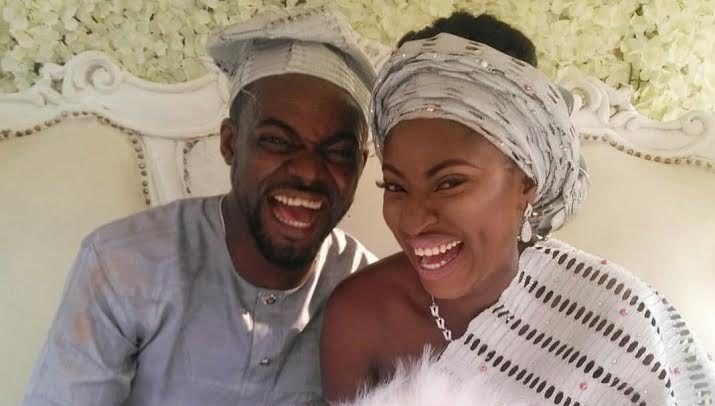 Yvonne Jegede's ex-husband, Abounce, came to the limelight in the movie industry after featuring in Tade Ogidan's movie Diamond Ring, which put him out there into public admiration, even though he has been into music before switching to acting, which has been his all-time passion.
Why Yvonne Jegede Got Divorced After One Year Of Marriage
In recent times, the popular Nollywood actress topped the headlines of many media discussions after the disheartening news on the crash of her two-years-old marriage with the Nollywood actor Olakunle Fawole, known as Abounce, stormed the social media. Sadly, all her fans and well-wishers are yet to recover from the shock of that news, as the memories of her wedding in 2018 are still fresh in the memories of many as though it just happened yesterday.
It can be recalled that the ex-sweethearts and Nollywood stars tied the knot sometime in February 2018, little did the couple fathomed that their one-time romantic affairs and marital bliss would hit the rock so soon, as only a year into their matrimony,  things took an ugly turn and got to the point of no return. As a result, the couple decided to part ways with each other in 2019.
Meanwhile, it was gathered that Yvonne's marital woes started when she was pregnant with her first child. The newlyweds began experiencing a crack in their marriage, which led to keeping each other at arm's length. Some sources alleged that there had been a suspicion of foul play regarding the paternity of their first child together, indicating that Yvonne may have been in some extra-marital affairs. However, the Nollywood actress has debunked that allegation as being totally false.
Consequently, Yvonne alleged that she could not get the basic support and attention she needed from her husband Abounce, especially since she is carrying his child, due to the unresolved misunderstanding. Since that situation never showed any glimpse of changing, it became obvious that she needed to be somewhere she could be taken care of along with her baby. Hence, she decided to leave her matrimonial home for her parent's home searching for succor.
With that development, the couple started living separately, even when their first child Xavier was born. Worse still, her husband Abounce even absconded from the christening of their child. This situation further degenerated into a full-blown divorce in 2019, which saw Yvonne changing her last name from Fawola back to her father's name Jegede, as it used to be before her marriage.
It is quite surprising that despite knowing each other for over 15 years, such a long-standing friendship and relationship of these one-time lovebirds could fizzle out just with the snap of a finger.
She Might Be Single At the Moment
It would not be out of place to say that the Nollywood actress Yvonne Jegede is single as she has no plans of delving into any romance at the moment. In an interview, she has once revealed she has resolved to remain a single mother for now and focus more on her career to secure a very bright future for her son Xavier.