Yemi Alade has an estimated net worth of $5 million. She made her money through her music career and other business endeavors.
Yemi Alade is a Nigerian Afropop singer, songwriter, actress, and activist. Nigerian music and entertainment industry have literally lost count of successful entertainers who have gone all out in using their talents to bring smiles to people's faces. One of such entertainers is Yemi Alade. With an impressive net worth of $5 million, Yemi Alade's music career and other businesses have kept her on the global map. The 34-year-old Nigerian Afropop singer, songwriter, actress, and humanitarian started her professional music career in 2009 after she won the Peak Talent Show
The sensational singer has achieved great milestones in the music world locally and internationally. Singing in different languages such as English, Yoruba, Igbo, French, Swahili, Portuguese, and Pidgin, Alade's music has greatly impacted many African countries. In this article, you'd learn about how the Johnny singer earned her keep and all the sources through which her impressive net worth was achievable.
Yemi Alade's Net Worth of $5 Million was Built Majorly From Her Music Career
Born into a multi-ethnic family, Yemi Alade has always lived a comfortable life in a family rated as Nigerian middle-class, wherein her father was a police commissioner. She grew up in Lagos and graduated with a bachelor's degree in Geography from the University of Lagos (UNILAG). This is where and when her journey to fame and wealth began. Although she bagged a degree in Geography, Yemi's mind was focused on music, and she did not hesitate to pursue it.
She Started Singing and Gained Recognition in the Entertainment Industry in 2009
Yemi Alade has had a passion for music from an early age when she would put down her deepest thoughts and important events in writing. She grew with this passion until she graduated from the university. She began her music career in 2009 after winning the Peak Talent Show.
Even though this was her first TV appearance, she made an outstanding performance. Afterward, she secured a deal with the music label Effyzzie Music Group and fully began her singing career. Today, having released 5 albums, 2 Extended plays, and over 40 hit singles, Yemi Alade's net worth is being counted in millions of dollars.
Yemi Has So Far Dropped 5 Studio Albums
Under the record label Effyzzie Music Group, Yemi released her debut studio album titled King of Queens in October 2014. The album was a massive success as she collaborated with some well-known artists and producers such as Phyno, Chidinma, Young D, Selebobo, GospelOnDeBeatz, and others. King of Queens made groundbreaking waves both offline and online and was reported to have sold over 100,000 copies.
Yemi promoted the album through tours across many African countries like South Africa, Ghana, and Kenya. Shortly after her first work, she dropped her second album, Mama Africa, on the 25th March 2016. The album, whose theme focuses on the strengths and weaknesses of an African woman, is a combination of Afropop, coupé-décalé, R&B, highlife, hip-hop, and pop.
According to the singer, she aimed to capture all of Africa in one CD, which made the album a struggle for her because she had to travel to various African countries every day. However, the album finally turned out to be a huge success. It featured various famous African artists and has hit tracks like Do As I Do, Ferrari, Na Gode, Africa, Kom Kom, etc.
In the following year, after the release of Mama Africa, Yemi thrilled her fans with yet another groundbreaking album titled Black Magic. This made her third studio album and was released on 15th December 2017. With guest appearances like Falz and Olamide, the album received many reviews from music critics. The album turned out commercially successful and has sold millions of copies.
Yemi Alade further released two more albums, Woman of Steel and Empress, on 30th August 2019 and 17th November 2020, respectively. She featured American hip-hop artist Rick Rose in Woman of Steel, and the album has a combination of R&B and highlife. According to the songstress, the album's name was inspired after realizing that she is her own superhero. The name reflects her strong command of the same degree of respect as her male counterparts.
Songs that Contributed to Yemi Alade's Net Worth and Consequently Made Her Famous
Johnny Gave Her International Recognition
The track, Johnny, gave Yemi remarkable success and remained one of her biggest songs to date. Johnny was released in 2013 and topped several music charts in Nigeria. In 2014, it was released as the lead single of her album King of Queens. The song, at a time, became the most viewed Nigerian song on YouTube after it made 79 million views, taking over Psquare's Personally, which had 78 million views on the same platform as of then.
By 2022, the music video has recorded over 142 million views on YouTube, which remains a remarkable success. The track, which was comedy themed was directed by Clarence Peters and produced by Selebobo with guest appearances of pop stars like Alexx Ekubo, Beverly Osu, and Bovi, among others. Thanks to the creativity and humor she infused in it, the song was very successful, which helped the album to sell over 100,000 copies.
Following the song's release, Yemi was able to hit one million subscribers on her YouTube channel, which was an incredible feat for her. Exactly how much she has made so far from this song is unknown, but it has paved many ways for her to make appearances and perform on big stages within and across Africa.
Being a lover of different languages, Yemi released a French version of the song, which made her the first Nigerian artist to do a song in French. Also, Johnny won her awards and nominations at the 2014 Headies as the Best Pop Song of the Year.
Shekere was a Big Hit for Her
The King of Queens, as she is fondly called, lavished her skills and talents in unique African styles in her track Shekere. Coming from her Woman of Steel album, Shekere is a remix of Kidjo's famous track Wombo Lombo. The collaboration turned into a massive hit and skyrocketed the success of the Woman of Steel album.
Yemi admitted that she had always been inspired by the artist Kidjo from an early age and was happy when the opportunity to do a song with her came calling. With inspirations from diverse African cultures, Yemi Alade went all native by adorning herself with different costumes, representing the Massai tribe of Kenya.
The music video was shot in Kenya and featured a Beninese artist. In June 2020, the Afropop singer gave an exceptional performance of the song at the Global Goal: Unite for our Future virtual concert. The concert also featured performances of highly acclaimed artists like Justin Bieber, Shakira, Jennifer Hudson, Miley Cyrus, and many others.
Oh My Gosh Received World Wide Acclamation
Oh My Gosh is Yemi Alade's 2018 track and one of the songs that helped her grow to fame. The song, from her Women of Steel album, gained public attention following its release and earned her Grammy recognition. As of February 2022, the music video has more than 29 million views on YouTube.
The song has gained her a lot of important awards and recognition, including AFRIMMA (African Muzik Magazine Awards) as the Best Female Western African, AFRIMA (All Africa Music Awards) as the Best Female Artist in West Africa in 2018 and 2019, respectively.
Single and Searching Drew Massive Social Media Relevance
It would go without saying that Single and Searching is one of Yemi Alade's famous songs that gave her prominence and establishment in the music industry. The 2017 track became successful and gained recognition, especially on social media platforms, including TikTok. The song featured pop artist Falz and went viral after fans started using it for a Slow motion challenge.
It turned to become one of the biggest on TikTok in Africa and on YouTube, has amassed more than 15 million views since its release in 2017. Asides from the already discussed songs, which gave her huge success as a musician, there are also other select few that helped her maintain a good place in the Nigerian music front.
List of Yemi Alade's Songs that made her popular
Fimisile (2009)
Ghen Ghen Love (2013)
Deceive ft Rudeboy (2020)
Tangerine (2014)
Kissing (2014)
Taking Over Me ft Phyno (2015)
Duro Timi (2015)
Na Gode ft. Selebobo (2015)
Temperature (2015)
Do As I Do (2015)
Kom Kom (2016)
Africa (2016)
Ferrari (2016)
TumBum (2016)
Knack Am (2017)
How Much Does Yemi Alade Charge Per Show?
Yemi Alade is unarguably one of the wealthiest female musicians in Nigeria. You may not know, but King of Queens, Yemi Alade, is one of the top ten highest-paid and most booked musicians in the country. The singer increases her fees as her fame and popularity grow in the music industry. Currently, she charges between N2-3 million for local shows and $50,000 for shows outside the country.
It is an undeniable fact that the music queen has found her feet as a successful artist in Nigeria. In fact, after she recorded a huge success with her King of Queen's album, she stepped up her game via the amount she charges per show, and since then, her charges have kept going higher every day.
Tours and international collaborations
The music queen does not just enjoy massive airplay globally. Besides sales of her tracks, Yemi Alade's net worth was achievable through several live performances, thanks to her vibrant on-stage personality. Since hitting the limelight, the Johnny singer has made it to four world tours, promoting her songs. She has performed in countries like France, Tanzania, Malaysia, Germany, and other French-speaking countries.
Her international tours have also seen her collaborate with international music stars like Rick Rose, Angelique Kidjo, Estelle, and in Beyonce's album, Black is King. Furthermore, Yemi bagged a multi-year licensing deal with Universal Music Africa and Universal Music Group France, and her fifth album Empress was released under the agreement. All these have helped her amass her impressive net worth.
Endorsements and Sponsorship Deals Also Bolstered Yemi Alade's Net Worth
Since hitting the limelight in her music career, the Shekere singer has gained much wealth and fame. She earns significantly from multiple endorsements with top brands across the country. The internationally acclaimed singer/songwriter has endorsement deals with Globacom, Shell, Hollandia Yoghurt, Close Up, Maybelline, Luc Belaire, Barcadi Breezer, and many others.
She is also engaged in several advocacy programs regarding social ills, which earned her ambassadorship of the United Nations Development Program (UNDP). Then, save endorsements, Yemi also makes a significant amount of money via her growing TV career. She made appearances in the film Home (The Movie) and served as a coach in The Voice Nigeria in 2017 and 2020.
Even though the amount she makes from these ends remains undisclosed, it is safe to say that they make pillars of her success and fortune. Moreover, Yemi Alade's net worth of over $4 million was achievable through her other less prominent income streams like digital earnings and the YouTube channel. From YouTube alone, Alade earns an estimated N4.4 million annually.
She has more than 2 million subscribers and over 623 million views on her YouTube channel, where she entertains her fans and promotes her works and other content. The pop star also has a clothing line dubbed House of Tangerine, which she launched in 2016 in partnership with Iconic Invanity. The fashion label focuses on dressing ladies in classic African designs and styles. Also, she owns a jewelry collection YAC launched in 2015 in partnership with Bland 2 Glam.
Summary of Yemi Alade 's Net Worth Sources
Music Sales
Endorsement Deals
YouTube
Tours
International Collaborations
Yemi Alade's Awards and Nominations
Yemi Alade has won several awards and nominations throughout her career. Here are some of her notable awards and nominations:
Best Female at the 2015 MTV African Music Awards
Best Female at the 2016 MTV African Music Awards
Best International Act: Africa at the 2015 BET Awards(Nominated)
Female Artist of the Year at the 2014 Nigeria Entertainment Awards(Nominated)
Best Performer at the 2018 and 2019 Headies Awards
Best Female Artiste in West Africa at the 2015 AFRIMA Awards
Best Female Artiste at the 2018 AFRIMA Awards
Female Artist of the Year at the 2018 African Entertainment Awards USA
Best Female Artist (West Africa) at the 2020 AEAUSA
Best Music Video at the 2023 Trace Awards
Yemi Alade's House
Yemi Alade has not publicly disclosed the location of her house or what it looks like. Reports have it that her house is located in Lagos State, Nigeria. However, she has a vacation home with a stunning kitchen that she showed off to Delish. Her family home is a monument and symbol of "dreams come true".
Who Is Richer Between Tiwa Savage and Yemi Alade?
Tiwa Savage has built a lot of fame and fortune for herself and belongs to the league of the richest Nigerian musicians. These two music idols have considerably influenced the music industry within and outside Nigeria. Still, Tiwa has been taking the lead over the years regarding their net worth. She has an estimated net worth of $6 million, while Yemi Alade follows closely with $5 million.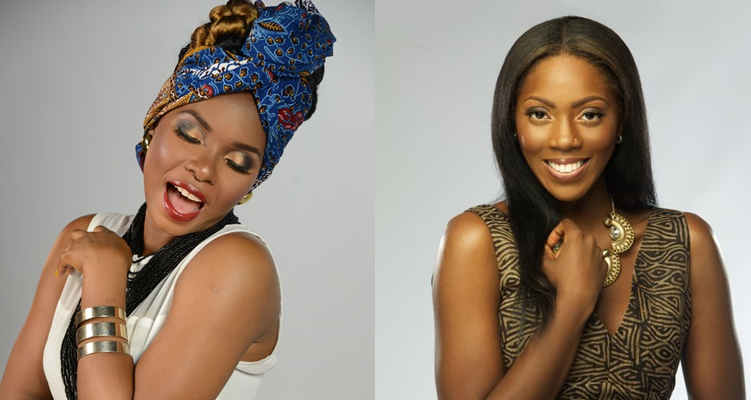 Tiwa Savage started her career in the UK in 1996 as a stage performer and backup singer for popular singers like George Micheal, Mary J Blige, Chaka Khan, etc. Upon returning to Nigeria in 2012, she took over the music industry and has since remained the leading female artist with Yemi Alade just behind her.
As earlier mentioned, Yemi charges 2-3 million Naira per show, but Tiwa Savage takes home nothing less than N6 million per local show and $80-100,000 for international shows. The Queen of Afrobeats, as she is widely called, is usually overbooked with shows that she only accepts a select few. Other successful and famous female music stars behind Tiwa and Yemi are Omawumi ($3 million), Seyi Shay ($2.1 million), Chidinma Ekile ($2.8 million).
FAQs
Where Is Yemi Alade From?
Yemi is from Ondo State, Nigeria. Yemi is from a multi-ethnic home; her father, James Alade, is a commissioner of police from Ondo State, Nigeria, while her mother, Helen Uzoma, is a native of Abia State, Nigeria. She was born in Abia State, Nigeria.
How Old Is Yemi Alade?
Yemi Alade is 34 years old. She was born on 13th March 1989.
What is Yemi Alade's Net Worth?
Yemi Alade's net worth in 2023 is estimated to be $5 million. She has amassed this net worth thanks to her impressive musical career, ambassadorial deals, and various other business ventures.