According to a new ranking by a citizenship and planning firm, Henley & Partners, German citizens possess the world's most powerful passport.
German passport holders can travel to 177, out of a possible 218, while Britons can visit 175 and US citizens 174.
Travelling can be a bureaucratic nightmare for those on restricted passports. A simple definition of the 'Most powerful' passport would mean the number of countries a passport holder can visit either without a visa or by obtaining one on arrival.
The strength of a country's passport affects its athletes, celebrities, and others that have very important things to do in other countries. For example, because of Nigeria's passport, its athletes during the IAAF World Youth championship in 2014 almost got transit problems because of the country's passport.
The ranking of passports also takes a look at many things. It also takes into account how many countries that can be visited without applying for a visa.
In 2015, the most powerful passport to have was either British or American. The UK topped alongside Germany but ceded the top spot after several countries relaxed visa restrictions to the latter during 2015. It was also leapfrogged by Sweden and now shares third place with France, Italy, Spain, and Finland.
Belgium, Denmark, and the Netherlands share the fourth spot with the US. Swedish nationals would however only need to work for one hour in order to afford their passport.
Meanwhile, citizens of Afghanistan have the least powerful passport – with visa-free access to only 25 countries – while Liberians have to work for 278 hours before they can afford theirs.
Portugal, which holds the most attractive residence-by-investment program through its Golden Visa Program, holds 6th position in the 2016 Index, gaining two countries to total 172 countries its citizens may travel to visa-free.
Malta, the EU member country which runs the world's most successful citizenship-by-investment program has gained visa-free access to another two countries since 2015, making it the 8th most powerful passport in the world.
The leading country in the Caribbean, Antigua, and Barbuda, ranked 30th and its passport-holders may now travel to 134 countries visa-free.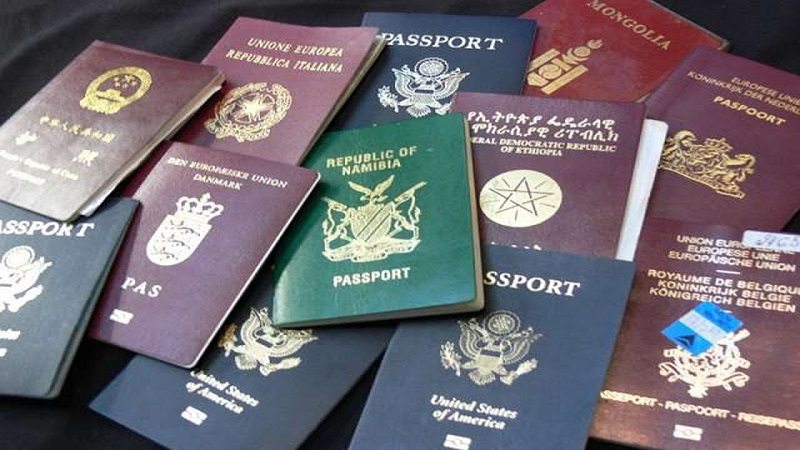 Here's a list of the world's most powerful passports;
Germany, 177
Sweden, 176
Finland, France, Italy, Spain, United Kingdom, 175
Belgium, Denmark, Netherlands, United States, 174
Austria, Japan, Singapore, 173
Canada, Ireland (Republic of), Korea (Republic of, South), Luxembourg, Norway, Portugal, Switzerland, 172
Greece, New Zealand, 171
Australia, 169
Malta, 168
Hungary, Czech Republic, Iceland, 167
Interestingly enough, there is no African country that has a very strong passport, when looking at the 10 strongest in the world.
However, looking at the countries on the continent, Seychelles has the most powerful passport and it ranks 25 in the world. With it, one can easily go to as many as 126 countries globally. The second strongest passport on the continent is held by citizens of Mauritius who are able to access 118 countries ranking 32.
South Africa is the distant sister of 90 countries to easily access as it ranks 48, while not so closely behind it ranking 59 is Botswana with 69 countries.
Surprisingly enough, Ghana is the biggest loser among the most power passports in Africa. Losing four countries, it now ranks 70 in the world and 57 visa-free countries that one can visit.
Read: You Won't Believe How Many Nigerians Are Currently Living In The USA 
The World's Least powerful passports
Afghanistan, 25
Pakistan, 29
Iraq, 30
Somalia, 31
Syria, 32
Libya, 36
Eritrea, Ethiopia, Iran, Nepal, Palestinian Territory, Sudan, 37
Kosovo, South Sudan, Yemen, 38
Bangladesh, Congo (the Democratic Republic of), Lebanon, Sri Lanka, 39
Burundi, Korea (Democratic People's Republic of, North), Myanmar, 42
Although Nigeria is the most populous country in Africa and with one of the largest economies, the passport is rather on the weak side. Citizens of the country are only allowed to visit 41 countries based on the authority of the passport. The world ranking of the passport is 87. Egypt which is another country respected on the continent has a passport that is also not strong. The country has a ranking power of 79 globally, while the number of countries one can visit with the passport is 48.
Most of the countries with the weakest passports are countries that are not only in the third world but that also have security challenges. Also, most of these countries are either in the Middle East or Nothern Africa.