The world's first ATM machine located at a branch of Barclays Bank in Enfield, north London, has been turned into gold in celebration of its 50th anniversary.
Five decades ago, the cash machine which was opened on 27 June 1967 heralded a transformation in the way people obtained and used cash. It was the first of six cash dispensers commissioned by Barclays Bank.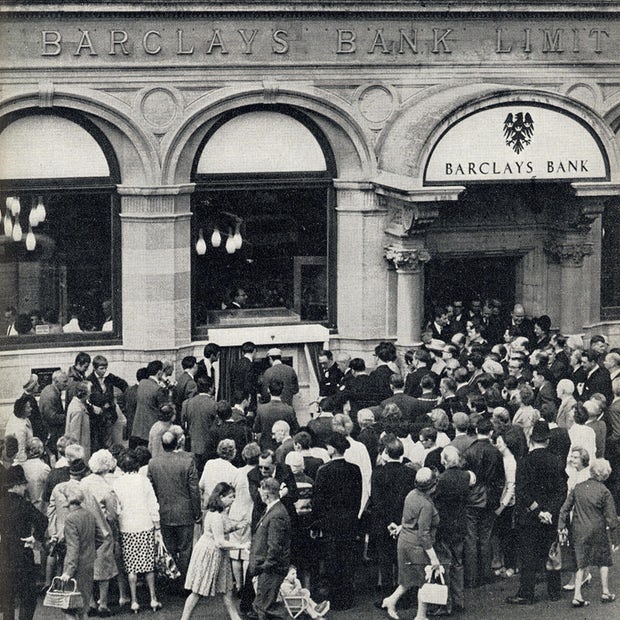 Invented by a Scottish man, John Shepherd-Barron, the first ATM was first used by Reg Varney, who starred in the British TV comedy series 'On the Buses'.
To commemorate the anniversary, Barclays transformed the ATM at its Enfield branch into gold, added a commemorative plaque and placed a red carpet in front of the machine for users.
"Even though recent years have seen a huge uptake of digital banking and card payments, cash remains a crucial part of most people's day-to-day lives," said Raheel Ahmed, head of customer experience and channels at Barclays.
Shepherd-Barron who died in 2010, aged 84, once explained that he came up with the idea of the cash dispensers in 1965 while lying in his bath after finding his bank closed. Then, it was his habit to withdraw money on a Saturday, but on this particular weekend he had arrived one minute late and found the bank doors locked against him.
Later that year, he bumped into the chief general manager of Barclays Bank who was about to have lunch. Over a pink gin, Shepherd-Barron asked him for 90 seconds to pitch his idea for a cash machine.
"I told him I had an idea that if you put your standard Barclays cheque through a slot in the side of the bank, it will deliver standard amounts of money around the clock.

"He said, 'Come and see me on Monday morning'."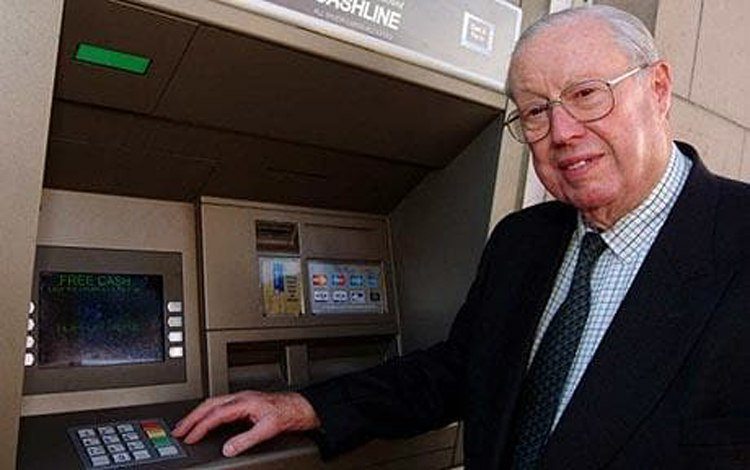 Barclays commissioned Shepherd-Barron to build six cash dispensers, the first of which was installed at the north London branch of the bank on June 27, 1967. The actor Reg Varney, star of the ITV sitcom On the Buses, was on hand to be the first to withdraw cash.
As part of his work in developing the self-service ATM, which would dispense banknotes 24 hours a day, seven days a week, Shepherd-Barron also came up with the idea of a four-digit PIN, which subsequently transformed the way people across the world handle financial transactions.
Recalling his Army number, he had originally intended to make personal identification numbers (PINs) six digits long but reduced the number to four when his wife, Caroline, complained that six was too many. "Over the kitchen table, she said she could only remember four figures, so because of her, four figures became the world standard," he recalled.
Shepherd-Barron hit upon the notion of an automated cash machine by thinking of the way chocolate dispensers worked. "It struck me there must be a way I could get my own money, anywhere in the world or the UK," he said in a BBC Radio interview in 2007. "I hit upon the idea of a chocolate bar dispenser, but replacing chocolate with cash."
With plastic bank cards bearing magnetic strips still to be invented, Shepherd-Barron's early machines used special cheques that were chemically coded by being impregnated with carbon-14, a mildly radioactive substance. Customers placed the cheque in a drawer, the machine detected the material and matched the cheque against a PIN before paying out a maximum of £10 a time. "But that was regarded then as quite enough for a wild weekend," he noted.
Asked about health fears, Shepherd-Barron calculated that a user would have to eat 136,000 chemically-treated cheques to suffer any ill-effect.
See Also: What To Expect From MTN's 5G Technology – The First In Africa
However, Shepherd-Barron was modestly sanguine about claims from others to have invented the modern cash dispenser. "I've never really thought about being the inventor of the ATM," he remarked, "but I built the first one, put it in and made it work, so I would say that is an invention."
He did not make any money from what became one of the greatest advances in banking convenience. But for his services to the industry, and his work on ATMs in particular, he was appointed OBE in 2004 – 40 years after his invention. He was also presented a lifetime achievement award by the International ATM Industry Association and was later the first chairman of Ross and Cromarty Enterprise.
Presently, there are 3 million estimated cash machines across the globe, with over 12,000 active ATM machines in Nigeria. The world's most northerly machine is at Longyearbyen, Svalbard, Norway, and the most southerly is at the McMurdo station at the south pole.