The world power seat is dominated by the male folks with the singular ideological that it is a man's world, however, women are better leaders as they have innate skills to handle humans better.
Recall that all new humans are first entrusted into the care of a woman, this is because women are naturally born to nurture, grow and make nothing into something.
Women are better in multi-tasking, executing ideas, and today, 46 percent of the privately held companies in the United States are now at least half-owned by women while more than 650 companies on the 2015 Inc. 5000 list are led by women.
Women's leadership skills are now being appreciated as the world embraces more women leaders. In politics, for instance, we have women leaders like Ellen Johnson Sirleaf [President of Liberia], Michelle Bachelet [President of Chile, South America], Dalia Itzik [Acting President of Israel], not forgetting Mehriban Aliyeva – the newly sworn-in Vice President of Azerbaijan, and more.
In Nigeria, we have prominent women of power like Ngozi Okonji Iweala, Mrs Alakija, Aisha Buhari and more. Still wondering why women strive better as leaders? Here are a few reasons.
1. Women Are Better Listeners
For any leader to be effective and take the interest of its subjects personal they have to be sensitive and listen to their subjects. Women listen as much as they talk, paying attention to details; the unsaid words and the motive behind every word and action.
2. Women Leaders Know How To Succeed Against All Odds.
The world may see women as the weaker vessel, but that weakness is often channelled into extra work to achieve what a man would achieve without ease. This extra effort over time builds women for resilience and tenacious leadership and makes them achieve anything they set their mind to do.
3. Women Leaders Exude More Confidence
From childhood, strong women have been taught to man up to every situation thus their confidence level as at adulthood surpasses that of their male peers. That is why a woman is seen to be more mature intellectually than a male of the same age.
4. Women Are Accessible
Born as a natural mother, it is easier for women to welcome new ideas as she has an open mind and is readily available to attend to the needs of other people. This innate compassion means that women are more likely to be supportive of individuals at all levels of their organization, regardless of their rank or title.
5. Women Collaborate Better
In as much as some women can be bitchy, women have a genuine passion for working with others. As long as everyone is ready to contribute their quota, women love to come together to help themselves and other people in need.
Read Also: Aisha Buhari: Interesting Facts About Nigeria's First Lady
6. Women Are More Efficient
When it comes to getting work done neatly, on time and as wanted, women are the best gender for such role. This known efficiency is why most companies hire women to fill in secretarial roles.
Invariably, translating such managerial roles to leadership skills becomes easier as it is already in line with what she is wired for.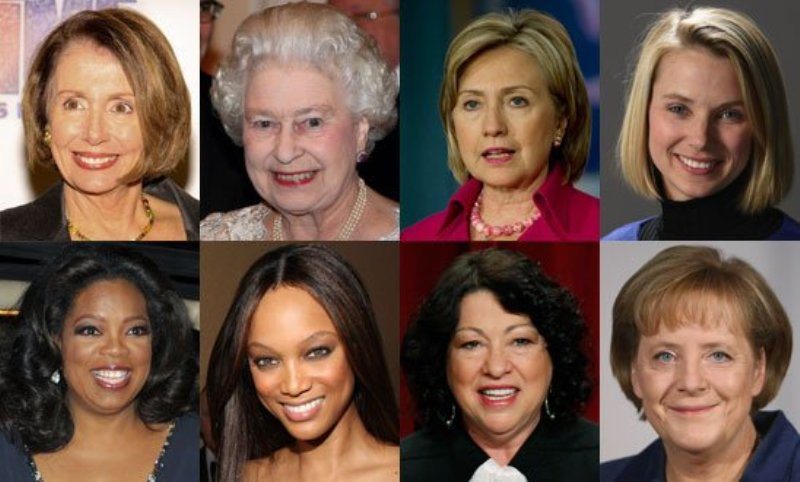 7. Women Focus On Personal Growth
Women are readers and learners. They are very open and interested in finding ways to continuously improve their personal skills – the idea is to be very efficient so that the male folks do not talk down to them.
This focus on development makes women more self-aware, which enables them to have very strong emotional intelligence, a key trait of successful leaders.
8. Women Attract Strong Peer Communities
Being a female in business attracts a community of women who stick together and support one another. Successful women who are already up the ladder do not mind empowering other women.
9. Women Bring Emotional Literacy To The Table
Women leaders are considerate and more humanely, however, they bring emotional intelligence into whatever decision they take. A women leader will think about the life of its subject first, before giving orders that may be originally seen as ideal in a security threatened scenario.
10. Women Motivate
Women are natural cheerleaders that is why their presence and motivation during any game brings victory to the players. Women love to motivate people into action and are excited to hand out encouragements. A report says that people who work for women leaders are more engaged than those who work for men.
So, What stops women from taking over the world?