Whogohost has become one of the best hosting service providers one can think of. It's an indigenous hosting provider in Nigeria. They are the leading .NG domain registrar and they currently have more than 40,000 active domains. Whogohost hosting packages are highly affordable and their services are superb.
The efficiency of your website depends on the web hosting service you are using. Web hosting services are basically internet hosting service that allows site owners, individuals or organizations to make their website accessible through the World Wide Web (WWW).
If you have a website, it needs to be on the web and Whogohost web hosting services will make sure your site remains visible so that your customers or audience can see it whenever they type in your URL (Universal Resource Locator).
There are different types of hosting services that fit into various types of businesses. Whogohost is very dynamic, they not only host your website but also build your entire site. While others will give you just the hosting services and leave you to it.
About WhoGoHost Web Hosting Company
The best hosting company in Nigeria, Whogohost was founded in 2007 by Opeyemi Awoyemi. He started off with Ennovate Nigeria Limited that was incorporated as a company under Corporate Affairs Commission (CAC) in 2011 as WhoGoHost Limited.
The company based on their quality services has received accreditation from Google Apps Re-seller, .NG Registrar, Cloudflare as a Certified Partner and Inter-switch Partner for payment integration solutions.
Whogohost Web Hosting Services
Like many serious-minded web host companies, WhoGoHost has designed several varieties of services to meet the needs of website owners. They provide comprehensive services at really affordable prices, such that anyone can own a website.
Some of the company's services include the following:
Web design
Payment Integration solutions
Domain registration
Web Hosting
SSL Certificates
Website re-seller package
Webmail
Whogohost Hosting Plans/Packages
WhoGoHost offers various plans suitable for anybody, ranging from a plan with very little space to huge plans with lots of space. You can also upgrade your plan at any time if you think the current hosting package you have is too small. Click here for more.
Check the image below to find out the different hosting packages offered at Whogohost including their prices.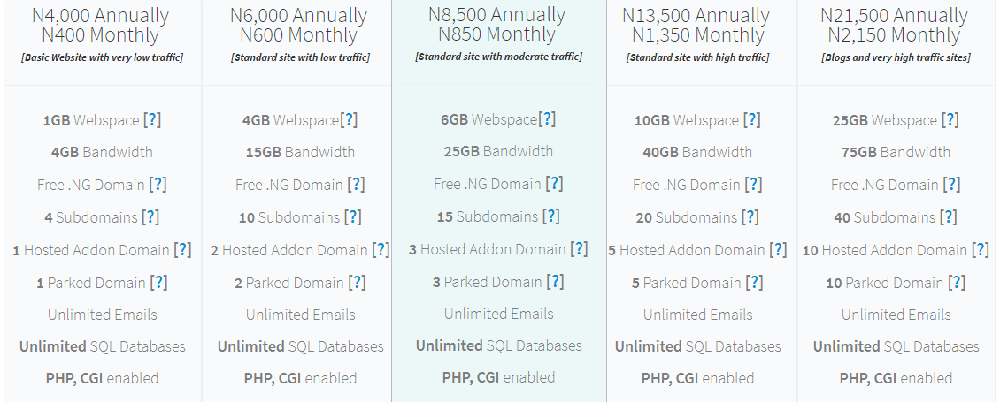 Affiliate Systems
The host provider has an affiliate system which allows you earn some money when you recommend their services to other people including friends and colleagues.
How Does it Work?
When you register on the website, you will be given a unique affiliate link.The link can be used to refer or recommend your friends or colleagues to the company website. If a client you recommended using the link provided to you pays for any product/service, then will you get up to 15% of the amount paid. Isn't that amazing?
More so, your account will be credited as soon as the transaction is made and the money can be withdrawn or sent to your direct bank account once it's up to N3000.
How To Join the Affiliate System?
To join the affiliate system, follow the steps below
You can either register if you don't have an account orlog inn to your Client area if you are an existing user
Click on the affiliate link on the main navigation.
You can then activate yourself as an affiliate and you are good to go
How To Recommend WhoGoHost Service to Others?
There are so many ways you can recommend the hosting service to other people. Find the steps below:
You may add any of their banners using the html codes (which are at the bottom of your affiliate page) to your blog or website. The banner contains your unique referral link which helps in keeping track of number of signups and visitors referred.
You may also give the referral link to a friend or colleague via email or SMS.
NB: Remember to tell anyone you informed via word of mouth to mention that you recommended him/her so as to get your account credited once they completed the registration or a transaction.
Payment Options
The company offers their clients both local and international the most convenient ways of making payments. You can pay via bank deposit/Bank transfer, Card payment and Wire transfer.
For more details regarding the payment option click here
See Also: VConnect.com – How To Use The Online Business Directory 
How To Choose The Best Hosting Company in Nigeria
If you are site owner, your ability to run a successful website is dependent on the web hosting company and the hosting package. There are tons of hosting providers out there in competition, but how would you know the best for your website?
If your looking for the best hosting site for your business, try keeping the following bullet points in mind:
Compatibility
Bandwidth
Reliability
Security
In conclusion, as tempting as their packages may be to choose a web hosting provider quickly and just get on with your life, it's important you take your time. Don't rush things so that you can find a provider you can stick with for a very long time.