Tawa Ajisefini (born March 7, 1982) is a 41-year-old Nigerian actress, brand influencer, and movie producer renowned for her brilliant screen work in movies like 'Okun Ife Yi' and 'Opin Ireti'. She is currently married to Mayowa Alli.
Tawa's movies have been applauded by the Nigerian audience because of her unique approach to the Yoruba language, which she mainly speaks in her movie roles. The actress is known to infuse comedy into most of her movie appearances, earning her the nickname "Monkele". Discover all there is to know about Tawa, including her career and her marital life.
Summary of Tawa Ajisefini's Bio
Full Name:

Tawa Ajisefini

Nickname:

Monkele

Gender:

Female

Date of Birth:

March 7, 1982

Tawa Ajisefini's Age:

41 years old

Ethnicity:

Yoruba

Nationality:

Nigerian

Zodiac Sign:

Pisces

Education:

B.Sc, Theater Art

Sexual Orientation:

Straight

Religion:

Muslim

Marital Status:

Married

Tawa Ajisefini's Husband:

Mayowa Alli

Tawa Ajisefini's Children:

Mayo Alli Jr. (Son)

Tawa Ajisefini's Height in Inches:

65 Inches

Tawa Ajisefini's Height in Centimeters:

165 cm

Tawa Ajisefini's Weight:

71 kg (156 lbs)

Tawa Ajisefini's Net Worth:

$200 000

Famous for:

Being an Actress and Brand Influencer

Tawa Ajisefini's Instagram:

@tawaajisefinni

Facebook:

Tawa Ajisefini
What is Tawa Ajisefini's Age and Where Was She Born?
Tawa Ajisefini was born on March 7, 1982, in South-Western Nigeria, in Ibadan, Oyo State. She is the last-born child of the Ajisefini family as she has three older siblings, making her the youngest. Although there isn't much evidence to support this, it is believed that Monkele grew up in a middle-class family and not a poor one.
Tawa has kept her birth family members anonymous since there is no information about them, including their names and what they do for a living. She was born under the Pisces zodiac sign; she is also from the significant Nigerian tribe of the Yoruba, found mostly in the South-Western part of Nigeria.
She attended primary and secondary school at Eleyele Police Children School and Our Lady of Apostle Secondary School, both in Ibadan. She then proceeded to obtain her B.A. degree in Theatre Arts from the University of Ibadan. According to Tawa herself, she explained h did not attend university until she had acquired practical knowledge in the art of acting.
Tawa Attained Fame as a Yoruba Movie Actress
Before her on-screen breakout, the talented thespian wasn't exactly a stranger to the stage and had been performing right from when she was in secondary school. Although her acting was still rough around the edges, Tawa nonetheless joined the industry in 2003 and was mainly featured in small supporting roles.
To polish her acting skills, Tawa enrolled in the Ojopagogo Film School for one year and graduated in 2006. She then went on to become the personal assistant to Funke Akindele, a popular Nigerian actress of the 'Jenifa' fame.
Through Funke, she was able to get her foot into the mainstream movie industry and later made a couple of appearances as the main character in movies like 'Okun Ife Yi' and 'Opin Ireti'. Her career has seen her work alongside well-known industry names like Feso Oyewole, Funsho Adeolu, Adebayo Faleti, and many others.
Tawa Ajisefini is believed to be worth over $200,000 in 2022. The bulk of her earnings come from her television work, while the rest comes from the money she makes as an influencer on Instagram, a platform where she has almost a million followers. Although Tawa's mainstream movie career is relatively young, she is not exactly a newcomer to the industry by indication of when she started her professional career.
The innate confidence the actress exudes is shown by how effortlessly she can navigate the murky waters of Nollywood and still make lots of money without having to do too much. Some of her best-known movies include the following
Known For. Edaa Bisola (2010)
Sino Landlady (2020)
Family Blackmail Kemi (2020)
Jénífà Joke (2008)
Actress. Family Blackmail Kemi (2020)
Sino Landlady (2020)
Edaa Bisola (2010)
Jénífà Joke (2008)
Tawa Ajisefini was Never married to Lateef Adedimeji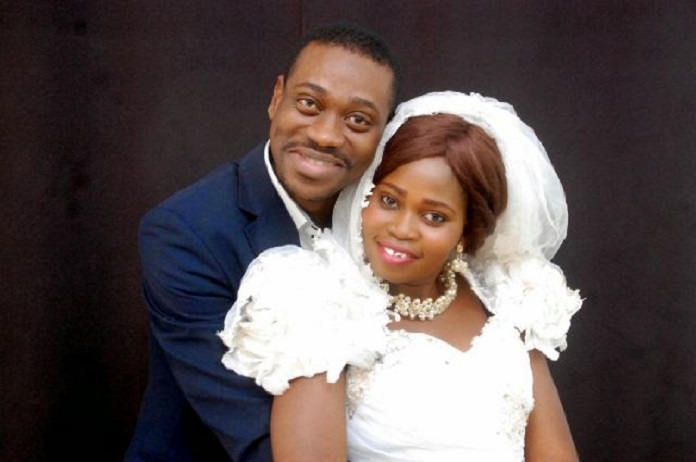 One thing that keeps Tawa's name constantly in entertainment gossip circuits is her complicated love life. The actress is rumored to have linked up with fellow Yoruba actor Lateef Adedimeji in the past. Despite the multiple rumors and contrary to popular belief, Tawa has never married Lateef. Also, there is no public proof that they were more than industry colleagues.
Rumors about them being married might have been sparked by a wedding picture of them together. This, however, is a product of Tawa's blockbuster movie Omo Lile (Last Assignment). The movie was produced by Tawa herself in 2015, and it features actors like Femi Adebayo, Tawa Ajisefinni, Razaq Olayiwola, Dele Odule, Lateef Adedimeji, Taiwo Ibikinle, Ayanfe Adekunle (Monsuru) and Akin Kolapo (Richie).
Tawa and Lateef might have been involved as lovers sometime in the past, but everyone can see that things didn't progress beyond that. Currently, both actors are married to different people and appear to have moved on from each other. Thus, the rumors about Lateef Adedimeji being Tawa's ex-husband are completely unfounded.
Presently, Lateef Adedimeji is married to Yoruba actress Adebimpe Oyebade, known fondly as Mo Bimpe. They only got married on December 22, 2021, after months of denying being in a relationship with each other.
Tawa Ajisefini is Currently Married to Mayowa Alli, Known Popularly as Jamo Mayo
In February 2019, Tawa walked down the aisle and said wedding vows to a man named Mayowa Alli. She had previously announced her engagement on her Instagram page and posted a picture of her ring, to the admiration of fans and colleagues alike. She got married to her partner in Ibadan according to Islam rites and has been shuttling between Nigeria and the United States until recently.
Nothing much is known about Mayowa Alli, but a few pieces of information about him says he is a U.S-based businessman who is quite popular on Instagram, with over 48 thousand followers
On a darker note, while we would love to say that Tawa's marriage has been blissful, things have been quite shaky since the actress tied the knot. The first controversy happened right after she announced the news of her marriage. It is said that a fan commented under her post, saying that Mayowa was already married and had another family in the U.S.A.
Tawa, however, paid the commenter no mind, and the entire conversation might have been chalked up to baseless gossip. However, another suspicious incident soon occurred. Barely two years into their marriage, Mayowa took to Instagram to make a cryptic post about "reuniting with his wife and children".
This sparked breakup rumors concerning Tawa's marriage, but so far, there has been no news of divorce. The couple themselves haven't commented on any of the rumors so far.  Instead, in January this year, Tawa posted on her Instagram page, jubilantly announcing that her husband had finally gotten his U.S. citizenship.
The couple has also started a family, and they already have a son together. They have been married for over three years now, and while the marriage has been plagued with multiple scandals, they have stuck steadfastly together. Hopefully, they continue to do so, as it is quite admirable.