Ruth Adekola (born 2nd November 1981; Age: 41 years old) is a Nigerian entrepreneur best known as the wife of Odunlade Adekola, a famous Nollywood and Yoruba actor.
Odunlade Adekola is a household name in the Nigerian movie industry, but that is not the same with his wife, Ruth. Ruth is not anywhere near the entertainment industry but definitely contributed to the success of her husband's career. After all, behind every successful man, they say, there is a woman.
With the fame her husband enjoys in the limelight, it is unavoidable for his wife not to be known. So, it is apparent that Ruth only gained public attention because of her marriage to Odunlade Adekola. Know more details about the woman behind the success of the famous actor.
Summary of Ruth Adekola's Biography
Full name: Ruth Adekola
Nickname: Mummy Dee4
Gender: Female
Date of birth: 2nd November 1981
Ruth Adekola's Age: 41 years old
Ethnicity: Yoruba
Nationality: Nigerian
Zodiac Sign: Scorpios
Sexual Orientation: Straight
Religion: Christian
Marital Status: Married
Ruth Adekola's Husband: Odunlade Adekola
Ruth Adekola's Children: 4
Famous for: Being the wife of actor Odunlade Adekola
Ruth Adekola is 41 Years Old
Ruth Adekola (nee Abosede) was born in Nigeria on 2nd November 1981. She originally hails from Ekiti State before she got married to the actor, who is a native of Osun State. Ruth came from a devout Christian home and has since remained on the same path.
She was born and raised in Ekiti State, and there she also attended her primary and secondary school. Like her husband, Ruth is a graduate of Moshood Abiola Polytechnic, Abeokuta.
Ruth Adekola has been Odunlade Adekola's Wife for 20 Years.
Ruth and Odunlade went to the same higher institution, but that was not where they met themselves first. The couple met for the first time in 1995 at a vigil program organized by the Christ Apostolic Church (CAC) in Sajo Abeokuta, Ogun State. Before then, the two had been casually seeing themselves in the church as both CAC members. But that night was the very first time they spoke to each other.
According to actor Odunlade, it was love at first sight. Hence, he wasted no time making love advances to Ruth and promised he was ready for marriage. At first, Ruth felt reluctant to accept his proposal because of his profession – she never wanted to marry someone in the entertainment industry. However, she committed it to prayers with her pastor, and they first became friends, and it was not long before they started dating.
Some year later, the relationship grew into courtship, and Odunlade popped the big question. Eight years into their relationship, Ruth and Odunlade Adekola tied the knot in 2003. Since then, the couple has been living happily together, and this makes their 20 years in marriage.
Obviously, Odunlade's marriage makes the list of celebrity marriages that have stood the test of time, considering the current trend of divorces in the entertainment industry.
Ruth Prioritizes Her Home Over any Career
Regardless of the level of fame and popularity her husband has gathered on the entertainment front, Ruth decided to remain the woman who works quietly at home and in support of her husband. Mrs. Ruth Adekola lives a very quiet life away from the public eye.
Thus, there is little information about her personal life. Even though she is not known to be a career woman, the celebrity wife might have a few businesses she runs by the side. Meanwhile, From a birthday post her husband made for her, we discovered that she is a fashion designer. Odunlade loves and adores his wife a lot.
She revealed in an interview she once granted that she does not keep a single friend because she believes that friends can have negative effects on her family. Ruth Adekola is not active on any social media platform.
Their Union is Blessed with Four Children
Ruth and her husband are parents to four lovely children, all of whom are boys. All her four children have the letter D in their names, which earned her the nickname "Mummy Dee4." There are no details about their first two children, who are said to have all grown up. The third child, Adedotun Adekola, was born on 13th April 2013, while the last born, Adedora, was born on 23rd November 2005 in Abeokuta.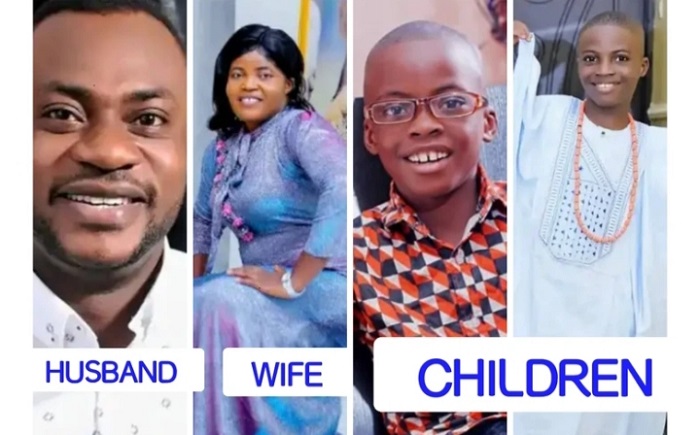 The couple has chosen to keep details about their children private. Hence, it is unknown which schools they attend or how well they are doing. However, their father once stated that all his children have interests in acting, and it will not be a surprise if they grow to follow in his footsteps. He also mentioned that they love playing football and are ardent fans.
Ruth Adekola's Marriage with the Actor Has Survived Some Controversies/Scandals
The marriage journey between Ruth and her husband, Odunlade Adekola, is not the regular celebrity marriage stories you usually hear. Despite many controversies their union had faced in the past, the couple has managed to stay married for over two decades. Sometime in the past, rumors made rounds that the actor Odunlade had taken actress Eniola Ajao as a second wife. It was only a mere picture of a romantic movie they did together titled New Wife.
The rumor was sparked after pictures of them on set were seen all over the internet. The rumor mill needed only the photo to make the news of him taking a second wife. However, It was later addressed that the trending photos were taken in the line of duty of the romantic comedy film. The actress also debunked the rumor and clearly stated that what she shares with Odunlade is a Boss/apprenticeship relationship and nothing more.
Odunlade had also been accused of being in a romantic relationship with some of his female colleagues. But after all, it was found out that they were all inspired by some of his romantic roles with the said actresses in movies, one of whom is Kemi Afolabi. The actor was accused of having an affair with actress Kemi and even went to the extent of impregnating her.
The actress, who is married to her husband, Wale Adesipe, quickly debunked the rumor and said that her husband and Odunlade are close friends. Another actress that has also been linked to Odunlade is Bukola Adeeyo. Actress Bukola was alleged to be dating the actor and the mother of one of his sons.
As usual, the duo publicly debunked the rumor and explained that they have only a professional relationship with no strings attached. Interestingly, Odunlade Adekola stated that all the sexual affairs allegations being leveled against him do not affect his marriage, as his wife trusts him completely and knows the things he can and cannot do.