Obi Okoli (Born in 1952) is a veteran Nollywood actor, filmmaker, and lecturer known for playing the role of a king or nobleman in movies. The actor is happily married with two children and many grandchildren.
Obi started his acting career as early as the 1980s. He starred in the Nollywood production of Chinua Achebe's Things Fall Apart in 1985 alongside Pete Edochie and others. Before then, he was involved in drama production as a broadcaster for the Nigerian Television Authority (NTA) Aba. His entrance into the Nollywood world saw the end of his broadcasting career and the beginning of a career in acting, producing, directing, and also lecturing in the same field.
Here's more about him and his relationship with Nollywood actress Uju Okoli who many think is his daughter.
Summary of Obi Okoli's Bio 
Full name: Obi Okoli
Nickname: Idejimba
Gender: Male
Date of birth: 1952
Obi Okoli's Age:

70 Years Old

Ethnicity: Igbo
Nationality: Nigerian
Sexual Orientation: Straight
Religion: Christian
Marital Status: Married
Obi Okoli's Wife: Ajie Okoli
Obi Okoli's Children: 2 including Adaobi
Obi Okoli's Net worth: $250,000
Famous for: Acting, directing, and lecturing
Obi Okoli's Instagram: @obiidejimba
Twitter: @IdejimbaobiObi
Obi Okoli is from Anambra State, Nigeria
Sir Obi Okoli was born in his hometown of Ogboji, Anambra State, Nigeria. He had the bulk of his childhood there as he attended both his primary and secondary school there. There is limited information about the star's early life as he is not too open about his private life.
He Had His Education in Nigeria and the United States
The veteran actor grew up in Anambra State. He had his primary and secondary school education there. For his secondary education, he attended Agulu Grammar School and then proceeded to the University of Ibadan (UI), where he bagged a degree in Theatre Arts. He graduated in 1979 and had his NYSC the following year.
In order to be more grounded and a force to reckon with in acting and movie production, Obi attended Colorado Film School, Denver, Colorado, USA. The actor prepared himself well for the entertainment world.
He Started Out as a Broadcaster
When he finished his studies, Obi Okoli got a job as a broadcaster in the Nigerian Television Authority (NTA), Aba, Abia State, Nigeria. In 1981, he started producing TV shows that aired on NTA. He worked there from 1981 to 1999 before leaving to focus fully on his career in the Nollywood industry and lecturing thereafter.
Obi Okoli Started His Acting Career Since 1985
Having been in the act of making movies and TV shows since 1981, Obi Okoli decided to venture into acting as well. He starred in the 1985 movie adaptation of Chinua Achebe's Things Fall Apart and has been in more movies since.
He has starred alongside other veteran Nollywood actors like Pete Edochie, Patience Ozokwor, Eucharia Anunobi, and Chiwetalu Agu, among others. Also, he has played numerous roles starting from husband, father, uncle, chief or elder, king (Igwe), etc.
He is also a Filmmaker
As we have mentioned earlier, Idejimba, as he is called, started producing movies before he ventured into acting. However, he produced for the TV station he worked for without making more money from it. In recent times, he has ventured fully into making movies once more. This time around, he has his name on it, and it adds more money to his pockets.
Obi Idejimba owns a production house called Idejimba Films, where he engages fellow actors and gets paid for it. He directs and produces movies to his own taste. Being a lecturer in the field brings out the best in him, and he is more interested in making quality movies as his students would learn from it. The production house has seen the production of many movies that grace our TV screens.
List of Obi Okoli's Movies and TV Shows 
Since his entrance into the movie industry, Obi Idejimba has starred in over 200 movies and TV shows. Being a force to reckon with in the industry, he produced some of these movies. Below is a list of some of his movies.
African Gods – 2022
The Prince's Heart – 2022
Tyrant – 2022
A Pierced Heart – 2022
Adamma – 2021
Broken Intentions – 2021
Agunnia the Warrior – 2021
The Last Day – 2021
Yes I do – 2020
Boundless Love – 2020
James Father – 2019
Mustapha – 2019
Izunna – 2019
Stolen – 2019
Atosa – 2018
Ojukwu (TV Series) – 2018
Victimz – 2017
Saved by Love – 2016
The Storm – 2015
The Powerful Baby (Video) – 2015
Bishop Jerry – 2014
Devil's Contract – 2008
Forest of Promises (Video) – 2008
Four Sisters (Video) – 2008
Men on Hard Way (Video) – 2007
Asunder (Video) – 2006
Dying for Tomorrow (Video) – 2006
Explosion: Now or Never (Video) – 2006
The Biggest Boy in Town (Video) – 2006
Sins of the Flesh (Video) – 2005
Has He Retired From Acting?
The Nollywood star has not retired from acting and is not planning to retire anytime soon. He is there because of the passion he has for his career, and although he is getting old, he is still busy doing what he loves.
He joins a few other veterans in the acting world, like Pete Edochie, who are still passionate about acting even though they are old and due for retirement.
Obi Okoli is also a Lecturer
In September 2011, Sir Obi Okoli secured an appointment and started lecturing at the renowned University of Nigeria, Nsukka. There, he lectures in the Theatre and Film Studies department, and he teaches the students the rudiments of film production and acting. He has instilled this knowledge in many since he became a lecturer and is still in the business.
Sir Obi Okoli is Happily Married with Children and Grandchildren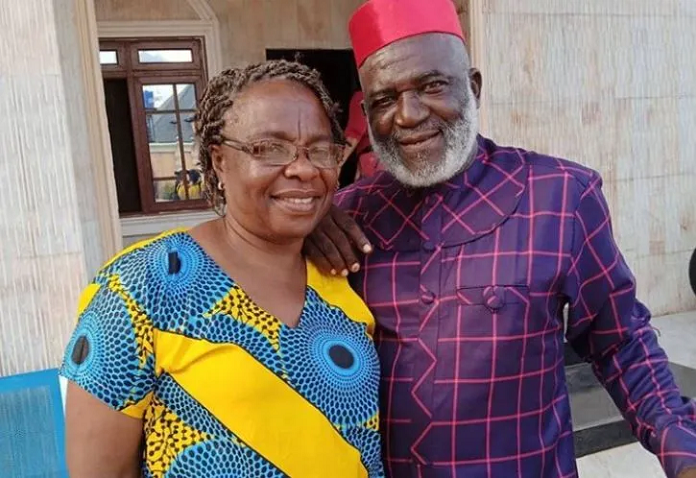 He does not just have a successful career but also a successful home. Okoli is happily married to his wife, Mrs. Ajie Okoli. They got married on 5th December 1987 with a wedding celebrated at the Cathedral of St Michael, Aba.
His marriage has been blessed with two children, a boy and a girl. Today, Obi Okoli and his wife have numerous grandchildren. His first child is Adaobi Okoli, while his son's name is not known. Sir Okoli posts pictures of his children and grandchildren, especially on special occasions.
Is Obi Okoli the Real Father of Uju Okoli?
Obi Okoli is not the real father of the Nollywood actress Uju Okoli. There have been rumors and speculations that the two are father and daughter. But these speculations and rumors are wrong because the two are not related in any way. They play the roles of father and daughter only in movies.
Uju Okoli's brother, Tonywhyte Okoli, has outrightly denied these claims, but fans think he is trying to dissociate himself from his real father. First, Obi Okoli is from Ogboji in Anambra State, while Uju Okoli is from Akokwa in Imo State, both in Nigeria. Obi Okoli got married in 1987 and had his first child, Adaobi, in 1988, while Uju Okoli was born in 1983.
Also, Uju Okoli is from a family of six children, while Obi Okoli has just two children. It is also a fact that these two have never referred to each other as father and daughter in any post or interview. Therefore, Obi Okoli is not the real father of Uju Okoli, as claimed by many bloggers and fans.