Darasimi Adesipe (born on 5th August 2010; Age: 13 years old) is the only child and daughter of Nollywood actress, Kemi Afolabi. Darasime gained public recognition in 2018 when her mother celebrated her birthday for the first time. Since then, the little girl has won the hearts of Kemi's fans and has remained a child celebrity.
Darasimi Adesipe's Bio
AGE: 13 Years Old
BIRTHDAY: 5th August 2010
BIRTHPLACE: United Kingdom
BIRTH SIGN: Leo
ETHNICITY: Yoruba
FATHER: Wale Adesipe
MOTHER: Kemi Afolabi Adesipe
SIBLINGS: None
Darasimi Adesipe is 13 Years Old
Darasimi was born on the 5th day of August 2010 into the Yoruba family of Mr. Wale Adesipe and Mrs. Kemi Afolabi-Adesipe. Dara was born in the United Kingdom but originally hails from Ogun State in the southwestern part of Nigeria. She is the only child of her parents yet, and so does not have any siblings.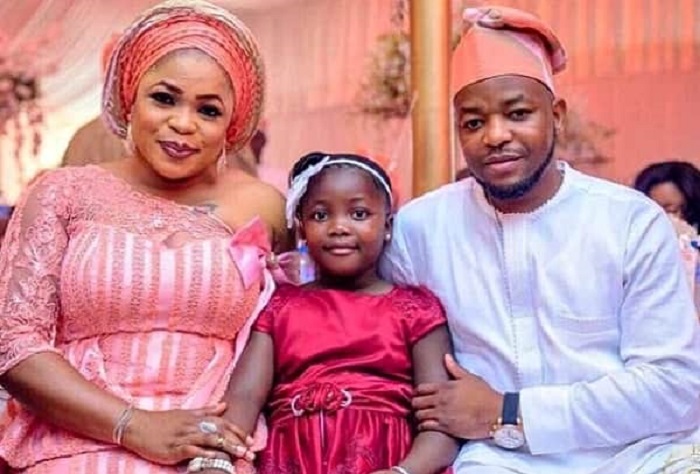 Darasimi's father, Mr. Wale, is reportedly a UK-based engineer and building contractor, while her mother, Kemi Afolabi, is a popular Nollywood actress, movie director, and producer. She is also the CEO of a film production company, Kass and Dee Entertainment.
Darasimi Came into the Limelight at the Age of 8
Given the fact that her mother is already a famed actress, it was not difficult for Dara to gain public recognition. Meanwhile, Kemi Afolabi had all along been keeping details of her family – husband and daughter away from the media, but this was not until April 2018 when she was celebrating her own birthday.
In an adorable family portrait, she showed off her cute husband and beautiful daughter. Then, a few months later, in August, the star actress took to her verified Instagram to celebrate her daughter's 8th birthday. Kemi made sure she celebrated her look-alike daughter in a special way by posting a compilation of the celebrant's adorable photos and videos.
The photos were accompanied by heartfelt captions where she thanked God for the life of her daughter. She went further to wish her well with sweet words and then prayed for God to be with her forever. Fans also poured in their good wishes to her and as well as gushed over her beautiful daughter. Since then, the actress has been sharing important milestones of her daughter with her fans.
Where Is Darasimi Adesipe Now?
Since her birth, Darasimi has been under the custody of her mother in Nigeria as her father does not base in the country. However, the couple also shuffles between the two countries when the need arises and as well co-parent their daughter. Apart from showing off her lovely photos on social media, her mother, Kemi, does not disclose personal information about her daughter to the public.
Meanwhile, the actress recently announced by herself that she is undergoing treatment for a longtime illness. She disclosed this via an Instagram post she made in June 2022. Earlier in 2022, the actress revealed that she is battling an autoimmune disease known as Lupus. Sharing photos of herself on a hospital bed, she stated that she is receiving treatment at The John Hopkins Hospital in Maryland, the United States.
"I commenced my lupus treatment journey today 06/30/2022 with @hopkinsmedicine Alihamdulilah, some beautiful souls made this happen, God bless you all. Wish me luck #warrior", she wrote.
Considering that she has been in the hospital for some time now, many people are wondering who is now with her daughter Darasimi. In September 2021, the actress sent off her daughter to a boarding school to pursue her secondary education. Kemi took to her Instagram and shared photos and videos where she dropped her at the school, and both of them tightly hugged each other.
The emotional video revealed the moment the mother and daughter said goodbyes and just how much she missed her only daughter. She noted that saying goodbye to her daughter simply caught her in her feelings. In reaction, many of her fans and colleagues encouraged her to stay strong and prayed that God would protect her and be with her in school.