Funny Bone (Real name: Stanley Chibunna, Born on 28 October 1985; Age: 37 years old) is a Nigerian standup comedian, master of ceremony, model, actor and television host. He is best known for his role in the Comedy series "My Flatmate"
Stanley is one of the fastest-rising comedians in the Nigerian entertainment industry. He is one comedian and actor that is blessed with the ability to make his audience gasp for air caused by too much laughter. He is talented and creative and always comes up with never seen ideas and concepts to give life to his shows. Interestingly, his "talk less, do more" style of comedy has been able to impact positively the lives of people.
Summary of funny Bone's Biography
Full name: Stanley Chibunna
Nickname: Funny Bone
Gender: Male
Date of birth: October 28, 1995
Funny Bone's Age: 53 years old
Ethnicity: Igbo
Nationality: Nigerian
Sexual Orientation: Straight
Religion: Christianity
Marital Status: Married
Funny Bone's Net worth: $700,000
Famous for:  TV series "My Flatmate"
Funny Bone's Instagram: @funnyboneofficial
Twitter: @iAmFunnyBone
Facebook: Funnybone 
Funny Bone's Ethnicity is Igbo and He is From Anambra State
Born and bred in the northern state of Kaduna, Stanley originally hails from Anambra state, Southeast Nigeria. He is Igbo by tribe but he also speaks Hausa and Yoruba fluently. Stanley is currently 37 years old as he was born on October 28, 1985. Not much is known about his family but we do know that he spent much of his early years with his parents in the North where he also had his education.
Stanley Chibunna holds a bachelor's degree certificate in Theatre Arts from the University of Jos where he successfully completed a four-year course. Apparently, he also had both his primary and secondary education in Kaduna state
Funnybone Kicked off His Career as a Dancer
Funnybone started out as a dancer. He was known for mimicking Julius Agwu's songs. Soon, he began singing and then acting before diving into comedy. Deciding within himself to stick to comedy as a career, Stanley worked with Julius Agwu who tutored him on how to go about his newly discovered passion.
Sticking to comedy as a career, he hosted events and worked as a master of ceremony for many well-celebrated personalities until he made his big break at Opa Williams' Night Of A Thousand Laughs show which was and still is one of the biggest comedy shows in Nigeria. It was first held in 1995 and is known to bring to the limelight the successful comedians, including the likes of Bovi, basket mouth, I go Die and Okay Bakassi.
After an incredible performance at the Night Of A Thousand Laughs, FunnyBone became fans' favourite. His years of experience as a comedian have also seen him perform in shows organised by the likes of Ayo Makun (AY), Julius Agwu, Basket mouth and Bovi. He has also performed outside Nigeria alongside some of the industry's most famous comedians.
Now recognised among the country's most outstanding and most influential comedians, Funny Bone has been able to impact positively the lives of people with his comedy. He describes his style of comedy as simply "talk less, do more" and his years of career as a comedian contributed immensely to his financial growth as he is said to have an estimated net worth of $700,000.
Funny Bone's Acting Career
Stanley took some steps further into the entertainment industry with a foray into acting. He has appeared in dozens of Nollywood films that aided his rise to fame. As a comedian, he mostly takes on roles that help him express himself and sell his talent to a wider audience.
His first film role is not known but he is known to have appeared in the 2016 movie "Brother Jekwu" which also stars great actors like Mike Ezuruonye. He also appear in the 2017 movies "Lost in London", sharing the screen with the likes of Alexx Ekubo and  Kia Nolan; "Friend Zone", and "Sergeant Tutu". One of his biggest TV appearances is My Flatmate – a situational comedy produced by his co-comedian, Basket Mouth.
Funny Bone's Movies and TV Shows
"Brother Jekwu",
Progressive Tailors Club
Wedding party 2,
Tailor My Heart,
Three Thieves
Love is in the Air
When Love Happens again
Lost in London
Scorned,
Fast Cash
Scorned
What Just Happened?
Crazy People
Bandits
The crazy people
Smash
It's About Your Husband
After Party
Missing
Funny Bone's Awards and Recognitions
Stanley's commitments in the business of comedy have earned him quite a number of awards. Twice he has received a "Best Comedian" award and once he was recognised as the most promising actor to watch. These are huge awards most comedians like himself would fight to earn. below is a list of awards Funny Bone has won for himself
Best Comedian in Nigeria at the Nigerian Entertainment Awards.
Best Comedian at the New Diamonds Award
Most Promising Comic Act To Watch at The People Entertainment Awards.
What is Funny Bone's Net Worth?
Stanley is undoubtedly one of the biggest comedians in Nigeria. His years of a successful career in the industry have indeed paid off in the form of fame and wealth. Funny Bone's net worth is estimated at $700,000. He accumulated this much from his career as a comedian and as an actor.
Funny Bone is one of the highest-paid comedians in Nigeria, charging as much as N500,000 per show. Though this amount is not as huge as earnings from the likes of Ali Baba and basket  Mouth whose income per show runs in millions of Naira, Funnybone is no doubt making his way to the top.
Is Funny Bone Single or Married?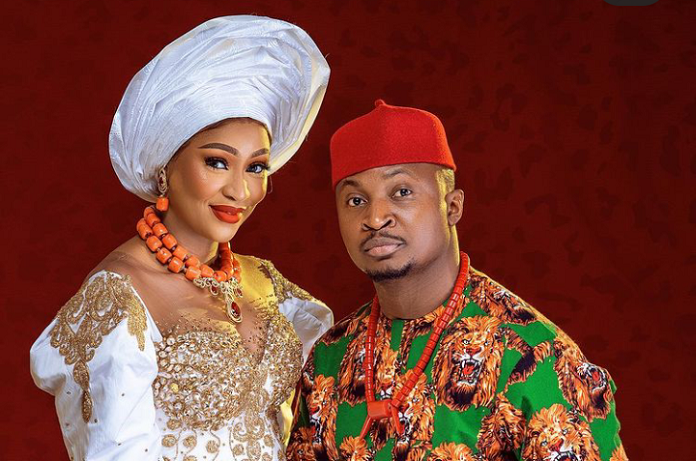 37-year-old Funny Bone is happily married to a lady he addresses as Angel. The lady whose name has remained hidden from the public was said to be his long-time girlfriend. The two got married on June 28, 2022, and as expected, it was a star-studded ceremony with a plethora of Nigerian stars and entertainers in attendance. Among them are footballer Wilfred Ndidi, actor Akah Nnani, and
Stan Nze
. Even Nollywood veteran, Pete Edochie, who was also at the event, gave a special prayer for the couple during the event.
Funny Bone proposed to his girlfriend in June 2022. The famous comedian announced on his Instagram page that he was engaged and that the official hashtag is #StanleysAngel. further details about how Stanley and his unknown wife met have not been revealed but it is obvious they loved each other passionately. Meanwhile, their marriage of 1 years is yet to produce a child.
Controversies Involving Funnybone
Despite being a well-loved comedian, Funnybone finds himself roped into serial controversies. One of his biggest controversies was his fight with popular actress and media personality Tonto Dikeh
In 2019, the comedian got himself in trouble with famous actress Tonto Dikeh for daring to advise her to stop attacking her estranged ex-husband, Olakunle Churchill. This followed a  session Tonto had with Daddy Freeze on matters of her ex-husband. She alleged that her husband could not last in bed with a woman for 40 seconds as he had a premature ejaculation problem.
Tonto Dikeh went on to say that her ex-husband was a Yahoo Boy and is the son of former President Olusegun Obasanjo's gardener. She claimed to have caught him in red pants, with red candles and a laptop at night. She also described her ex-husband as an imbecile who kept granting interviews every four days to rubbish her personality.
Reacting to her claims, the comedian advised her to tread cautiously. He also uploaded a picture on his page promising to make jokes about her at his upcoming event on June 9 2019. "Dear Tonto, come June 9 I go talk o! Tonto Dike, marriage crash!!!!, " he wrote
This angered Dikeh who rained insults and abuses on him. She described Funny Bone's advice as stupid and warned that if he goes ahead with his promise of making jokes about her, she would be at the venue to arrest him on stage while performing.
"I will be there with Nigerian Police to pick you up right from the stage to prison! Brother f*ck with me!! I am glad you made this post, you want to use me for your f**king show. … "Abi you dey craze? I will show you craze on the 9th of June," she wrote. The comedian did not reply to her threat neither did he apparently, go ahead with the joke.