Funmi Awelewa's husband is Oluwatosin Adexteecy, a Nigerian fashion designer. Funmi got married to her husband in 2021 and set the internet in a frenzy with her marriage pictures.
Funmi Awelewa is a Nigerian fashion designer, producer, writer, Instagram brand influencer, entrepreneur, and actress well known for her comedic roles in films. Having gained popularity through her entertainment career, her marital status became a major concern to the public. People have met her with her funny replies whenever they asked when she was getting married. She is currently giving a straight answer as she has tied the nuptial knot to her long-term lover, Oluwatosin Adexteecy.
Who is Funmi Awelewa's Husband?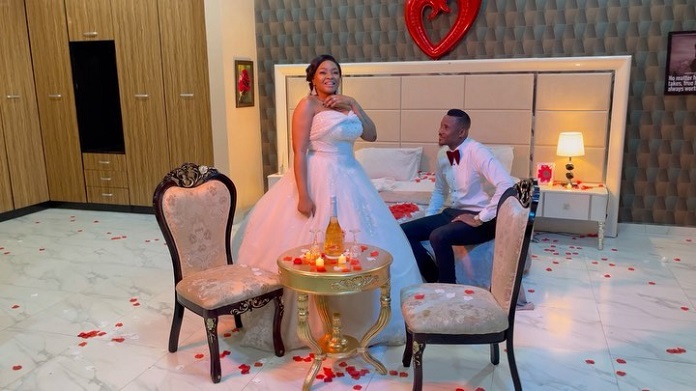 Having played the role of a bride in some of the movies that she has appeared in, the public has been put into confusion about who her husband is. She has once been speculated to be the wife of a Nigerian stylist and musician, Abbey Chile Abuede, also known as Sext Steel. The marriage was just not a real one and could be a movie or the actress modeling an outfit.
Funmi Awelewa's husband is Oluwatosin, aka Adexteecy, Funmi's long-time lover. He is a fashion designer from Ekiti State. There are not many details about him, like his educational background and family. The actress once revealed in an interview that she vowed not to date anyone in 2020, despite the many suitors that were flocking around her.
In 2021, she set the internet on berserk with pictures of herself and her man showing off their budding love. There are no records of how they met and how long they were lovers before deciding to become a legal couple. The lovers got married in a secret traditional marriage in 2021, but the actress shared the pictures of their marriage on April 13, 2021.
Despite taking the media by surprise, she was congratulated and wished well by many Nollywood stars, including Toyin Abraham, Laide Bakare, and many others. They are still living together, though their marriage has been rocked by rumors of domestic violence.
Does She Have Kids?
Funmi Awelewa and her husband, Oluwatosin, aka Adexteecy, have not welcomed any children yet. The actress once adopted a son, Taju, a then 5-year-old boy who went viral on the internet some time ago. The boy is no longer staying under the care of the actress as the Oyo State government has taken custody of him.
Meet The Nigerian Actress, Funmi Awelewa
Funmi is a household name in the Yoruba movie industry. She is mostly known for interpreting the roles of people who use abusive words in the Yoruba language to create a humorous atmosphere. The actress was born in the 1980s on October 12 in Ayeye town, Ibadan, Oyo State, Nigeria. She hails from Iwo in Osun State, Nigeria.
The actress had her nursery and primary education at Francis M Nursery and Primary School, Bodija, Ibadan. She obtained her secondary school certificate from Orogun Grammar School in Akinyele, Oyo State. Funmi graduated with a degree in Library, Archival, and Information from the University of Ibadan.
She ventured into acting in 2014, making her movie debut in the drama series Osikenke. This was after she met with the Nigerian actress Sola Kosoko. She rose to the limelight in 2015 with the second movie that she produced, titled Aromimawe. Some of her movie projects include Woman's Wrath, Natasha, The Chain and The Egg, Alamala, and many others.
Funmi Awelewa has her name in many movies and movie productions. The actress has also been recognized for her great onscreen projects. Though she has been nominated for an award, she hasn't won any but might bag a series of awards in the future. She is also an entrepreneur and is the CEO of GlowEnvy by Awelewa, a beauty brand that deals in cosmetics, beauty, herbal, and personal care products.