Erigga (Real Name: Erhiga Agarivbie, born 30 March 1987) is a Nigerian rapper and recording artist born in Warri, Delta state into a family of five children and best known for his song "Mo Street Gan".
He started his music career in 2008 and ventured into it fully in 2010. He is one of the Nigerian artists who are true to his culture and portrays it in his music. He has continued to rise gradually to fame. The rapper started his career in his hometown of Warri and has worked with prominent artists like M.I., Brymo, Skales, Duncan Mighty, and Orezi. Today, he is one of the most famous rappers in the Nigerian music industry.
Summary of Erigga's Bio
Full Name: Erhiga Agarivbie
Date of Birth: 30th March 1987
Age: 36 years old
Place of Birth: Warri, Delta State
State of Origin: Delta State
Education: Standard International School
Occupation: Rapper, Musician
Erigga Was Born and Raised In Warri, Delta State
The recording artist, who is also fondly known as PaperBoi, Eri-baba, and 2seconds because of his style of music, was born in his hometown of Warri, Delta State, Nigeria. His birthplace has had a lot of influence on his music. Growing up in the streets greatly influenced the tone, language, and theme of his songs. From his songs, it is evident that Erigga is a Warri boy, and he is proud of it.
More so, the celebrity is the first child in the family of five. Details about his parents, siblings, and childhood are not public knowledge. It is, however, said that he was raised by only his mother.
The Rapper Grew Up In The Streets
While not much is known about his parents and siblings, Erigga revealed he grew up in the streets and was influenced negatively by his environment since he became part of a robbery group. He was caught up in the crime because that was the thing that he grew up to know. It did not help that all the people he looked up to were in the robbery business. As a result, he spent his childhood in the streets selling drugs, and his adulthood in jail.
However, his turning point is watching his friends get killed in the act. He didn't want to end up dead so he changed his lifestyle. He agreed that he was bad then but he changed to become better. When he came out of jail, the rapper decided to make use of his god-given talent to become successful, instead of dying with his dreams as his friends.
He Attended Standard International School
Erigga attended Standard International School for his primary and secondary school education. He played basketball while in school. It became his hobby, but when he graduated from secondary school, he gave up his dreams and entered the music industry. There is no information on whether the singer continued his studies after his secondary school education.
He Wanted To Be A Basketball Player Before He Became a Rapper
As is common with every child, Erigga had his dreams as a kid. He wanted to become a basketball player. For a while, he worked towards achieving that but he changed his choice of career with time.
While he was growing up, he was a player in the Delta State Basketball team, and also participated in the Milo Basketball competition. For a while, he gave his dream career a chance, but something made him change his mind along the line. In his final year in secondary school, Erigga decided to enter the music industry with influences like Ja Rule, Eminem, and Fifty Cent. These artists greatly influenced his musical career and made him figure out where his career lies.
Erigga Started His Singing Career in 2008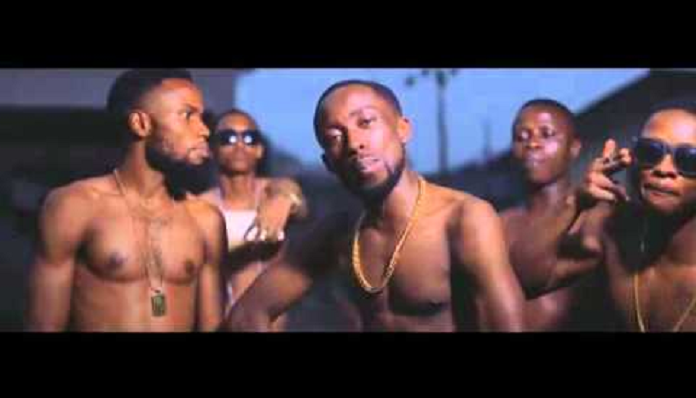 In 2008, Erigga started working with a few artists as he joined the music industry. Music is a lifesaver for the artist because it was music that took him away from the odd lifestyle he had as a young man. He put in his best in his newly found career and it brought him to where he is today. Erigga's background as a street boy plays in his choice of diction and his choice of music too.
When he was starting out, the singer rapped in English but changed to pidgin to be real in his songs. His choice of singing in Pidgin played a great role in the heights and achievements he enjoys today. As a starter, he worked with producers like Beatsbymellow, Mr. Nolimit, Prinx Emmanuel, and C Major. His first song "Mo Street Gan" was used by Radio Continental as a theme song. He later released a video of this song which was directed by Akin Alabi. He has continued to release new songs and they have received millions of views on YouTube.
In the course of his career, Erigga has been signed to two record labels; New Money Entertainment record label, and Emirate Empire Records. Currently, he has his own record label called Area to the World (ATTW) Inc. He has produced a lot of songs and a few music albums. The artist is a determined Warri boy who is proud of his hometown. Unlike other artists, he has refused to relocate to Lagos. He simply believes that he has a lot of market in the South-South, and is out to bring his home to the world.
Erigga's Songs and Albums
Since he started singing, Erigga has continued to release new songs and albums. His unique style of music has bought him a lot of fans in and outside of Nigeria. Below is a list of some of his songs, and his albums.
Songs
Welcome to Warri (2010)
Can't Stop Me
Another One
Nothing Do U
Laptop Bag
Where U De Since
Paper Boi (2018)
The Erigma ft M.I. and Sami (2019)
Two Criminals ft Zlatan (2019)
His Albums and EP 
The Erigma (2012)
A Trip to the South (2017)
Okorowanta (2018)
The Erigma II (2019)
Before the Chaos EP (2021)
Erigga Awards and Recognitions
The South-South rapper has received several nominations and awards. He also has been endorsed by some brands in Nigeria. Below is a list of his awards and recognitions.
In 2012, his song "Mo Street Gan" got him two nominations for the Best Street-Hop Artiste and Lyricist on the Roll at The Headies Award.
His song "Motivation" earned a nomination for the Best Street-Hop Artiste at the 2019 Headies Awards.
Erigga Is Married To Morenike
Unlike many other celebrities in Nigeria who have baby mamas without getting married, Erigga settled down with the love of his life. The young superstar got married to his longtime girlfriend, Morenike, on 3rd October 2020 at 32 years of age. A year later in January 2021, his wife gave birth to a bouncing baby girl. The couple had previously welcomed a daughter named Kyla. The union is blessed and they are living happily.