Chief Mrs. Ebelechukwu Obiano is a Nigerian politician, former first lady of Anambra state, and the wife of Willie Obiano, the former governor of Anambra State.
Obiano Ebelechukwu Veronica has long been involved in politics, particularly in Anambra state, but her rise to fame is undoubtedly linked to her impact as wife and partner of Willie Obiano who served as the fourth democratically elected Governor of Anambra State from 17 March 2014 to 17 March 2022.  Though a popular face in the media, there are facts about Willie Obiano's wife you sure are yet to find out. Get to know more about her as you read further
Ebelechukwu Obiano's Biography Summary
Full name: EbelechukwuVeronica Obiano
Nickname: Ebele, Vero
Gender: Female
Ethnicity: Black
Nationality: Nigerian
Sexual Orientation: Straight
Religion: Christian
Marital Status: Married
Ebelechukwu Obiano's Husband: Willie Obiano
Ebelechukwu Obiano's Children: 2
Ebelechukwu Obiano's Net worth:  $5 million
Famous for: Willie Obiano's wife
Ebelechukwu Obiano Hails from Anambra State, South East Nigeria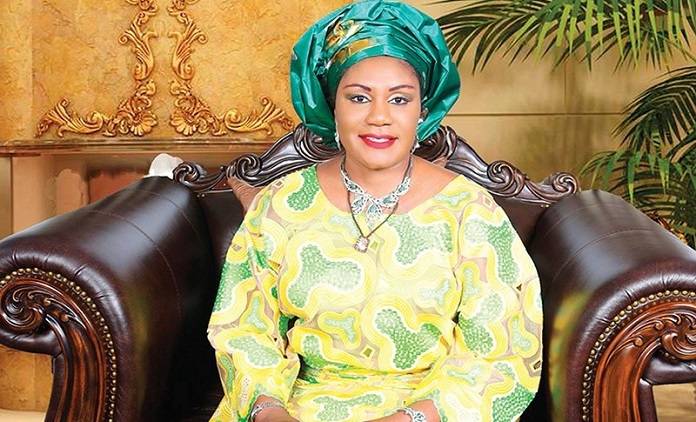 Chief (Mrs.) Veronica Ebelechukwu Obiano was born in the ancient and buzzing city of Onitsha in Anambra State Nigeria, but she hails from Ogbunike town in Oyi local government area of the state. While the exact day and year she was born has not been revealed, it is said that she grew up in the eastern state along with her siblings before moving with her family to Lagos state, in western Nigeria.
Talking about her educational background, Veronica had her basic education at Lagos Premier Day School in Lagos State, before relocating to her home state where she attended Okija Community Secondary School in Anambra State, where she obtained a General Certificate of Education (GCE).
For her tertiary education, Ebelechukwu returned to Lagos state and was admitted into the University of Lagos where she bagged a Diploma in Mass Communication. She then followed it up with a Degree in History and International Studies from the same institution.
Ebele also obtained an Associate Degree in Real Estate from Lone Star College, Houston, Texas, United States of America. She had other training in Human and Material Management in Nigeria, Europe, and the USA. All the training she gained was no doubt useful for her, especially in her pursuit of wider political recognition. Upon her graduation, she quickly joined the labor force to gain work experience.
Ebelechukwu Obiano Has Been Willie Obiano's Wife for 35 Years
Ebelechukwu has been the wife of Willie Obiano since 1988 although it is not known for how long they probably dated before walking down the aisle. As of 2023, the couple would have been married for 35 years.
Ebele's husband, Willie is a popular Nigerian politician, banker, and technocrat known to serve as the fourth democratically elected Governor of Anambra State from 17 March 2014 to 17 March 2022. Born in  Aguleri, a town in Anambra State, Eastern Nigeria, Willie is currently 68 years old as he was born on August 8, 1955.
While not much has been revealed about Eberechukwu's love life with her husband, they are known to be blessed with two children – a boy and a girl.  Nothing much has also been said about Obiano's children aside that their first child and daughter, Ogechi, graduated from the University of Texas, UTHealth McGovern Medical School in Houston, Texas.
Willie Obiano's Wife is a Full-time Politician
Just like her beloved husband, Ebelechukwu Obiano is actively engaged in politics.  Her political journey could have begun in 2013, the very year her beloved husband Willie Obiano left the banking sector where he served for over thirty years to contest the November 16, 17, and 30 Anambra State gubernatorial elections.
On the platform of the All Progressives Grand Alliance, APGA, Ebelechukwu, and her husband won the election and she succeeded Margaret Brownson Obi, Peter Obi's wife, as the First Lady of Anambra state. On 18 November 2017, she and her husband were re-elected for a second term and her eight-year-term as First Lady of Anambra State elapsed on 17 March 2022.
Moving further in her political career, Ebelechukwu Obiano secured a ticket for the All Progressives Grand Alliance, APGA, for the Anambra North senatorial zone for the 2023 general elections.
Hopeful that the 2023 elections would see her occupy the senatorial seat in Abuja, Ebele notes her commitment to addressing the plight of the people, especially women and children from the rural communities of her constituency. This, according to her, informed her decision to hearken to the demonstrations and pleas from various groups and organizations to represent the zone at the 10th national assembly.
Ebele also noted that her interest is centered on service to God and mankind and not just for the pleasure of political power. She hopes to continue her advocacy for a better life for women and children of Anambra North and Nigeria at the Senate Chambers by pushing for Bills and debate motions that will be in their interest.
Before Politics, She worked With Various Notable Companies and Agencies
One of the places Ebelechukwu Veronica Obiano gained professional experience after her studies is the National Petroleum Investment and Management Services (NAPIMS) where she was known to work in various capacities between November 1991 and May 2010. On several occasions, she represented NAPIMS as a material officer in France, the USA, and the UK on the Bonga Field development Project of SPDC.
Whilst she was busy with her personal career, Mrs. Obiano also got herself involved in charity programs and helping the less privileged. Among other humanitarian endeavors, she is the founder and promoter of the Caring Family Enhancement Initiative (CAFÉ). The none governmental organization was founded in August 2014 with the aim of becoming a beacon of sustainable empowerment for women and the less privileged within Anambra state and beyond.
Even during her tenure as First Lady, she continued in her quest in giving back to her society by training and empowering thousands of indigent widows, women, and youths in various skills under CAFÉ Skills Acquisition Training program. The beneficiaries were supported with equipment and a start-up stipend.
What Awards Has Ebelechukwu Obiano Won?
For her continued effort to transform her society, Ebelechukwu Veronica Obiano has won a good number of awards from notable companies and agencies both locally and internationally. Some of the awards include;
Primetime Reporters First Lady of the Year Award 2016,
Most Valuable Governors' Wife Award 2016/2017,
Excellence Award 2016 by Nigerian Women of Atlanta Georgia, United States of America,
EU/UNICEF WASH Ambassador,  and United Nations Peace Ambassador
Controversies Involving the Former First Lady
Chief Ebelechukwu Obiano has had her own fair share of controversies being a popular figure in society. One of the latest public controversies involving her relates to her altercation with Ambassador Bianca Ojukwu at the inauguration ceremony of the state's new governor, Chukwuma Soludo.
Bianca, who is the widow of the late Biafran leader, Odumegwu Ojukwu, claimed she slapped Mrs. Obiano because the former first lady attacked her and used "unprintable vile language" on her.
In a statement published in the media, Mrs Ojukwu said that when Mrs. Ebelechukwu approached her, she initially thought she was coming to greet her, but to her surprise, the former Anambra state First lady verbally attacked her with her voice raised even as she aggressively put her hands on her shoulders.
In self-defense, she slapped Ebelechukwu and it resulted in a public altercation. It apparently took the intervention of the former national chairman of the All Progressives Grand Alliance, Victor Umeh, for Mrs. Obiano to return to her seat. Obiano who was literally dumbfounded left the inauguration venue almost immediately, taking his wife along with him.
Meanwhile, Ebele, who described the scenario as disgusting, said she was shocked by the attitude of Amb. Bianca Ojukwu and that she didn't bother to slap her back, but rather walked away in utter bewilderment". Although the fisticuffs between the two celebrated women caused a lot of buzz on various media outlets, it did not deter Mrs. Ebelechukwu Obiano from focusing on her political ambition.