Clem Ohameze (born on 27th June 1965; age: 58) is a Nigerian Nollywood actor, politician, and philanthropist. He started his acting career in 1995 and has starred in many movies. Clem Ohameze is happily married to Chinwe Esther Ohameze and their marriage is blessed with kids.
The veteran actor usually stars as an occultic man, king, elder, etc. in movies. In fact, he has been stereotyped as an occultic master by Nigerians. This is however far from what obtains in reality and this article will unveil all there is to know about Clem Ohameze including his family, net worth, and current whereabouts.
Summary of Clem Ohaneze's Bio 
Full name: Clem Ohameze
Nickname: Leader, Shepherd, Master of Sacrifice
Gender: Male
Date of birth: 27th June 1965
Clem Ohameze's Age: 58 years old
Ethnicity: Igbo
Nationality: Nigerian
Zodiac Sign: Cancer
Sexual Orientation: Straight
Religion: Christian
Marital Status: Married
Clem Ohameze's Wife: Chinwe Esther Ohameze
Clem Ohameze's Children: Skye Ohameze and Stephanie Ohameze
Clem Ohameze's Parents: Mr. and Mrs. Ohameze
Clem Ohameze's Net worth: $4.5 million
Famous for: Occultic Master movie roles
Clem Ohameze's Instagram: @clemohamzzy
Facebook: @Clem Ohameze
Clem Ohameze Was Born in Port Harcourt, Nigeria
The veteran Nigerian actor was born on 27th June 1965 in Port Harcourt, Nigeria. He had his early childhood and education there. However, information has it that Clem is from Oguta in Imo State, Nigeria. There isn't much about his childhood as he is not so open about his early life. However, he is from a good family as he is well educated and is guided by good principles.
He Has Degrees in Sociology, Anthropology, and Social Medicine
Since he grew up in Port Harcourt, Clem Ohameze had his education there. For his secondary school education, he attended Baptist High School, Port Harcourt where he got his WAEC certificate. Further, he went to the Institute of Management and Technology (IMT) Enugu where he studied Mass Communication and obtained an OND (Ordinary National Diploma) certificate.
Not done, Ohameze proceeded to the University of Port Harcourt where he studied and acquired a BSc in Sociology and Anthropology in 1989. Clem furthered his education in London where he studied Preventive and Social Medicine at Buckingham University, London. He graduated with a Masters's degree in 2010.
Clem Ohameze Started His Acting Career in 1995
The Nollywood celebrity started his acting career in the early 90s. One of his first roles was a part in a TV series airing on NTA (Nigerian Television Authority). From there, he switched to starring in movies. Clem Ohameze was shot into the spotlight with his role in the movie End Time, produced in 1998. With this, more movie roles came his way and the talented actor became a star.
Clem Ohameze's movie roles have earned him some awards, brought more money into his pocket, and made him famous. He has successfully starred in more than 200 movies since he entered the movie industry. He has played many roles ranging from an occultic master, king, pastor, village elder, etc.
In addition to his acting career, Clem Ohameze has ventured into movie direction and production. Being a veteran in the industry, it was easy for him to add this to his sources of income. He has also been accustomed to the way things are supposed to be done in the industry; therefore, he produces good-quality movies.
List of Clem Ohameze's Movies and TV Shows
Since his entrance into the movie industry, Ohameze has starred in over 200 movies. He has also produced a host of other movies some of which he starred in as well. Below is a list of some of the movies Clem has starred in.
End Time
Kingdom of Darkness
The Faithful Woman
Oganigwe
Knight of the Night
Emotional Blunder
A Cry for Help
The Face of a Murderer
Price of Ignorance
Second Tenure
Thanksgiving
Evil Desire
Back from Hell
Billionaires Club
Child of Hell
Ije
Butterfly
Clem Ohameze Took a Break From Acting to Pursue Politics
Like some other actors, Clem took a break from acting between 2006 and 2010. During this four-year span, he tried his hand at politics by contesting for a political role. He contested for a seat to represent Ohaji-Egbema Oguta Federal Constituency. However, he gave up his political dreams as his life was threatened in the process.
He relocated to London and used the opportunity to acquire his Masters's degree. Ohameze returned to his acting career and came back with the 2010 award-winning movie Ije. Since then, he has continued to act, direct, and produce movies.
His Career has also Been Affected by Some Health Issues
Clem Ohameze's acting career has been sporadic in recent times prompting rumors that he has retired but this is not true. Clem Ohameze has not retired from acting. Apart from the four-year break he had from 2006 to 2010, he has not had another such break. However, he has battled with some illness that took him away from the screens for a while. Toward the end of 2021, Clem Ohameze underwent spinal cord surgery. He had suffered for almost two years from broken limbs, an injury sustained from an accident.
With the help of a Warri-based man of God Prophet Jeremiah Fufeyin of Christ MercyLand Deliverance Ministry, Clem Ohameze was able to get the N9.5 million needed for the surgery. As of January 2022, he was already recovering from the surgery.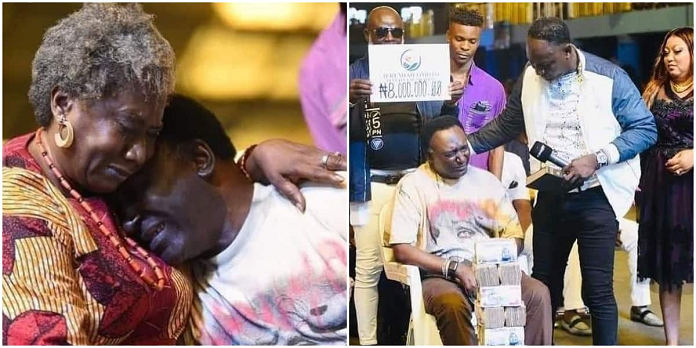 Clem Ohameze is Married to Chinwe Esther Ohameze
Clem Ohameze's wife is Chinwe Esther Ohameze. She is a fashion designer and owns a clothing line in addition to a Non-Governmental Organization (NGO) located in Abuja, Nigeria. Clem Ohameze and his wife have two daughters. They are named Skye Ohameze and Stephanie Ohameze.
Clem once recounted how his wife almost had their first child in an airplane on her way to London. However, she was rushed to the hospital immediately after she arrived at her destination. This prompted them to name the baby, Skye. Clem Ohameze keeps his children away from social media for reasons best known to him.
Unlike some of his colleagues in the industry, Clem Ohameze has successfully kept his private life and marriage away from the public. He has also been free from any marital scandals and controversies.
He has a Net Worth Estimated at $4.5 Million
Actor Clem Ohameze has an estimated net worth of $4.5 million. After his surgery, he became fit to take on more roles and returned to his acting career. Contributors to his impressive net worth include his acting career, movie directing and production, endorsement deals, and other private investments he has.