Chioma Jesus (Real Name: Amaka Okwuoha (nee Ebizie), born 12th February 1972) is a Nigerian gospel singer and songwriter known for her singing prowess in the Igbo dialect.
Long before gospel music became a financially rewarding genre, people like Amaka Okwuoha, popularly known as Chioma Jesus, controlled the airwaves with worship songs that inspired anyone listening to sing along. It did not matter whether you understood what she was saying since she mostly sang in her native Igbo dialect. Still, her voice had a special way of touching and getting you to understand that higher power and being were being revered at that moment.
To accommodate people of other tribes and regions, Chioma learned other Nigerian languages and has incorporated them in her music. This has served her well in her career as she is now one of Nigeria's most well-known gospel music singers. Her music has helped her travel far and wide and won her a myriad of awards.
Summary Of Chioma Jesus's Bio
Full Name: Amaka Okwuoha (nee Ebizie)
Date of Birth: 12th February 1972
Age: 51 years old
State of Origin: Imo State
Occupation: Singer and Songwriter
Father: Late Nze Euzebius Chukwumaeze Ebizie
Mother: Lolo Dorathy Ebizie
Number of Siblings: Six
Marital Status: Married
Husband: Evangelist Callistus Okwuoha
Children: Three
Chioma Jesus Hails from Imo But Was Born and Raised In Abia State
Chioma Jesus is a member of the Igbo ethnic group of eastern Nigeria. On the 12th of February 1972, she was born to Lolo Dorathy and late Nze Euzebius Chukwumaeze Ebizie of Ogboza Autonomous Community, Amanator clan, Ideato South Local Government Area, Imo State. Her parents, however, resided in the industrious town of Aba, Abia State, which is where she was born and raised. At birth, the gospel singer was christened Amaka Ebizie by her parents. She is the first of their seven children.
Life was reported to have been very hard for the Ebizie family while Chioma was growing up. Things further got worse after the young girl lost both her parents. This left her to try to cater to the needs of her younger siblings. While doing the best she possibly can, a teenage Chioma fell in love with singing at her local church. She would later become a born-again Christian and joined scripture union.
Chioma's life subsequently became dictated by her faith, something that she reported to have made life uneasy for her at the time. One such instance was in her final year of secondary school when she was slated to write her WAEC exams. All the students in her school, excluding herself, agreed to contribute money to bribe invigilators for exam malpractice. Because of her decision to not join them on the stance that it was a sin against God, students threatened and bullied her. However, she was able to come out of it unscathed.
She Started Singing at a Young Age
As already mentioned, Chioma Jesus fell in love with Christ as a young girl when she became involved in the church choir. After becoming a member of the Scripture Union, she carried on singing and was motivated by her pastor, who helped spread how good the young girl was. Later, Chioma started getting invited to sing at various church programs, fellowships, and crusades.
Sometime between the late 1990s and early 2000s, Chioma Jesus was invited to perform at St. Andrews Anglican Church, Mile 1 Diobu, Port Harcourt, Rivers State. Word had gone around that she could touch souls with her voice, so she was invited to perform at the church by Venerable Azubuike Ugoha. Chioma did not disappoint with her performances as she immediately became a resident member. She would settle in the city, where she later launched her music career in 2004.
Before becoming a full-time gospel music singer, Chioma was a petty food trader. She abandoned all of that to focus on music and has become a household name, particularly to those that understand the Igbo language. She has incorporated English among other Nigerian languages in her music to meet a wider audience.
Chioma Jesus Got Her Name From One Of Her Earlier Songs
As Chioma Jesus rose to prominence, many people began to know her by one of her songs instead of her birth name of Amaka. The 51-year-old singer did not mind as long as she could continue her ministry through music. She has since shared the stage with other renowned gospel music artists like Sinach, Don Moen, Lionel Peterson, Ron Kenoly, and many others. Below is a list of her most popular songs.
Prophetic Praise 2
Chioma Jesus
Nkwa Chioma Jesus Medley
Ebube Dike Medley
Gini Kam Ga Eme Medley
Ihem Gabu Medley
I Will Be Medley
Chioma Jesus Miracle God
Mighty In Battle Medley
Oruru Gi Medley
Onye Ukwu
I Have Got The Power
Ejim Chukwu Ugwo
Holy Holy
Chukwu Okike Imela
Chioma Jesus Miracle God
Odiro Onye Dika Gi
Baba You Are So Great
I Have Never Seen Any One Like You
I Have Never Seen Any One
Chioma Jesus Has Won Several Awards
Chioma Jesus' music has touched lives around Nigeria. As a result, she has won several awards and received recognition from several churches and denominations, including the Award For Excellence In Service of the Lord by Men's Christian Association [MCA] New Generation Faith [Ang.] Church, City of Favor Port Harcourt.
Other awards Chioma Jesus has won include:
The Most Outstanding Gospel Artist in Nigeria – Omega Legend Award
Advocate Of Christian Excellence In Christianity – Christian Association of Nigeria (CAN) Ideato South Chapter
Transparency and Integrity in the Gospel Music Ministry – HFTBF Award
Meritorious Services to the Gospel of Music in Nigeria and of Christ in General
The Sustained Support of the Work in Redemption Ministries and the world at large – Redemption Ministries Port Harcourt
World Ambassador for Peace Award by United Nations-pol-ac peace Nigeria, in collaboration with platinum standard publications limited Lagos
Delta Yadah Award (2011 and 2012)
Gospel Music Legacy Award (2015) – International Network Of Gospel Ministry and Churches in conjunction with Kingdom Life Gospel Church for her contribution towards the growth of gospel music across ethnic and national frontiers.
The Singer Is Happily Married With Three Children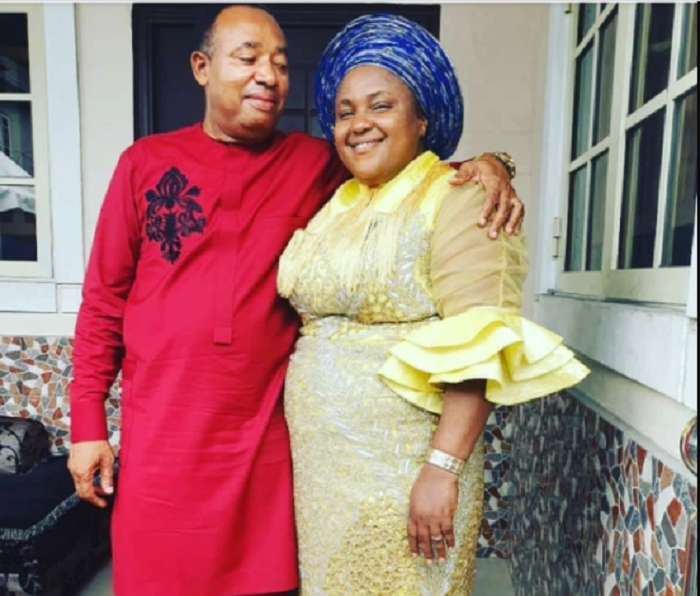 While in her line of work, Chioma Jesus met and married her husband, Evangelist Callistus Okwuoha. As you can tell from his name, Evang. Okwuoha is a pastor. The duo has been blessed with three kids. While there isn't so much available information about the Okwuoha family, it is public knowledge that Chioma struggled with getting pregnant a second time after welcoming her first child, a son, to the world. The singer says her daughter, who she named Miracle Chioma Okwuoha, opened her womb after 15 years of looking for the fruit of the womb.