Regina Daniels is the fourth of five children born to her father Jude Ojegwu, and mother Rita Daniels. She has four siblings – three brothers and a sister. Their names are Emmanuel Daniels, Lawrence Daniels, Samuel Daniels and Destiny Daniels
It may interest you to know that Nollywood sensation Regina Daniels is not the only child of her parents. Regina Daniels' siblings are four in number and are all doing well individually. The talented actress who made rounds in the media for her marriage with billionaire businessman and politician Ned Nwoko had many quizzing and searching for information about her family during the period of her wedding. The popular celeb is best known as an actress, film producer, model, and entrepreneur.
Meet Regina Daniel's Siblings
Regina Daniels has four siblings – three brothers and a sister and all were born to the same parents. Details about her family may seem vague, but the actress' famous marriage to Ned Nwoko drew so much attention to her family, further bringing them to the spotlight; hence, the reason we're writing about them.
1. Lawrence Daniels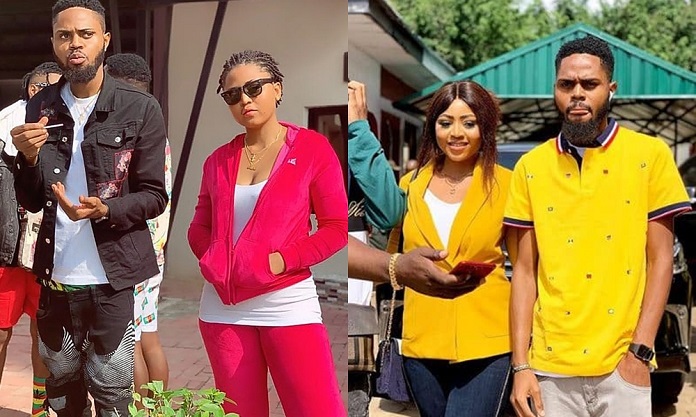 Lawrence Daniels is the second oldest sibling of the actress. He is an entertainer in the family known to be a music producer. He is always hands-in-gloves with his sibling Samuel Daniels, who is also a music artist. Lawrence is said to be a graduate of Lagos State University. However, this information is not verified.
2. Emmanuel Daniels
Emmanuel Daniel is Regina's oldest sibling, famously known by his stage name Method Blazer. He is an afro-pop artist who often sings mainly in his native Igbo dialect and fast-rising artist. Emmanuel is an alumnus of the University of Lagos and shares quite a strong bond with Regina Daniels. In an Instagram post, the actress once admitted that she would have loved to marry him if he wasn't for her blood due to his personality and approach to life.
Emmanuel is part of a music duo, East2West, with his brother Samuel. Under this name, the group has released a couple of singles like Happy Day, Bunye Men Ike, and many other collaborations with other artists. He has also released a couple of his singles. One of them is Confirm, which he released in 2019.
3. Samuel Daniels
Samuel Daniels is Regina's younger brother and a songwriter and singer. He is better known by his stage name Sammy West. He often collaborates with his brother Method Blazer under the stage name East@West and releases songs as a solo artist. The singer has once performed at the book launch event of Regina Daniels. His most recent release is his EP titled WoW. Samuel has performed on many platforms and is bent on taking his music status to greater heights.
4. Destiny Daniels
Destiny Daniels is the last child and youngest sibling of the Daniels. She is an up-and-coming digital content creator, a brand influencer, and a model. Destiny Daniels celebrated her 18th birthday on February 25, 2022, and was gifted a car by her sister.
Regina Daniels And Her Siblings Were Born In Lagos
On October 10, 2000, Regina Daniels was born in Lagos to Rita Daniels and Jude Ojegwu. The actress was born into a family of six, meaning she has four siblings. Her mother, Rita Daniels, is also a popular Nollywood actress and film producer who has been on the silver screen for decades. She is also the chairman of the Actors Guild of Nigeria (AGN), Delta State branch.
Rita Daniels is also a politician. She is the majority leader of her local government, Aniocha South local government area of Delta State, and holds the chieftaincy title of Ochiudo of Ogwashi Uku Kingdom. Regina Daniels' parents are separated. Details about when they got married or whether they had an official wedding are unknown to the media.
But it is no news that the two are not living together and separated a long time ago. However, they both took care of their children. Reports have it that two of their children stayed with their father after their separation until in recent years when they joined their mother. It's no wonder the actress took her mother's name instead of her father's.
Does Regina Daniels Have A Twin Sister?
No, Regina Daniels does not have a twin sister. However, rumors have been made that the popular actress has a twin sister. More so, there have been indications that she also has an elder sister, Ifeoma Daniels, who is said to be married with a child.
But findings from her social media showed that the actress did not clarify her biological ties with Ifeoma. Therefore, these reports remain rather sketchy, as we have seen. Regina Daniels is known to have only four siblings and no twin sister.
Does Regina Daniels Have Half Siblings?
It is no longer news that the Nollywood actress and wife to the Nigerian billionaire has three brothers and a sister. But several reports have suggested that Regina has a half-sister. She is named Ifeoma Daniels and is married with kids. However, there is no verifiable information about whether they share the same father or mother.
Is Regina Daniels Closer to Her Mother Than Her Other Siblings?
Regina's mother, Rita, had initially kicked against her daughter's decision to become an actress. But when she eventually approved, she gave her the unflinching support that brought Regina to the height she now enjoys. In addition to their mother-daughter bond, Regina and he mother also have quite a smooth working relationship, as her mother is currently the CEO of Regina's children foundation.
The actress never misses an opportunity to shower her mother with love and lovely gifts. One such occasion was when she surprised her mother with a brand new SUV worth 15 million Naira, which she posted on her Instagram page. From the look of things, Regina could be said to be the closest child to their mother, and their bond seems unbreakable.
In the meantime, it is safe to say that Regina equally shares quite a strong bond with her siblings. This is evident in the fact that the actress has always supported each of her siblings in every way possible, both in their careers and personal lives. Regina never misses an opportunity to celebrate her siblings and their achievements.
This can be seen through her social media account, where she often posts her strong love for her brothers and kid sister. She always showers them with love and gifts, most recently her car gift to her sister Destiny on her 18th birthday. As it stands, there seems to be no love lost among Regina Daniels and her siblings.
FAQs
Who are Regina Danie's Siblings?
Regina Daniels siblings are Emmanuel Daniels, Lawrence Daniels, Samuel Daniels and Destiny Daniels
Who is Regina Daaniel's twin sister?
Regina Daniels does not have a twin sister. However, she has a sister named Destiny Daniels
Who Is Regina Daniel's father?
Regina Daniel's father is Mr. Jude Ojegwu, a barrister residing in Lagos state, Nigeria
Who is Regina Daniel's Mother?
Regina Daniel's mother is Rita Daniels, an actress/film producer and the chairperson of the Actors Guild of Nigeria Been in Delta State, Nigeria.