Mercy Johnson's family includes her husband Prince Odianosen Okojie and four children; Purity Ozioma Okojie, Divine-Mercy Ehinomen Okojie, Henry Ozioma Okojie, and Angel Onosetale Okojie.
Aside from her immediate family members whom she effortlessly flaunts on various social media platforms, Mercy also shares some very interesting relationships with other members of her family. This includes her parents and siblings, some of whom have gained some level of popularity not only for being related to her but also for joining the movie industry.
Inside Look at Mercy Johnson's Family
Mercy Johnson shares a beautiful family with her husband of 12 years, Prince Odianosen Okojie, a member of a royal family whom she met in 2008 and married in 2011. Th duo have worked together and successfully seen their family grow with the addition of three beautiful daughters; Purity Ozioma Okojie, Angel Onosetale Okojie, Divine-Mercy Ehinomen Okojie –  and an adorable son named Henry Ozioma Okojie.
It is also no news that the Nollywood actress is a step mum to two of her husband's children from his previous marriage and although not much is known about the Okojie kids (a boy and a girl ), it is largely believed that the actress also shares a cordial relationship with them.
Mercy is undoubtedly one of the few celebrated Nollywood stars whose marriages and families are free from controversies and scandals. Thanks to her very friendly and jovial nature, the actress has succeeded in elevating her family to share in the fame she currently enjoys.
How Many Children Does Mercy Johnson Have?
As of the time of writing this piece, the famous and multiple awards-winning Nigerian actress Mercy Johnson has four children – three girls and boy. They are the product of her 12 year-long marriage to Prince Okojie.
Mercy Johnson's children are among the most popular celebrity kids in the country. In November 2021, they made headlines for bagging a multi-million Naira endorsement deal with a skincare and cosmetic brand for children, Zandas Kiddies and Fragrance.
Who are Mercy Johnson's Daughters?
Mercy Johnson has three adorable daughters; Purity, Angel, and Divine. Purity is not just Mercy Johnson's eldest daughter, but her eldest child as well. Aside from her own daughters, the famous film star also has a stepdaughter who is much older than Purity but her name is not known. Below are facts you should know about Mercy Johnson's children which she fondly describes as her "entire essence".
Purity Ozioma Okojie
Full name: Purity Ozioma Okojie
Gender: Female
Marital Status: Single
Parents: Mercy Johnson Okojie and Prince Odianosen Okojie
Purity Okojie is the 10 year old daughter of the celebrity actress Mercy Johnson. She was born on the 30th of December 2012 which is a year after her parents became a couple. Purity is Mercy Johnson's first child and apparently her father, Prince Okojie's third child. She is a native of Uromi Local Government Area of Edo State. Academic-wise, purity is still in basic school although further details about her school and her current class are not known.
Purity shares a very close and cordial relationship with her parents, especially her mother whom she is largely believed to have taken after. What's more, is that she appears to be toeing the paths of her mother as an actress. Though not officially confirmed by either the youngster or her parents, Purity is almost becoming a regular character in her mother's comedy skits.
One of such popular skits was the one Mercy Johnson posted in 2021, where she was featured alongside her mother and talented comedian zicsaloma. Aside from being already introduced to the entertainment world, Purity seems to be also interested in sporting activities like swimming.
In March 2022, she represented her school in a swimming competition at the world school games in Dubai. This was revealed by Mercy Johnson herself on her Instagram page, where she expressed her excitement at her daughter's performance although she failed to win the competition.
Meanwhile, young Purity Okojie recently made the headlines after she was bullied by her school teacher simply because her mother is a public figure. Not taking it lightly, Mercy Johnson visited the school premises to lash out at the school teacher, warning her not to take out hate on her daughter. Purity may not have personally bagged an endorsement but she is a notable social influencer.
Henry Ozioma Okojie
Full name: Henry Ozioma Okojie
Gender: Male
Marital Status: Single
Parents: Mercy Johnson Okojie and Prince Odianosen Okojie
Henry Ozioma Okojie is Mercy Johnson's second child with Prince Okojie. He was born on October 15, 2014, which means that he is currently 8-years old. Henry is two years younger than his sister Purity but he is no less famous than she is. Like his sister, he is a regular face on various social media platforms as his mother would always make picture posts of him with very interesting captions that would only make you love him more.
Henry is also at his basic educational level but the name of the school he attends is not yet known. It is not also clear what Henry hopes to become career-wise but the vibrant carbon copy of his father appears to already have a promising future as he is already gaining strong grounds as a public figure. Henry is also a partaker of the jaw-dropping endorsement deals the Okojies signed in 2021.
Angel Okojie
Full name: Angel Onosetale Okojie
Gender: Female
Marital Status: Single
Parents: Mercy Johnson Okojie and Prince Odianosen Okojie
Angel is Mercy Johnson's third child and second daughter. She was born on December 11, 2015, which means that she is currently 7-years old.
Just like most celebrity children including her older siblings, Angel became famous as a result of her mother's achievements. Nothing much is known about mercy Johnson's second daughter as regards her education and social lifestyle but like her older siblings, she is a celebrity kid with much amazing social presence, thanks to her mother's unending posts about her.
On Angel's 6th birthday in December 2021, her mother, who was rather very excited, celebrated her with five different cakes with lots more gifts and as expected, Mercy flooded her daughter's pictures on her various social media pages.
Divine-Mercy Okojie
Full name: Angel Onosetale Okojie
Gender: Female
Place of Birth: University of Maryland St. Joseph Medical Center in Maryland, USA
Marital Status: Single
Parents: Mercy Johnson Okojie and Prince Odianosen Okojie
Divine-Mercy Ehinomen Okojie is Mercy Johnson's last child and third daughter. She was born on Monday, May 4th 2020, at the University of Maryland St. Joseph Medical Center in Maryland the United States. Devine's birth was announced by her father who could not contain his joy at her arrival.
Divine turned a year old on May 4th, 2021 and as it is the family's tradition, she was showered with lots of gifts and a party was set up to mark the even. Divine may still be a child but she is already a familiar face on various media tabloids. However, currently, details of her education and career cannon be ascertained.
Does Mercy Johnson Have a Twin Sister?
Mercy Johnson has no twin sister as has been rumoured on various media tabloids but she has siblings who are also doing well for themselves in their various careers. The Lagos State-born Kogi Indegene is one of seven children born to Daniel Johnson and her mother Elizabeth. Although the names and details of all her siblings are not yet revealed, a couple of pictures have surfaced showing mercy and her sisters.
We also know of a young man named Joseph Junior Johnson who according to various media sources is the diva's younger brother. Joseph is a young and upcoming actor in the cause of his acting career has featured in numerous Nigerian movies such as My Hustle Go Pay, Crazy Palace Maid, Crazy Village Nanny, Oyioma My Love, and Ghetto Hustlers. Some of the aforementioned movies and more has the young actor sharing the screen with his sister.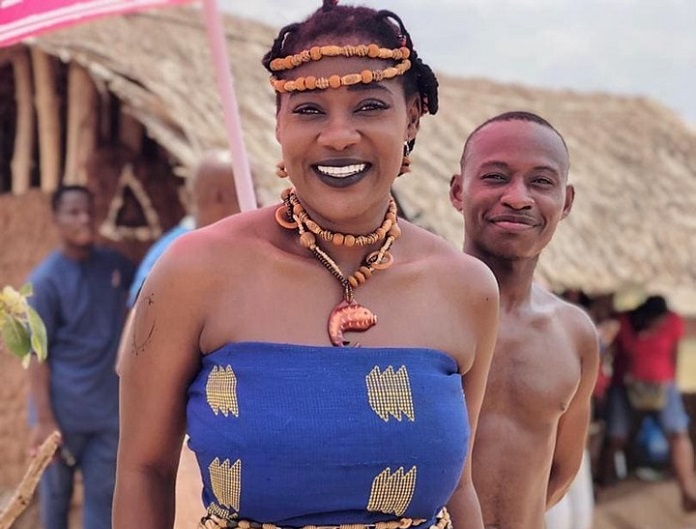 Not much is known about Joseph Johnson's career and private life but a fact remains that he is working so hard to make his presence known in the Nollywood industry and in no time, he would be a key icon in the industry like his sister.