Atiku Abubakar is a Nigerian businessman cum politician who served as the vice president of Nigeria from the year 1999 to 2007 under the presidency of Olusegun Obasanjo. In addition, he ran as the Adamawa State governor in 1990, 1997, and 1998 before becoming Obasanjo's presidential running mate in 1999. Asides from political ambition, Atiku Abubakar's spouses and children are another important aspect of his life.
He is known for his large family, which constitutes 4 wives and 28 children. His choice of the polygamous family system was made known in his book Atiku- The Story Of Atiku Abubakar. He made it clear in his book that his childhood experience as an only child triggered the choice. Below are Atiku Abubakar's spouses and children:
Meet Atiku Abubakar's Wives and Children
Atiku has been married to six women and while some are still tied to him, some others have gone their separate ways. Below are Atiku Abubakar's spouses from the first to the last:
Titi Amina Atiku Abubakar Is Atiku's First Wife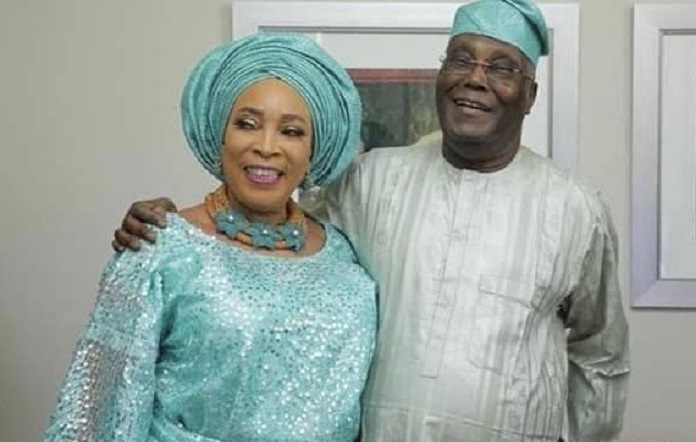 Titi Amina Atiku Abubakar is the first love and wife of the Nigerian politician. The duo got hitched in a secret wedding at the Ikoyi register Lagos in December 1971. The secret marriage was due to Titi's parents' opposition to the relationship. She was known as the official second Lady of Nigeria while her husband held the vice president's seat.
Titi was born into Albert's family, a Christian home from Ilesha, Osun State. Coming from a Christain home, she obtained her primary and secondary education at schools run by the Roman Catholics. She went on to Kaduna Polytechnic after she married Atiku Abubakar to complete her studies, where she got a teaching job later on.
The ex-second lady of Nigeria moved on to Rome in the mid-1980s to acquire more educational qualifications. However, during her stay in Rome, she discovered that many Nigerian girls were lured into prostitution by their madam, who didn't bother paying them. This act moved her to establish her famous NGO, Women Trafficking and Child Labour Eradication Foundation (WOTCLEF). Atiku Abubakar is still married to his first love and they have welcomed four children since their union.
The Politician Got Married To Ladi Yakubu in 1979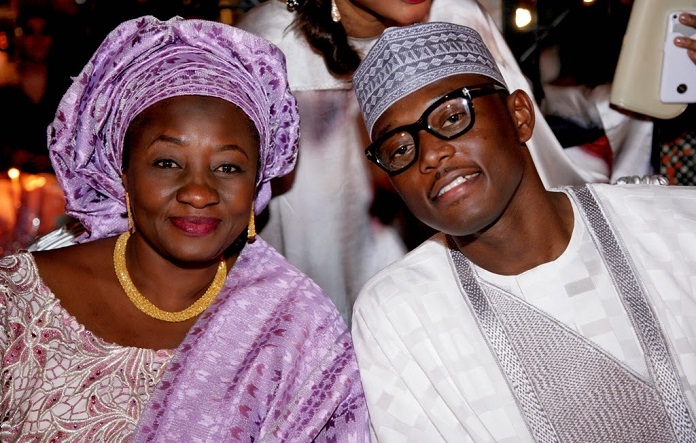 Atiku Abubakar got hitched for the second time to Ladi Yakubu in January 1979. Much information about her is unknown as she stood away from the spotlight when she married him. The marriage hit the rock years later, and the reasons for the divorce were kept away from the public. Nevertheless, the union was blessed with six children before it ended.
Atiku Got Hitched for The Third Time To Princess Rukaiyatu Atiku Abubakar
Atiku Abubakar got married for the third time to Princess Rukaiyatu in 1983. She comes from one of the most influential families in the North and is also the daughter of Late Lamido of Adamawa, Aliyu Mustafa. She has a sound educational background. Her union with the politician is still intact, and they are blessed with seven children.
Fatima Atiku Abubakar Is The Fourth Wife of The Politician
Atiku Abubakar got married to his fourth wife Fatima in 1986, three years after his third marriage to Princess Rukaiyatu. Fatima kept herself away from the spotlight despite being married to an influential man. The marriage has not recorded any scandal and has produced a total of seven children.
Jennifer Iwonjora Douglas Is the Wife Of The Politician From The Igbo Tribe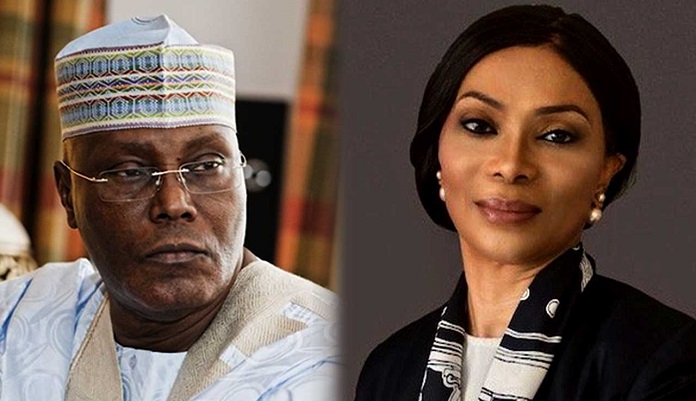 Jennifer Iwonjora Douglas is the fifth woman that the politician married. Atiku Abubakar was alleged to have divorced his second wife Ladi to be able to get married again according to the Islamic custom. However, this divorce made Jennifer who later acquired the name Jamila after joining Islam, take the place of his fourth wife. She is from the Igbo tribe, born in the city of Onitsha, Anambra State.
Jennifer, who worked as an NTA reporter in the 1980s, is a well-educated woman though her primary and secondary educational background is unknown. She studied Law in Washington D.C in the United States of America and was called to the Nigerian Bar Association. The beautiful wife of the politician boasts of a high academic profile. She obtained a first degree in Political Science and Communication, a Master's degree in International politics specializing in International Law and Communications.
She also obtained a doctorate degree in International Relations. Currently, she practices private law in Abuja. Jennifer is also the President and CEO of a non-governmental organization with its operations in Washington D.C known as the GEDE Foundation. The lawyer also runs the American University of Nigeria (ABTI) at Yola with her husband. She is known to welcome three children with the Atiku Abubakar before their marriage hit the rock.
On June 26, 2021, the divorce that Jennifer filed for earlier was finalized. The reason for the divorce was based on her husband's opposition to her long stay in the United Kingdom. Reports have it that her reason for the long stay was to look after her children, whom her late sister had been taking care of before her demise.
Atiku Abubakar's Last Marriage Is To A Moroccan Woman
Reports show that the politician moved on to his Moroccan love after his long-time marriage with Jennifer Iwonjora Douglas started having issues. His Moroccan love has kept information concerning herself away from the masses. Claims have it that the duo share a son, but none have been confirmed or denied by any of them.
Atiku Abubakar Has Many Children From His Wives
Atiku Abubakar's spouses and children makes up the large family that the politician boasts of today. Below are the children of the politician and their mothers:
Fatima Abubakar – Titi Amina Atiku Abubakar
Adamu Abubakar – Titi Amina Atiku Abubakar
Halima Abubakar – Titi Amina Atiku Abubakar
Aminu Abubakar – Titi Amina Atiku Abubakar
Abba Abubakar – Ladi Yakubu
Atiku Abubakar – Ladi Yakubu
Zainab Abubakar – Ladi Yakubu
Ummi-Hauwa Abubakar – Ladi Yakubu
Mariam Abubakar – Ladi Yakubu
Rukaiyatu Abubakar – Ladi Yakubu
Aisha Abubakar – Princess Rukaiyatu Atiku Abubakar
Hadiza Abubakar – Princess Rukaiyatu Atiku Abubakar
Aliyu Abubakar – Princess Rukaiyatu Atiku Abubakar
Asmau Abubakar – Princess Rukaiyatu Atiku Abubakar
Mustapha Abubakar – Princess Rukaiyatu Atiku Abubakar
Laila Abubakar – Princess Rukaiyatu Atiku Abubakar
Abdusalaam Abubakar – Princess Rukaiyatu Atiku Abubakar
Amina Abubakar – Fatima Atiku Abubakar
Muhammed Abubakar – Fatima Atiku Abubakar
Ahmed Abubakar – Fatima Atiku Abubakar
Shehu Abubakar – Fatima Atiku Abubakar
Aisha Abubakar – Fatima Atiku Abubakar
Zainab Abubakar – Fatima Atiku Abubakar
Hafsat Abubakar – Fatima Atiku Abubakar
Abdulmalik Abubakar – Jennifer Iwonjora Douglas
Zahra Abubakar – Jennifer Iwonjora Douglas
Faisal Abubakar – Jennifer Iwonjora Douglas
Meet Some Of The Politician's Popular Children
With a large family, keeping the public's prying eyes away from the children of Atiku Abubakar is impossible. Below are the known children of the politician and what they are up to:
Fatima Abubakar
Fatima is the first daughter of the politician born to him by his first wife, Titi Amina. She boasts of a high educational profile with a Bachelor's degree in Obstetrics, Surgery, and Medicine from the University of Dublin.
In addition, Fatima holds a Master's degree in Public Health from Imperial College in London and a postgraduate diploma in Tropical Medicine and Hygiene. She serves under the ministry of health as an honorable commissioner.
Aminu Abubakar
Aminu Abubakar is the fourth child of Atiku and his wife Titi. He became famous due to the publicized custody disagreement with his wife. He got married to his wife in 2007 and welcomed two children before their divorce in 2011. Their case on who will take custody of the two children is still going on in court though Aminu is on the losing side.
Other Notable Children of Atiku Abubakar
Some of the politician's children became popular after they had a lavish wedding well attended by influential people in the society. Abba Abubakar, his first son with Ladi Yakubu, married Mariana Saleeby Velila in an elegant wedding in 2014. Shehu Abubakar, Atiku's fourth son with Fatima, also got married in the same year.
On November 13, 2015, the politician gave out three of his daughters' hands in marriage on the same day. Walida, Aisha, Asmau all got hitched to their heartthrobs that same day. Asmau also bagged a Bachelor's degree in Business Administration and a Master's degree in education at the time of her wedding. On November 19, 2016, Rukaiyatu married Aminu Sani Bello, Colonel Sani's son, in an opulent wedding.
Some of the politician's children also followed their father's path by going into business. Aliyu Abubakar, a graduate of the American University, Washington, is the Executive Director of Priam Group, a company founded by his father. Mustapha, who holds a bachelor's degree in Law from City University in London, is the vice-chairman of Haynes-Worth International's Board. Mohammed Atiku Jr. works in the fashion industry, while one of his brothers is the General Manager of Adama's Beverages.
Controversies Involving Atiku Abubakar's Family
There have been a few controversies in which some of the members of Atiku's family have been involved.
Some years back, a division of the U.S Department of Treasury known as the Financial Crimes Enforcement Network placed the politician and his family members under serious investigation for suspected financial crimes. The international body pointed out numerous money transactions related to Atiku Abubakar as unclear. This was because the regulatory body kept track of all the transactions throughout the international financial system.
In addition, the U.S Senate Permanent Subcommittee on Investigation charged the Georgia Tech Cable Network (GTCN) together with other companies linked to Atiku Abubakar and Mr. Volpi in 2010. The committee investigates how foreign top political officers, their relations, and partners might be sabotaging anti-money laundering (AML) or PEP limitations to move money into the U.S, which are potentially the outcome of overseas corruption.
It was found out that about $25 million was allegedly moved into over 30 U.S bank accounts opened by his ex-wife Jennifer Iwonjora Douglas. In addition to his family-related scandals, one of his sons, Aminu, is also caught in the web of a bitter divorce and custody fight with his estranged wife. The divorce case has also turned out to be on many news report headlines.