Baba Suwe was married to a fellow actor Monsurat Omidina and their marriage produced three children. However, the Yoruba actor remarried Mrs. Ayodele Omidina and has a total of four children; two sons and two daughters.
Baba Suwe, whose real name was Babatunde Omidina, is a Nigerian actor popular for his comic roles in Yoruba home videos. Baba Suwe's wife died on 1st September 2009, while he died 12 years later, on 22nd November 2021, at the age of 63, after a long battle with an undisclosed protracted sickness. While their marriage lasted, Baba Suwe was a loving husband to her wife and a doting father to their children.
Baba Suwe's Marriage with His First wife, Omoladun, Lasted for 14 Years
Baba Suwe married Monsurat Omoladun sometime in 1995. There is no information about how and where the two met and the kind of wedding ceremony they had. The couple happily lived together as husband and wife for 14 years before the marriage ended in September 2009 following the death of Omoladun. According to Baba Suwe, his wife was always his soul mate, both at home and on set.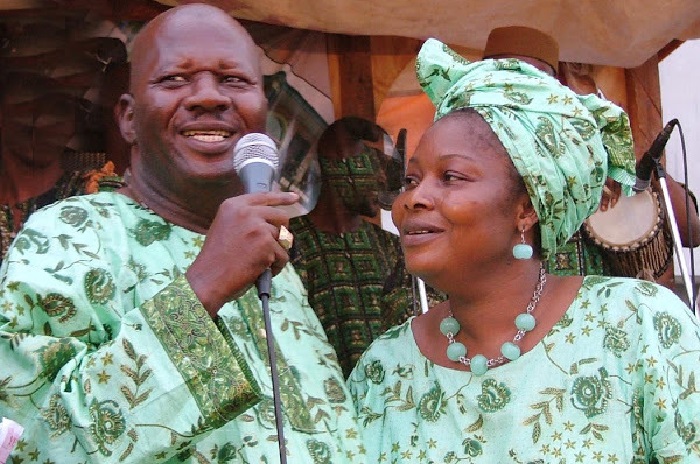 Speaking about the kind of marriage he had with his wife, the actor said, "She understood me more than any other person on planet earth. At times when we quarrel in the house, she would abuse me on set and that would mark the end of the issue".
Baba Suwe's Wife, Omoladun Omidina, was a Nollywood Actress
Baba Suwe's wife, Monsurat Omoladun, is a Nigerian Yoruba actress and comedian affectionately known as Omoladun Kenkelewu. She is popular and loved by many for her comic roles, which are just too hilarious even though she barely laughed on stage.
Only her costume, outrageous makeup, and fake tribal marks will make you burst out laughing out loud. She was born in 1962 into the family of Mr. Rauf Oyeniyi and Mrs. Munirat Bamidele of Ile Bara, Opooyeosa in Oyo State.
She was the third child out of her parent's six children. Omoladun was best described as a TV sweetheart to many, especially lovers of Yoruba movies. Some of her popular movies include Okanlawon, Ola Ore, N150 Million Kokunrin To Atorin, and Atiko.
Omaladun Reportedly Died of Hypertension
Unfortunately, while her entertainment career was at its peak, the actress bid farewell to the world. She slumped with blood gushing out of her nostrils at their home in Ikorodu Lagos. Following her death, rumors made rounds that her husband had a hand in her death. Baba Suwe's stepdaughter was said to be the one who accused him of killing her mother, claiming that the couple had a protracted quarrel before her death.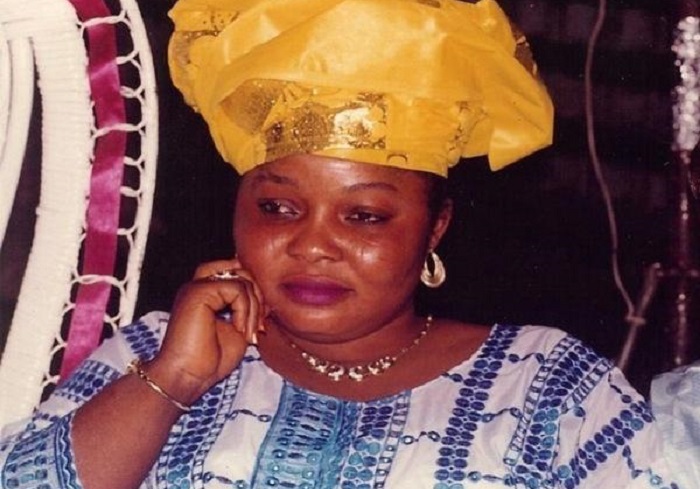 Other rumors had it that her death had a spiritual undertone claiming that she was dispirited a couple of days before her death. Meanwhile, on the other news, doctors who confirmed her death reported that she died of hypertension. Her husband also gave credence to this information saying that his wife had been hypertensive for some time and then dismissed other information as mere rumors.
He also stated that his stepdaughter later came out to debunk the rumor that she accused her stepfather of killing her mother. All the time, the actor shared a cordial relationship with his stepdaughter just like his other children, and they all lived together in their house in Lagos.
Baba Suwe Later Remarried After the Death of His First Wife
Following the death of Baba Suwe's wife, the actor later got married to one Mrs. Ayodele Omidina, a woman he tried to keep out of the limelight.
In an interview and answering about how he had been coping with the death of his wife, the famous actor said that it was not easy for him, but life must go on.
According to Baba Suwe, he missed his wife every day that passed as her death was a great loss he couldn't get over in his lifetime. He made these revelations in 2017, seven years after the death of Omoladun.
Meanwhile, he had given the qualities of the kind of wife he would want to marry; else, he was not ready to take such a decision again.
Even though rumors initially made rounds some time that the actor was set to walk down the aisle for the second time, Baba Suwe later found love outside the entertainment sector, unlike his first wife, in the person of Mrs. Ayodele Omidina.
"Before I can remarry, I need to search for a woman that I am sure would take care of my children as if they are hers, …I am looking for a woman that would give me peace of mind in my house. There are a lot of women out there that I can pick from. That has never been the problem…," he stated.
Baba Suwe's Children Are Four
Baba Suwe has three children with his wife: Adesola Morenikeji, Okiki, and Halimat. Meanwhile, his wife, Omoladun, had a daughter named Omolara Kareem before marrying Baba Suwe.
It is unknown whether she was previously married to the father of her daughter or not. On the other hand, Baba Suwe had a son before marrying Omoladun, but records show that he is his love child.
Baba Suwe Has a Love Child, Akanni, Who is a Medical Doctor
A young man who identified himself as Dr. Akanni revealed that he is the son of Baba Suwe during his father's burial. He made a brief speech during the funeral expressing his happiness to reconnect with his father before his death.
Dr. Akanni was singlehandedly raised by his mother, who never disclosed to him who his father was until shortly after his death. Meanwhile, he said to have known the actor from childhood and liked watching his comedy videos but never knew he was his father.
Baba Suwe's First Child with Omoladun, Adesola, is an Actor
Baba Suwe's first son, Adesola Morenikeji Omidina, is an actor, filmmaker, and entrepreneur. He attended the University of Rhode Island, United States, and graduated with a Bachelor's degree in Entrepreneurship. In further pursuit of education, Adesola acquired his second degree in Film and Media Production from New York Film Academy.
Baba Suwe's son is following in his father's footsteps. He began his acting career in primary school, and since then, he has had a slow but consistent growth in the movie industry. Adesola Omidina is currently the CEO of Twenty-2nd-Global Studios, which handles video editing and film productions and promotes upcoming artists.
He has featured in their family film series titled Suwe's Family. Baba Suwe's two daughters, Halimat Omidina and Okika Omidina, seem to be private people, so there is no information about their personal and career life.