Flavour's net worth, estimated at $10.2 million, is built majorly from his music career. Some of his best songs include Nwa Baby, Baby Na Yoka, Ada Ada, Baby Oku, Chinny Baby, Ifem N'eli, Oyi, Kwarikwa, etc.
Flavour, whose real name is Chinedu Izuchukwu Okoli, has been active and consistent in the Nigerian music industry for almost two decades now. Over the course of his music career, the Nwa Baby crooner has been able to establish himself as one of the richest and most famous musicians in the country. Thanks to his wealth, Flavour is enjoying a good life of luxury, spending his fortune on real estate and other things.
A Breakdown of Flavour's Net Worth of $10.2 Million
Flavour's net worth of $10 million, which is over 4 billion naira, places him among the richest artists in Nigeria. The highlife singer simply makes good music which have made waves within and across the shores of the country.
With his outstanding hits, the music maker is one of the musicians that are putting Nigeria on the map. Read on to find out his success story and all the endeavors that rounded up his jaw-dropping wealth to the tune of $10.2 million.
He Started as an Instrumentalist
Before Flavour hit the music industry, he was an instrumentalist. Given that he grew an interest in music at a very tender age, he began to play drums for his church choir in Enugu at the age of 13.
Seeing that the young boy has great talents, the resident pastor introduced him to someone who would help harness his talents, and that was Chris I. Ordor, the CEO of Soundcity Communications. As of then, Chris had just founded a music company that was running a scholarship program targeting upcoming singers.
The company offered him a scholarship, and he started studying music professionally. At the same time, he was serving as a backup singer for other singers at the company then and was also learning how to play other musical instruments like piano, keyboard, and drums.
By the time he was 19, Flavour had already mastered his music skills and then delved into the mainstream music industry as a drummer and pianist for a local music band in Enugu. Having honed his skills in music, he dropped his debut album N'abania in 2005. This was the first time he tasted fame and has since remained on top of his game.
The 12-track album was released under Obiano Music and recorded in Lagos at Kingsley Ogoro studio. Though the project dominated mostly in the eastern part of Nigeria as a result of its language barrier, it was a commercial success and introduced Flavour to public knowledge.
The Songs That Contributed to Flavour's Net Worth and Consequently Made Him Famous
Since he made it to the spotlight, the high-life maestro and hip-hop singer has established himself in the Nigerian music industry as one of the most successful artists, releasing tracks back to back. With eight studio albums and numerous hit singles, Flavour has proven himself a trailblazing artist. Here are some of his best songs that made waves in the country and earned him bigger sums.
Nwa Baby (Ashawo Remix) Established Him as a Musician
Nwa Baby, released in 2010, is a hit track that featured as the lead single in Flavour's sophomore album Uplifted. The album dominated the charts with the hit Nwa Baby and not only did it shut down the music industry, but it also took over every event as the DJs' favorite during celebrations.
The song wasted no time in becoming a hit and was well received by the public. To say the least, Nwa Baby became a flavor on the street and an anthem for entertainment houses. It has gathered over 50 million views on the YouTube streaming platform.
Baby Na Yoka
Baby Na Yoka is one of the tracks in the singer's 2017 album Ijele: The Traveller. Given that the crooner has already been well known for making analogies of women's beauty and description of the female body, the song speaks that the beauty of a woman is her waist.
Flavour, who displayed his dance talents in the music video, helped the song get massive acceptance from fans who are lovers of high-life music. With this hit, he is best described as the king of Nigerian high-life music. On YouTube, the song has gathered massive views of more than 58 million.
Ada Ada Received World Wide Acclamation
Flavour's Ada Ada did not only make waves in Nigeria but beyond and has still remained evergreen on the lips of people. Upon its release, the song became an anthem for wedding ceremonies as well as other celebrations of love. Ada Ada, which showcases the beauty of Africa, especially its women, was accompanied by the video featuring popular actor John Okafor (Mr. Ibu) and reality TV star Uti Nwachukwu.
Featuring the funny comic actor in the music video gave it a different level of fame as a result of his exceptional dance moves. Ada Ada won a number of important awards, including Best Highlife Video in the Nigerian Music Video Awards. Till today, Nigerians have not been able to get over the song.
Oyi ft Tiwa Savage
Another of Flavour's tracks that is considered one of his best songs is Oyi Remix featuring famous singer Tiwa Savage. The RnB track is a duet love story and was accompanied by a sensational visual that featured Tiwa and Flavour having a cozy moment together. The king and queen of highlife music lavished their skills and talents on this track, which means "catching cold."
The song went on to win the Best R&B Video at the Channel O Music Video Award. Again, it was nominated for the Best R&B Single for the Headies Award in 2011.
Flavour's Net Worth Skyrocketed with the Release of Most High
The release of Most High simply shook the airwaves and helped the singer grow his fame and fortune to another level. The song is a track off his fifth studio album Ijele: The Traveller.
On the track, Flavour featured a blind Liberian little boy who is his fan, and it became a national anthem at the peak of its release. He briefly used his usual Igbo high life to venture into gospel, and his fans were mad over it.
Ololufe Ft. Chidinma
Ololufe is a hit track featured in Flavour's fourth studio album titled Thankful. Ololufe, a romantic music duet by Flavour and Chidinma Ekile, became a fan favorite upon release and got everyone buzzing. The music video was shot in Cape Town and dropped in February 2015. The song is delivered with a lot of chemistry and is perfect for a wedding party.
List of His Other Successful Songs and Albums
Okpeke
Chinny Baby
Tobe a Man
Pant No N'iro
Shake
Chewe Kwem
Doings
Most High
Ukwu
Levels
Sexy Rosy
Egedege
Umu Igbo
Studio Albums
N'abania (2005)
Uplifted (2010)
Blessed (2012)
Thankful (2014)
Ijele: The Traveller (2017)
Awele (2018)
Flavour of Africa (2020)
Other Endeavors That Contributed to Flavour's Net Worth
Other than the sales of his music, Flavour's net worth was also achievable through a few other sources he diversified into. Below are some of the endeavors that made up his enviable fortune.
Online/Digital Platforms
Flavour earns from online platforms like YouTube, iTunes, and Spinlet. He has also made money from royalties, and Ring Back Tune (RBT) generated from radio and TV stations.
Although the exact amount he makes from these platforms is not verified, it goes without saying that they made good contributions to his net worth.
Tours, Concerts, Shows
These have remained part of the major avenues through which Nigerian artists make the bulk of their wealth. Flavour was earning two bits at the early stage of his career via shows and live performances, but as his fame and popularity continued to grow, he as well increased his charges.
According to reports, Flavour currently charges nothing less than 10 million just to appear on a live show. Some other reports have it that he charges N4 million for local shows and N8 million for international performances. Being a great performer with an impressive onstage personality, the highlife singer was able to build his net worth via his numerous live performances.
Endorsement Deals
As his popularity grows in the Nigerian entertainment industry, Flavour has kept on bagging endorsement deals for top brands and companies. In 2013, he was named a brand ambassador for Globacom alongside other music stars like Waje, Omawumi, Lynxx, and Bez. In 2014, Harp Larger Beer signed him alongside Ice. Also, in the same year, he landed a multi-million naira deal with Onga Seasoning.
Moreso, Flavour's unique body features that go looking all snatched also earned him the spot of a brand ambassador for a weight loss company. In April 2020, he reportedly pocketed a whopping sum of $3 million via a contract he signed with Amazon to work with them for the next four years. He achieved this feat via his biopic Amazon video (a film that tells the story of someone's life). Below are highlights of all his endorsement contracts
Amazon
Globacom
MTN Nigeria
Flat Tummy Tea
Onga Seasoning
Harp Beer Bullet Energy
Nigerian Breweries Life Beer
Record Label
It is a fact that the bulk of Flavour's net worth is built from music; sales of albums, ticket sales, shows, concerts, tours, and so on. However, the singer has since expanded his horizon toward a few other business ventures. One of which is establishing his own record label, 2Nite Music Group. Flavour is the founder and CEO of 2Nite Music Group – a record label through which he releases his songs and albums.
2Nite Music aims at producing good music and managing artists. Since its inception, the label has signed a number of budding artists. His genre is majorly Igbo high life, but he has also added gospel to it. This is a decent contribution to his fortune as he no longer pays any record company each time he wants to drop a song.
2Nite Club in Enugu
Another business venture Flavour has is his club in Enugu. In October 2012, Flavour launched his nightclub, 2Nite club. The club, which is located at the heart of Enugu city, boasts sufficient space both in and outside, modern clubbing facilities, a VIP area, water-tight security, and fully air-conditioned halls, among other things.
With this, the record label boss has joined the likes of Basketmouth and 2Face Idibia, who own clubs in Lagos. Celebrity guests present at the grand opening ceremony include Tiwa Savage, Kcee, Bracket, and Iyanya, among others. The lavishly built club also has a bar, a dancing area for the energetic, a staging area, and lots more. It is indeed a luxury outfit for guests to enjoy themselves.
Flavour also Has an Acting Career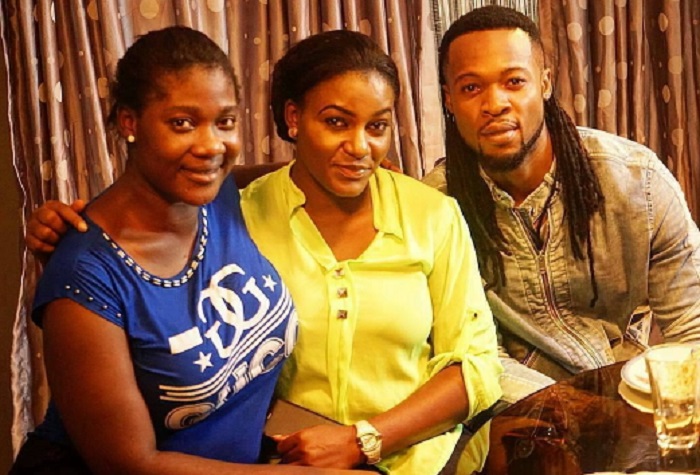 Flavour has featured in a couple of Nollywood movies. He is yet to play a major role in a movie but has been taking up minor and supporting roles. He is one of the actors in the short movie 40yrs Lovestacle alongside other Nollywood actors like Rita Edochie and George Ezenwora, among others.
In 2016, he was on the set of a drama series Professor Johnbull. Other actors in the series are Queen Nwokoye, Mercy Johnson, Helen Paul Tatafo, Junior Pope Odonwodo, and others. Though he does not have a very active career in acting, Flavour sure makes some cash from this end.
Recap of the Sources of Flavour's Net Worth
Music; sales of albums, shows, concerts, online platforms, etc
Record Label (2Nite Music Group)
Endorsement Contracts
2Nite Club, Enugu
Film actor
Others
A Look at Flavour's Real Estate Properties
Although it is known that Flavour is not used to flaunting his wealth and acquisitions all over the media for people to see, Flavour apparently lives nothing short of a luxury lifestyle. He owns a multi-million naira mansion in the highbrow area of Lekki Lagos State.
The property is lavished with interior decors and facilities that speak nothing but luxury. It has a swimming pool and a recording studio where he stays to do what he knows how best to do.
Additionally, Flavour disclosed that he bought a house for his mother some years ago. The singer may also have other real estate properties within the country which are not public knowledge.