The name Femi Adebayo always rings a bell as far as the Nigerian film and entertainment industry is concerned. Better known as Jelili, 44-year-old Femi is an award-winning, renowned and influential Nollywood actor, producer, director, and lawyer. Besides his acting career, the actor is also in the news for his failed marriage with his first wife, Khadijat. However, many have been keen on knowing what happened to Femi Adebayo's first wife and what she has been up to.
Femi Adebayo, a one-time Yoruba Best Actor of the year, is also the son of the veteran actor, filmmaker, and director Adebayo Salami, popularly known as Oga Bello. Toeing his father's path, Femi Adebayo has grown to be equally very famous in the industry and has starred in several blockbuster Nollywood films, and has a host of movie productions to his credit.
Femi Adebayo is 44 Years Old
The Nollywood actor, producer, and lawyer Femi Adebayo was born on December 5, 1978, in Lagos State. He came from a family of actors as father Adebayo Salami, better known as Oga Bello, is also a veteran actor, director, and filmmaker who has been very popular in the '80s for his role in the NTA Channel 10 TV series program title: Bar Beach Show.
Regarding his educational pursuit, Femi attended the Cherubim and Seraphim College (C&S) Lagos, where he obtained his SSCE certificate before proceeding to the University of Ilorin, where he bagged a Law degree. He then got his Master's degree in Law from the University of Ibadan.
In 1985, Femi Adebayo officially started acting when he landed a role in his father's directorial debut movie- Ogun Ajaye. Since then, the Nollywood superstar has starred in several Yoruba Nollywood movies, appearing in hundreds of movies such as Ma Wobadan, Sonto Alapata, Buga, and Wura Ati Fadaka, to mention a few.
Additionally, he is also the founder and CEO of the movie production company known as J -15 Media Network Nigeria. He has also won prestigious awards, including the Best Yoruba Actor Award at the 17th African Film Award (Afro Nollywood) held at Stratford Town Hall, London.
At 44, the famous actor has had multiple marriages in his lifetime. In this regard, the biography of Femi Adebayo will be incomplete without mentioning his first ex-wife and mother to his three kids Mrs. Khadijat Adebayo. She kept quite a low profile before their wedding and only came to the limelight after tying the knot with the Nollywood big wig and became officially recognized as Mrs. Adebayo.
Femi Adebayo's Marriage to His First Wife Lasted for Eight Years
Femi Adebayo's first wife, Khadijat, hailed from Illorin, Kwara State, where she spends the better part of her life. Khadijat is from quite a humble background and had a humble upbringing. Her parents are both very devoted and strict Muslim faithful, which could easily be noticed from her lifestyle and behaviors. Growing up with her siblings in Illorin, the Kwara state capital, Khadijat had her elementary, secondary, and tertiary education. She attended the prestigious University of Illorin in 1998 and earned a degree in Computer Science. This takes us to the beginning of her love story with the Nollywood sensation Femi Adebayo, her ex-husband.
Surprisingly, during her University days, fate joined her path along to that of her heartthrob and first love, the popular Nollywood actor Femi Adebayo. She was only in her first year in the university when they met, while Femi, studying Law in the same University, was in his third year. Upon their first meeting, one thing led to another, and the rest they say is history.
The lovebirds became too fond of each other and dated for as much as 6 years before they walked down the aisle and tied the knot in 2004. That was when Khadijat shared in the fame of her husband and became popular as the wife of the Nollywood celebrity. Meanwhile, as a graduate, Khadijat is also a successful businesswoman. She deals in the supply of Ghana fabrics and different shoes and bags.
They Divorced Following Rumors of Femi's Extramarital Affairs and Philandering Habits
The couple has been living happily ever after from the outset in their marital bliss, which was sustained for about 8 years before they started making the headlines following rumors about a crack in their marriage. The rumors went viral that her husband Femi was involved in a secret extramarital love escapade with the equally famous Nollywood actress, Funke Akindele, popularly known as Jenifa.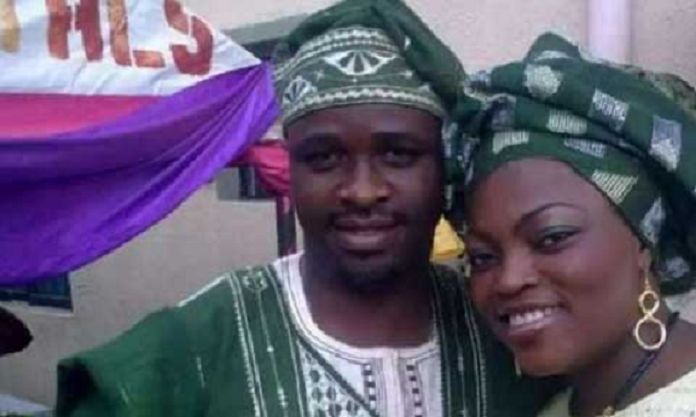 While others alleged that the Nollywood star had abandoned his wife and three kids without taking care of them after the couple started living in separate places as Khadijat had to move to her parent's house at Ikpe road, GRA area Offa, Kwara State, sometime in 2011. However, at first, Femi debunked the rumors vindicating himself from such allegations while stressing that the reason for their unresolved misunderstanding was that his wife never supported his career as an actor.
Nevertheless, the last straw that broke the camel's back, putting an end to their 8 years of conjugal bliss, happened when his wife Khadijat filed a divorce at the same local court where they earlier had their marriage contract. The couple then became officially divorced after the suit, which saw the Nollywood actor remaining single for over 8 years before he later remarried his second wife.
After Their Divorce, He married Omotayo Memunat Sanusi in 2016
The actor married his second wife, Omotayo Memunat Sanusi, on the 9th of October, 2016, 8 years after his marriage with his first wife, Khadijat hit the brick wall. The Nikkah ceremony with Memunat was held on a low key at an undisclosed venue in Maryland, Lagos. Only a few of his immediate relatives and very close friends graced the occasion. The union was blessed with a child as his second wife Memunat gave birth to a son named Fadhil Adebayo.
On the other hand, it was gathered from reliable sources that the Nollywood big wig Femi Adebayo's embattled wife went through a tough time after their divorce. She did not leverage her ex-husband's influence. Instead, she had to face the harsh reality of looking for a job to fend for herself and the 3 kids she bored for the Nollywood star. Though Khadijat later found love and got married to another man, as she now bears the name Mrs. Balogun.
How many Children Did Femi Adebayo Have with His First Wife?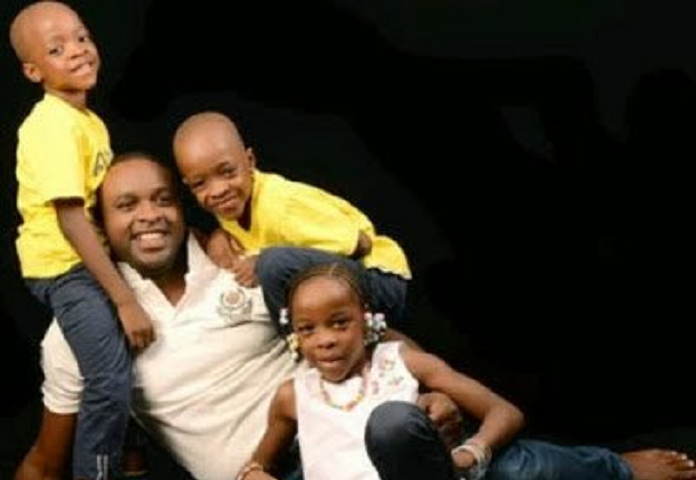 It is now an open secret that the award-winning Nollywood superstar Femi Adebayo ended his 8 years old marriage with his first wife, Khadijat. Notwithstanding, while their marital bliss lasted through the years, his first wife, Khadijat, gave birth to 3 amazing children for the actor, a girl and a set of twins who are both boys.
The names of his children with his first wife, Khadijat, are Firdaus Niniola Adebayo, while the twins are Fadlullah and Fadulrahman Adebayo. Though following their divorce, all of Femi Adebayo's children with his first wife are with his ex-wife Khadijat who is has now remarried.